The Great Energy Transfer
The institute focuses on the production and use of reliable, affordable and cleaner energy, keeping Texas at the center of the climate change conversation.
By Shawn Shinneman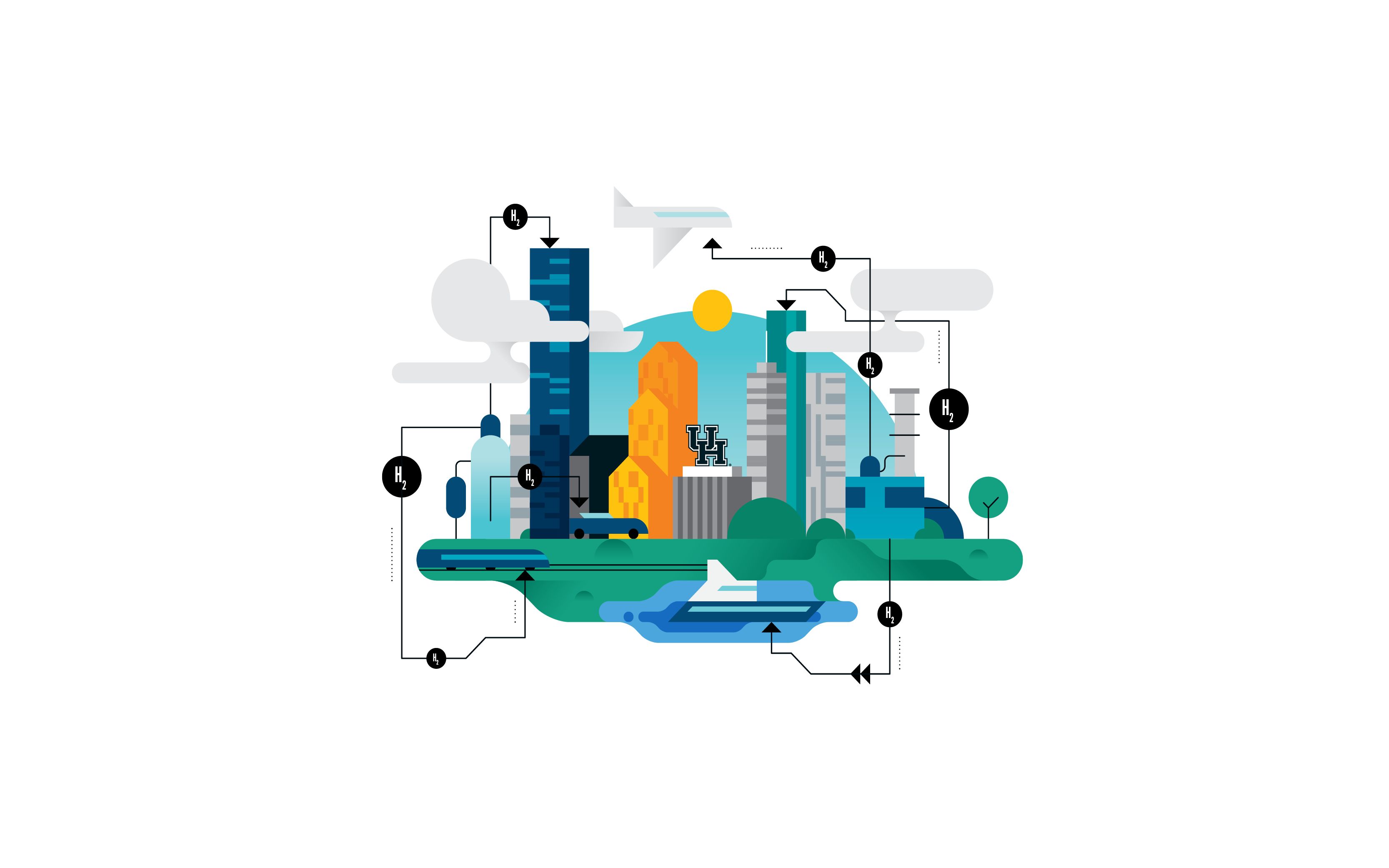 Two years ago, Texas' failing electrical grid became a global sensation, and the state was thrust into the spotlight of the developing energy crisis conversation. This past year, Russia's invasion of Ukraine again brought the push for alternative sources with a renewed sense of urgency to the top of agendas as oil became scarce.
Moving the energy industry into the future will require a deep investment not only in developing new and greener technology and infrastructure but also in a dynamic and motivated new workforce. This core concept forms the foundation of the UH energy initiative. It was with this common objective in mind that the University of Houston, Shell USA Inc. and Shell Global Solutions (US) Inc. began discussions about how to usher in a new energy era.
"Energy is the lifeline of the world's economy—in order to improve human development, you need to have access to affordable, reliable energy." — Ramanan Krishnamoorti
"What they were looking at was what really is important for both entities going forward," says Joe Powell, Shell's former chief scientist and chemical engineer. "And what type of collaboration could help achieve some of these very significant societal goals—which involve decarbonization and a move to the circular economy—but then also the problem of workforce development and how we excite students to choose careers in energy."
In 2022, the two entities came together to open the Energy Transition Institute at UH, with Powell nabbed as its founding executive director. The institute will lean on a $10 million initial donation from Shell and a total of at least $52 million overall in contributions. Through a just and equity-driven pathway, the institute will focus on the production and use of reliable, affordable and cleaner energy.
"Energy is the lifeline of the world's economy—in order to improve human development, you need to have access to affordable, reliable energy," says Ramanan Krishnamoorti, vice president of energy and innovation at UH. He sees the institute playing a pivotal role in a societal reckoning about the impact of climate change. "We're thinking about the global challenge of improving quality of life for the 11 billion people who will be on the planet by 2100."
Taking Shape
The institute will focus on four key workstreams.
First, it will recruit expert faculty to collaborate with researchers across UH as they dive into the energy transition.
Second, it will seek to impact policymakers through education and public-private partnerships. A new UH Energy Transition Index will track the industry's progress. Recruitment of policy-minded faculty will assist in the efforts. "There's a lot of headline debate about who's responsible for global warming and what the solution should look like," says Powell. "What we want to be at the University of Houston is a trusted voice in the conversation to really show some of the complexity and trade-offs."
Third, as the institute looks to become the global academic leader of the energy transition, it will keep equity at its core, informing policies that address our most pressing challenges to provide secure, reliable, affordable and sustainable energy for all. As one of the most diverse public research universities in the country, it will seek to combat issues in all communities, from the disproportionate environmental health risks that hit low-income communities to the burdens of energy infrastructure and affordability.
Efforts will include developing relationships with other universities and institutions that serve communities impacted by these inequities and collaborating with grassroots organizations to research and address environmental justice initiatives and energy equity.
Finally, the institute will emphasize workforce and talent development by helping the current workforce better understand topics on sustainability, facilitating opportunities with Shell and other partners and integrating experts from Shell into UH experiential learning programs.
"We're really here to empower the various schools and departments within the University of Houston by having a magnet to expand both the research dimension in this space of energy and circularity but also in the workforce development and student training aspects," Powell says.
"We're looking to have Houston as a center of innovation similar to what you see in Silicon Valley and in Boston for medicine."
As the institute takes shape, it will focus research efforts on three key areas, cementing its reputation as the "Energy University:" hydrogen, carbon management and circular plastics. The institute will work closely with UH's Hewlett Packard Enterprise Data Science Institute. "Data science will be driving a lot of new innovation and ways of working in the new energy and circularity economy," Powell says.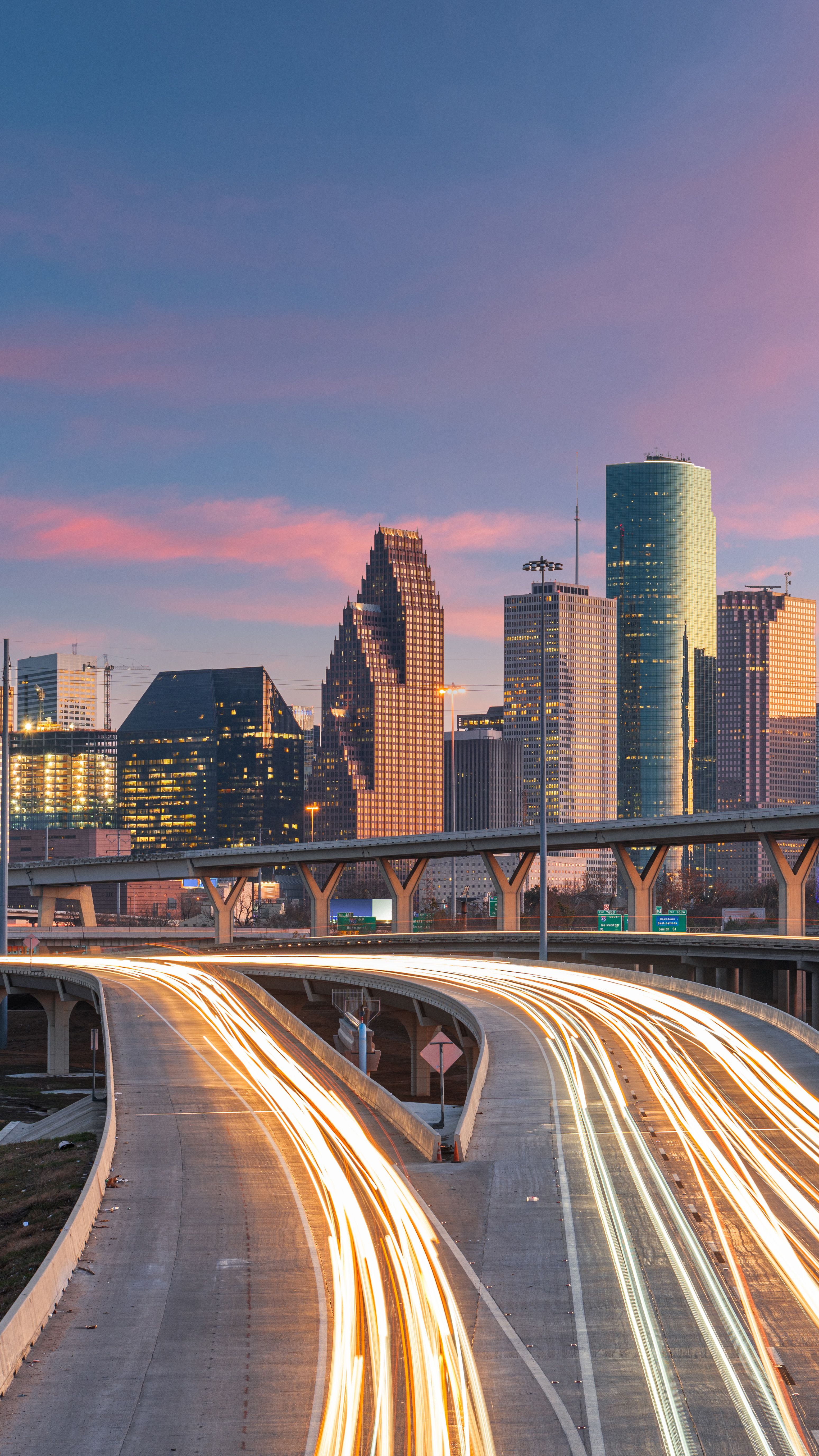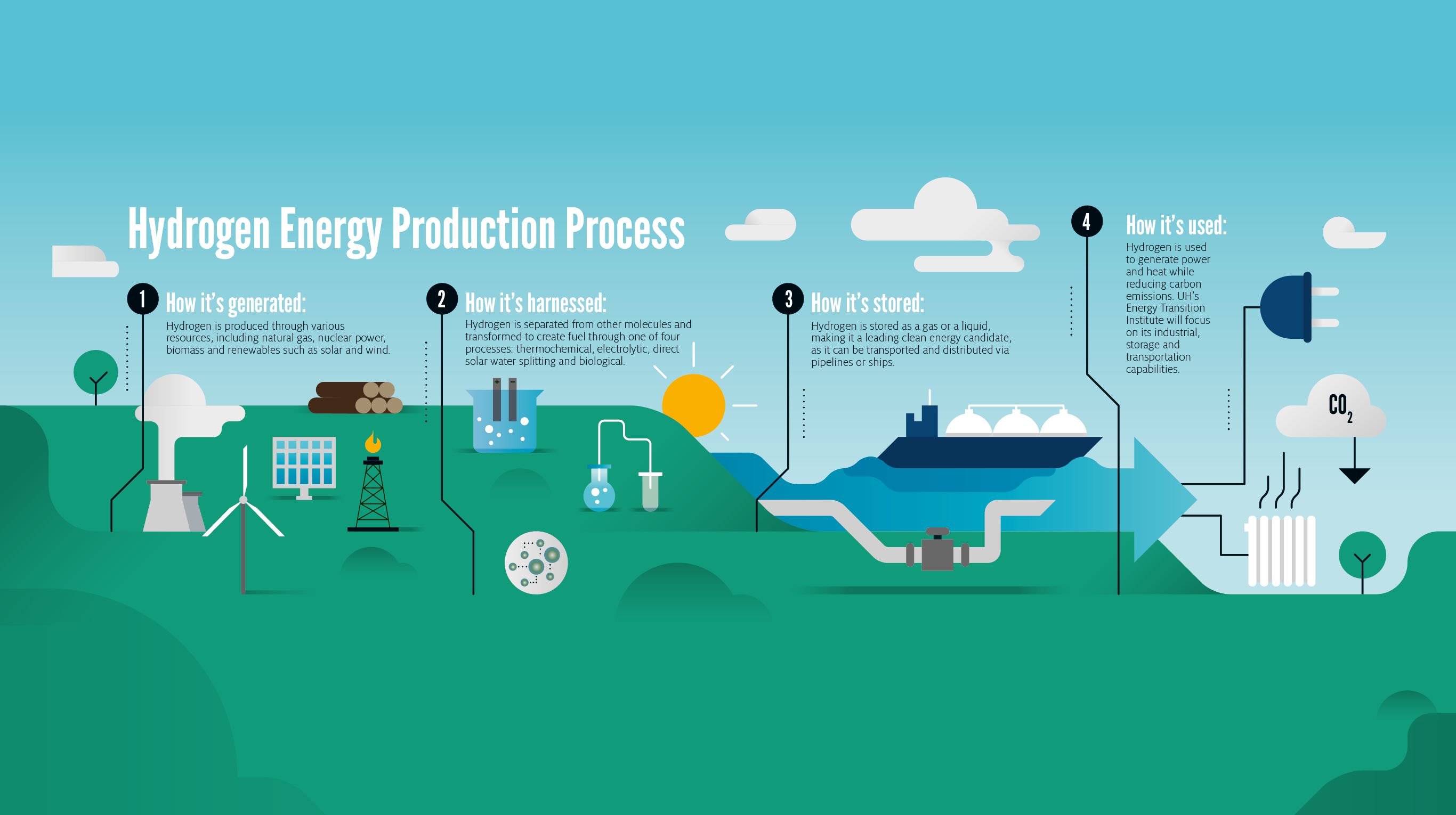 Item 1 of 1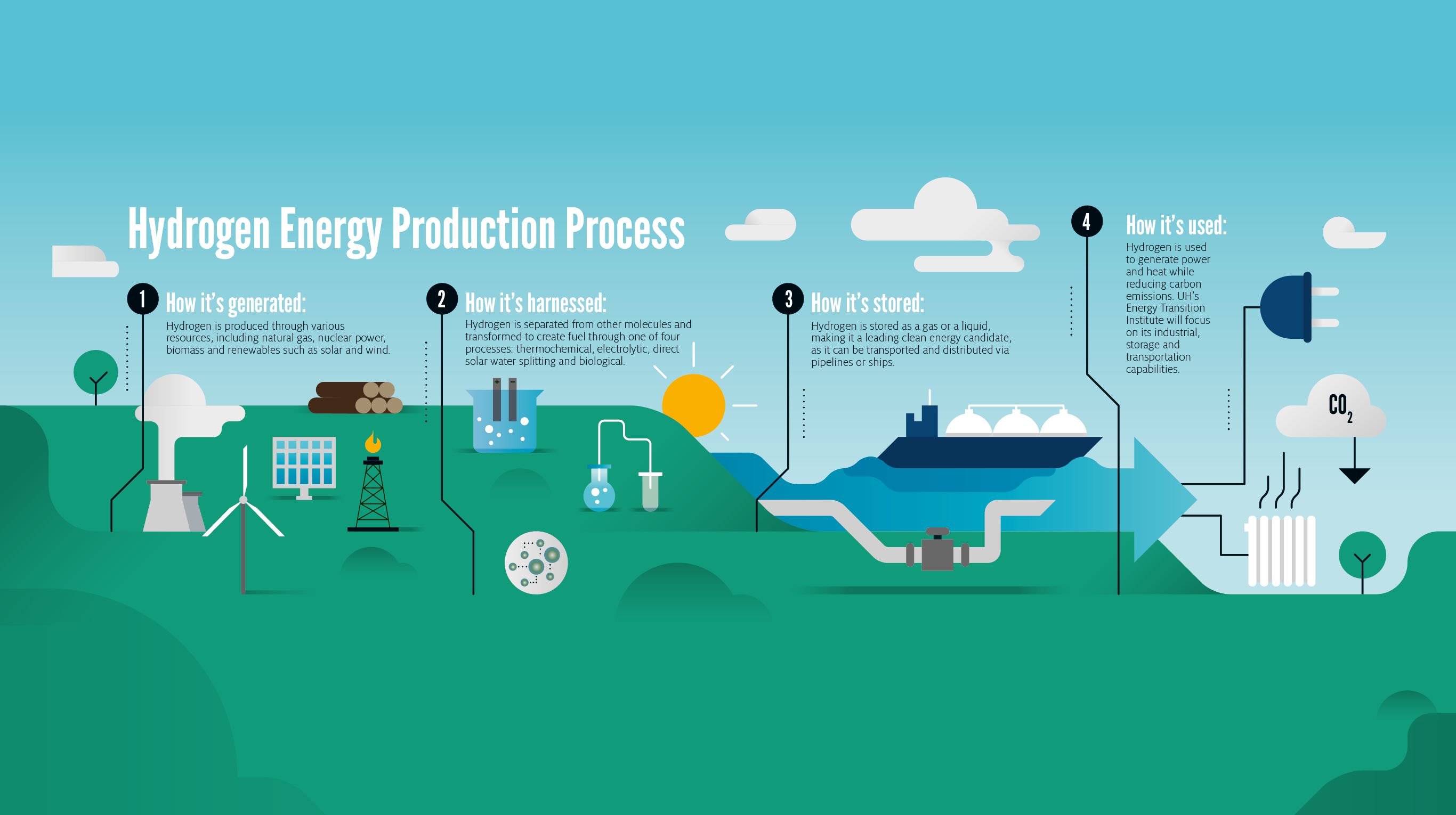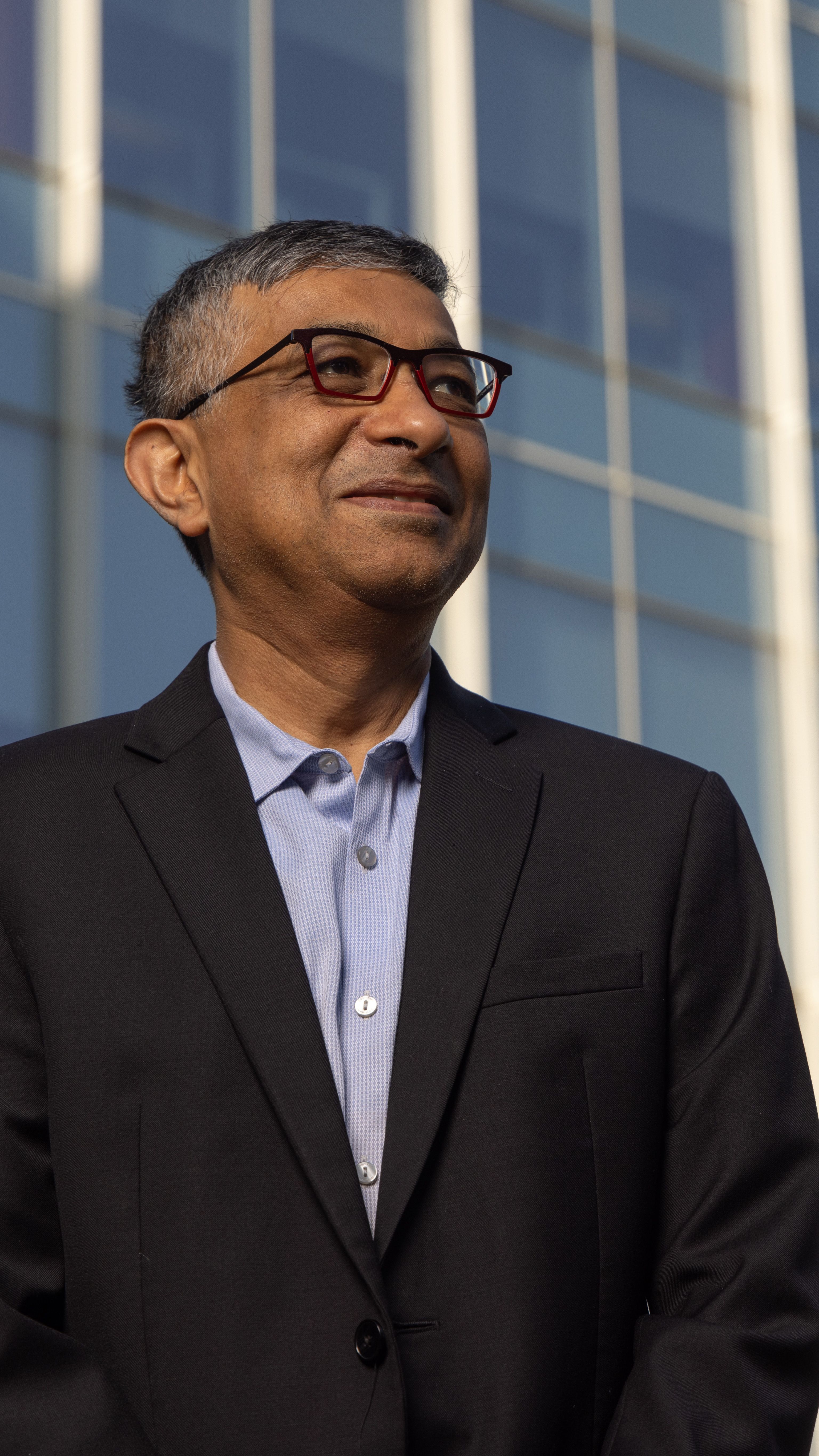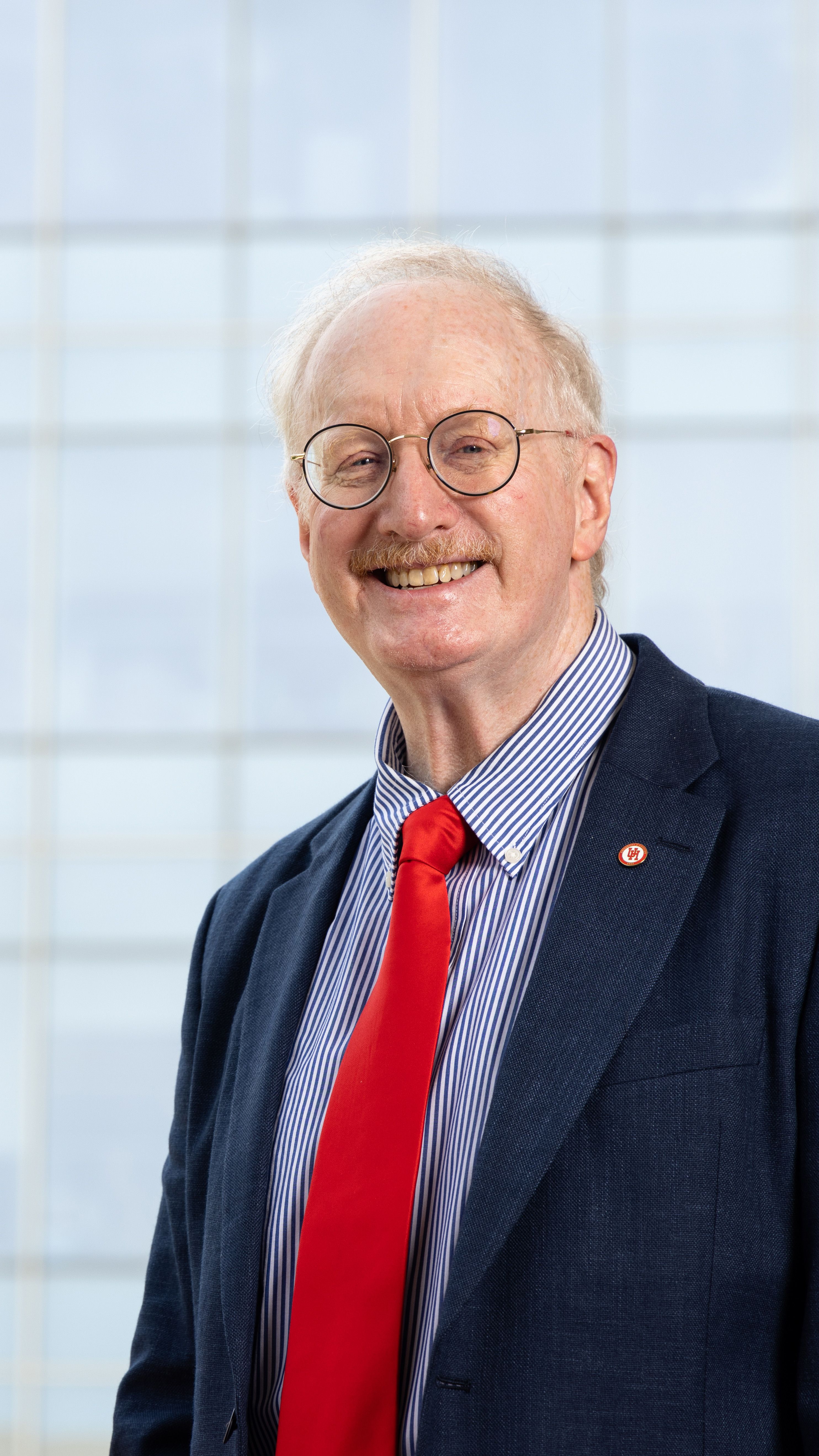 Harnessing Hydrogen
Some see hydrogen as a top candidate for the future of clean energy, but squeezing out the full potential of the most abundant element in the universe will take much more research and development. With the Energy Transition Institute, the University of Houston is taking a step to lead the vector into the future.
Proponents of hydrogen point to its capacity to fuel cars and heat homes while reducing carbon emissions. The institute's efforts will focus on industrial, storage and transportation capabilities. Powell sees hydrogen powering heavy-duty transportation, improving air quality by pumping trucks with hydrogen made from clean energy sources. "You can think of it as the diesel fuel of the future," he says.
One of the biggest challenges to the continued growth of wind and solar is the disparity in its availability—across regions and countries. Hydrogen, again, can help. Hydrogen can be transported through gas pipelines or in liquid form via ships, making it a leading option to store and transfer renewables.
Powell says he's already been working with regions and countries with abundant wind and solar opportunities. He sees South America, the Middle East, Australia and New Zealand as leaders. "Essentially, bringing in the energy from regions of the world that have the most intense and durable wind and solar, and distributing it to areas that don't have quite as good local resource access," he says.
Of course, there's value in transferring energy via hydrogen even before the global renewable energy infrastructure reaches maturity. Had the technology been available and policy interests aligned, the U.S. and other allies could've easily shipped energy reserves last year when Russia's invasion of Ukraine caused an energy crisis throughout Europe.
As the institute gets its footing, it won't be the only hydrogen-focused entity in the city. In 2021, the Bipartisan Infrastructure Law earmarked $7 billion to create six to 10 clean hydrogen hubs nationwide. UH is the lead academic partner on a proposal, the Leading in Gulf Coast Hydrogen Transition (LIGH2T) Hub, in partnership with the Southern States Energy Board and the National Energy Technology Laboratory, as well as other organizations. Of the 79 applicants across the country, LIGH2T was one of just 33 projects encouraged to move forward with a full application. Already, the Texas Gulf Coast region produces about a third of the hydrogen used in the U.S., according to Houston Public Media.
"When you think about hydrogen, two-thirds of all the hydrogen pipelines, 95% of the hydrogen infrastructure is here in the greater Houston region," Krishnamoorti says. "If we want to take that next huge leap and start to integrate both incumbent and new technologies, this is where we've got the infrastructure in place."
Carbon, Plastics and Beyond
For all the discussion over the past two decades around plastics, we recycle only about 8% of all plastic waste today. Meanwhile, 4% leaks back into the environment, damaging wildlife ecosystems.
"The question is," Powell says, "how do you reengineer that economy so that there are incentives to be recycling material and not have it lost as waste that falls outside of the system?"
If there's a place tailor-made to tackle the problem, it's Houston. No city in the world has a larger concentration of petrochemical manufacturing facilities. But the challenge is a stout one; while some plastics can be mechanically recycled, others need to go through a chemical conversion process— requiring significant energy as they're broken down into new materials and made ready for reconstruction. Hence, the institute's central theme around creating a cleaner and more efficient system of collection, sourcing and sorting.
Over time, Powell envisions a complete transformation of the plastics life cycle. Today, the products are largely made from crude oil and, for the most part, thrown into landfills at the end of their life. In the future, we'll have "complex multicomponent recycle streams" that reuse the waste material, incorporating clean energy and human-made approaches, like direct air capture of carbon dioxide to curb greenhouse gases. "That's a very exciting area," Powell says. "It's a little bit less developed in terms of having integrated solutions laid out." That just means there's opportunity for leadership.
Whether focusing on circular plastics, decarbonization or advancing hydrogen initiatives, the institute will look to keep the state at the center of conversation on the future of energy and climate change. Since the failure of the state's electrical grid two years ago, the headlines and social media images here haven't always been flattering.
But for all its imperfections, Texas has something other regions do not: a global voice. "How do we keep Houston's ecosystem and Texas' ecosystem at the forefront of transforming the world?" asks Krishnamoorti. "We've been seen as the energy leaders. We've not necessarily been seen as the sustainable energy leaders."
With the help of the Energy Transition Institute, that could change.