The Culmination of a Bold Vision
UH College of Medicine First Year Milestones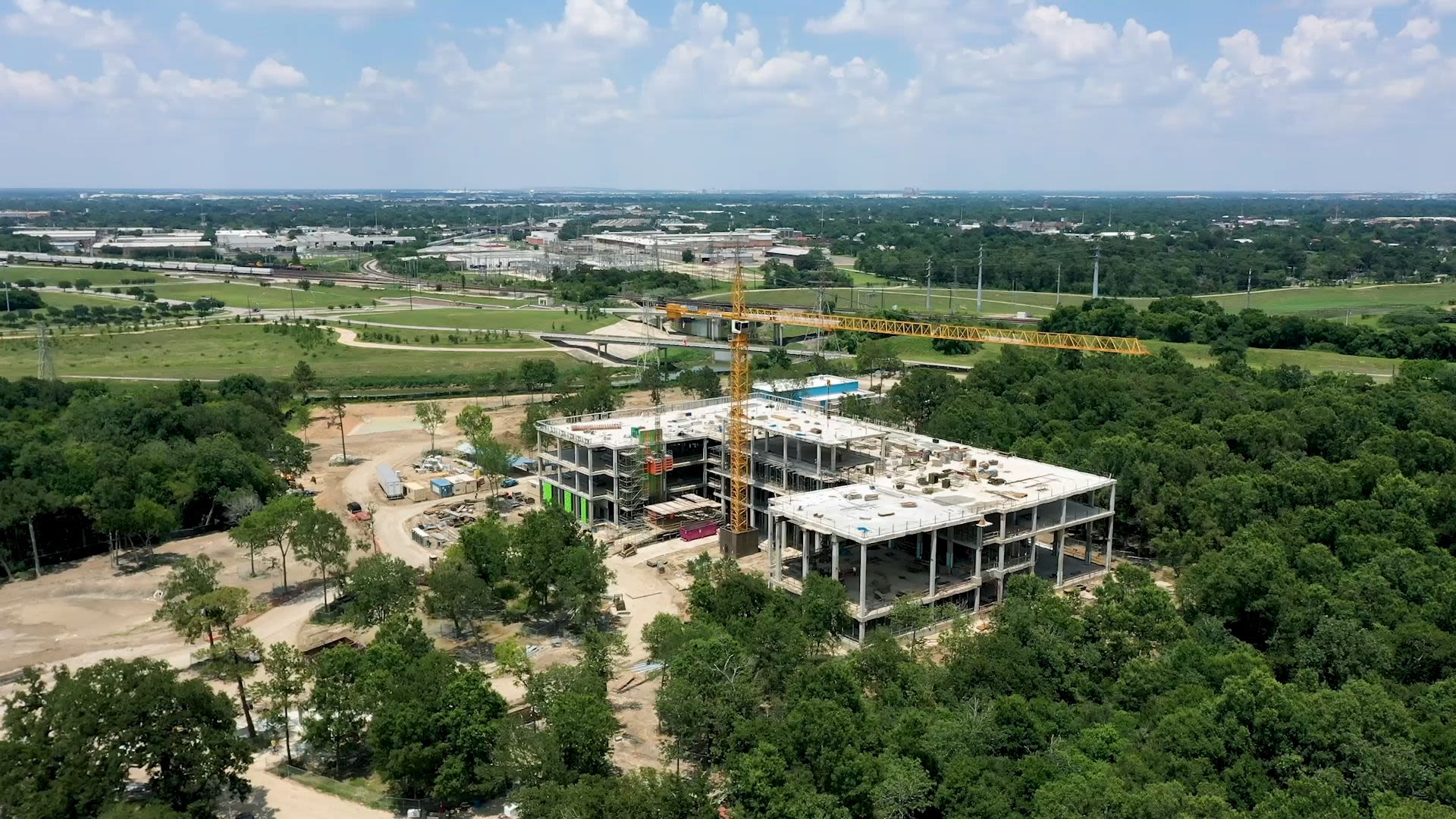 From becoming a member institution of the Texas Medical Center, to breaking ground on a new building and launching a number of initiatives to improve health in underserved communities, it has been a first year of historic milestones for the University of Houston College of Medicine.
With a bold and fresh new approach to medical education, the city of Houston's first new medical school in nearly 50 years is tackling a key contributor to poor health – a shortage of primary care doctors. The UH College of Medicine, which welcomed its first class in fall 2020 and just selected its second class, emphasizes primary care, especially in urban and rural communities, which often have poorer health outcomes. The college is accountable to society for improving the overall health and health care of the population of Greater Houston, Texas and beyond.
First Two Classes
The UH College of Medicine admissions committee has employed a holistic admissions process carefully considering the thousands of candidates who applied for the college's first two classes, totaling 60 medical students. Considerations included predictors for those candidates most likely to pursue primary care. The goal is for half of the college's graduates to choose primary care specialties, including family medicine, general internal medicine and general pediatrics. Only about 20% of medical students nationwide choose primary care. An incredible 97% of students in the first two classes displayed factors indicating high mission congruence.
An inaugural white coat ceremony was held for the first cohort last August to recognize their entrance into the medical profession. Due to the COVID-19 pandemic, the ceremony was livestreamed to family and friends from the Hilton University of Houston.
"It means my dreams are finally coming to fruition."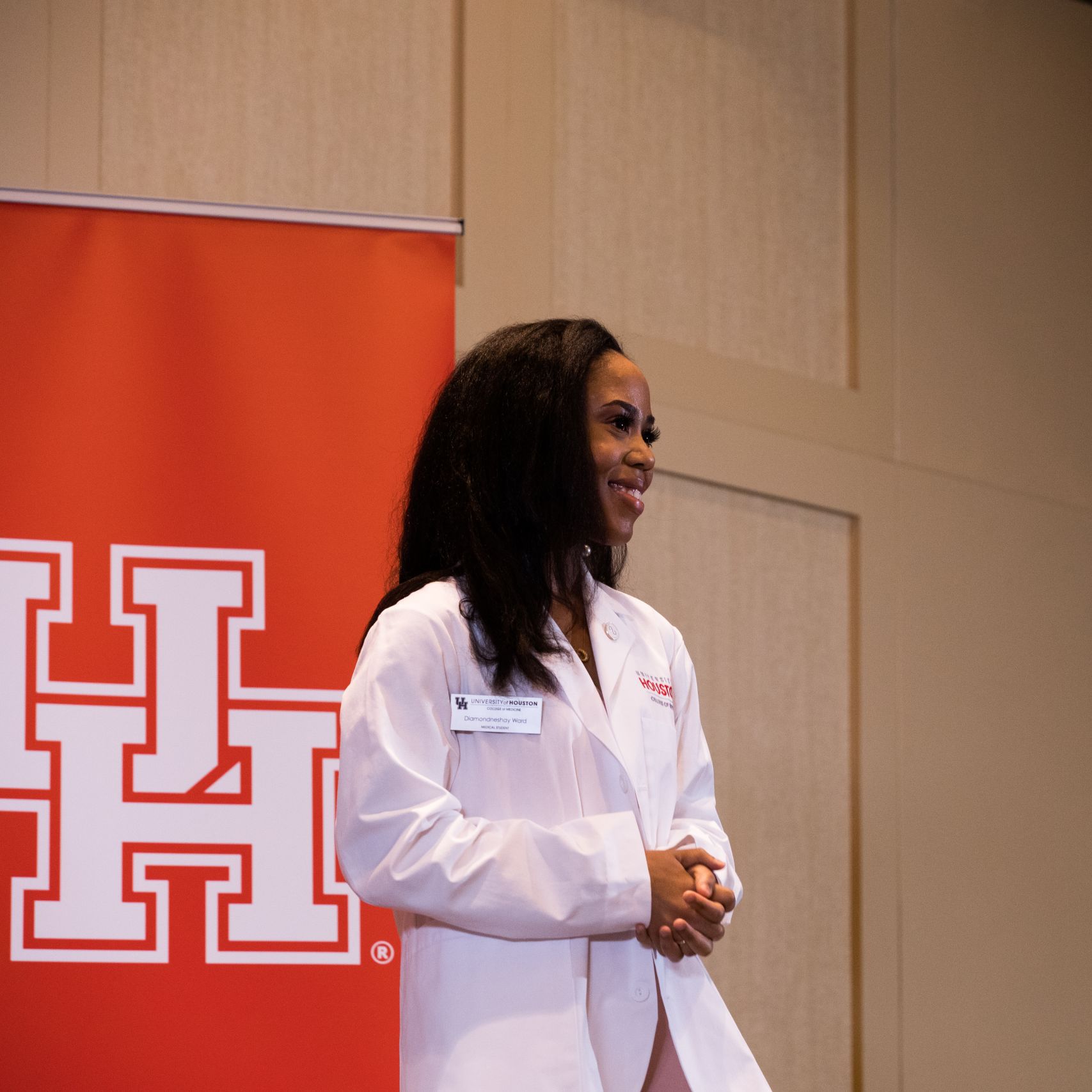 "It means my dreams are finally coming to fruition," said Diamondneshay Ward, a student in the inaugural class.  Each member of the first cohort received a $100,000 four-year scholarship through philanthropy to cover tuition and fees.
Members of the second class begin their studies in July 2021. At full enrollment, within the decade, the medical school will have 480 students.
From the Ground Up
Construction of an $80 million medical school building began in summer 2020 and is scheduled to be completed in 2022. The three-story, 130,000-square-foot building is located on a 43-acre tract of land on campus, along Martin Luther King Jr. Boulevard across from MacGregor Park. Part of a future health sciences complex, the site provides convenient access for the community it will soon serve.
The new building, which is approximately 35% finished, will feature modern classroom and meeting spaces, state-of-the-art anatomy and simulation suites, and more. The Health 2 Building in the UH Medical District is the college's temporary home.
"This cutting-edge medical school building is not only vital to fulfilling our mission of innovating health care delivery, but it also signifies our connection to the community and collaboration within the University," said Dr. Stephen Spann, founding dean of the UH College of Medicine. "It will be something the entire city of Houston can be proud of."
A live video feed of the construction can be viewed below: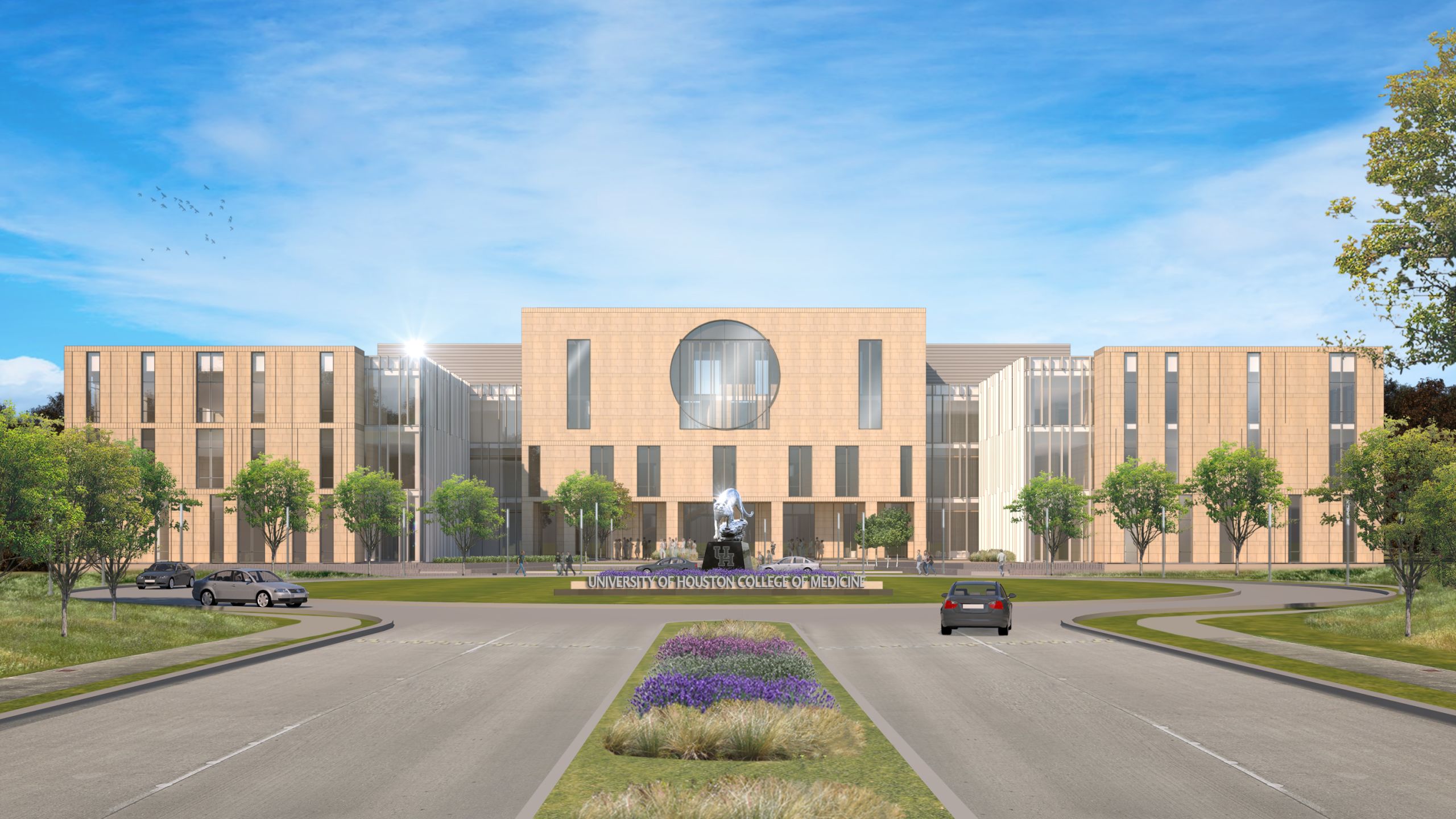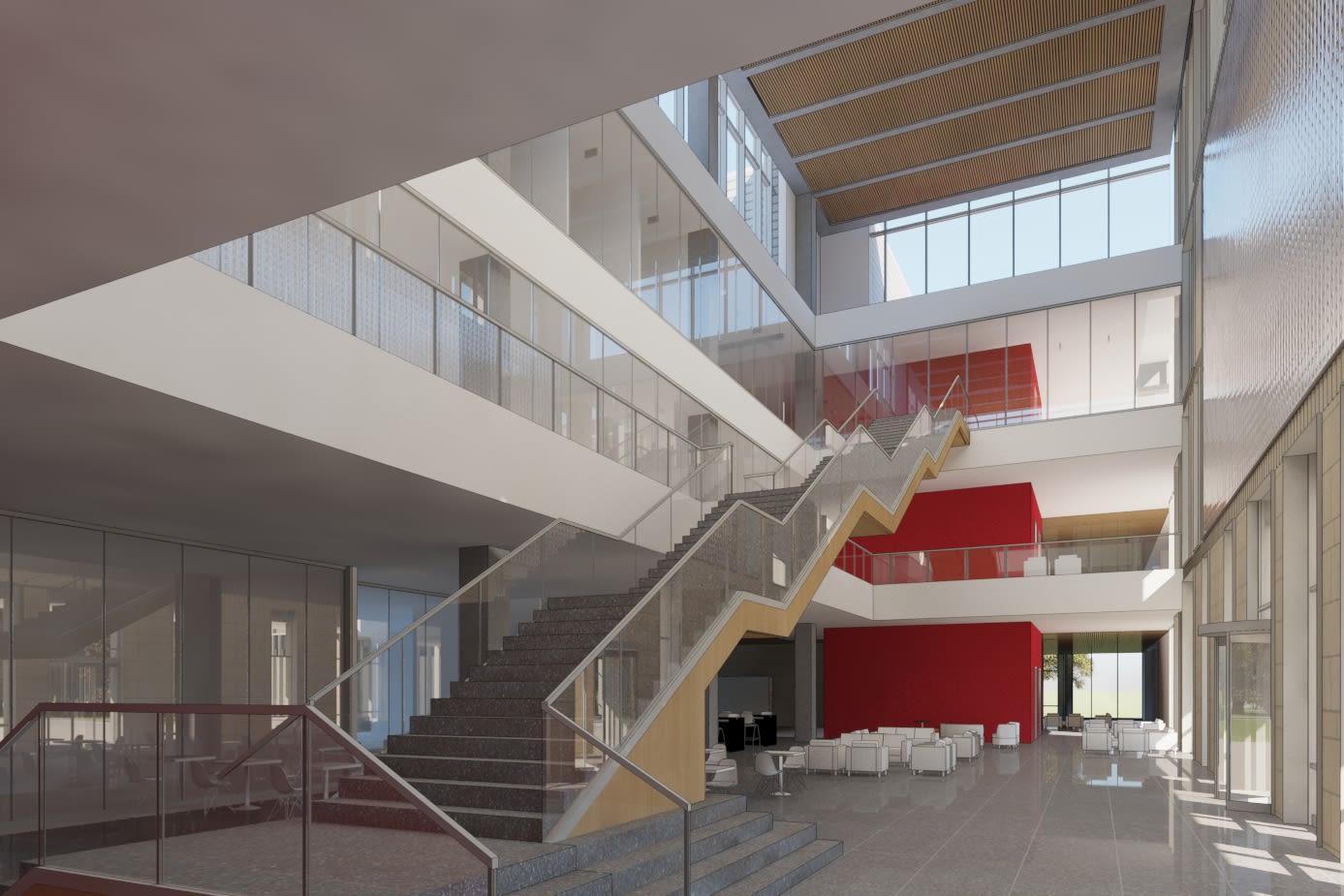 Joining the Texas Medical Center
The University of Houston College of Medicine became the newest official member of the Texas Medical Center (TMC) – the largest medical center in the world – in February 2021. As the 63rd member institution, the college now has increased opportunities for collaboration with dozens of hospitals and academic institutions, including four other medical schools.
The University of Houston was named a TMC member institution in 2009 while the UH College of Pharmacy has been a member since 1980. It is a significant milestone for the medical school, as it continues on its social mission to improve health in underserved communities in Houston and across Texas.
"We are elated to join the Texas Medical Center as a member institution and look forward to engaging with colleagues at other institutions to advance clinical issues and best practices, and further joint research endeavors," said Spann. "The tragedy of the COVID-19 pandemic has paradoxically produced an opportunity to address larger issues facing our health care systems, such as health equity. Together with our TMC partners, we can help be part of the solution."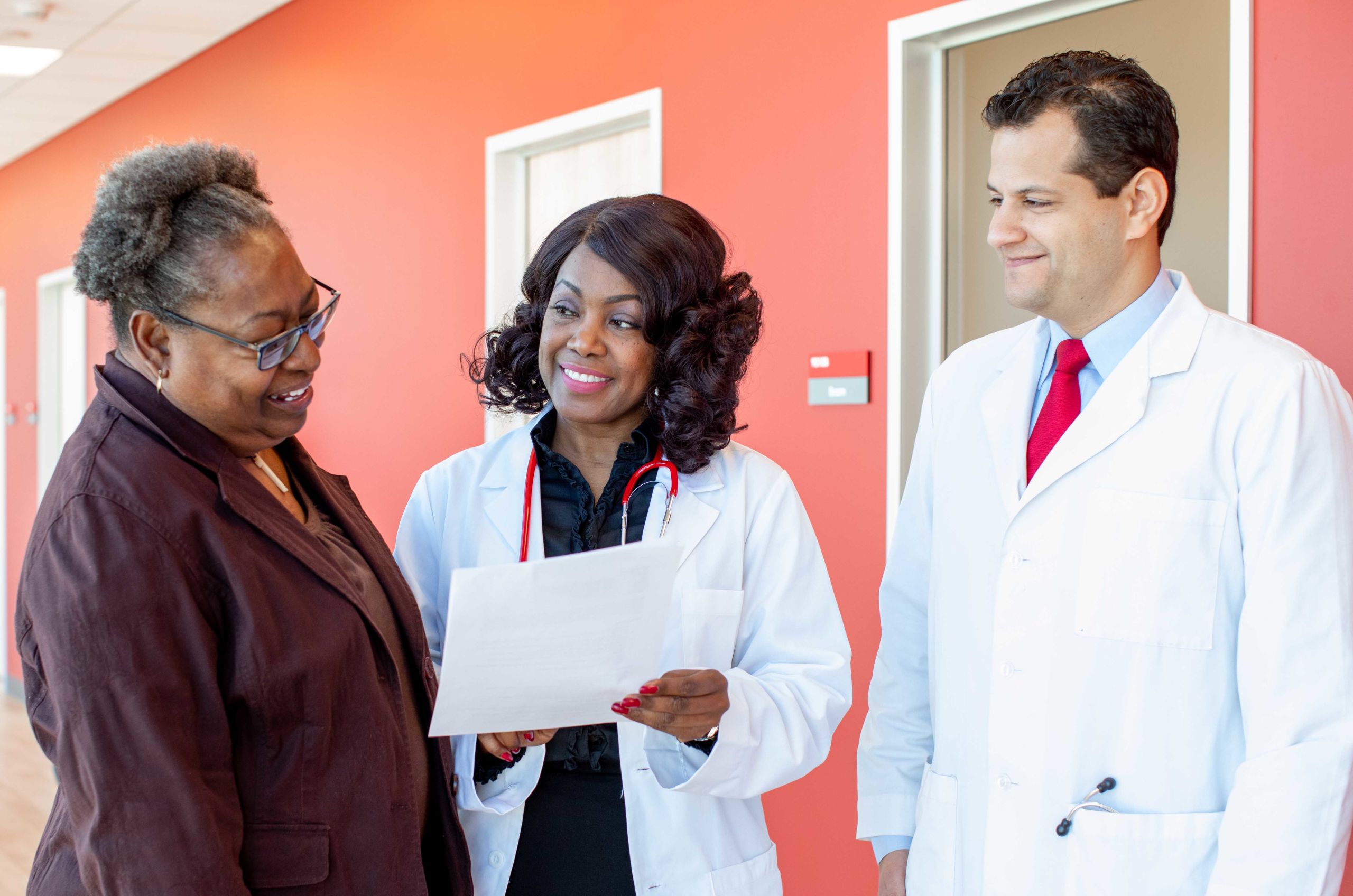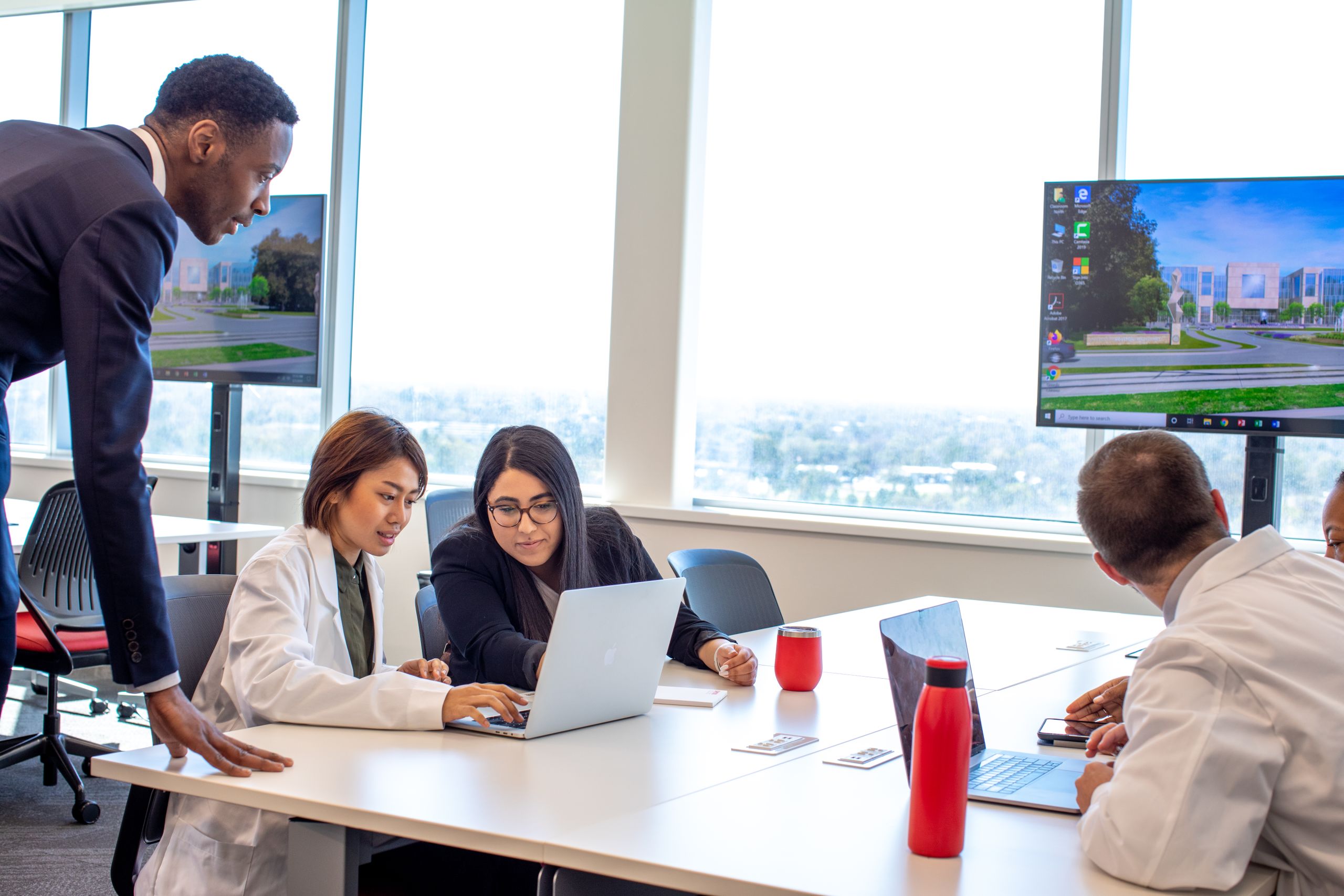 In the Community
 The College of Medicine's innovative curriculum emphasizes community and population health, primary care, behavioral and mental health, and preventive medicine. By addressing key factors that affect their patients' health— such as food insecurity, the environment and housing— these future doctors are helping eliminate health disparities in underserved urban and rural areas, which often have poorer health outcomes.
Here a just a few examples of the college's community impact over the past nine months:
· The College of Medicine and Humana Integrated Health System Sciences Institute at UH teamed up with Lone Star Circle of Care, a federally qualified health center, and Lone Star Legal Aid, a free legal aid provider, to launch a medical legal partnership at LSCC's clinic at UH. Free legal services are available to eligible patients struggling with health harming legal needs, such as workplace discrimination, inadequate housing or potential incarceration.
· The coordinated care network launched in the Third Ward and East End in early 2021, aimed at helping families who are facing significant health disparities efficiently access health care and resources, while giving students hands-on experience in underserved communities. 
· To help reduce community spread of COVID-19, faculty members at the medical school created and launched an online contact tracing certificate program in June 2020. The free course on Coursera was meant to prepare a new type of public health worker uniquely educated about COVID-19 and broadly trained to identify and alert individuals who have potentially been exposed.
· UHCOM and Lone Star Circle of Care, a community partner, administered COVID-19 vaccines at community-based vaccination clinics in an effort to improve vaccine equity in underserved communities.
· Early in the pandemic, students and faculty joined forces with the American Heart Association to deliver 100 boxes of high quality, farm fresh produce and 100 bags of toiletries to residents two public housing complexes just blocks from UH.
· A team of UHCOM volunteers made improvements to Beauty's Garden, a community garden in Independence Heights, building raised beds and brick walkways. The garden's mission is to erase food inequities and create a culture of health and well-being. Independence Heights is one of 40 food deserts across Houston. 
· Led by a College of Medicine first year student, a group of UH students from across disciplines made the season a bit brighter for residents of The Women's Home, a Houston-area nonprofit that helps homeless women struggling with mental illness and/or addiction rebuild their lives. They raised over $3,000 in monetary donations and packaged donated items to deliver the residents.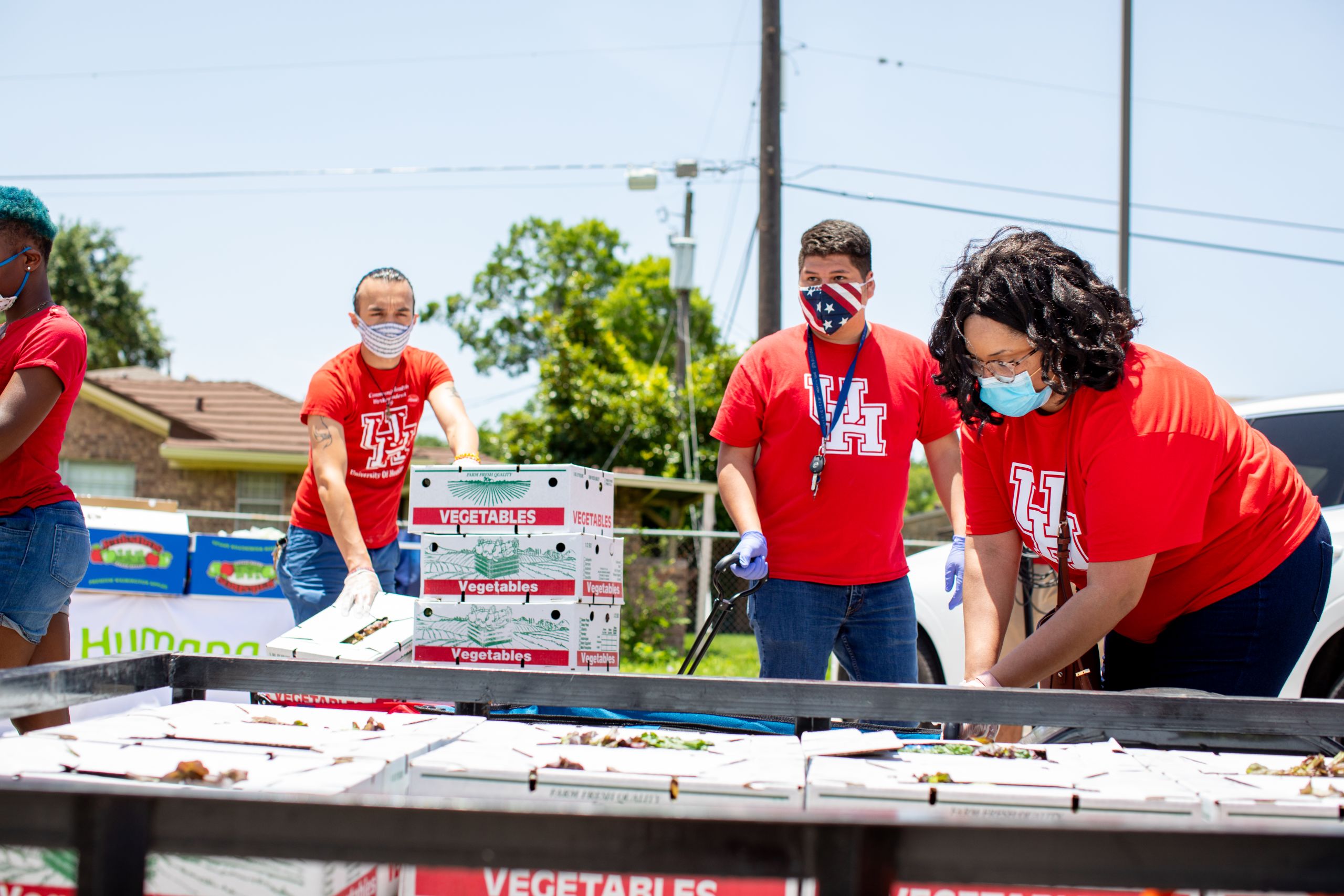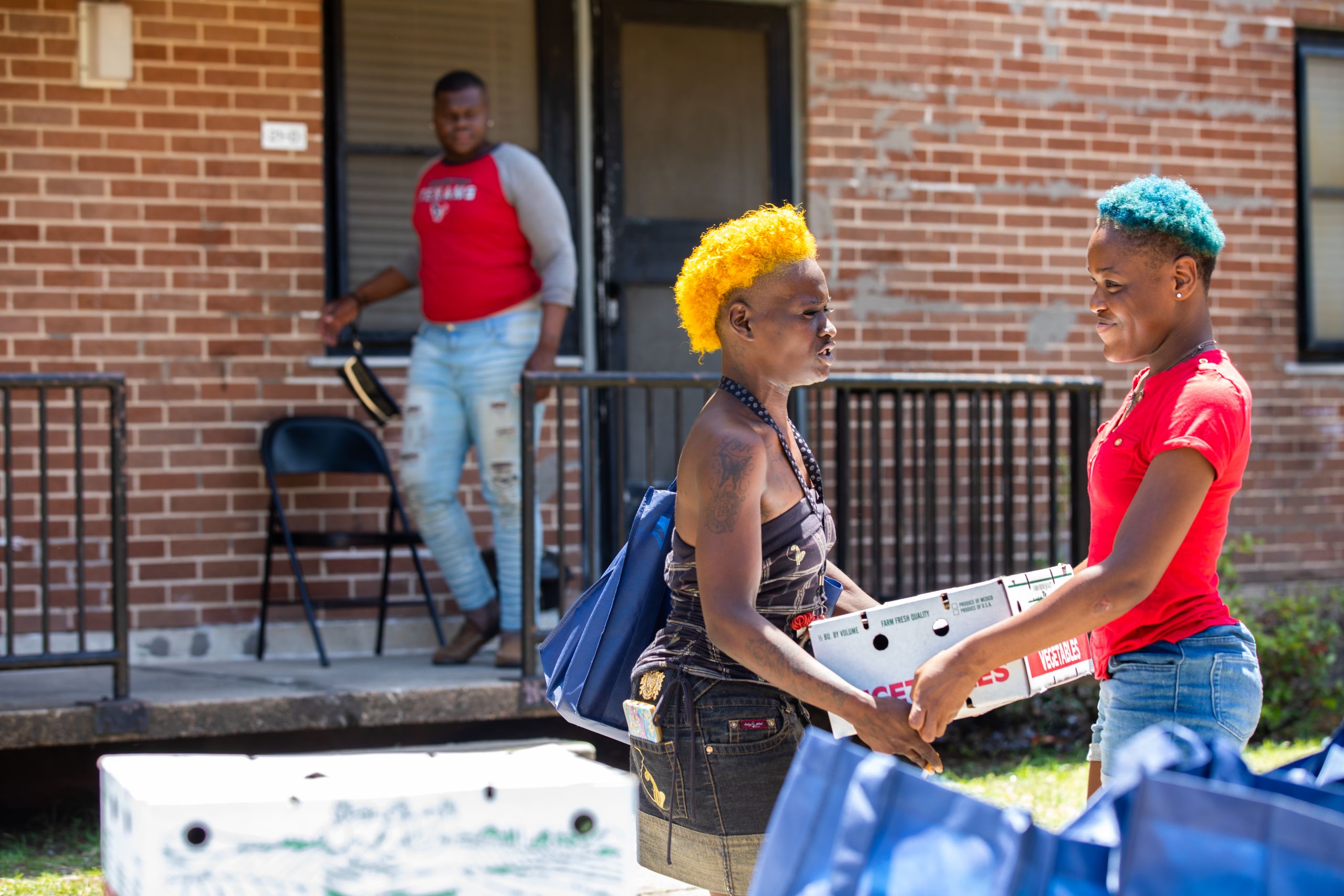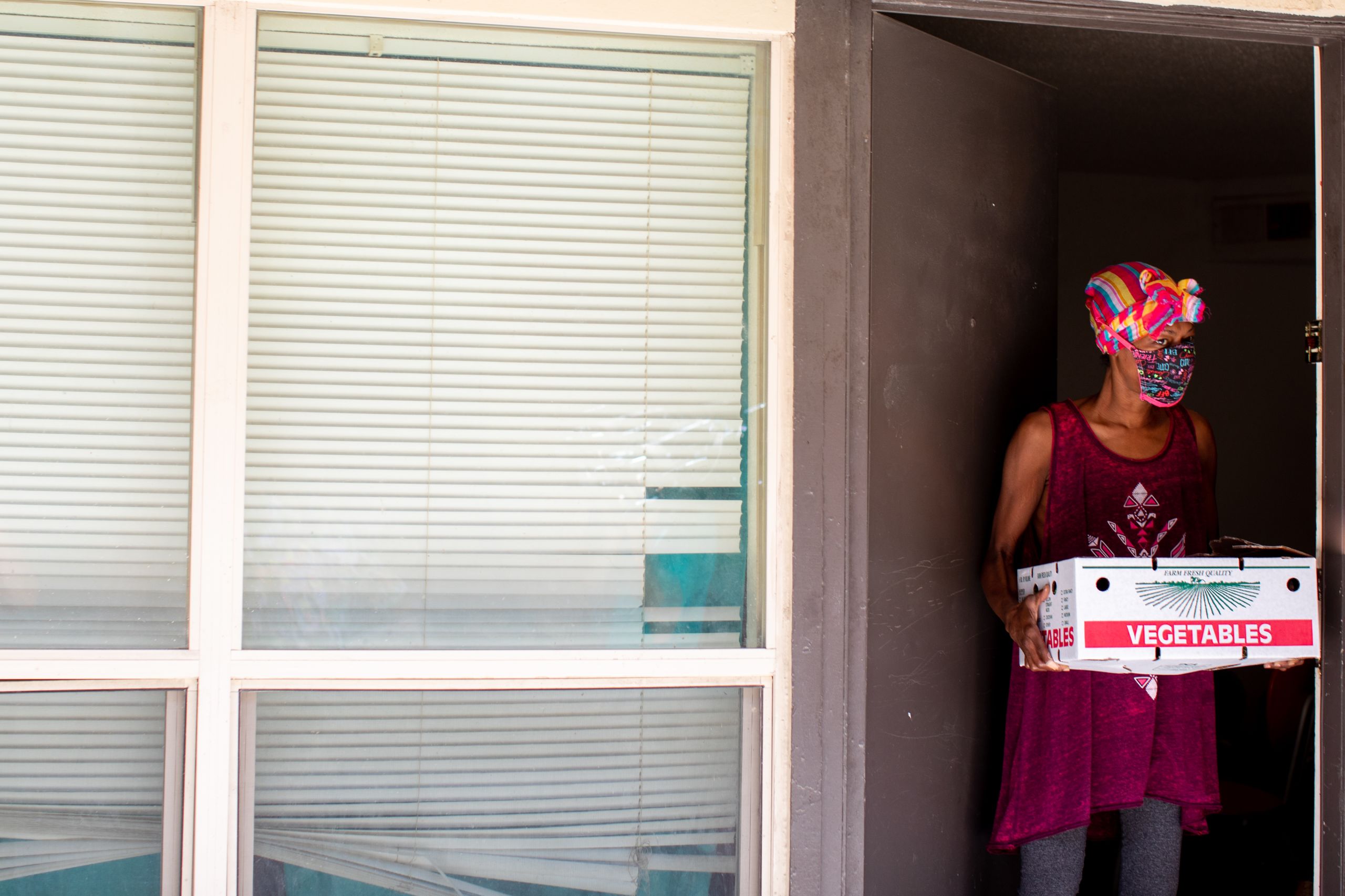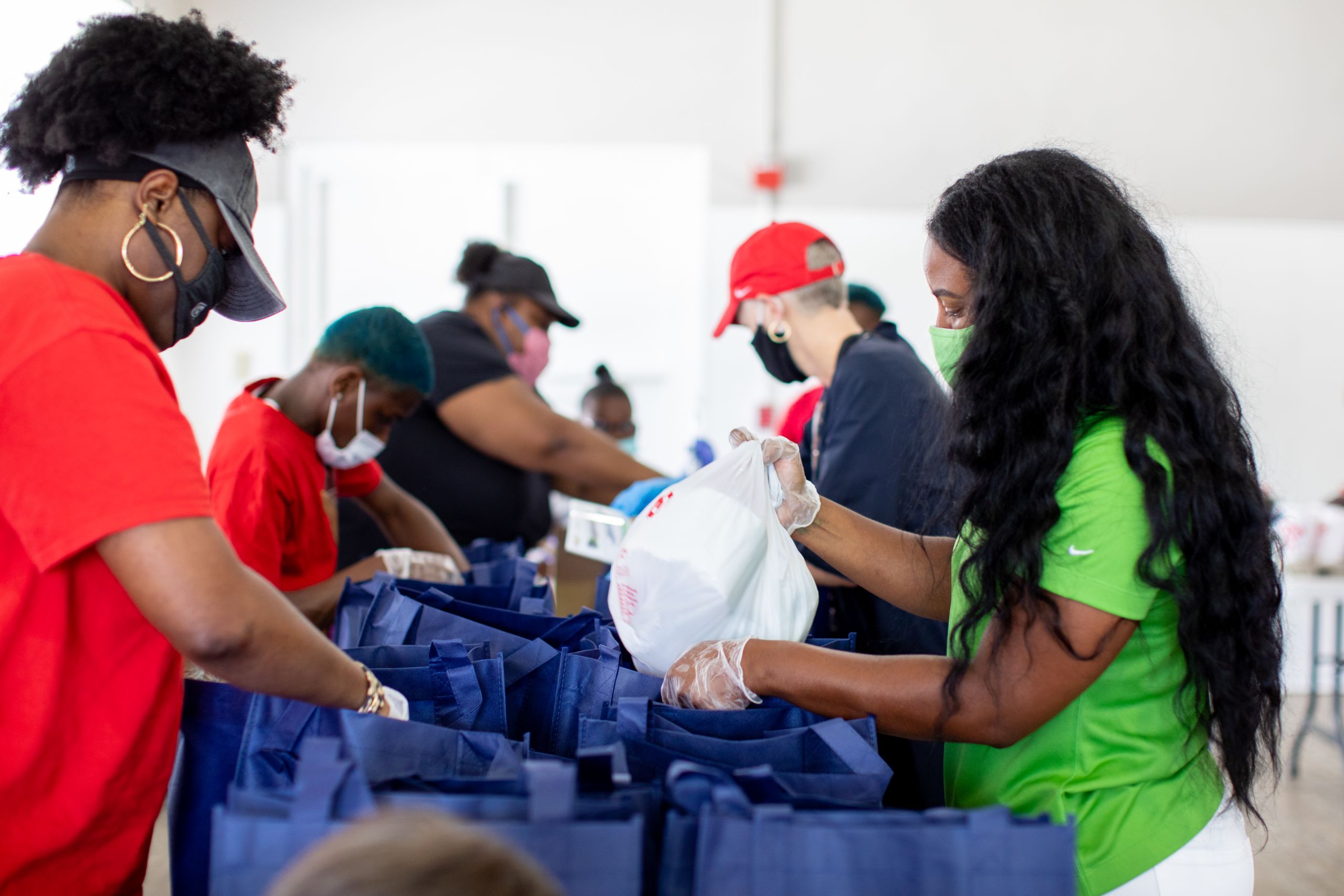 What started in 2014 as a bold vision by UH President Renu Khator for a new kind of medical school –followed by years of planning, legislative approvals and fundraising – has finally come to fruition. With the inaugural academic year now over and a second class set to begin, it's evident the University of Houston College of Medicine is quickly establishing itself in Houston's vast health care landscape as an institution committed to improving lives.