STRONG MEDICINE
Gov. Abbott Comes to Campus to Sign the Medical School Bill and Preview Plans for the Building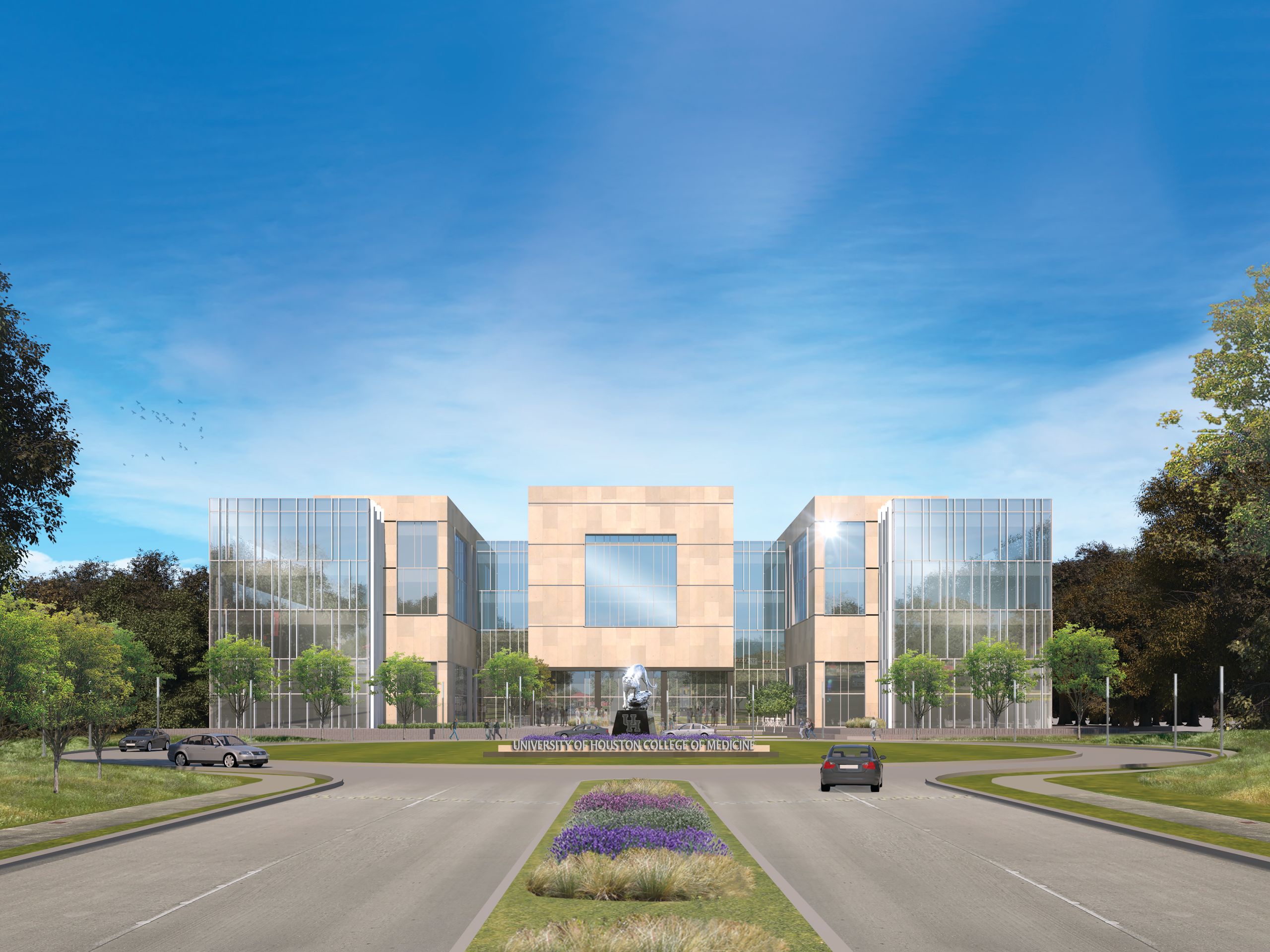 Against a stunning backdrop of what the new $80 million College of Medicine building will look like, Gov. Greg Abbott recently took ceremonial pen in hand to (re)sign the bill officially establishing the historic medical school at the University of Houston.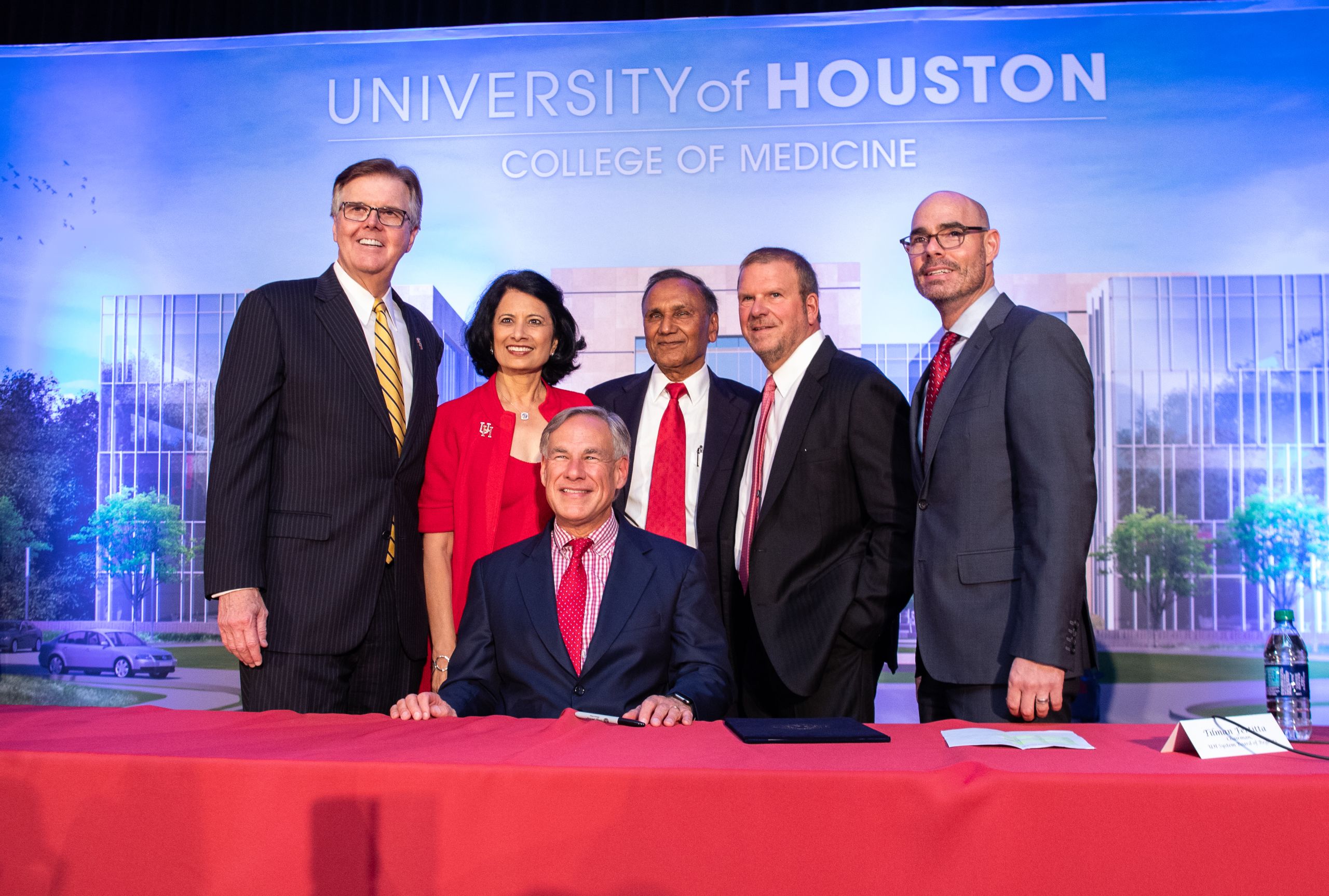 The celebratory event at UH, which was also attended by Lt. Gov. Dan Patrick, Speaker of the House Dennis Bonnen, numerous city and state officials, UH System Regents and UH President Renu Khator, served as the latest milestone in the continuing process of opening the first medical school in Houston in nearly half a century.
The governor acknowledged the importance of the school in general and singled out its exceptional mission to develop primary care physicians and deliver health care to underserved communities.
"By focusing on these strategies, this medical school will provide much needed help to our fellow Texans, making our city of Houston and the entire state of Texas a far better place," Abbott said.
Abbott's staged signing may have been primarily to further illustrate his support – HB826 actually became law in May during the Legislative Session – but the unveiling of the College of Medicine renderings proved to be the real surprise.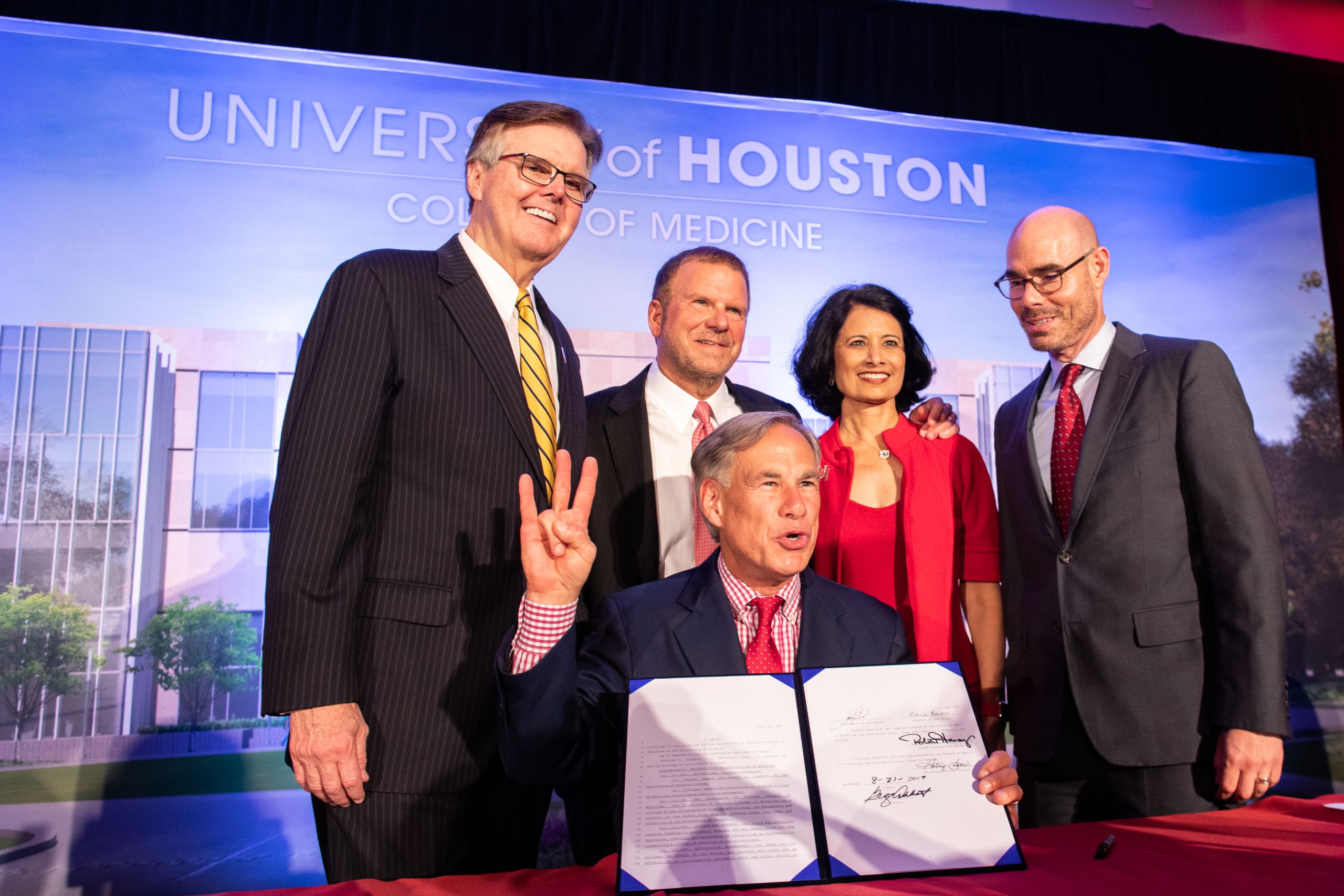 Standing behind Gov. Greg Abbott at the historic signing are (l-r) Lt. Gov. Dan Patrick, Board of Regents chair Tilman Fertitta, President Renu Khator and Speaker of the House Dennis Bonnen.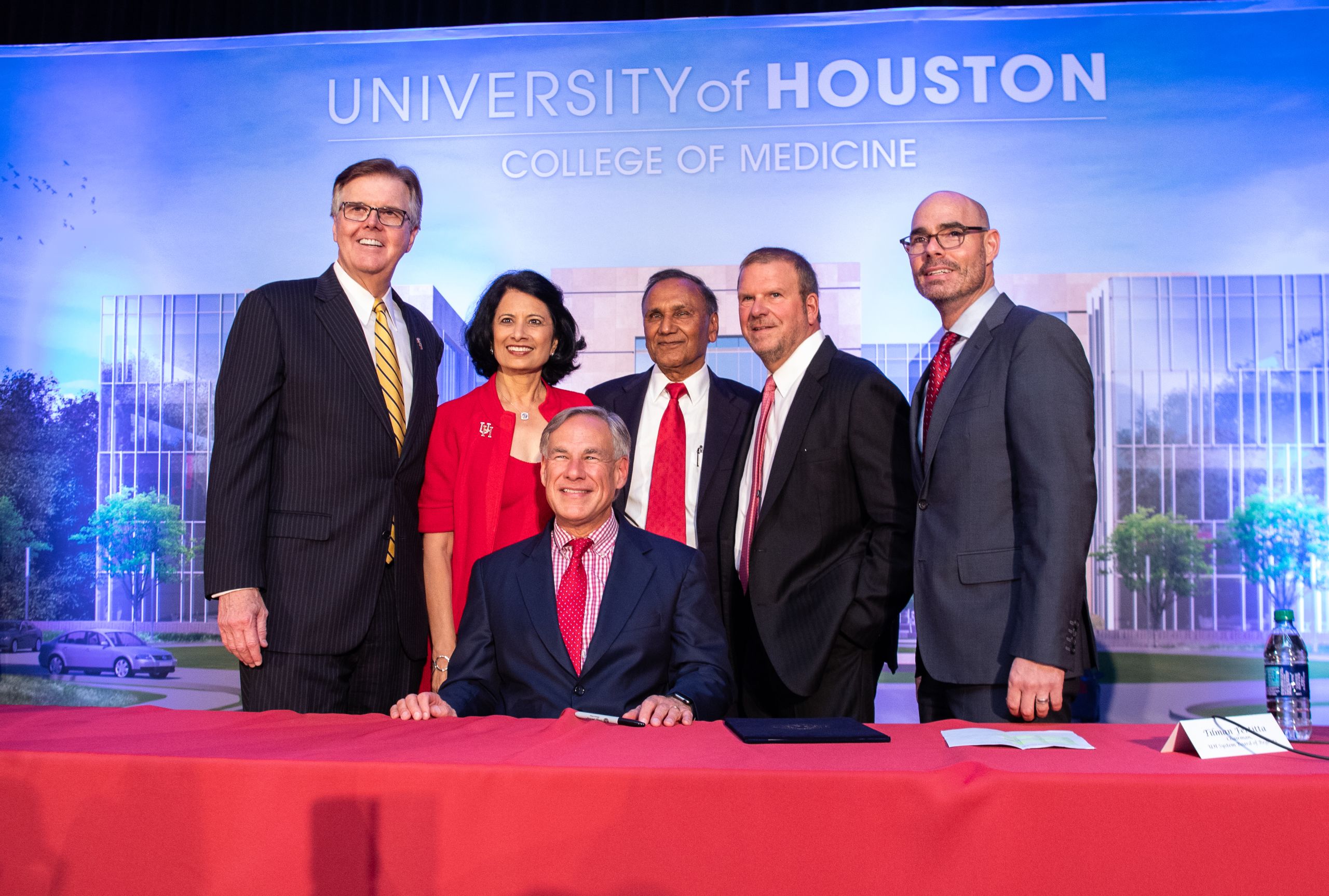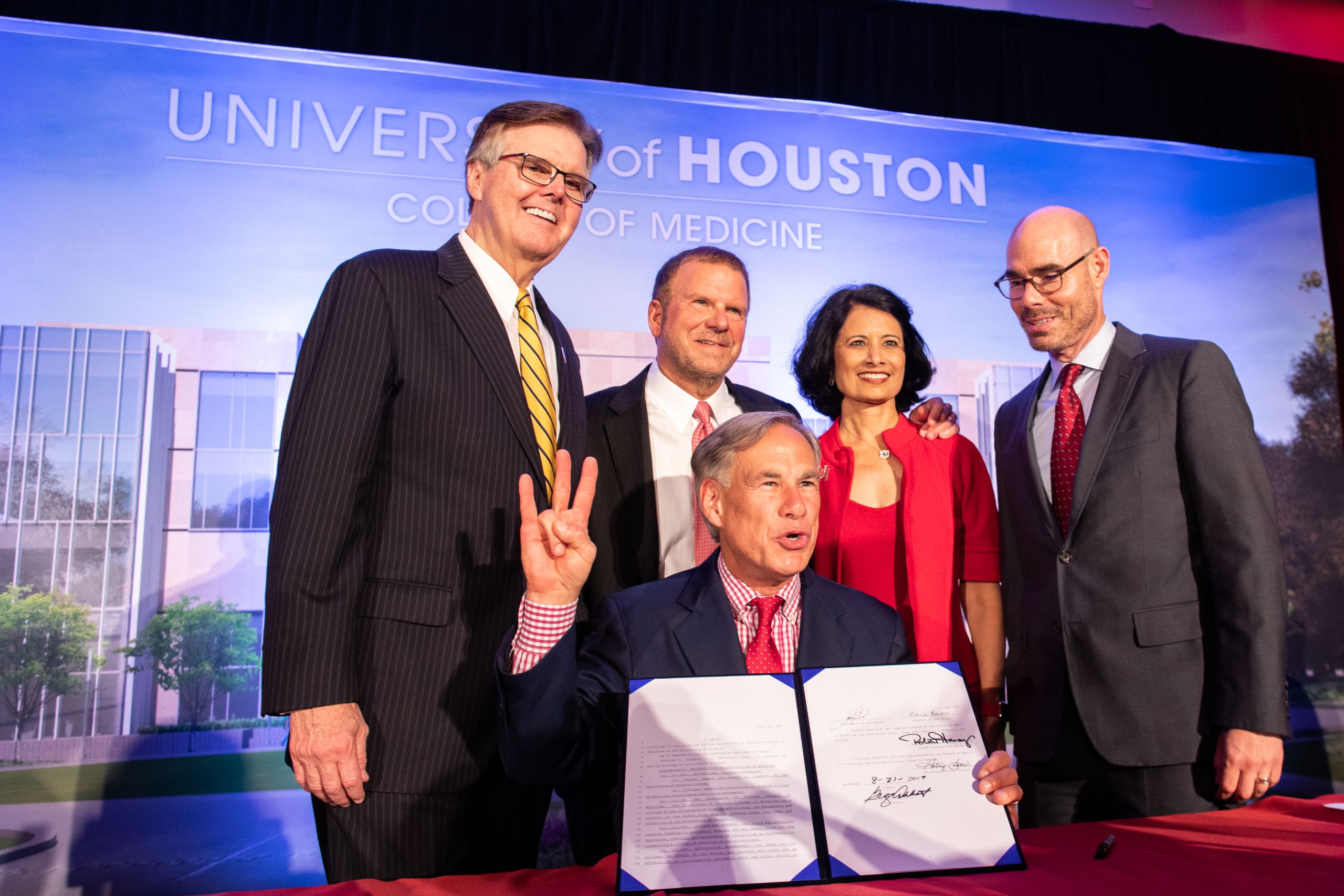 Boldly modern but featuring the University's well-known limestone cladding, the 150,000-square-foot facility showcases prominent glass accents that foster an open and light-filled learning environment. The four-story edifice, which will break ground next spring with an expected completion in summer 2022, will include state-of-the-art classroom and meeting spaces, a robust anatomy suite and a full continuum-of-care simulation suite. Perhaps most notably, it is being built on a 43-acre tract of undeveloped land adjacent to campus, along Martin Luther King Jr. Boulevard across from MacGregor Park. In addition to becoming an integral part of UH, this site provides convenient access for the community it will soon help serve.
"This cutting-edge medical school building is not only vital to fulfilling our mission of innovating health care delivery, but it also signifies our connection to the community and collaboration within the University," said Dr. Stephen Spann, founding dean of the College of Medicine.
Pending accreditation by the Liaison Committee on Medical Education, the UH medical school plans to admit 30 students in its inaugural class in 2020.
For more information, go to uh.edu/medicine.