POP ART FOR THE WIN!
Donkeeboy Paints New Mural at TDECU Stadium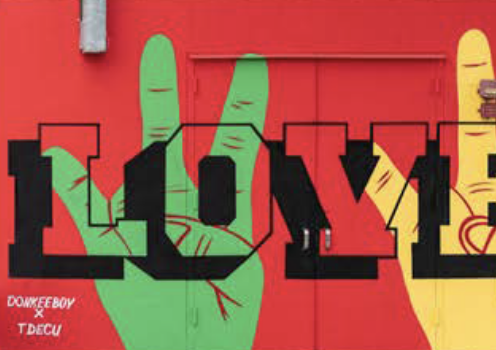 We could all use a little extra color in our lives, right about now. The TDECU Football Stadium at the University of Houston got an eye-catching facelift with a colorful, new mural for our visual pleasure. The funky art installment located inside Gate 2 of the stadium pays homage to UH and local communities. TDECU commissioned local visual artist Donkeeboy to create the arresting piece to celebrate its partnership with UH and the Greater Houston community.

Alex Roman, Jr. – who goes by Donkeeboy – is well known for his unique murals and portraits, painted in a variety of interpretive and pop art styles. A self-proclaimed "remixer of pop culture," Donkeeboy enjoys putting a singular spin on famous and local icons. For the TDECU mural, the artist merged the UH logo with the love of Houston, while blending various elements of Houston and Texas throughout his creation. It features three hands to represent the Third Ward, the Texas Lone Star, a soaring football and more, all set against UH's brilliant Cougar Red. The vibrant mural is sure to be a photo op crowd-pleaser of Cougar fans for years to come.