Eat'em Up Coogs
UH Alumni Restaurateurs Draw Inspiration From Family Roots and Recipes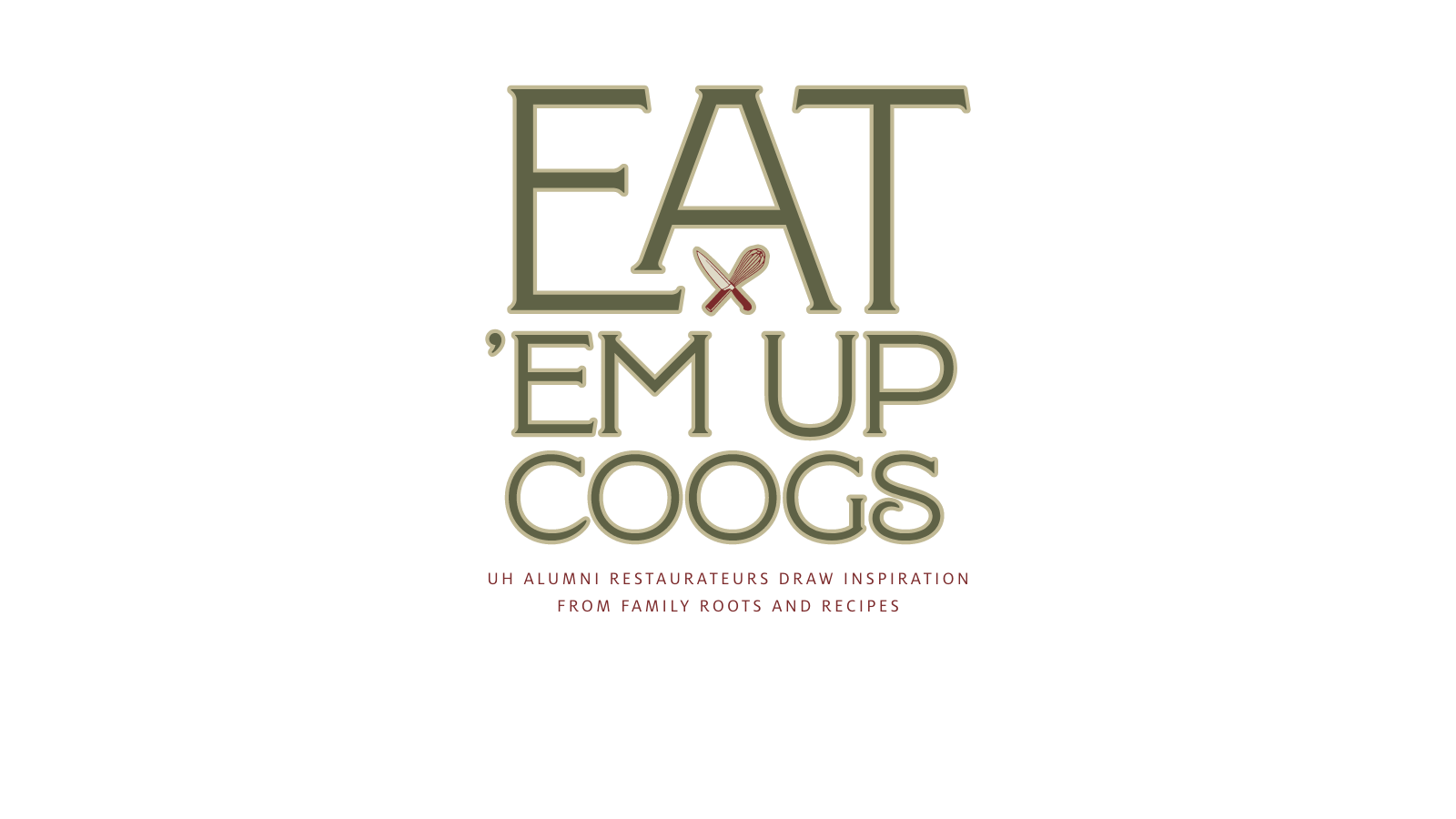 While the University of Houston is well known for its contributions to the workforce in such high-profile sectors as energy, health and education, it has also been the source for a surprising number of individuals flourishing in Houston's diverse and fast-moving restaurant scene. While some of that can be attributed to the efforts of the Conrad R. Hilton College of Hotel and Restaurant Management or the C.T. Bauer College of Business' enterprise programs, some of it may just be the general "can do" attitude that students often develop at UH. 
We sat down with a talented group of "Forever Coog" restaurateurs who continue to blaze trails in the Houston food scene. Christine Hà (MFA '13), Pedro Mora (B.B.A. '03), and Ronnie (B.S. '12) and Linda Nguyen (B.S. '17) share more than just the same alma mater. Each keeps their familial and cultural roots at the heart of what they do.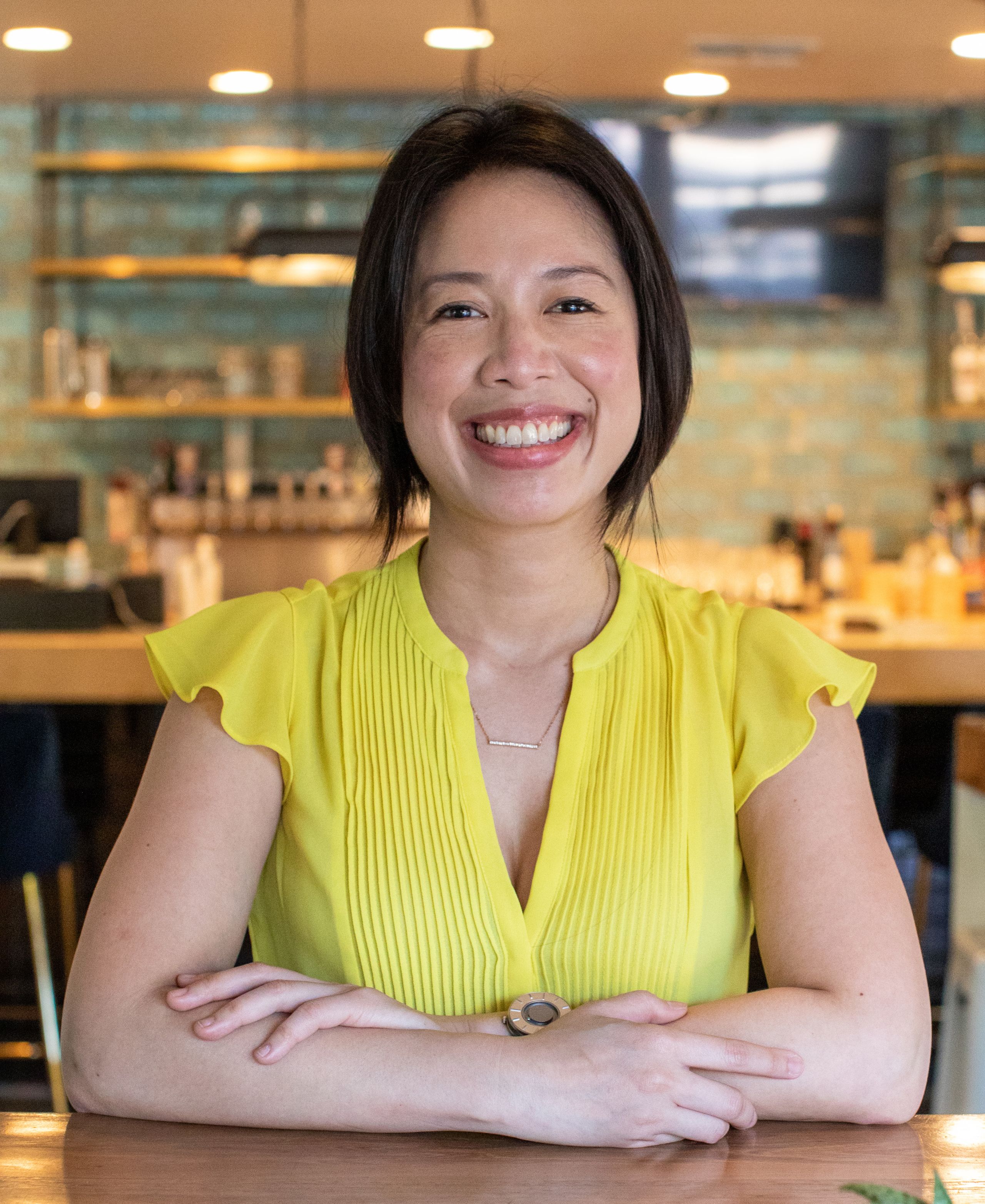 Christine Hà (MFA '13)
One of Christine Hà's favorite childhood memories was watching her mother make fried Vietnamese spring rolls – the delicate spring roll pastry wrappers neatly filled with pork, shrimp and a mixture of mung bean noodles, woody mushrooms and other vegetables that had been marinating overnight. Her mother would carefully roll them and then gently drop them into a pot of hot oil, working batch by batch.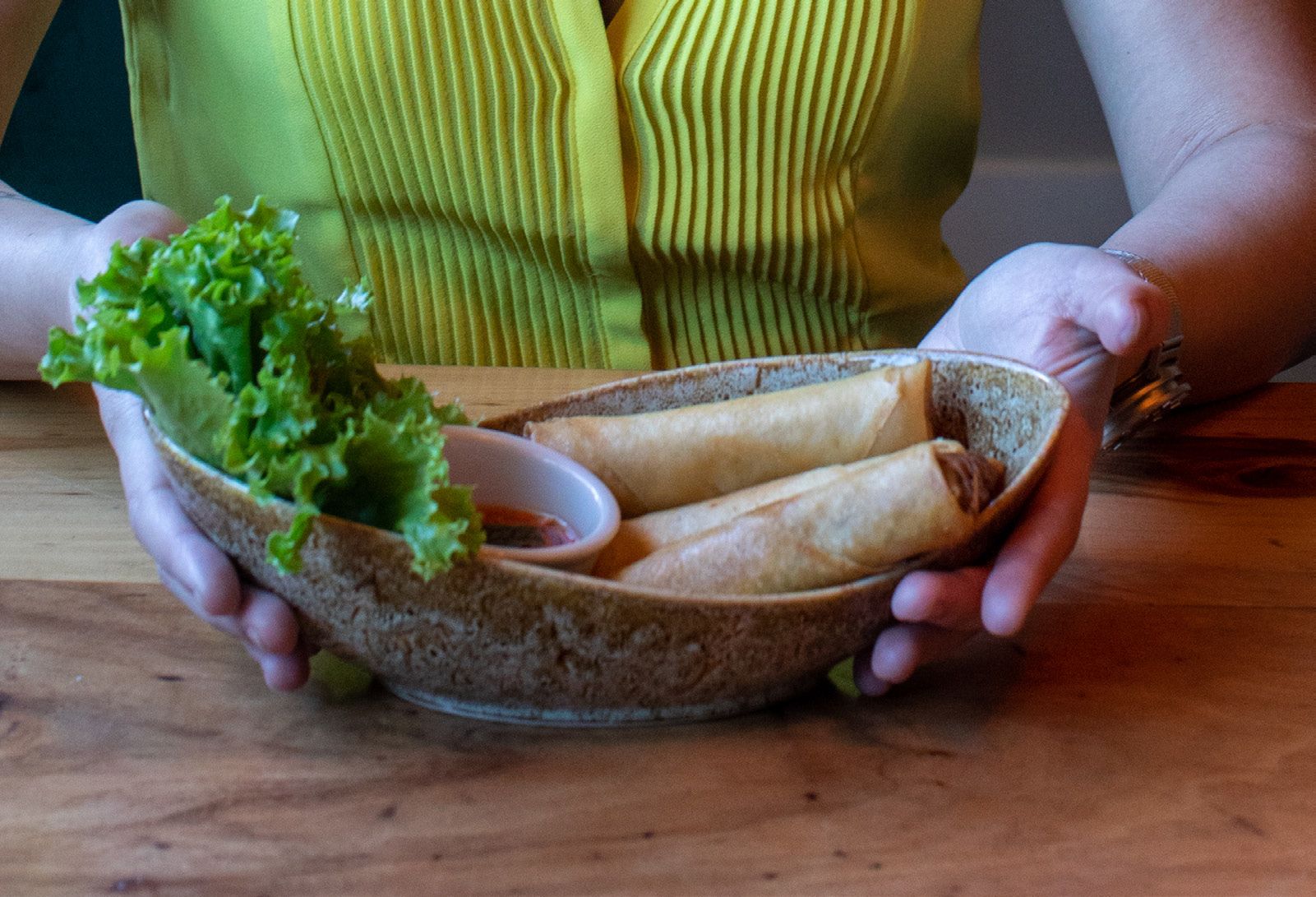 "She would cook them for special occasions like my birthday. I just couldn't get enough of them because they were so easy to snack on," said Hà, who could hardly stand the wait as spring rolls drained and cooled just enough to eat.
However, it was her mom's caramelized pork and eggs that literally changed the trajectory of her life. Hà gradually lost her sight between 1999 and 2007 due to an autoimmune disease, but the memories of her mother's cooking remained vivid. The pork and egg dish was the dish Hà prepared to win the third season of Master Chef in 2012, while she was a graduate student in the prestigious UH Creative Writing program. It solidified her future as a restaurateur and was a shining moment she wishes her mother could have witnessed. 
"My mom died when I was a teenager, and she didn't get the chance to teach me her recipes," explained Hà. "While I was an undergraduate student at UT-Austin, I bought some cookbooks, a cheap set of knives, pots and pans and taught myself how to cook. It was a lot of experimentation in the kitchen, not knowing what I was doing and not having a mom to ask questions."
Pedro "Pete" Mora (B.B.A. '03)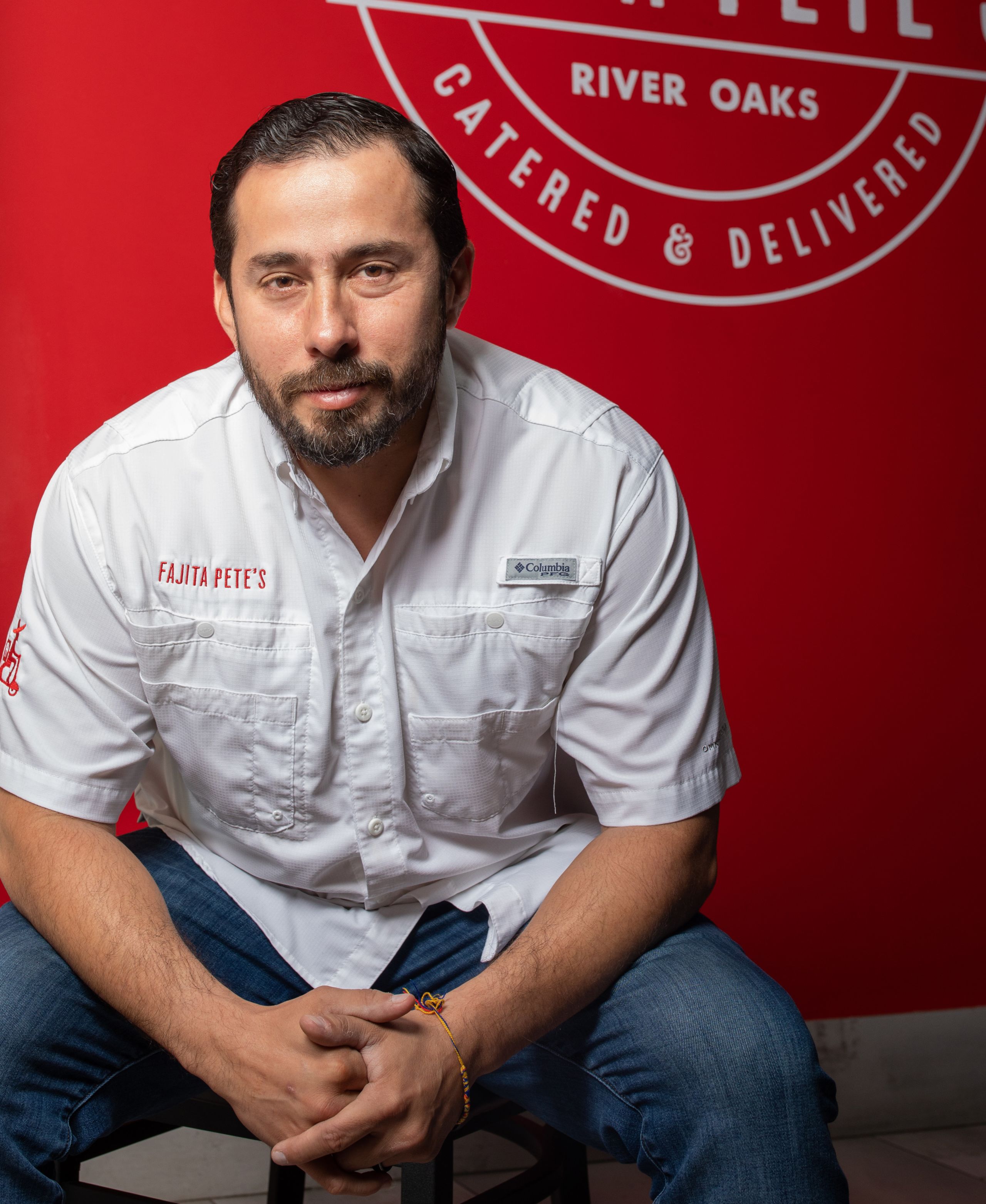 Pedro "Pete" Mora, (B.B.A. '03)
Pedro Mora learned at a very young age the importance of being your own boss. Growing up the youngest of three children during the civil war in Colombia, he witnessed both the success and struggle his parents went through running their transportation company. Mora vividly recalls what his mother told him when the family fled to Houston in the late 1980s.
"She said, 'We are not bringing you to America to fill out applications'," Mora shared. "My mom always told us we need to be self-employed."
And those words have been the driving force behind Mora's success as owner of Fajita Pete's, a Tex-Mex catering and delivery franchise based in West University. His business model is about efficiency and simplicity – which was taught to him at UH's Center for Entrepreneurship and Innovation – known now as The Cyvia and Melvin Wolff Center for Entrepreneurship, the number one undergraduate entrepreneurship program in the nation.
Before graduating in 2003 with a bachelor's degree in business administration, Mora opened his first Mexican restaurant Poblano's in Meyerland. It had 60 tables and a full bar. But Mora realized that having a full-service restaurant was not part of his long-term plan.
"While I had Poblano's, I was looking for additional revenue streams, so I got into catering. That was a business model I could multiply. All I needed was a kitchen and a car."
In 2008, Mora's concept of delivering a scaled-down menu of fajitas, tacos and flautas to the people was born. He closed Poblano's and opened Fajita Pete's. Two weeks later Hurricane Ike hit, and fearing a possible loss of power, Mora cooked what was in the cooler and managed to feed 90 families who lost power during the storm. In an instant Fajita Pete's became a household name.
For someone who grew up enjoying his grandmother's Ajiaco or chicken soup and a traditional breakfast of Bistec a Caballo or steak with fried eggs, Mora finds the similarities between Colombian and Mexican food fascinating.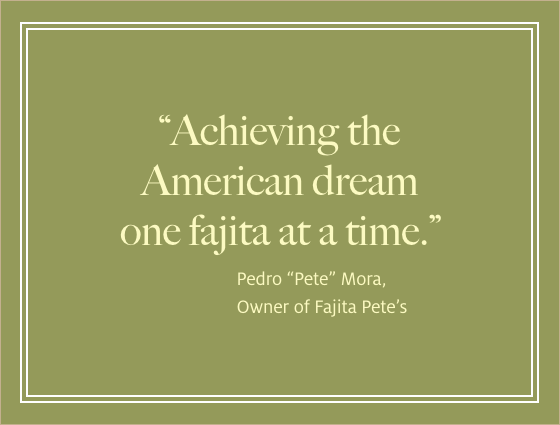 "We were always meat eaters. In Colombia we had a farm, and my dad was a hunter," Mora explained. "If you didn't have a meal with meat, it really wasn't considered a meal."
On Fajita Pete's menu, fajitas are king of course, but there's also tacos, enchiladas, burritos and flautas to be enjoyed. Customers may pick up hints of Colombian flare in the beef that's cooked in a tasty blend of lime and pineapple, which serves as a natural tenderizer. The addition of tomato sauce gives his popular white rice a reddish tint. 
For Mora, it's about "achieving the American dream one fajita at a time."
The father of two is certainly living the American dream and making his parents proud. Over the past 12 years, Fajita Pete's has expanded to nearly 20 locations in Texas with 40 stores awarded to current and new franchisees. The first store out of state will be popping up in Kansas, with Colorado and Oklahoma in the next few months. He recently sold 50% of his company to a private equity group – an accomplishment that makes Mora feel like his hard work is being recognized. 
"People ask me how I made it in the restaurant business where 85% of people fail. I say it's because I keep getting up in the morning. I tell my employees we all have to believe we are in the top 15%. If not, then don't get out of bed. Meeting great partners like Joey Eguia and the investment group, along with having a great crew from the beginning, really helped me grow and get to the levels we are seeing today."
Ronnie Nguyen (B.S. '12) and Linda Nguyen (B.S. '17)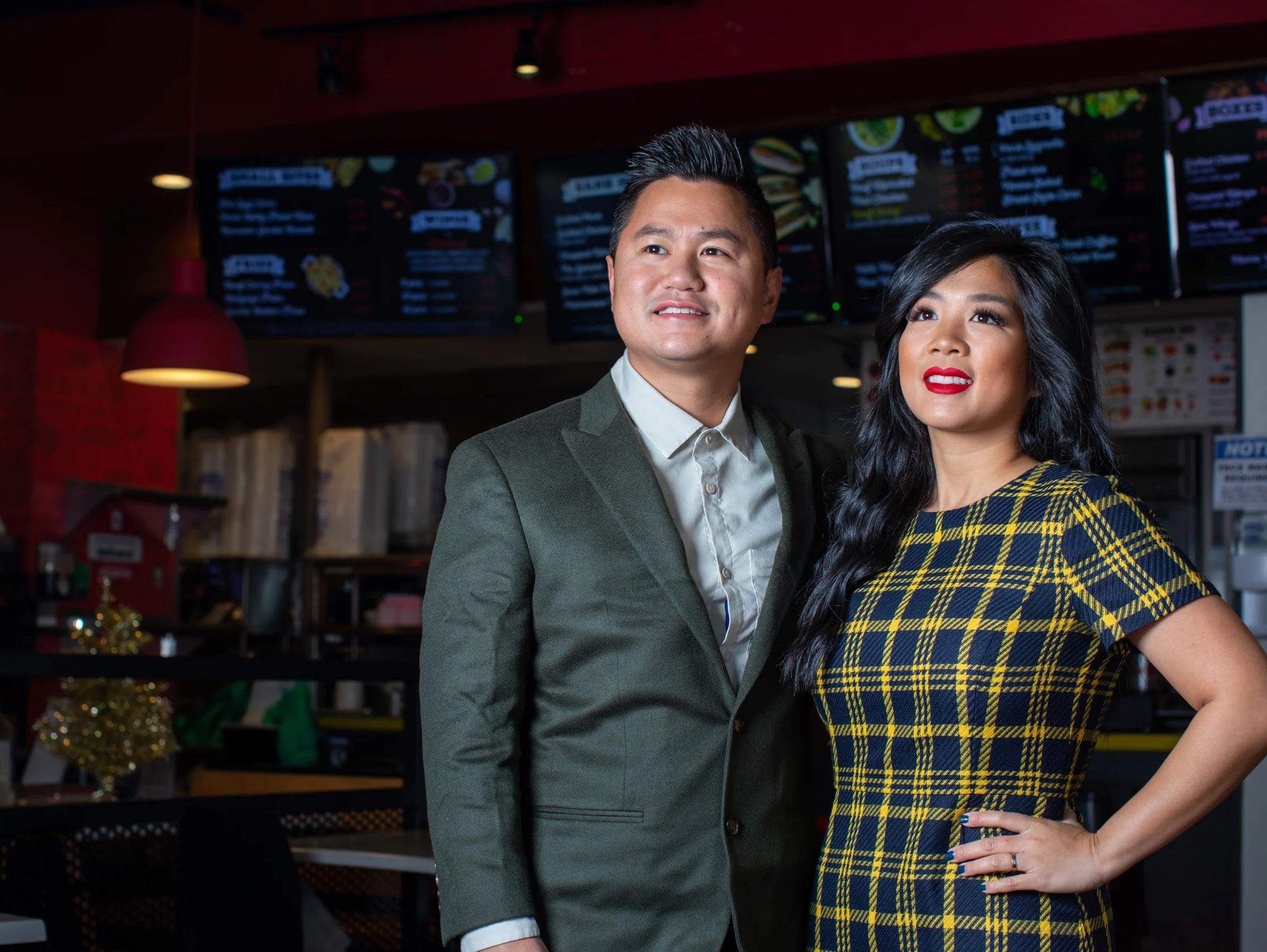 Ronnie Nguyen (B.S. '12) and Linda Nguyen (B.S. '17)
For Hilton College alumni Ronnie ('12) and Linda Nguyen ('17), working in the service industry is a family tradition, and so is being a Coog. Ronnie's father attended UH for chemical engineering in the 70s, and two of Linda's sisters are UH graduates.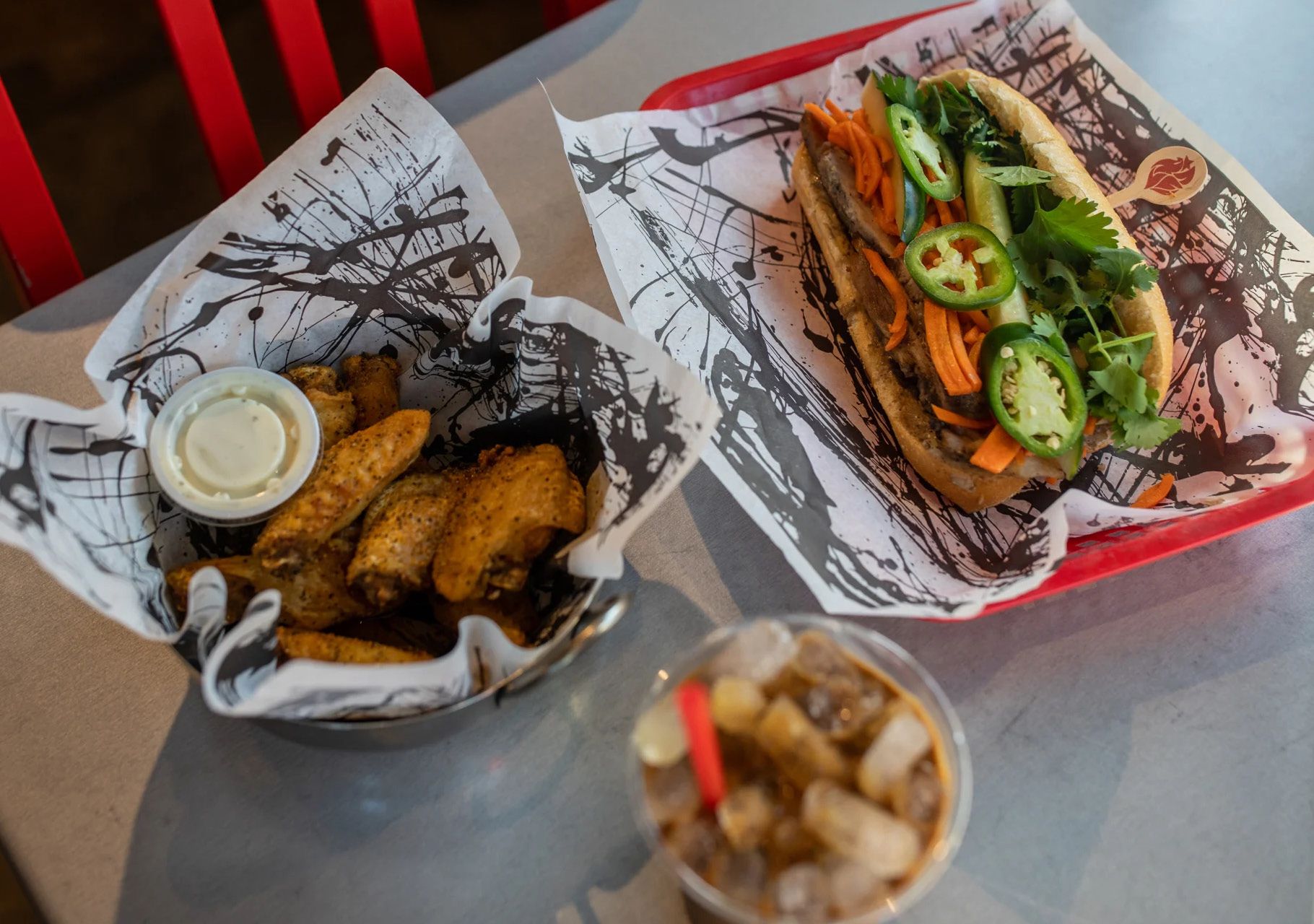 As for Ronnie's mother, uncles and grandparents, they owned restaurants in Thailand and New Orleans. Linda's grandmother had a sandwich shop in Vietnam, and growing up, Linda worked at her parents' grocery store in Houston. Both learned how to cook, clean and engage with customers at a very young age. 
The Nguyens, who met in 2005 through mutual friends, both earned Bachelor of Science degrees in hotel and restaurant management at UH. Their first business plan for a restaurant was the result of a class project, and from it, the couple's first restaurant was born. 
"During the course of Ronnie's time at UH, he had this big binder that carried that business plan," Linda fondly recalled. "And for his final exam in Nancy Graves' restaurant layout and design class he was able to pitch that plan to a special panel of restaurateurs."
Initially called Vietnam Poblano, Houstonians now know it as the bánh mì legend Roostar Vietnamese Grill. Custom bánh mì's, a fusion of Vietnamese and French flavors featuring Vietnamese meats and vegetables tucked inside a crusty French baguette, are served alongside rice and noodles. Roostar's flavors and brightly colored dining rooms are a nod to the Vietnamese street vendor scene.
The couple now has locations in Spring Branch and the Galleria area. A third location is set to open near where their restaurant journey began. In 2021, Roostar will have a location near UH in Houston's East End. 
Rooted in Roostar's success are Linda and Ronnie's lifelong experiences — from stocking shelves to honing valuable managerial experience and business acumen. And, of course, the prized family recipes that dot the menu. Ingredients are made from scratch in-house – from the pickled garnishes and marinades to the garlic aioli. If you ask Ronnie what a customer favorite is, he would say the lemon pepper wings his uncle taught him to make while he was in junior high. "The secret sauce in the wings is a great seller. There's a little bit of Cajun mixed in it."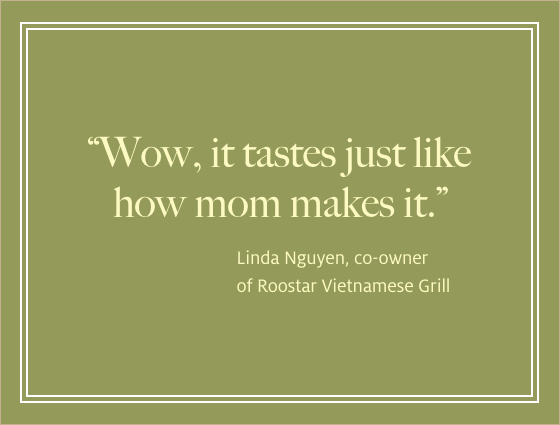 And for Linda, it's her mother's Vietnamese iced coffee. Each time she pours a cup for customers, Linda is reminded of the times that nutty, hickory smell would lure her and her sisters out of bed in the early morning hours. Other items on the menu from her mother's kitchen include the pork belly and pate tucked inside their famous special bánh mì. 
"That's why our patrons keep coming back and supporting us because they can get that feeling of home," Linda explained. "They will have a sip of the coffee and feel like 'Wow, it tastes just like how my mom makes it.'"
Roostar is on a roll. The Roostar Restaurant Group has produced eight years of consecutive growth, and since the pandemic began, digital sales have tripled. They have a branded mobile app, a thriving corporate catering business and are crowdfunding in an effort to launch Roostar Factory, a commissary kitchen to scale the business and streamline operations for the growing business lines.
"We've built Roostar around our employees," Ronnie explained. "Our priorities are staff, customer, community and then the bottom line. These priorities drive our decisions. It gives us our DNA and defines who we are." 
Cougar Bites
UH Cougars have a taste for innovation and hospitality. Across Houston, and beyond, UH alumni are making history as leaders, entrepreneurs and chefs de cuisine in the hospitality industry.
Brooks Bassler (BBA '02)
BB's Tex-Orleans
Alex Boquiren ('15)
Seaside Poke
Giovannina Cicciarella ('92)
Giannina's Pizza & Catering 
Aaron Corsi ('09, MS '11) & Ryan Soroka (MS '11, MBA '11)
8th Wonder Brewery 
Brina D'Amico ('99)
D'Amico's Italian Market Cafe 
Patrick Demarco ('10)
Cane Island Bar & Grill 
Frank Demeris ('83)
Demeris BBQ 
Randy Duncan ('17)
Daddy Duncan's BBQ 
Tilman Fertitta ('78)
Landry's Inc. and Golden Nugget Casinos, Houston Rockets
Star Gilani ('15)
Best Bites Houston 
Yuxin Jin (MS '16) & Sheng Chang ('MS '16)
Feng Cha Sugar Land 
Avi Katz ('97)
Katz Coffee 
Chef Kaiser Lashkari ('86)
Himalaya Restaurant  
Joseph Mandola ('07)
Mandola's Deli 
Rogelio Marquez ('02)
Alma Latina Mexican Restaurant 
Russell Masraff ('93)
Masraff's 
Nick ('73) & Vicki (Hon. '03) Massad & Family
American Liberty Hospitality (Hotels) 
Morris Masters ('99)
Chick-Fil-A (249 and Jones Rd.) 
Dan ('96) and Jennifer ('97) Meaux
Crawfish Shack 
Eric Morse ('99)
The Sauer Kraut 
George Mickelis ('82)
Cleburne Cafeteria 
Ricki Oberoi ('86)/Oberoi Holdings
Wendy's Franchises
Mike Przestrzelski ('78)
United Sales & Services, LLC
Wen Kosters-Qin ('11)
JuiceWell Cold-Pressed Juicery and Health Bar 
Amber (MBA/MS '00) Luis Rabo ('95, MHM '02)
We Olive & Wine Bar 
Kelly Roberts ('81)
Landry's Restaurants, Inc. 
Jennifer Royo ('06)
No Label Brewing Co. 
Ricardo Salcedo ('10)
Pokii Eatery 
Alban Shahini (BBA '10)
Brooklyn Pizzeria
Derek Shaw (MBA '12)
The Nook
Jason Velasquez ('14)
Yellow Rose Distilling, LLC 
Jeremy Wladis ('86)
The Restaurant Group
Daniel Wolfe ('16)
City Cellars HTX, Wolfe & Wine Co. 
Justin Yu ('07)
Theodore Rex