RUNNING ROYALTY: 
The storied history of Carl Lewis and Leroy Burrell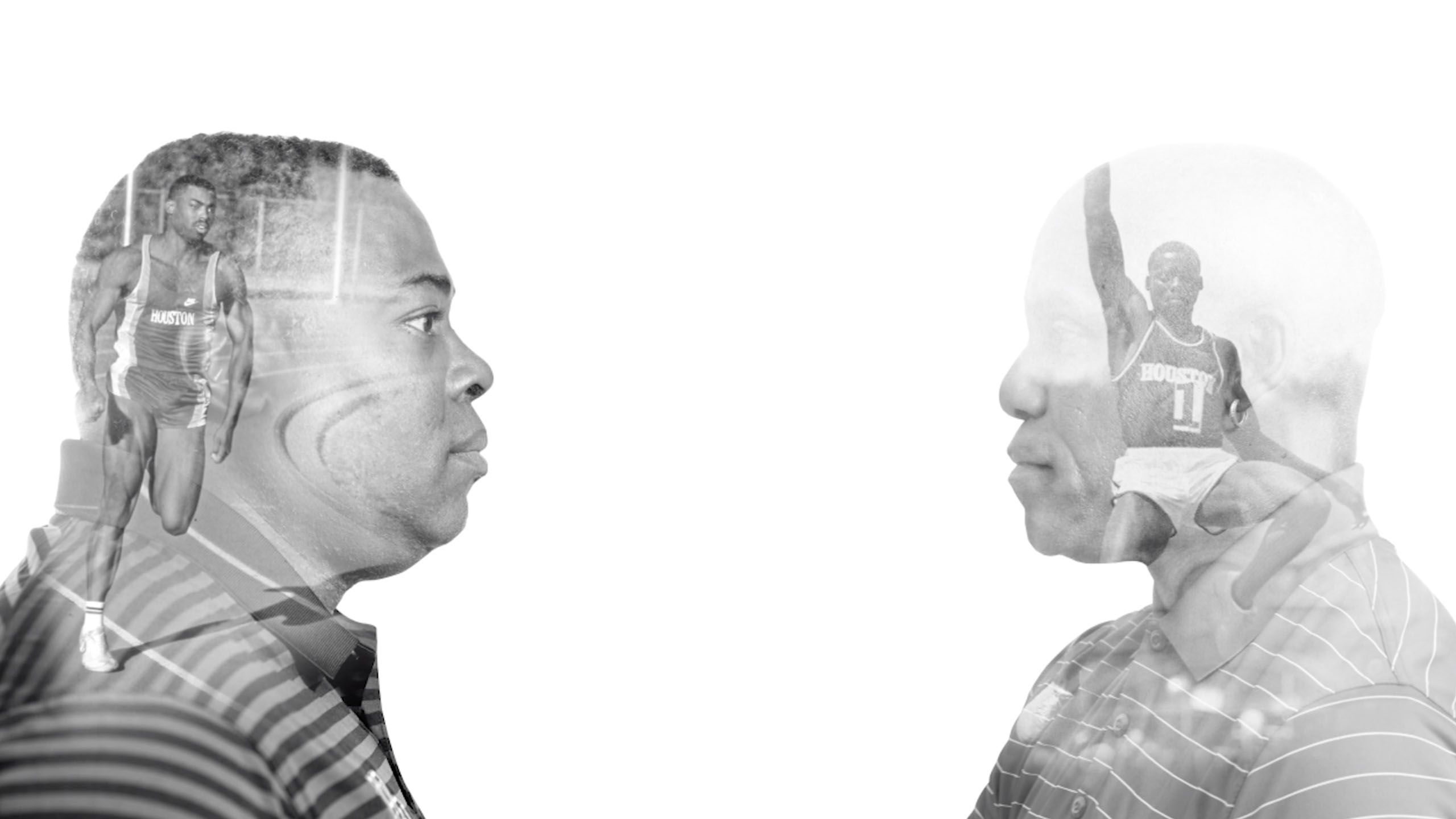 In the summer of 1984 Leroy Burrell was glued to his grandmother's television set in Lansdowne, Pa. The high school rising senior was enthralled with the Summer Olympic games and became part of the collective experience witnessing the greatness of University of Houston alum Carl Lewis. Day after day Lewis would ascend the heights of athletic prowess to dominate track and field and win four gold medals - in the 100-meter dash, 200-meter dash, long jump and the 4x100-meter relay.
Burrell sensed he wasn't just watching sports; he was witnessing history. In securing the foursome of gold, Lewis equaled Jesse Owens' performance in Berlin in 1936, winning the same medals in the same events at a single Olympiad.
Who knew then that Lewis was just beginning to set his own bar, on the way to winning four gold medals in a row in the long jump and that Burrell was on his way to becoming the longest-serving track and field coach at the University of Houston?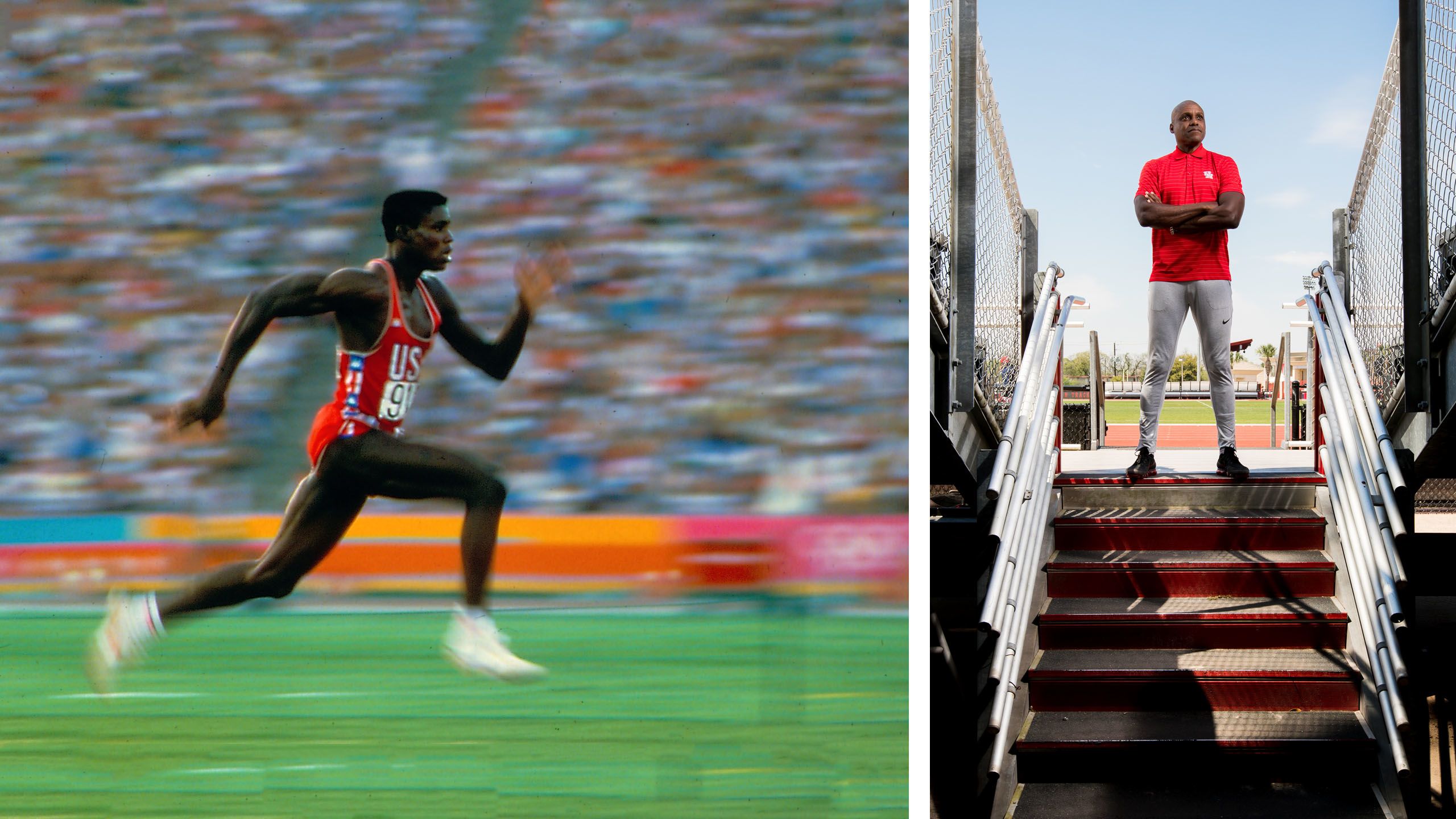 courtesy of the U.S. Olympic Committee: photograph by David Cannon, Crawford Family U.S. Olympic Archives
courtesy of the U.S. Olympic Committee: photograph by David Cannon, Crawford Family U.S. Olympic Archives
Lewis would later say the long jump was his favorite and best event, pointing to his longevity of domination. "It didn't come from just getting out there and winning a meet. It came from the best coaching I could possibly have, a great environment and the desire to actually be the best I could be." Lewis was talking about the coaching of University of Houston's Tom Tellez, considered one of the greatest track and field coaches in history.
Back at that television set, Burrell knew who Tom Tellez was, too, because Burrell wasn't a mere spectator. He was a hopeful. He hoped for a good education despite a rough start in west Philadelphia. He hoped for a future as an athlete, too, despite being born blind in his right eye. Big dreams and big hurdles that Burrell didn't seem to have given much weight at all. In fact, he thrived despite it all. After furtive teen attempts at football and baseball, he gave track and field a try, breaking three school records his freshman year.
Still, of all his hopes and dreams, could he dare to imagine that one day he might best this Olympic Zeus named Lewis and run alongside him—head to head—not only as competitors but as lifelong friends? Who dreams that big? As it turns out, Burrell does and so does Lewis. It would be just the start of all the common ground they would tread.
An Olympic Encounter
For his part, Lewis understood millions were watching him at the Games of the XXIII Olympiad, but no idea that a kid named Burrell was one of them.
"When you hear that its weird, you don't understand it when you're 24 and 25 so you don't really even talk about things," said Lewis of Burrell watching him in 1984. "What's great is that the relationship built and we were able to become friends first, to see him as the little kid then having to respect him because he was as good as I was or better in most cases, and then becoming adults and parents and families to go through that whole process has been amazing to watch and I'm having fun doing it."
Soon Burrell would be visiting Houston on a recruiting visit and – with unabashed awe - get to meet Lewis. The mentorship formed naturally.
"The coach had picked me up on my recruiting visit and he pulled up and I was just out at the track watching practice and Carl pulled up for practice and I just thought – 'Oh my goodness this is the coolest thing!'' remembers Burrell.
Lewis was immediately accessible. "Coach Tellez talked about what this young man could do and I was really motivated to help," said Lewis.
Burrell set out to emulate Lewis while continuing to develop his own athleticism. It didn't take long. In 1986, Burrell broke Houston's freshman long jump record, previously held by Lewis, when he leaped 26'-9" at a dual meet against UCLA in 1986.
Then in 1990, Burrell was able to beat Lewis for the first time in the 100m at the Goodwill Games.  Burrell humbly says it was just circumstance, calling it an "off-year." He also says he's not humble, just honest.
"I was shooting for something," said Burrell. "He was coasting a little bit so obviously you have a strong target, a laser beam on your target for me as a young guy and hungry, then you have this savvy veteran, but I still only won by a couple hundredths of a second. That just tells you how good Carl is."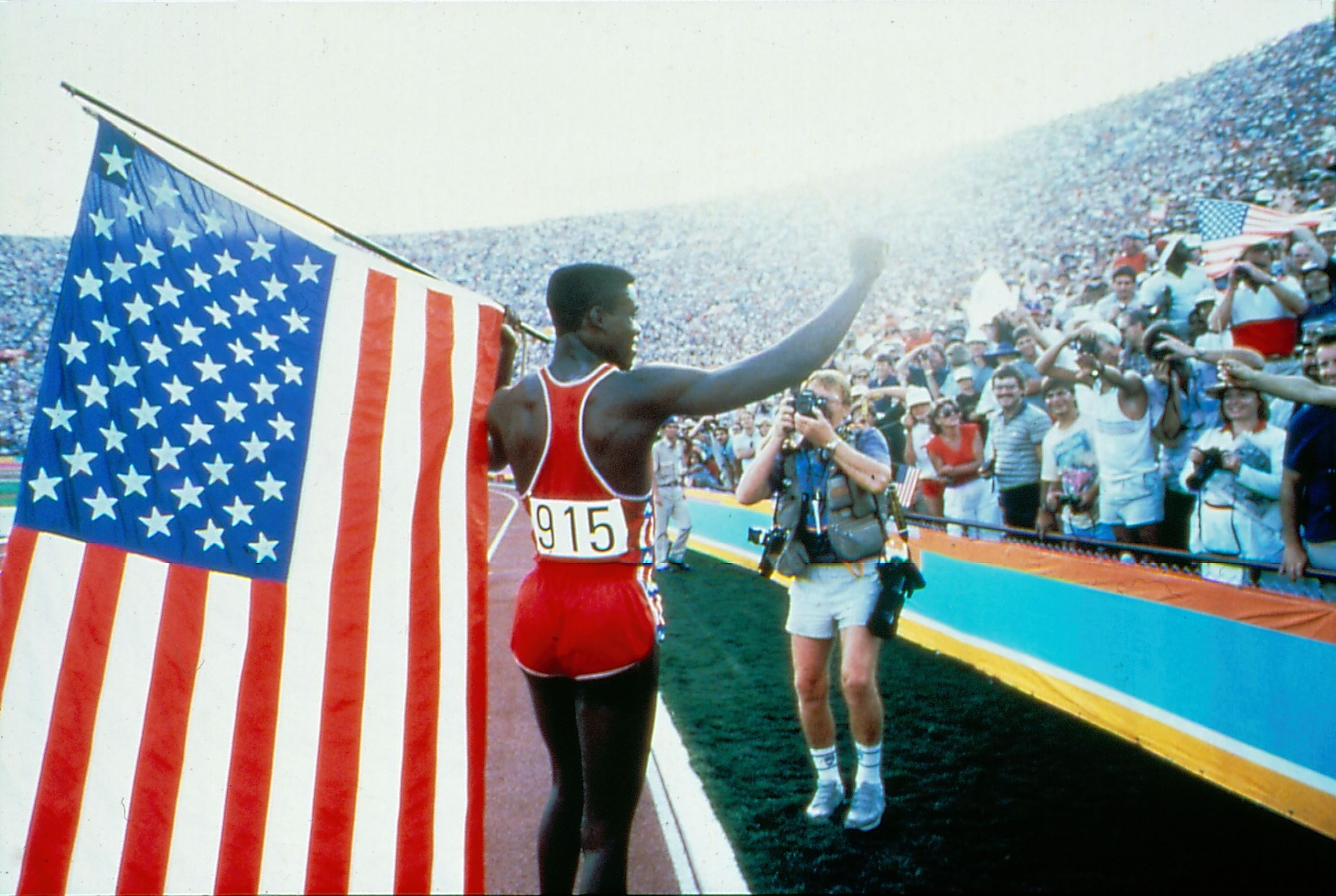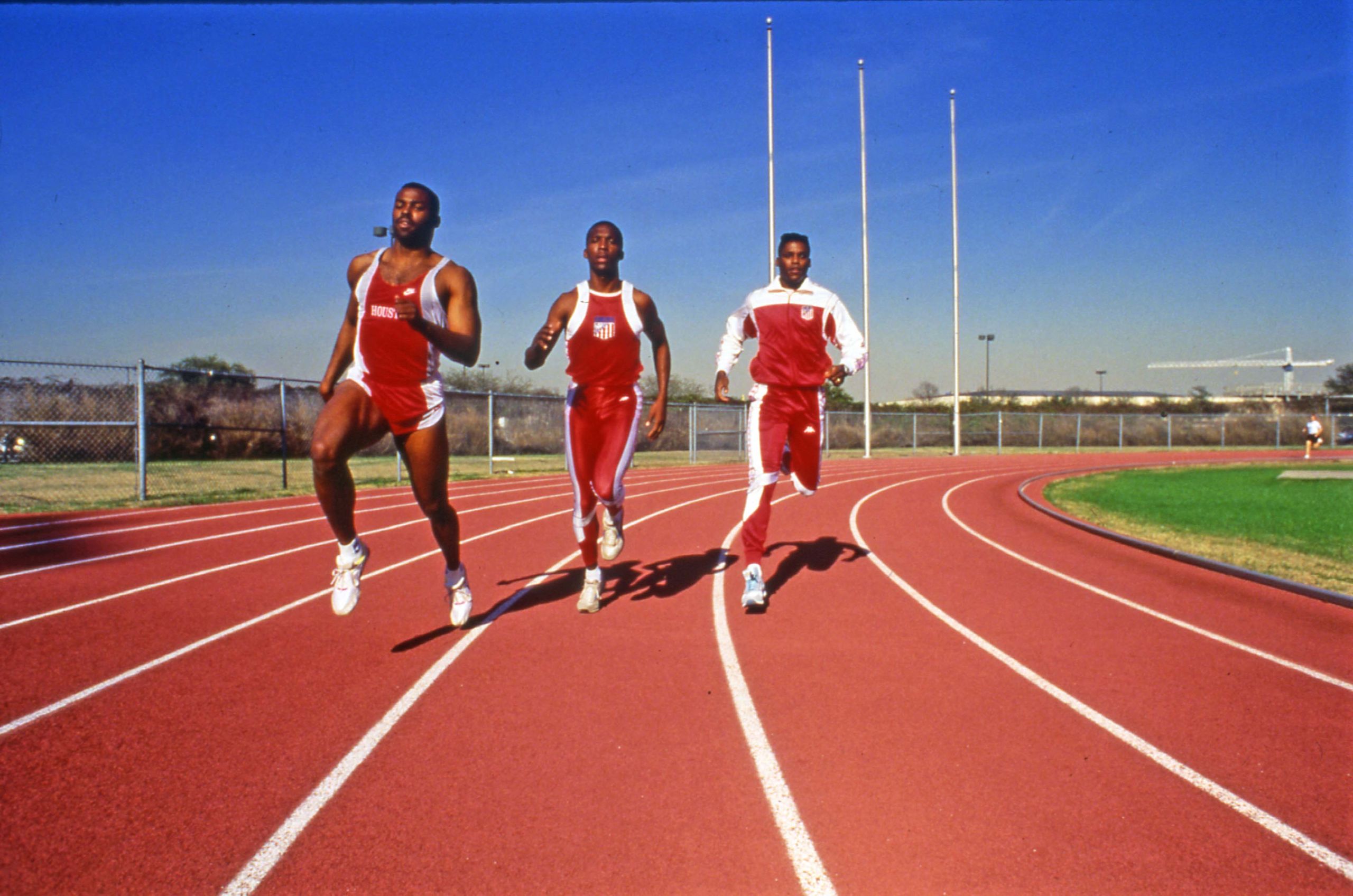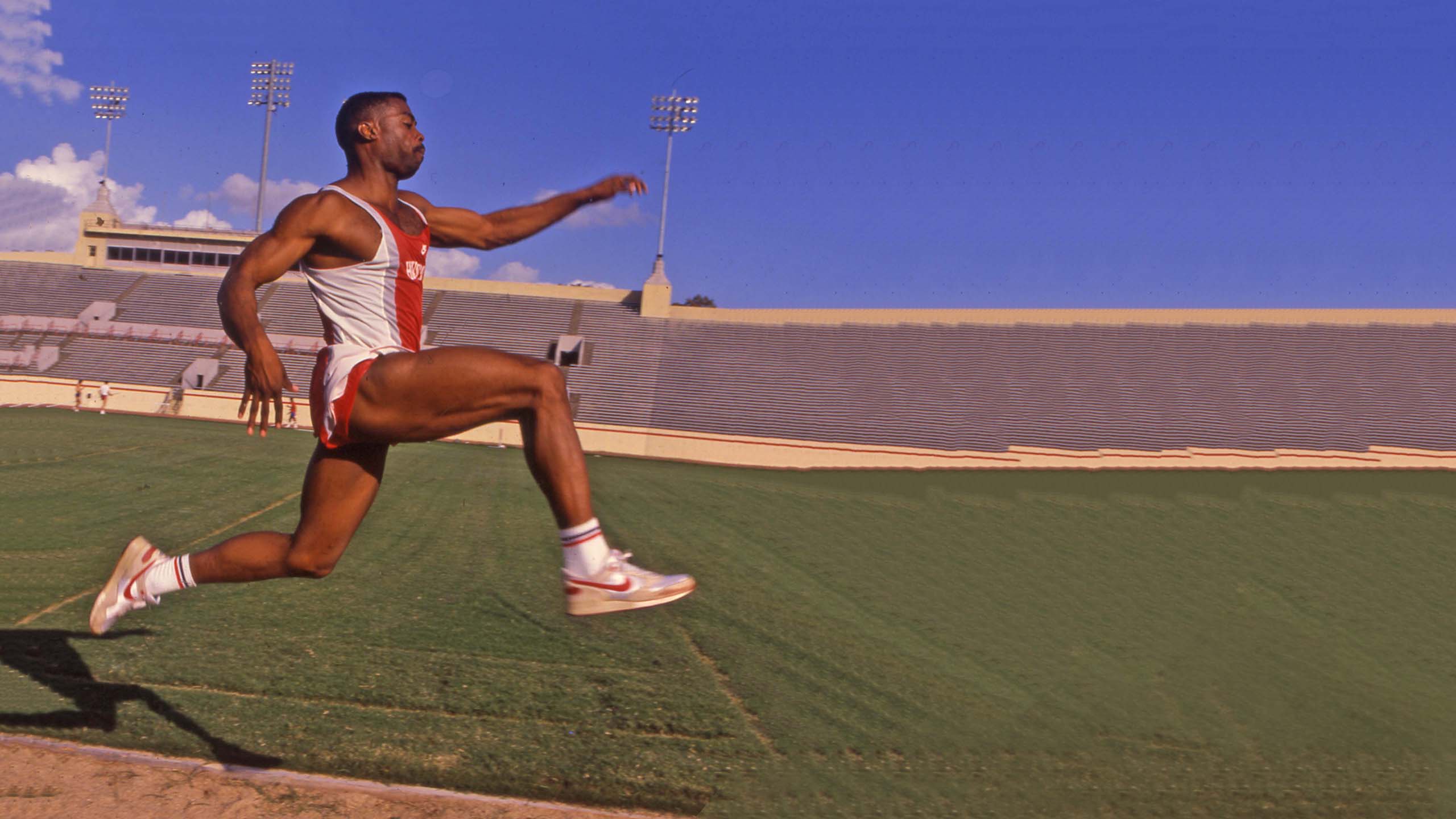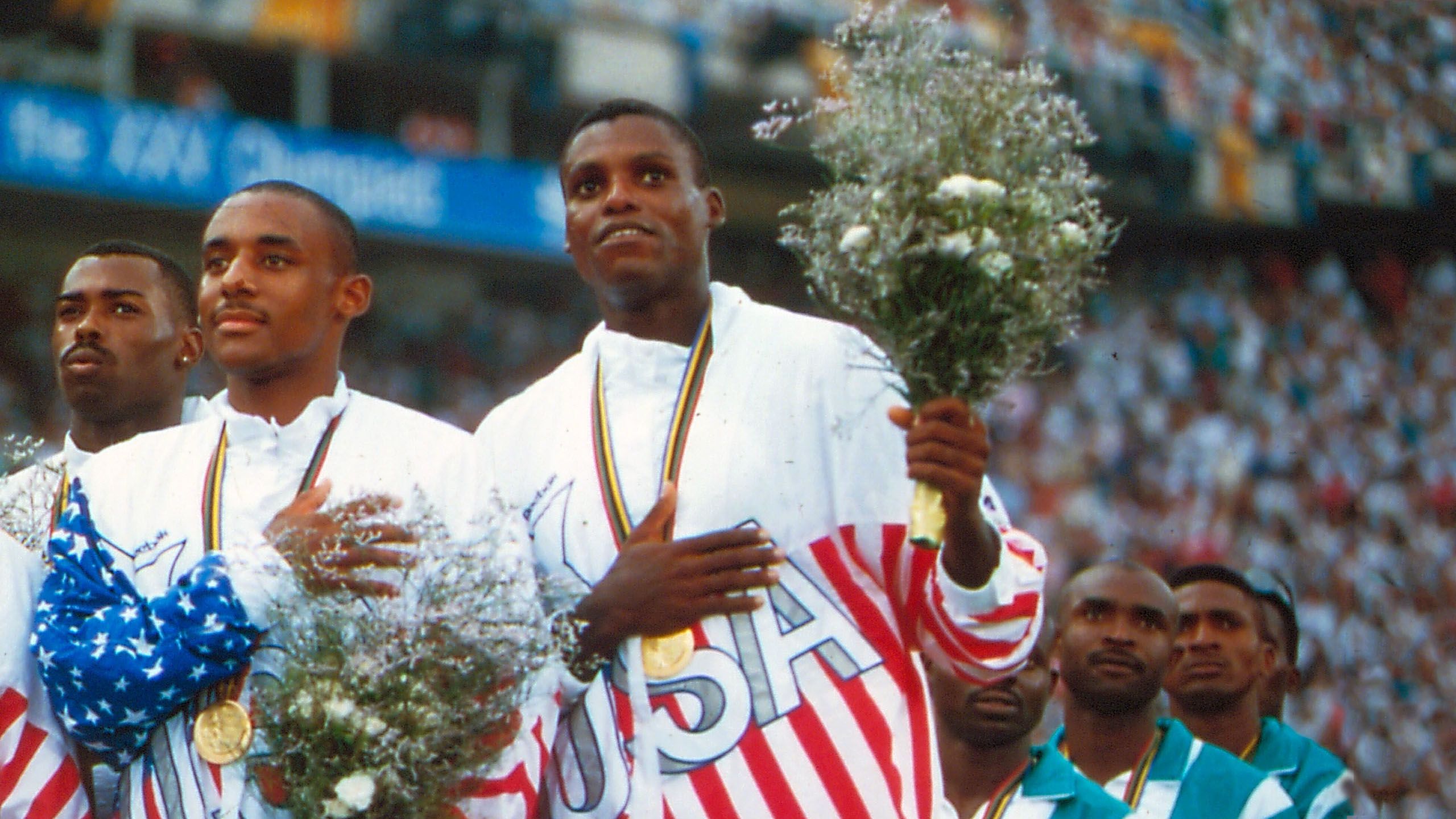 Play this video to learn how to outrun Carl Lewis
Play this video to learn how to outrun Carl Lewis
And so it would go that way for Lewis and Burrell. Friendly competitors, fierce rivals and in the end, the best of friends, still breaking bread together, celebrating holidays and inspiring each other. Burrell would go on to replace Coach Tellez as the head of UH track and field and become one of the premier coaches in the United States.

That's how one of history's greatest athletes became a full-time assistant track and field coach at the University of Houston—Lewis working for Burrell, building an Olympic-based program, and not taking a dime for his trouble.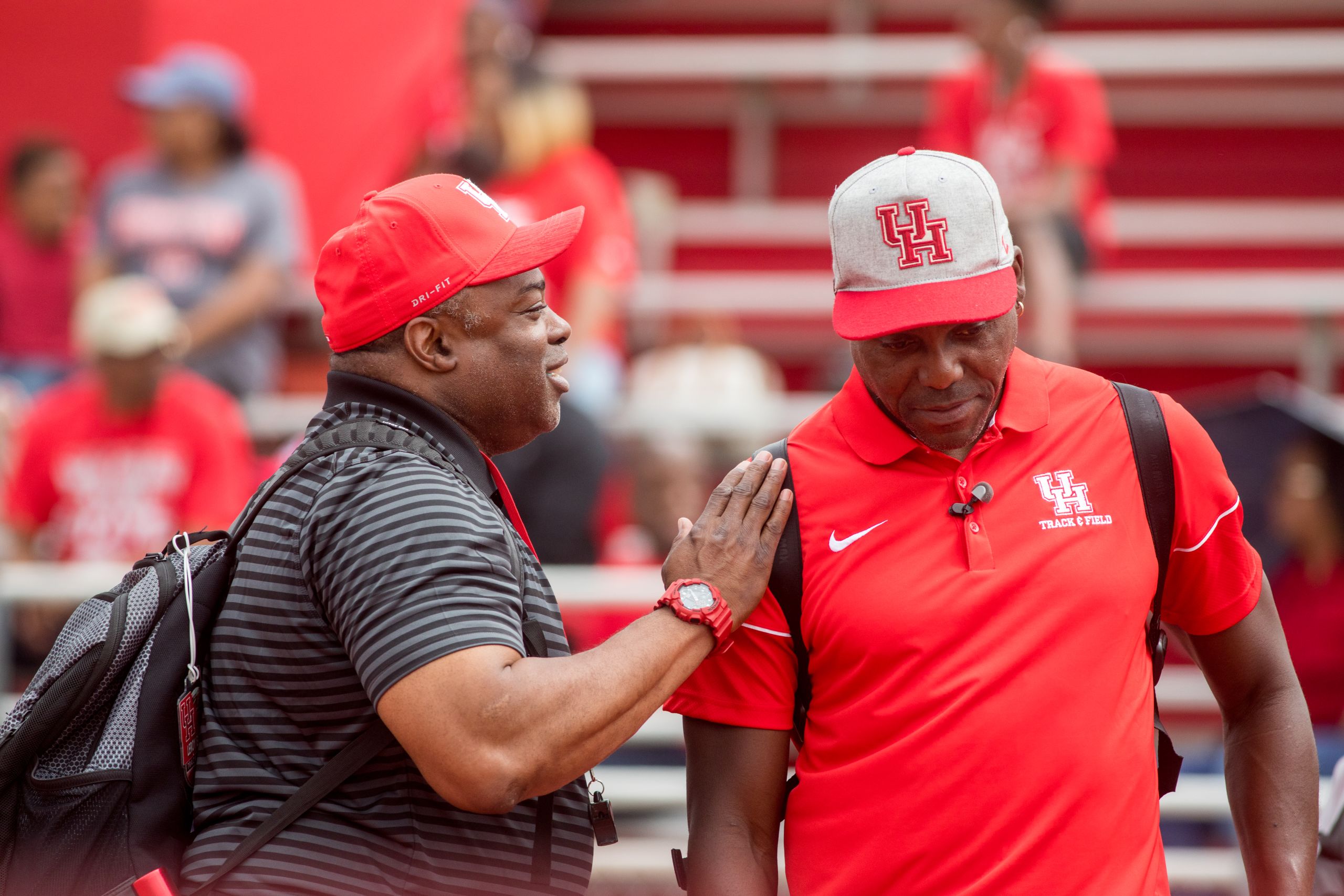 Inextricably Linked
When Burrell's son Cameron got to the starting blocks, he turned to Lewis to mentor him, admitting it's often hard for a son to accept a father as a coach, even if that father is the winning Leroy Burrell. The Lewis touch and Burrell talent was again a winning combination. In 2017 and 2018 the younger Burrell helped the Houston Cougars win the 4×100-meter relay. Also in 2018 he won the 100-meter dash. 
"So there we go again," said Burrell. "A connection in a family situation that brought Carl back to his former competitor."
Lewis said he would have never coached anywhere other than UH.
"I'm 57 and the greatest thing I can say about my life is that I have the choice to do whatever I want to do," said Lewis. Lucky for UH, what he wants to do is coach with Burrell.
In reflection, the 80's kid that watched Carl Lewis smash the gold might not have dreamed the two would end up as such tight running buddies, as close as family.
"I would say it sounds improbable," said Burrell. "But the improbable happens all the time."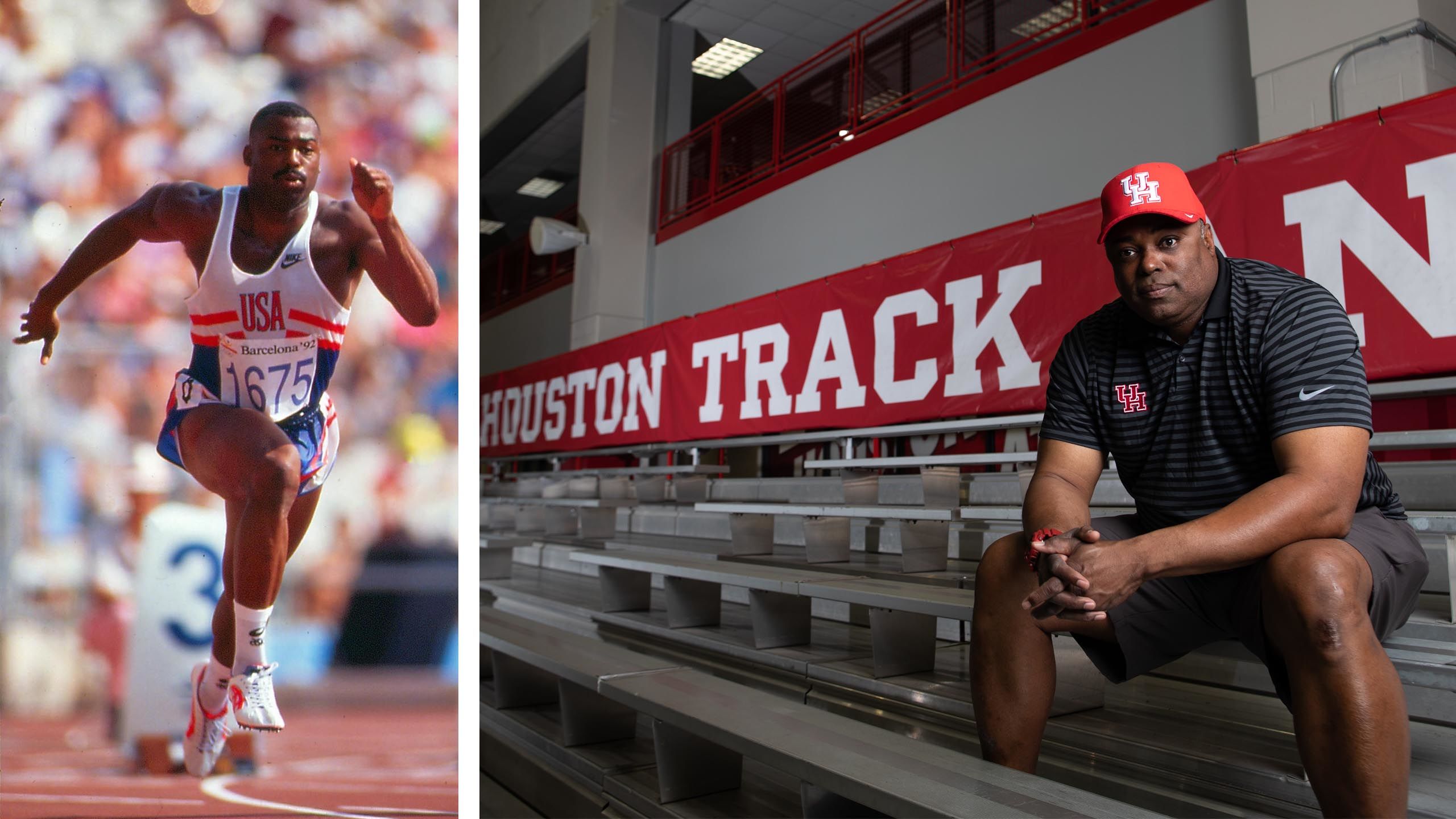 courtesy of the U.S. Olympic Committee: photograph by Gray Mortimore, Crawford Family U.S. Olympic Archives
courtesy of the U.S. Olympic Committee: photograph by Gray Mortimore, Crawford Family U.S. Olympic Archives
Credits: Story by Laurie Fickman | Videography by Aaron Rodriguez | Photography by Jessica Almanza, Ben Corda and U.S. Olympic Archives | Graphics and Design by Damisi Delaney
For more feature stories from the University of Houston, visit stories.uh.edu.
A communication by the University of Houston Division of University Marketing, Communication and Media Relations.
Do you have a story idea you'd like to share with UH?
Email us at stories@uh.edu. We regret that we cannot respond to every submission. If your submission is a good fit, we will follow up with you directly.