RITE OF PASSAGE
Historic College of Medicine Inaugural Class Receives First White Coats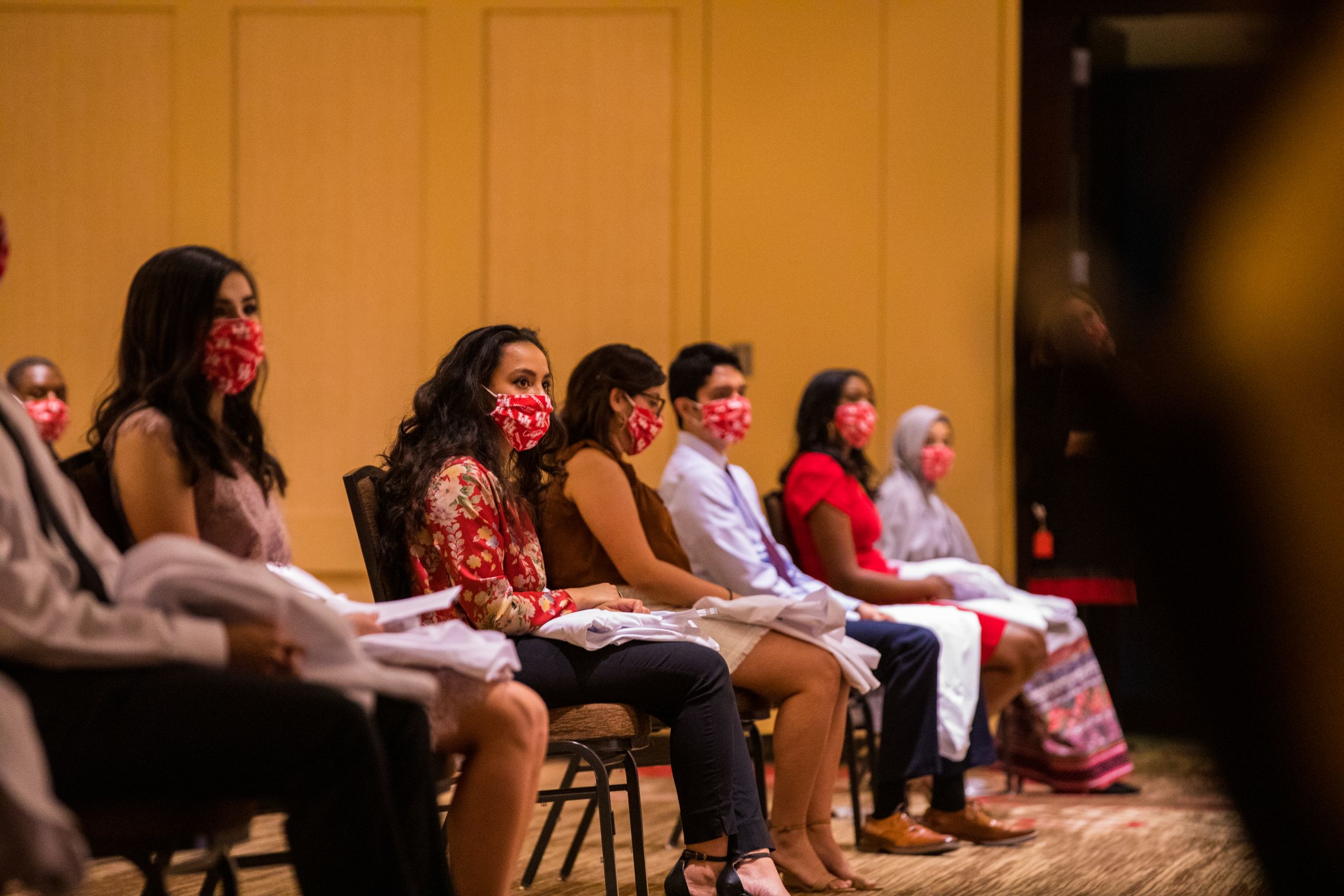 Diamondneshay Ward is a picture of persistence. Raised by a single mother, her family evacuated New Orleans when Hurricane Katrina devastated the Gulf Coast. Now 15 years after surviving that historic storm and making Houston home, she stepped on stage, slipped on her first white coat and made a different kind of history as a member of the University of Houston College of Medicine inaugural class.
"It means my dreams are finally coming to fruition," she said.
For the 30-member class of 2024, the white coat ceremony symbolized their entrance into the medical profession. Due to the COVID-19 pandemic, it also marked the first time the entire class came together in-person since being selected out of more than 1,700 applicants. Courses have been mostly online since the semester started in July.
Along with their new white coats, each newly minted medical student wore a mask — branded in Cougar red, of course — and sat six-feet apart as the ceremony was livestreamed to family and friends to maintain a safe capacity at Hilton University of Houston. Students did briefly remove their masks for photographs while alone on stage.
"It feels surreal," said Brandon Gonzalez, a native of Brownsville who was drawn to the new medical school because of its emphasis on producing primary care physicians with a deep understanding of social determinants of health, such as food insecurity, the environment and housing.
"I know that Hispanic and African American communities, especially during the time of the pandemic, are suffering disproportionately. I want to take care of those communities," he said.
Mistrust in the medical system among marginalized communities, and other factors including poverty and systemic racism, have contributed to a gap in access to health care nationwide. It's an issue the UH College of Medicine aims to address.
Only 13% of all students accepted to U.S. medical schools are Hispanic or African American. In contrast, Latino and Black students make up nearly three-quarters of UH's first class and 40% come from a low socioeconomic background. All 30 students are Texas residents and 57% are first-generation college students.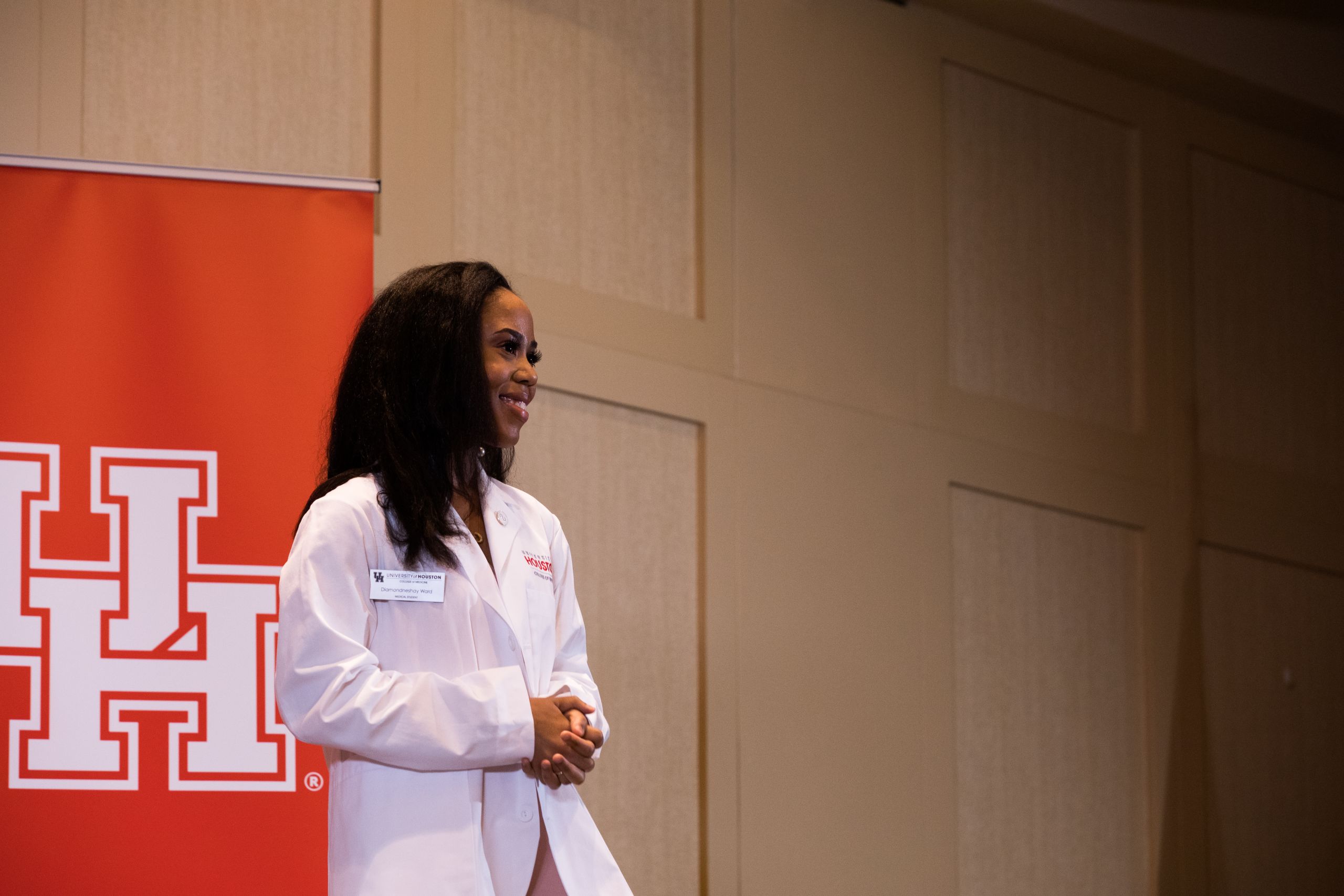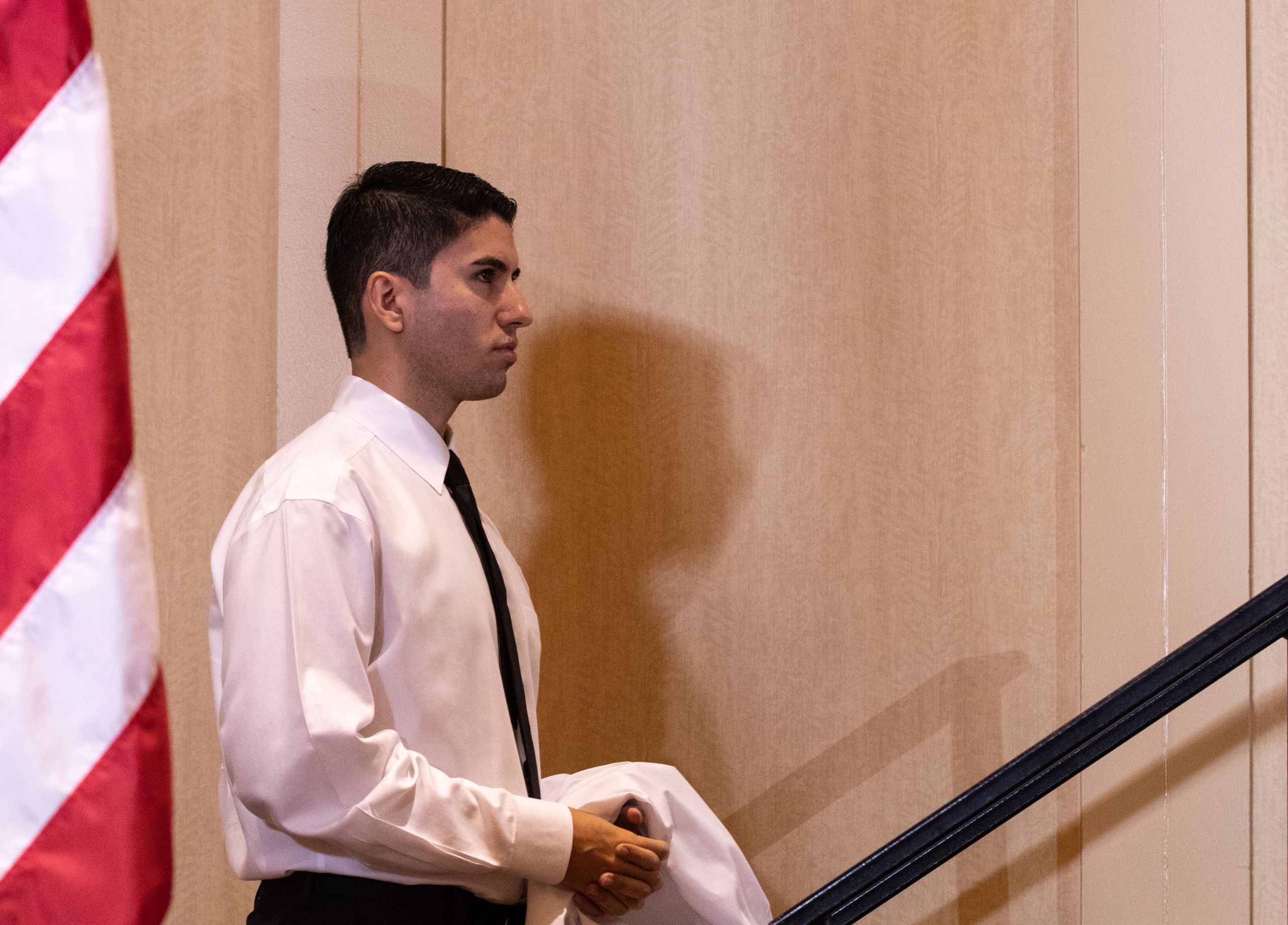 Serving as keynote speaker, UH President Renu Khator saluted the new medical students for attributes beyond just grades, noting that each had "something special" inside — a steadfast belief in the social mission to improve the health and health care of underserved communities in Houston and across Texas. Khator said the white coat symbolizes commitment, passion and humility.
"Today you are committing yourself to serving others because that's what this profession is. You are going to put their interest in front of your interest. That is not an easy thing," she said. "It takes a lot of courage to basically say 'I can feel your pain,' and that's what this profession will require, for you to feel the pain and suffering of others. That means going beyond the disease."
Treating the entire human and not just disease is effective, according to research. Strong evidence indicates that physicians who have compassionate relationships with patients can lead to better clinical outcomes. Affixed on their coats were Humanism in Medicine lapel pins donated by the Arnold P. Gold Foundation, a nonprofit organization dedicated to fostering humanism in medicine.
For native Houstonian Jalyce Taylor, receiving her first white coat was the culmination of a lot of hard work and time. Taylor's family is rooted in several medically underserved communities, fueling her passion to become a physician who will address the health disparities she's seen firsthand.
"I have an opportunity as a physician to provide equitable care to people and to be the change that I want to see in this society," she said. "I want to be the physician that knows community resources, knows how to bring people together and knows that health does not just start and end within my clinic, but it's a lifestyle that I can help my patients create."
Like many in the first class, Nabeel Ahmad took a unique path to medical school. A former inner-city Houston biology and chemistry teacher, Ahmad was alarmed at how many of his students didn't have adequate access to health care. "Working to combat health inequities for communities of color resonates with what I want to do as a future physician," he said.
In perhaps the most moving moment of the historic white coat ceremony, the inaugural class stood to recite their jointly composed class oath, demonstrating a collective understanding of the privileges, responsibilities and commitments involved with serving others as a member of the medical profession.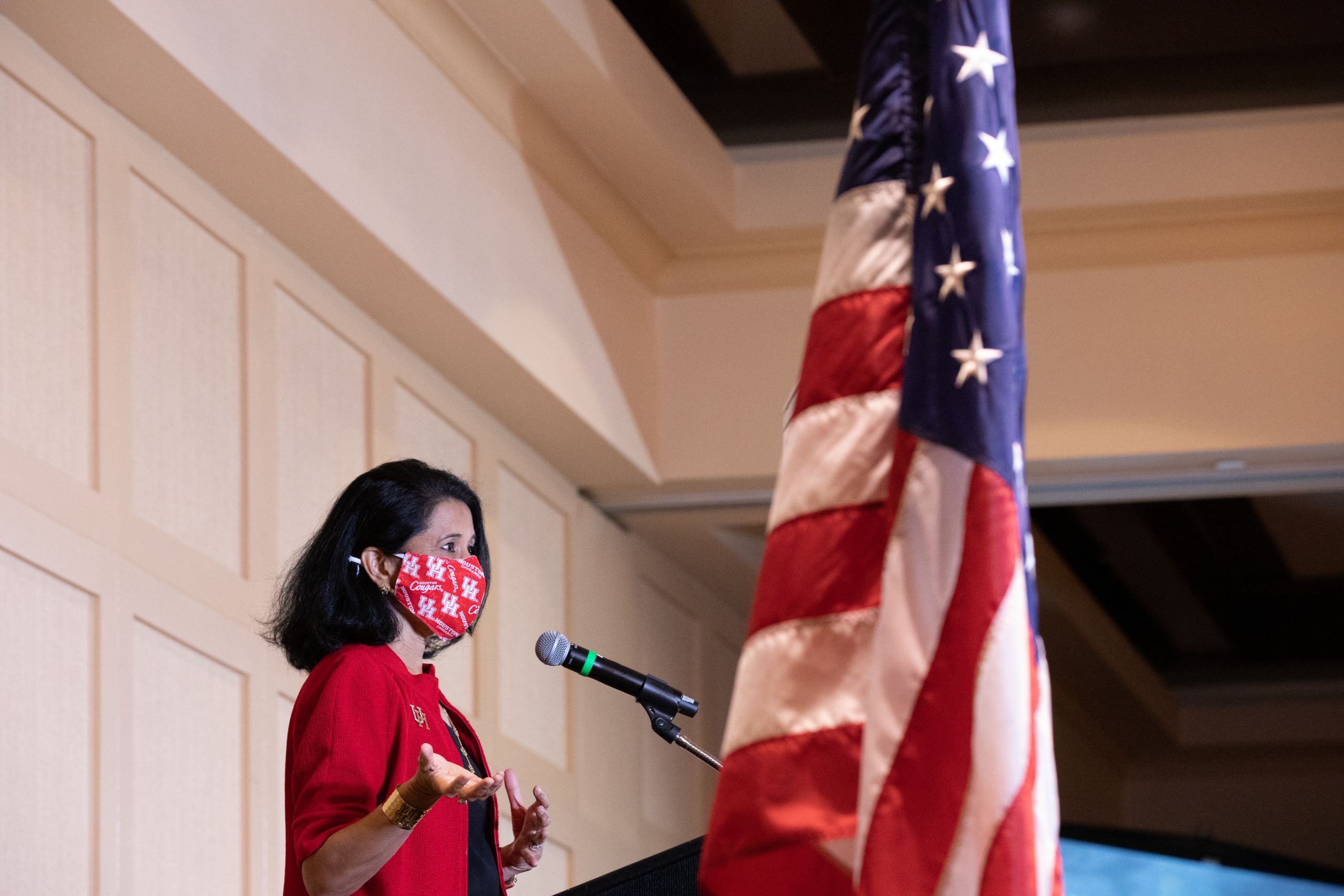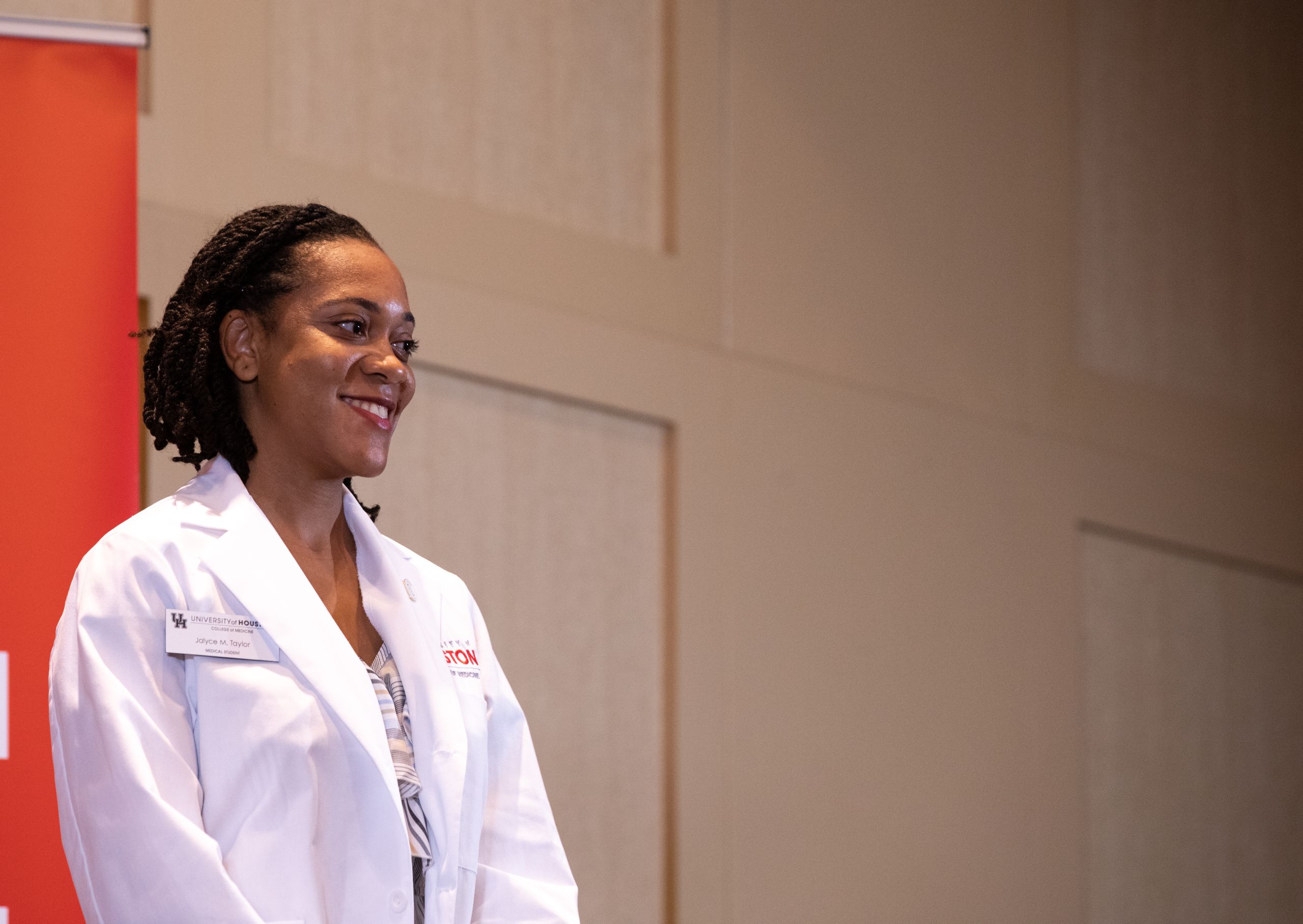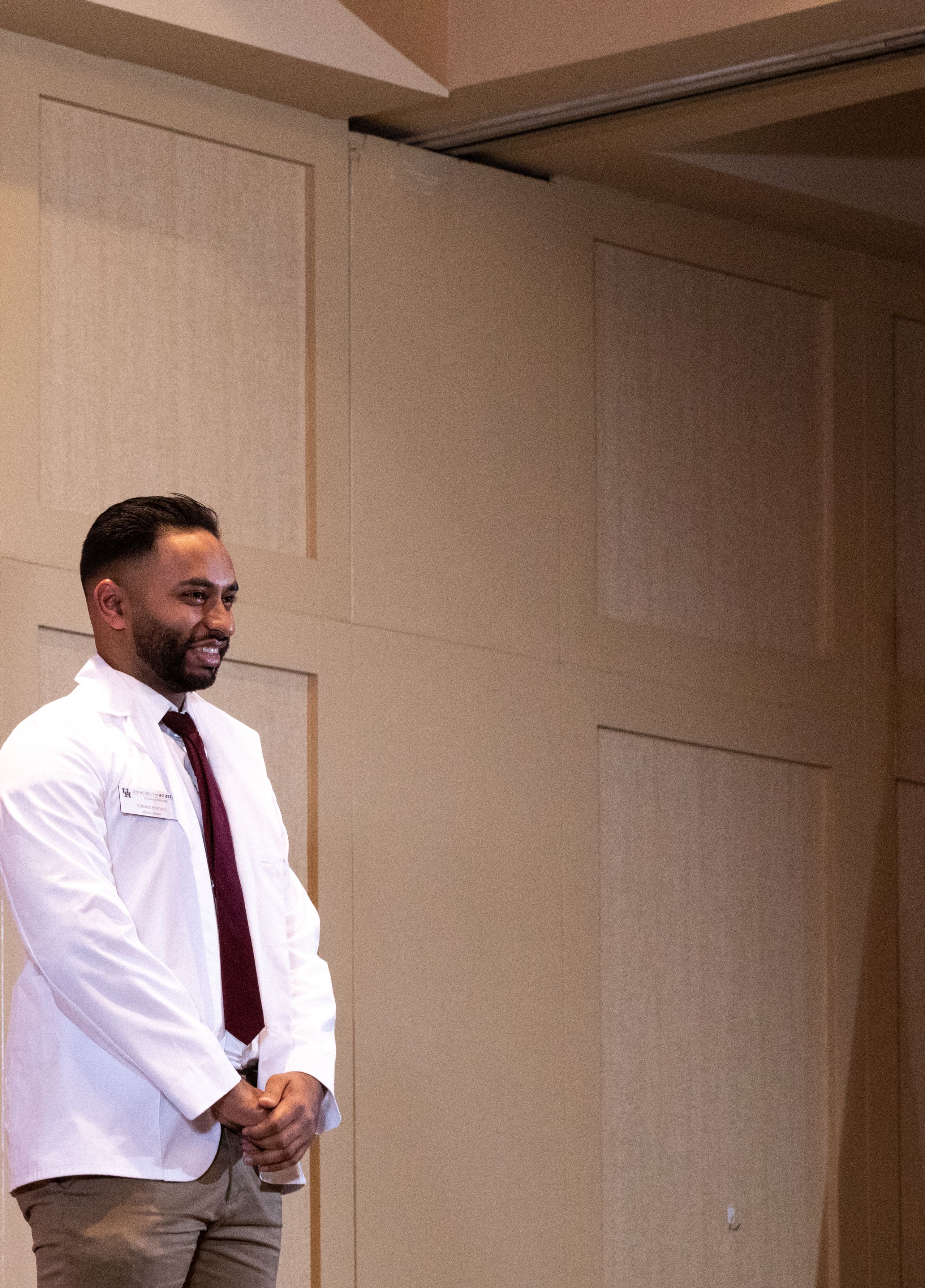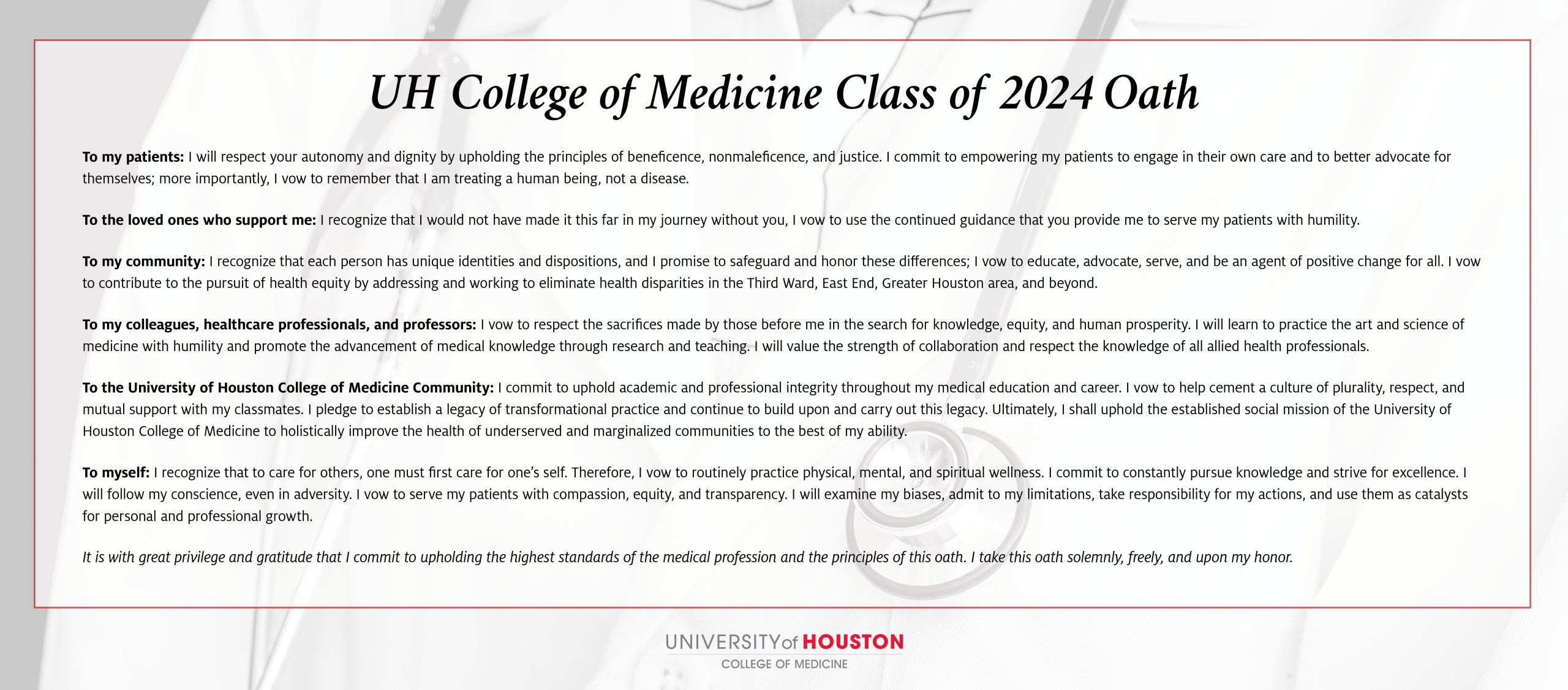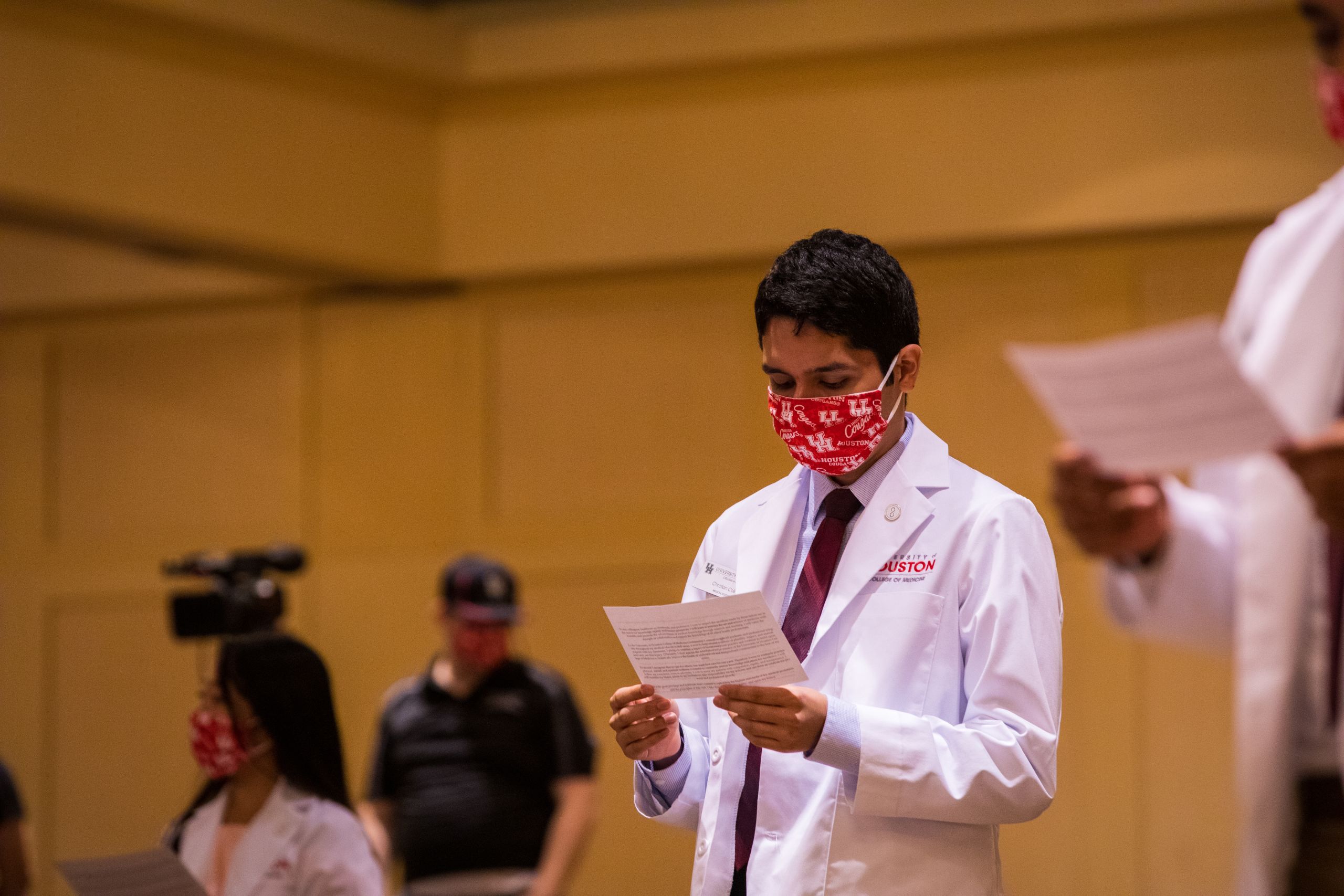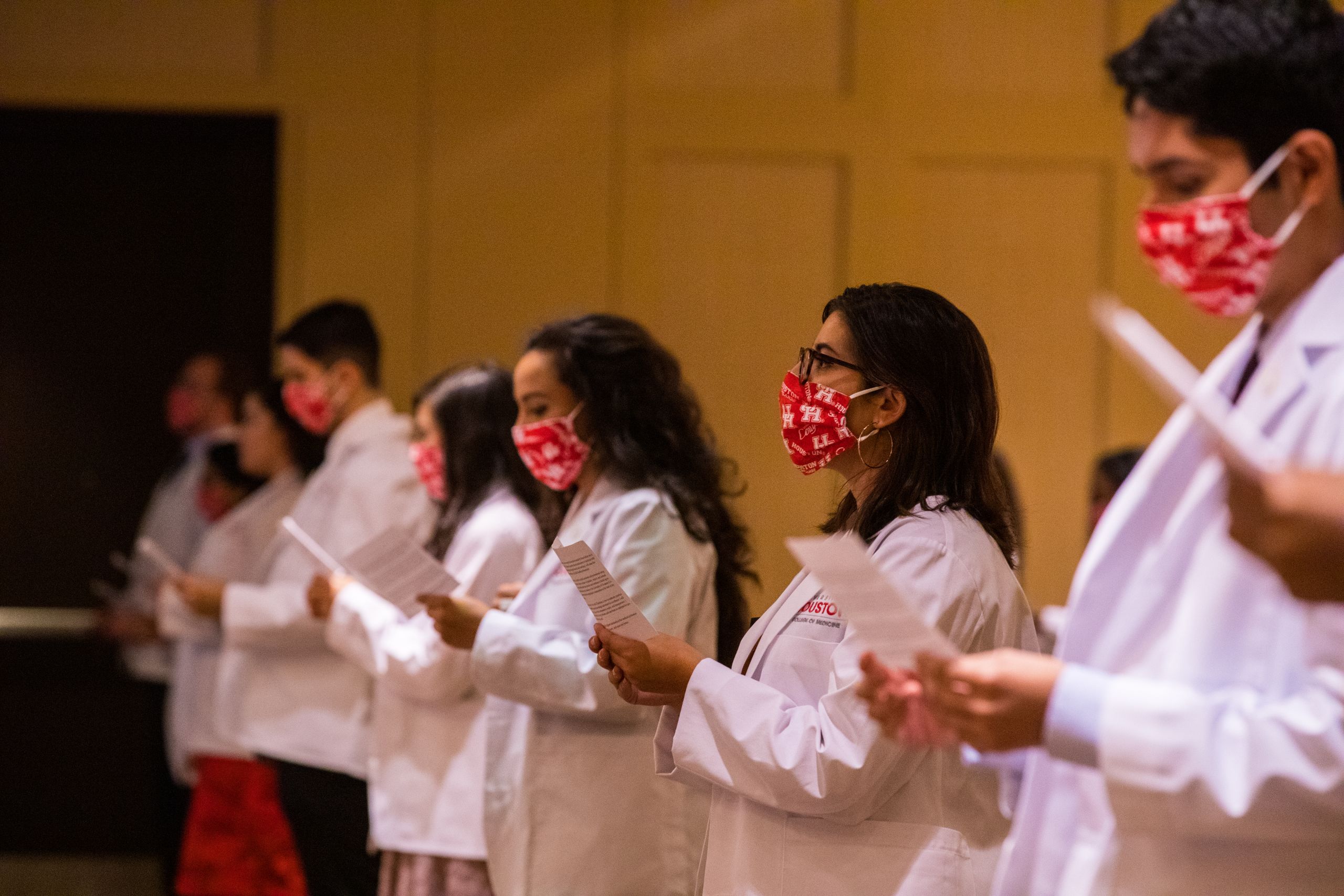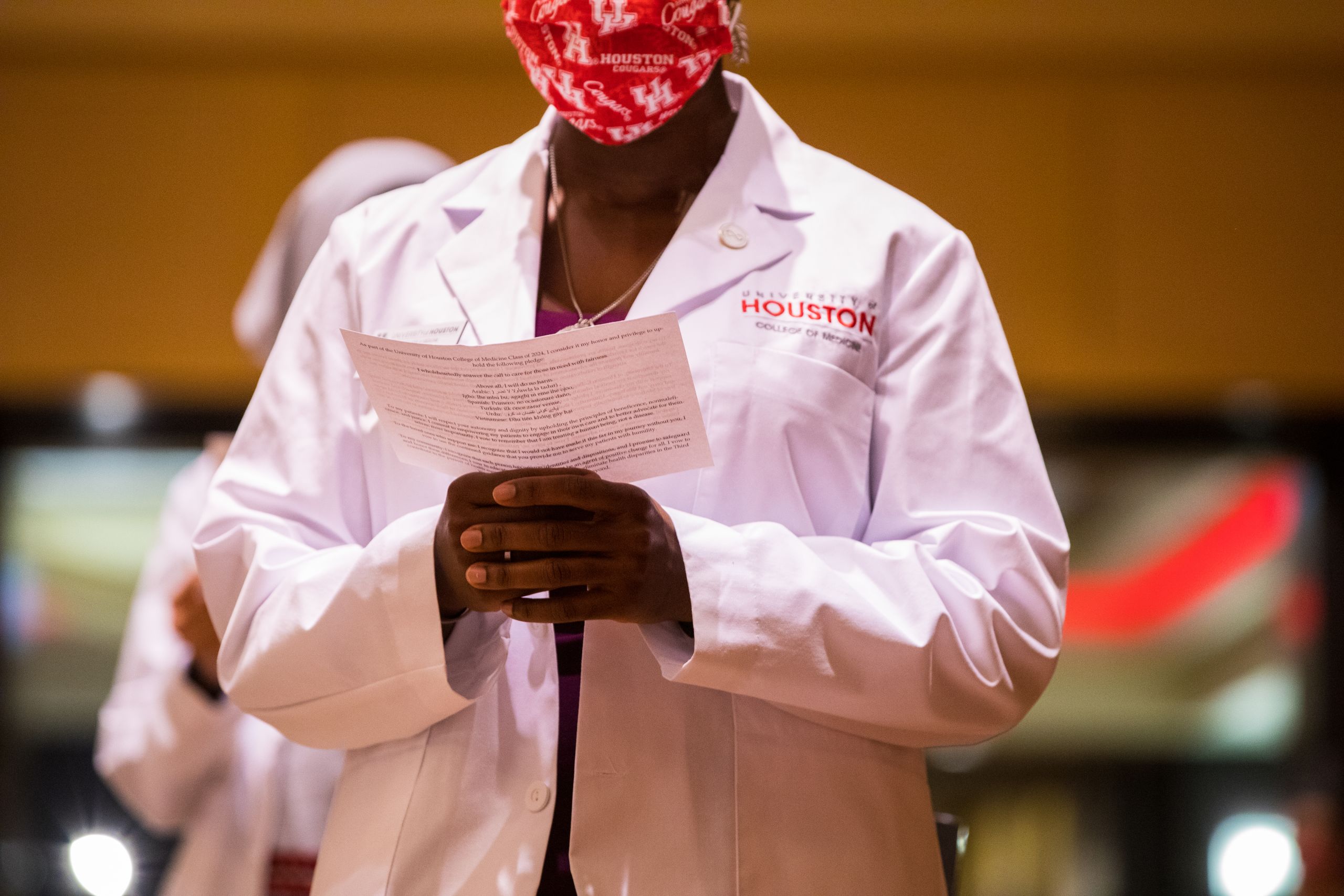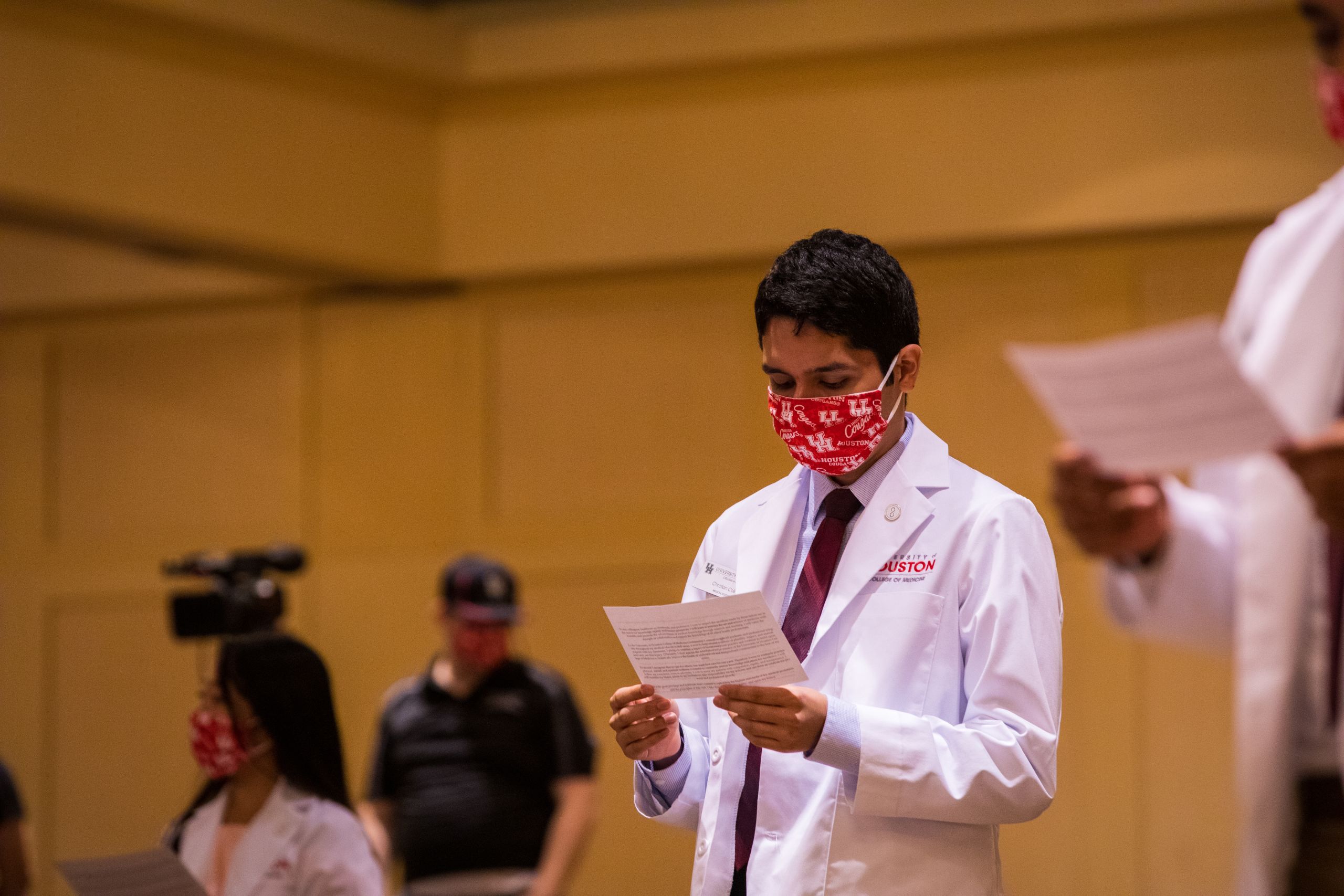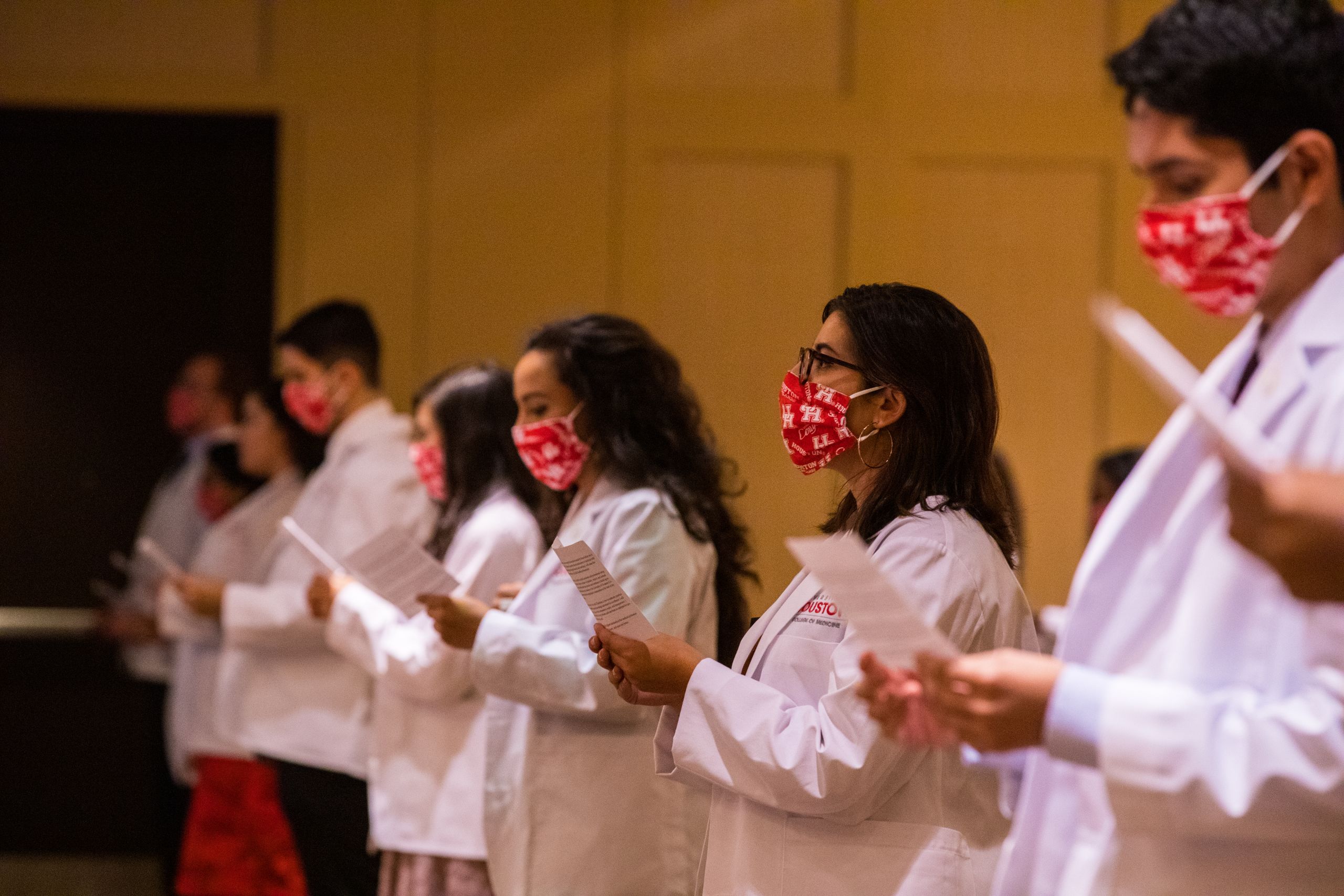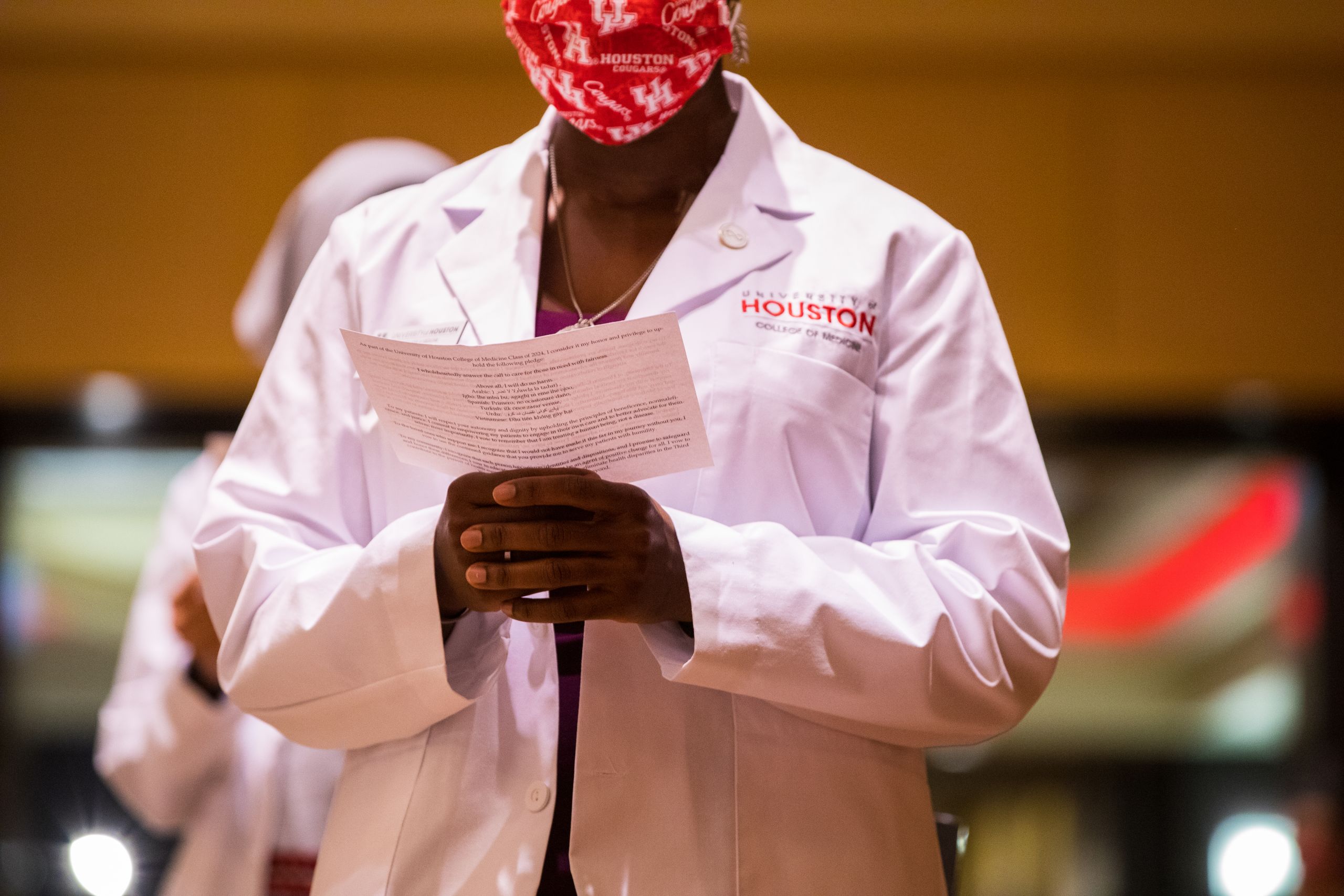 After calling it a "momentous day for all," Dr. Stephen Spann, founding dean of the College of Medicine, called on his new students to "lead the transformation of the nation's health care system to one of higher value." He offered wisdom from his more than 40 years as an accomplished primary care physician and medical educator.
"Medicine is a vocation, not just a job. Vocation means calling," said Spann. "As physicians, our calling is to care for and to care about patients. We cure sometimes, we comfort often, we must care always."
What started in 2014 as a bold vision by President Khator for a new kind of medical school — followed by years of planning, legislative approvals and fundraising — has finally come to fruition. At full enrollment, within the decade, the medical school will have 480 students, but there will only be one inaugural class.
Look no further than the 30 white coats.
"You are the culmination of that dream," Khator told the students. "There's a lot resting on you."