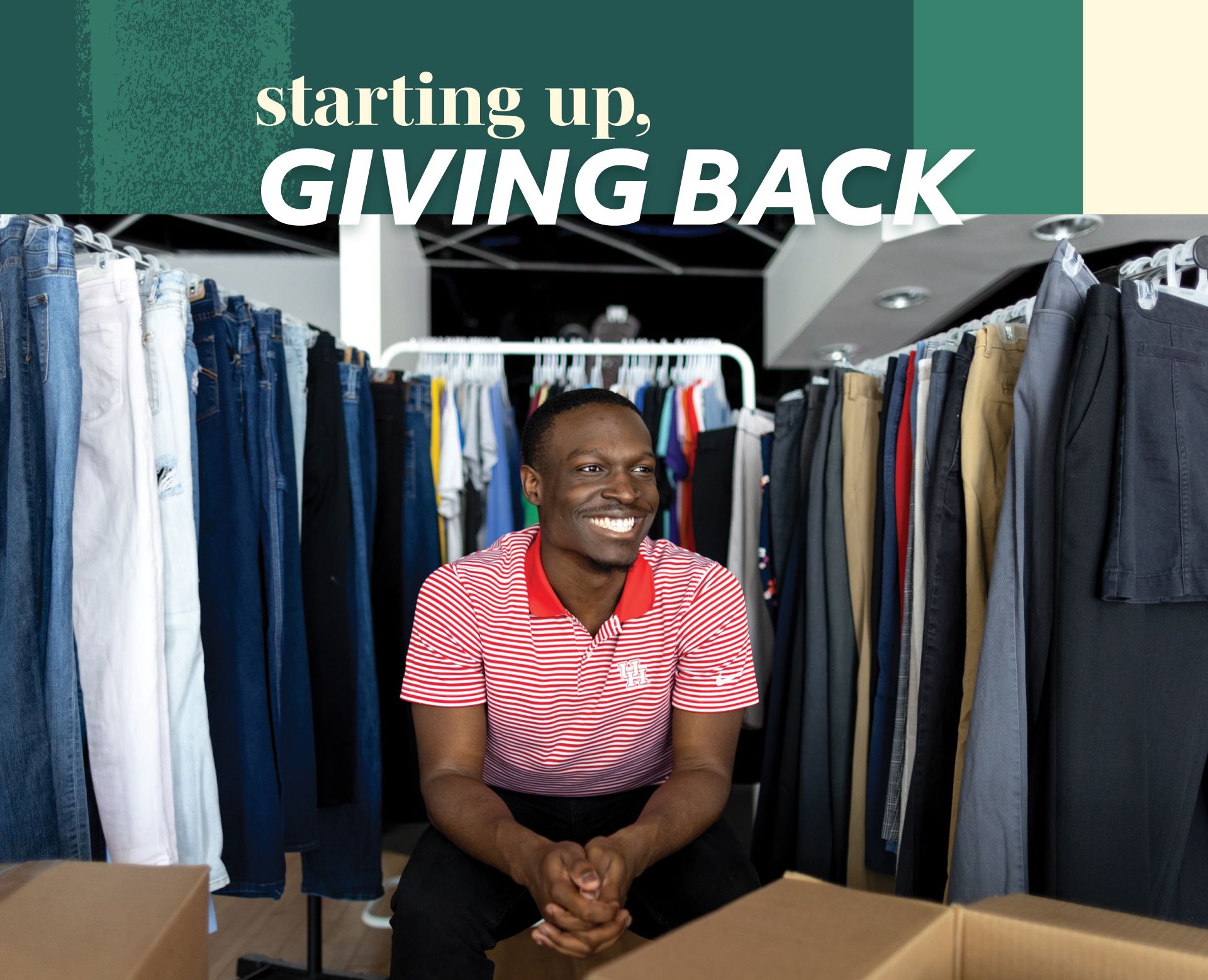 Three University of Houston alumni are making their corners of the world a better place, one piece of clothing, cake and content at a time.
By Staci Parks
It's happened to most drivers. You stop at a busy intersection, glance to your left and see someone standing, holding a sign, searching for even the slightest bit of help.
Kelechi Iroegbu couldn't shake this image while driving around Houston one day. "It breaks my heart every time," Iroegbu says. "There's a lot of unhoused people who are looking for help. It's not every time you have money, cash. It's a digital world. We carry credit cards and debit cards. I hate being in the car where people are looking away."
The Pearland native felt pulled to do something. He quickly gravitated toward the idea of a clothing drive for two strategic reasons: access and ease. "People don't have to donate money," Iroegbu says. "It's clothes that we already have in our closets."
In February 2020, his first clothing drive amassed 2,500 items for the shelter Star of Hope. That success motivated Iroegbu to expand to the University of Houston campus — an initiative he'd dub Cougar Closet.
A sophomore at the time, Iroegbu pitched a successful seven-page proposal to campus administration. Finally, after two years of pandemic-related delays — which precluded holding in-person drives and procuring a physical on-campus closet — Cougar Closet opened in April 2022, just before Iroegbu graduated.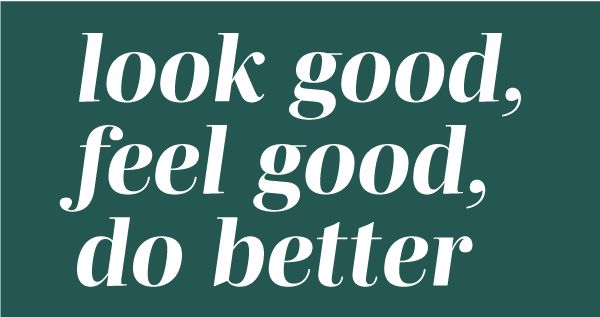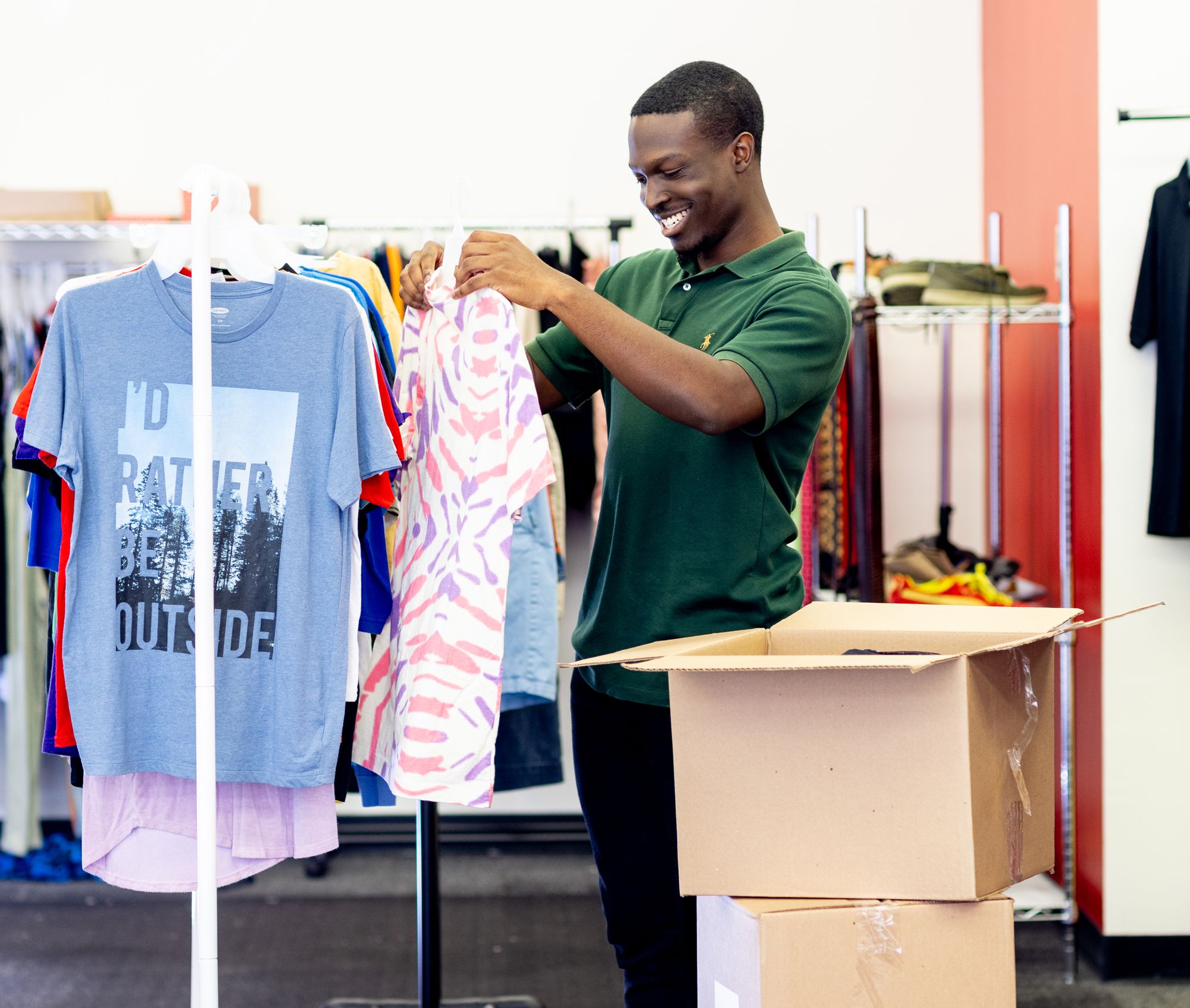 Kelechi Iroegbu founded Cougar Closet to tackle clothing insecurity on campus and throughout the community.
Timing, preparation and a group of eager volunteers created a successful launch. Over six pop-up-style sessions, Cougar Closet served over 500 students. Today, donations are securely stored in a classroom.
Iroegbu recalls his first time walking into that empty classroom, then witnessing the progression of donations piling up around him and "seeing that vision come to life."
Iroegbu says attending UH offered him a closer, more intimate look at Houston's different communities. He studied public health, following in his family's footsteps. "I was really interested in figuring out how to keep our community healthy," he says — in all senses of the words, from embracing social justice to meeting basic needs.
Iroegbu intends to keep Cougar Closet alive and has ideas in the works for a permanent campus space. Long-term, he hopes to build a central closet in the city and partner with Houston ISD to provide clothing access to elementary-age students. "There's a popular saying, 'If you look good, you feel good,'" Iroegbu says. "And I say, 'You look good, you feel good, you do better.' Helping them build their foundation, building confidence and self-esteem, translates into a lot of different areas."
Suit Up
Donate and receive clothing, sign up to help with a drive or learn more about the mission on Instagram @CougarCloset.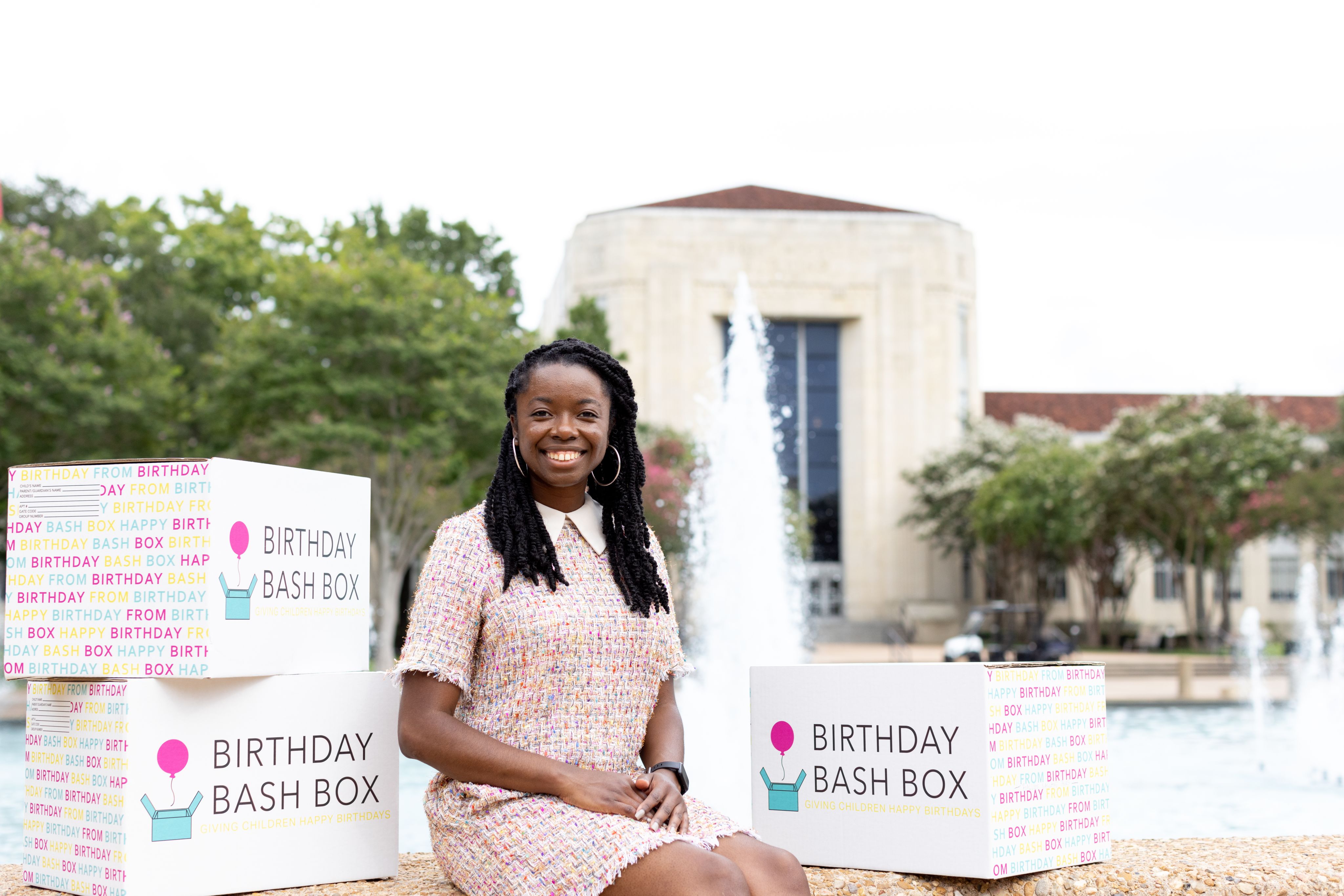 Seante Johnson believes all children deserve to be celebrated on their birthday. Through Birthday Bash Box, she's curating memories to last a lifetime.
Native Houstonian Seante Johnson was reminiscing with her mother about her childhood birthday parties when an idea stuck. Johnson's mother recalled that one party guest often stood out because she kept to herself and appeared to be sad; she later found out that the girl shared her daughter's birthday — and never had a birthday party of her own.
That memory unlocked the inspiration for Birthday Bash Box, a nonprofit Johnson launched in 2018 to share the magic of a birthday party with children whose families could not afford one, through either a "Birthday Bash" or a "Birthday Box."
Birthday Boxes contain everything needed for a child's birthday party, from cake mix and decorations to balloons and a birthday card. There's also an educational component in the form of books selected according to the child's interests, social-emotional learning games and activities and online access to educational resources through the Birthday Bash Box website.
"We need the celebration to go on for a lifetime, where they not only get smiles and excitement on their special day but also memories of that day and tools they can carry along with them for the rest of their lives," Johnson says.
Johnson applied her extensive nonprofit knowledge, gained through the UH chapter of the Nonprofit Leadership Alliance and UH's SURE program, to take Birthday Bash Box full-time. After a year of fundraising, the organization celebrated its first birthday in January 2019. In that first year, their goal was to celebrate 25 to 30 birthdays. They celebrated 654. "I did not expect things to take off like they did," Johnson says.
But with the momentum of a successful first year behind her, Johnson had to quickly pivot her business plan at the onset of the COVID-19 pandemic. In-person Birthday Bashes came to a halt, but Johnson still had many Birthday Boxes to give away.
Volunteers masked up and delivered boxes along routes Johnson plotted. "Then, people just started calling, wanting to deliver Birthday Boxes [and making] monetary and in-kind donations of toys and party supplies," Johnson says. "We literally had so much stuff I put all my possessions in storage to make room in my bedroom for it all."
Volunteers have ranged from corporations including Microsoft and Kendra Scott to Johnson's personal connections and steadfast University of Houston network.
"I have seen how much support Houstonians give," Johnson says. "I know what we can do because we have lived through hurricanes. But the way Houston supported Birthday Bash Box felt new, because this time it was personal." Today, Birthday Bash Box is continuing to expand — with boxes being delivered in Washington, D.C., through nonprofit partners — to share birthday joy to even more kids.
"We need the celebration to go on for a lifetime, where they not only get smiles and excitement on their special day but also memories of that day and tools they can carry along with them for the rest of their lives."
Birthday Bash Box
Learn more about the mission on their website birthdaybashbox.org
BARBIES
"There is always a huge smile when Barbies are in the boxes."
DINOSAURS
"The children LOVE T. rexes."
ELECTRONICS
"Remote-controlled cars and helicopters, karaoke microphones, Bluetooth speakers and earbuds."
MAGIC
"Unicorn, princess and superhero books!"
— Birthday Bash Box founder Seante Johnson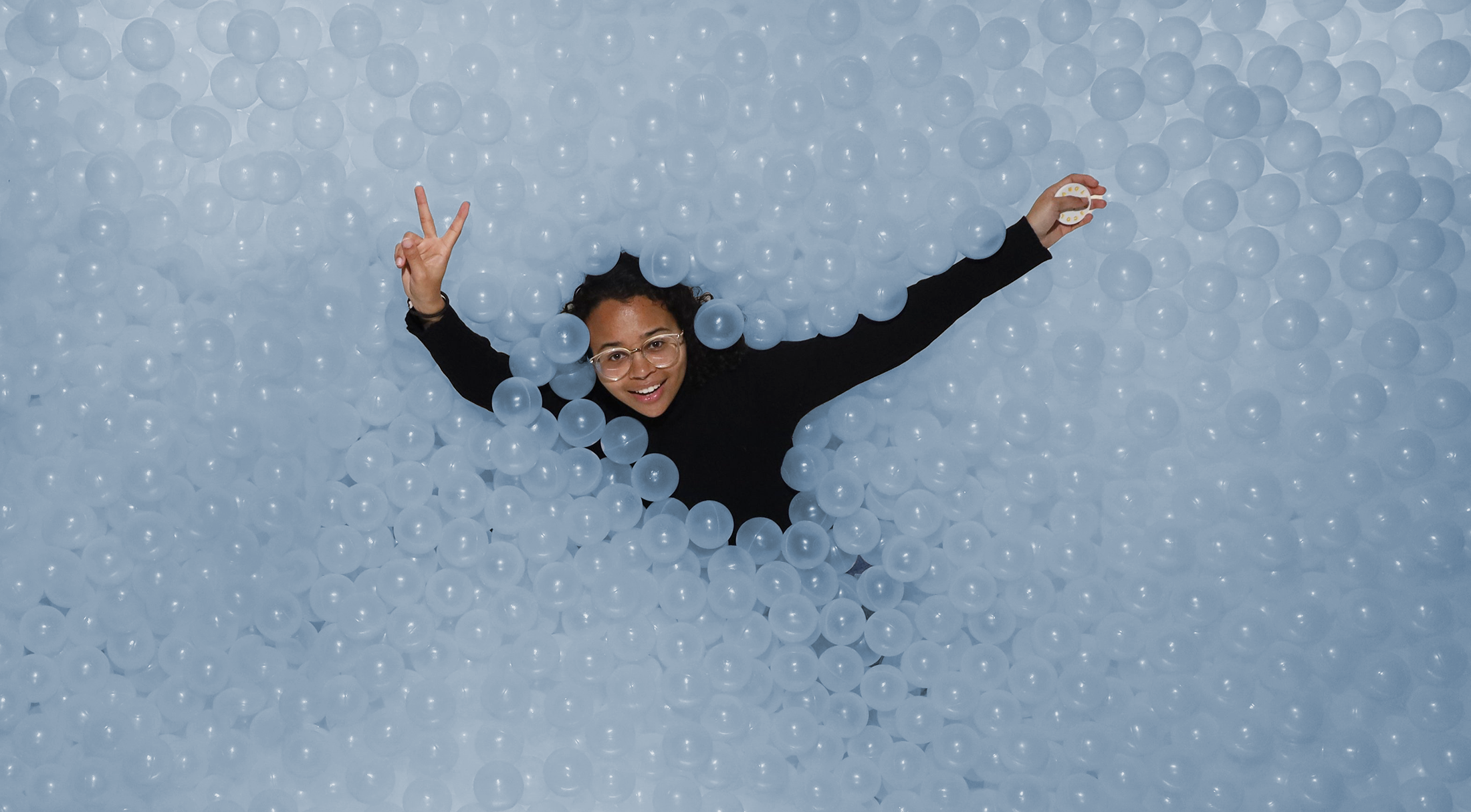 Lo Easton's Finesse Your Education makes getting scholarships accessible and engaging to her Gen Z audience.
Lo Easton has always had a competitive edge and a desire to help. At age 10, she was posting tutorials for "Club Penguin," an online game she liked to play. By 11, she was coding. "For me, creativity and technology have always been tied together," says Easton, a Houston native. She dreamed of going to college and pursuing a creative career, but the prospective price tag hung over her head. So she examined her two options: take on a massive amount of student debt or make something happen.
Ever resourceful, Easton opted for the latter. She started applying for scholarships during her junior year of high school, strategically noting what did and did not work along the way. In total, Easton earned nearly $65,000. Combined with need-based grants from FAFSA, this money allowed her to bypass every financial hurdle college tossed her way.
"Once I saw that process working for me, it just really showed me that there are so many opportunities out there," Easton says. Now, she's helping students do the same through Finesse Your Education.
Easton's online platform caters to her Gen Z audience. She offers pro tips and insider advice on landing scholarship money packaged in funny, relatable memes and TikToks. Her lists of scholarship opportunities artfully weave in pop-culture references.
Easton, dubbed "the scholarship girl, graduated from the University of Houston in 2020, a few months into the COVID-19 pandemic. As she reflected on the opportunities she'd had along her academic journey, "I really wished that the people I'm around, my community, could also be connected to those types of opportunities," she says.
Easton understands the unique struggles first-generation students face. She was one. So, she put her newly minted digital media degree to use to help students like herself navigate the intimidating financial aid maze. What started as a side passion project has amassed nearly 300,000 combined TikTok, YouTube and Instagram followers — and one viral "rap challenge" TikTok.
Self-described as "goofy by nature," Easton has an on-camera charisma that delivers her hard-earned knowledge in the voice of your best friend's much cooler older sibling. "How do I get kids excited about education? People don't really like to engage with school content," Easton says. "I wanted to make it more accessible to students. I'm always thinking of ways to make it accessible and exciting."
Keeping FYE relevant and accessible is Easton's top priority. She also wants to expand to addressing mindset and motivation. "There are students out there who feel that they aren't deserving of those types of opportunities," Easton says. "They don't think that they would ever be selected or that they are even worthy of winning, so they don't try."
Easton launched and awarded a "Wrong Answers Only" scholarship over the summer. Billed as "the only scholarship where trash answers are encouraged," the $1,200 award had a purpose: to help students get started.
"I think one of the hardest parts is just starting the process and committing to it," Easton says. "I wanted to create an opportunity that could be quick and get students in the process." Recently, Easton did an interview with College Board. She noticed that students were sharing parts of her interview, commenting and tagging her across social media.
"That really touched me, because I think sometimes I forget," Easton says. "I'm posting online, and I'm constantly putting myself out there. Hearing that the content is actually connecting with students is really amazing."
Finesse Your Education
To find scholarship opportunities or learn more about the organization, visit finessyoureducation.com
TAILOR OPPORTUNITIES
Find scholarships that relate to your individual strengths, hobbies and career interests.
START EARLY
Don't wait until the second half of your senior year to apply
DON'T STOP LOOKING
There are opportunities available to undergraduates, too.
JUST DO IT
Get started! Getting that first application under your belt is an accomplishment.
— Finesse Your Education founder Lo Easton