Heavens on Earth:
What Our Solar System
Reveals About Our Home Planet
To understand the Earth below our feet, earthlings like Professor Thomas Lapen just look up.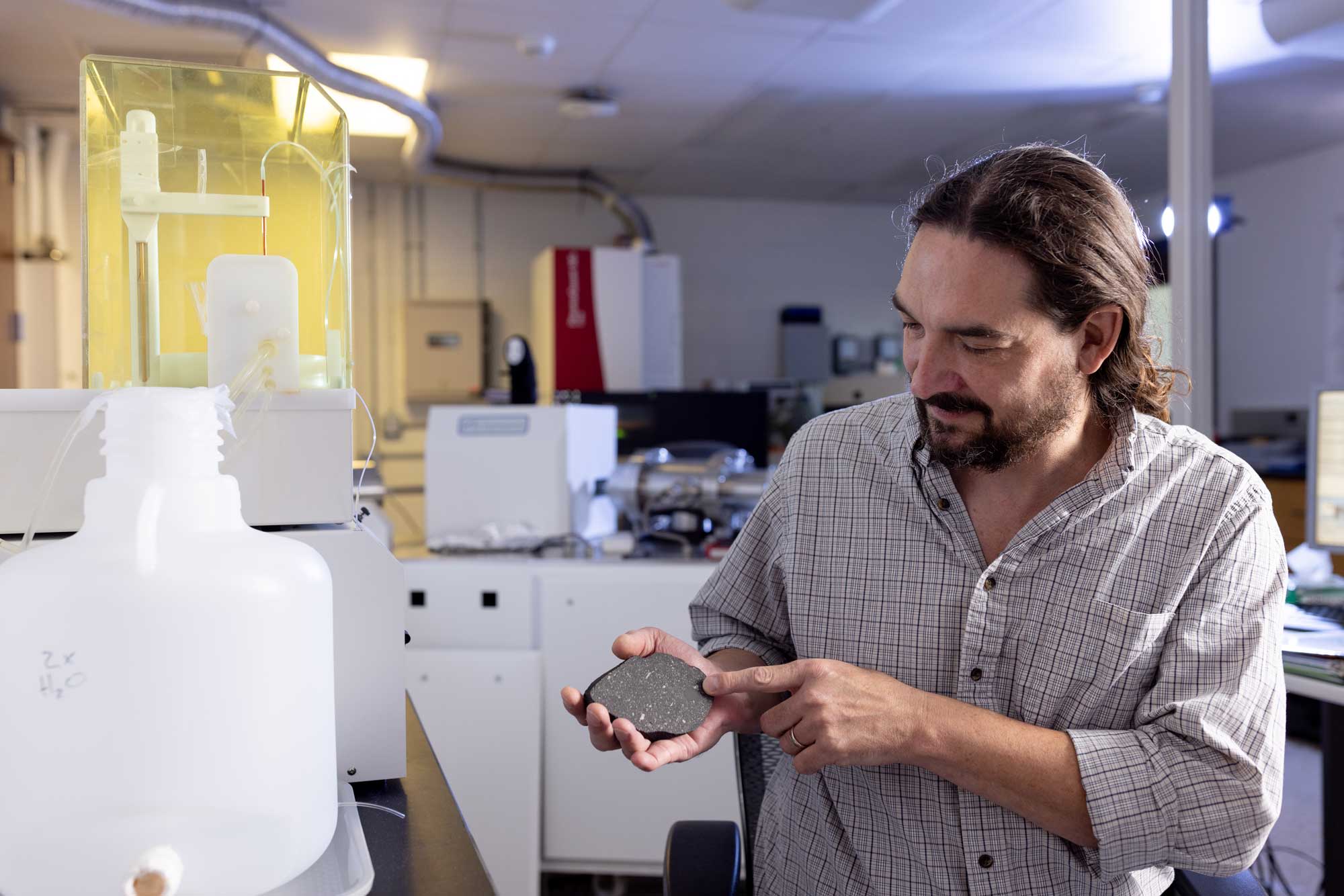 Geologists who study Earth's prehistory find that the planet itself is one of the great obstacles to understanding it. Our weather-beaten blue marble obscures much of its own past as tectonic activity, weathering and erosion blot out most evidence of the world's younger days. To see back in time, scientists like University of Houston's Professor Thomas Lapen look to the heavens.
Lapen has always been hounded by curiosity. He cataloged the geology of the Pacific Northwest as a young researcher and clambered the Italian Alps to complete his doctorate. In his spare time, he may have discovered a 6-mile-wide impact crater in Niger, a country he has never visited, during a sleepless night more than 6,000 miles away. Today, his research attempts to uncover the origins and compositions of solar system materials through the study of meteorites from Mars, the moon and the asteroid belt.
We asked Lapen what fascinates him about his home planet and why his attention nonetheless wanders off-world.
YOU'RE LOOKING AT BOTH MARTIAN AND TERRESTRIAL MINERALITY AND GEOLOGY. HOW DO THESE THINGS TELL A STORY ABOUT THE SOLAR SYSTEM?
People are developing models that help us understand the early history of Earth, which you would think would be the easiest to understand because we can stand here and look at it. But it's been so modified over time that we need other evidence to help fill in the gaps. It's interesting to look at the evolution of solar system materials. To understand the early history of Earth, we have to look at planetary bodies that are thought to share some of those early processes but have still preserved them. Scientists look at Earth, lunar and other systems through sample collections of meteorites.
"Scientists have to be humble and open and thankful to new information that changes your ideas and refines your hypotheses ..."
HOW DO YOU KEEP THE WHOLE COMPLEX DNA OF THE SOLAR SYSTEM STRAIGHT?
I take small bites. I've focused my research on constraining the timing of processes, which requires a few measurements but has large implications. Other people more versed in large data sets will utilize AI codes to look for patterns. So, it's not up to a single person. It's this concert.
ARE THERE DISCOVERIES ABOUT OUR PLANETARY SIBLINGS THAT ARE UPENDING WHAT WE ASSUMED ABOUT THE EARLY EARTH?
One of the major mysteries about the Earth-moon system has been why there is such a similarity in the two bodies' isotopic compositions. The preferred model is that the early Earth was impacted by a Mars-size object, which ultimately resulted in the moon. One issue with that model is how the distinct compositions of the impactor and the earth mixed so efficiently. But new models and computer code are enabling us to see patterns and solve problems that help us understand dynamically complex processes, including how the moon formed.
IS THERE A QUESTION YOU'VE PURSUED WHOSE ANSWER REALLY EXCITED YOU OR SURPRISED YOU?
We had a recent paper looking at Martian meteorites — how do we get material from Mars? Well, all solar system bodies are getting impacted all the time. An impact on the surface of Mars, with just the right velocity and angle, will eject any fragments that reach escape velocity, producing a particle cloud that orbits the sun. Over time, that material can cross Earth's orbit and fall as meteorites. 1.1 million years ago, a bunch of chemically related meteorites were ejected from the surface of Mars. Their ages span from about 350 million years, when they crystallized from the magma, to about 2.4 billion years. That single ejection event excavated a volcanic pile that was active for about 2 billion years; so, it's actually doing geology for you. We don't have people there mapping, we don't have people doing stratigraphy of the volcanic layers. So, this is an unprecedented view into the volcanic history of a single area from the surface of Mars.
IN YOUR CAREER OR OUR LIFETIMES, WHAT ARE THE BIG QUESTIONS WE MAY GET TO DISCOVER WITH ANOTHER ATTEMPT AT REACHING OTHER PLANETS? WHAT WOULD YOU LIKE TO SEE ANSWERED?
How Earth evolved and getting that data from materials both inside and outside our orbital radius. There have been debates about the origin of water: Why would there be water on Earth after the moon-forming event that should have dried everything out? Those are some pretty big ongoing questions that are being answered now through analysis of various early planetary materials.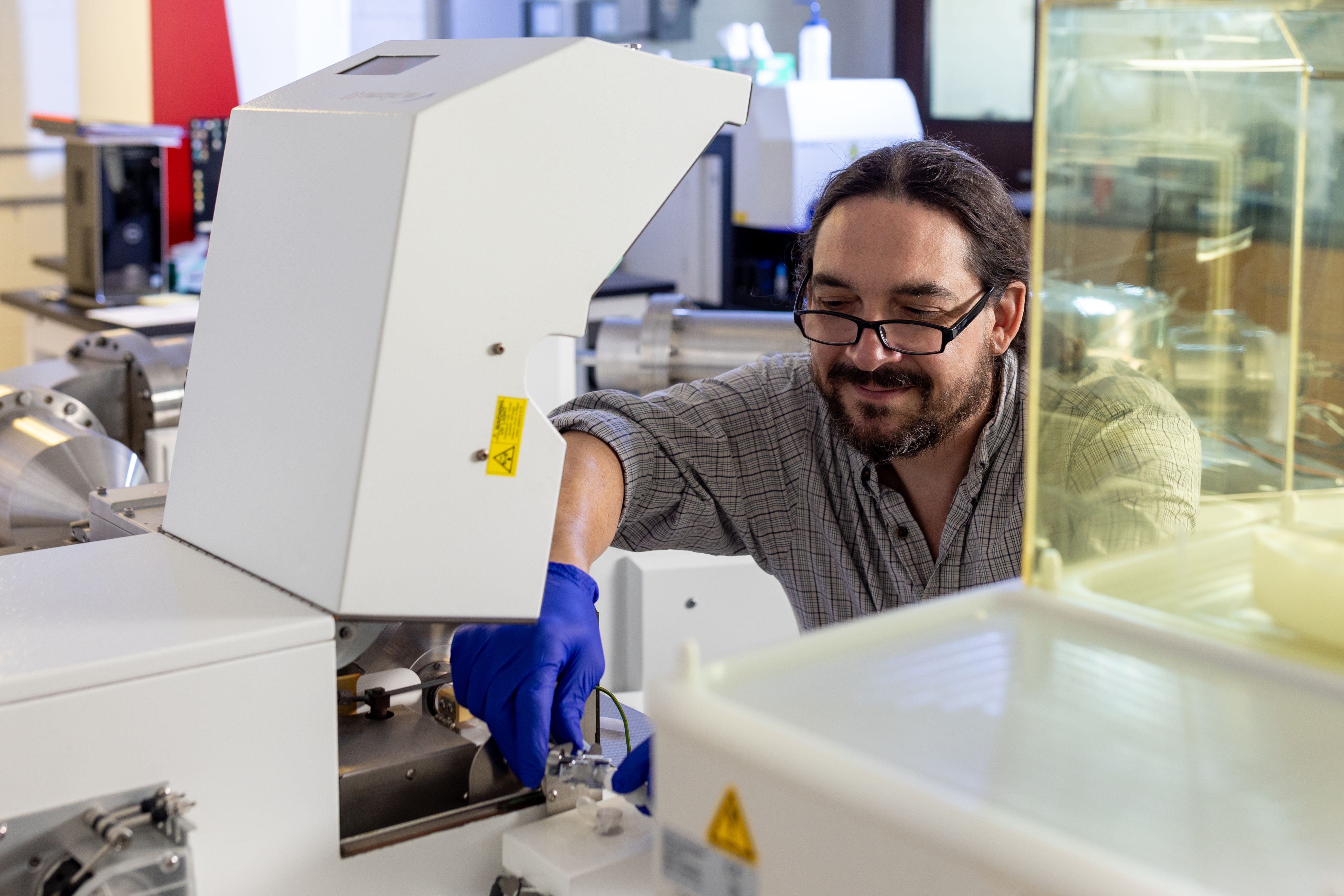 WHERE ARE YOUR FAVORITE PLACES ON EARTH THAT YOU'VE EXPLORED OR THAT HAVE CAPTURED YOUR IMAGINATION?
I always like to look at Google Earth. I like to look at landforms and travel through the incredible imagery available to us now. You can travel all over the earth — even the seafloor. One night, I had insomnia, and I was looking in Africa. I came across this old, circular feature and hypothesized that it was actually an impact crater. A student of mine was taking a class in remote sensing, and he led a study of the spectral data to see whether this feature could be explained by igneous activity or to rule out anything but an impact. I've been working with folks in Niger to see if we can get an expedition to sample it and confirm whether it's an impact crater. It's not built by igneous rocks; it's sedimentary rocks that are folded in a very peculiar way. The simplest explanation at present is impact.
WHAT DREW YOU TO UNCOVER THESE QUESTIONS?
I started out life driving around and mapping in the Pacific Northwest. I really enjoyed that — just being out there and being in touch with the materials, whether they're literally garbage fill in the bay or Paleozoic rocks up in the foothills. My Ph.D. explored a fossil subduction zone system in the Alps that existed prior to the continental collision between Europe and Africa. That was my window into deeper Earth processes.
That was quite an integrative and humbling experience. Scientists have to be humble and open and thankful to new information that changes your ideas and refines your hypotheses. Some people fight over ideas or data and are seemingly impervious to new ideas — they think, "Oh, we've found everything and don't need to look." That's the antithesis to progress. Nobody's perfect. But to see beyond the veil of our own preconceptions is to see the objective truth, as best we can find it.
Thomas Lapen is professor of geology and chair of the Department of Earth and Atmospheric Sciences at the University of Houston. His recent research exploring Martian magma, sediment provenance and the chronology of solar system materials is helping us better understand our planet.