Houston Muralist Comes Back to UH to Display Art with a Purpose.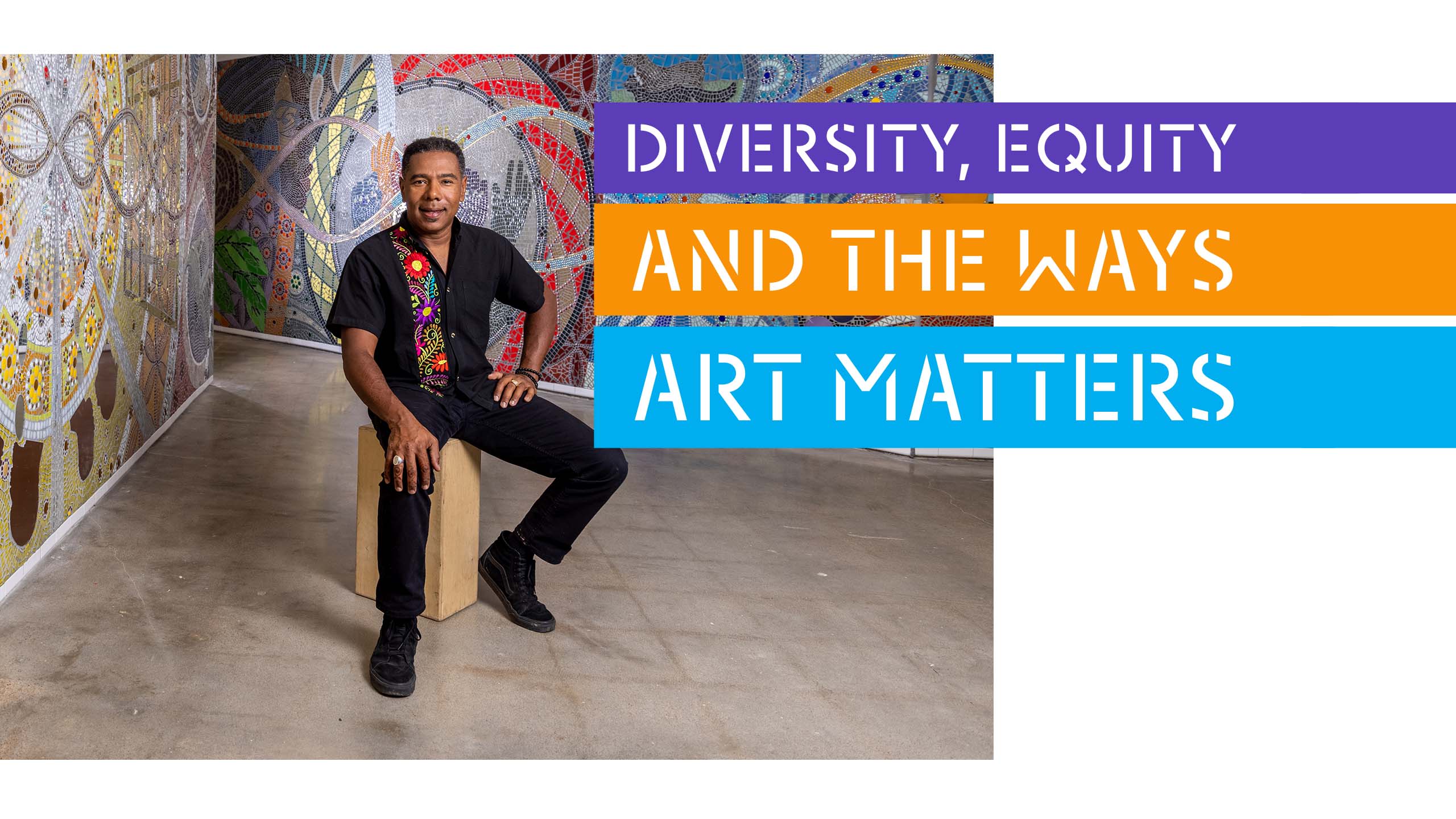 "This is so beautiful, and I'm so grateful to have been a part of this."

Houston artist Reginald Adams smiled as he took in "Pulling Together," the newly renovated mosaic mural installed on the first floor of the University of Houston Graduate College of Social Work.

It was the first time he had seen the installed piece.

"I'm so fortunate to have had the University come back to me," he said.
Adams and his team were approached in 2019 to update his original mural, which has greeted students, employees and visitors to the GCSW for two decades. The new piece was conceptualized, designed and created during the COVID-19 lockdown.
"I believe energy is transferred. Whatever you are creating is a manifestation of that. We were in a great place to focus on what we wanted to produce," Adams shared.
The art piece features glass beads, colored tiles and mirror pieces on the curved walls of the new renovated lobby. The luminous focal point of the piece features a bright DNA strand that ties together images depicting equity, diversity and justice – recurring themes for Adams' work, around the world, Houston and Third Ward.
"It's art with a purpose. It's art rooted in history, and it's clear to me that this is the path I'm on."
-Reginald Adams
His mosaic sculptures at Emancipation Park in Third Ward honor Richard Allen, Richard Brock, Jack Yates and David Elias Dibble – the founders of the oldest public park in Texas. The traffic-facing walls of Houston's iconic Breakfast Klub feature rotating murals celebrating Houston African American athletes, politicians, and, most recently, George Floyd. A large scale mural in Galveston's historic Strand District honors Juneteenth when enslaved Blacks in Texas were informed of their freedom.
"It's art with a purpose. It's art rooted in history, and it's clear to me that this is the path I'm on," Adams said of his career focused on public art and cultural enrichment.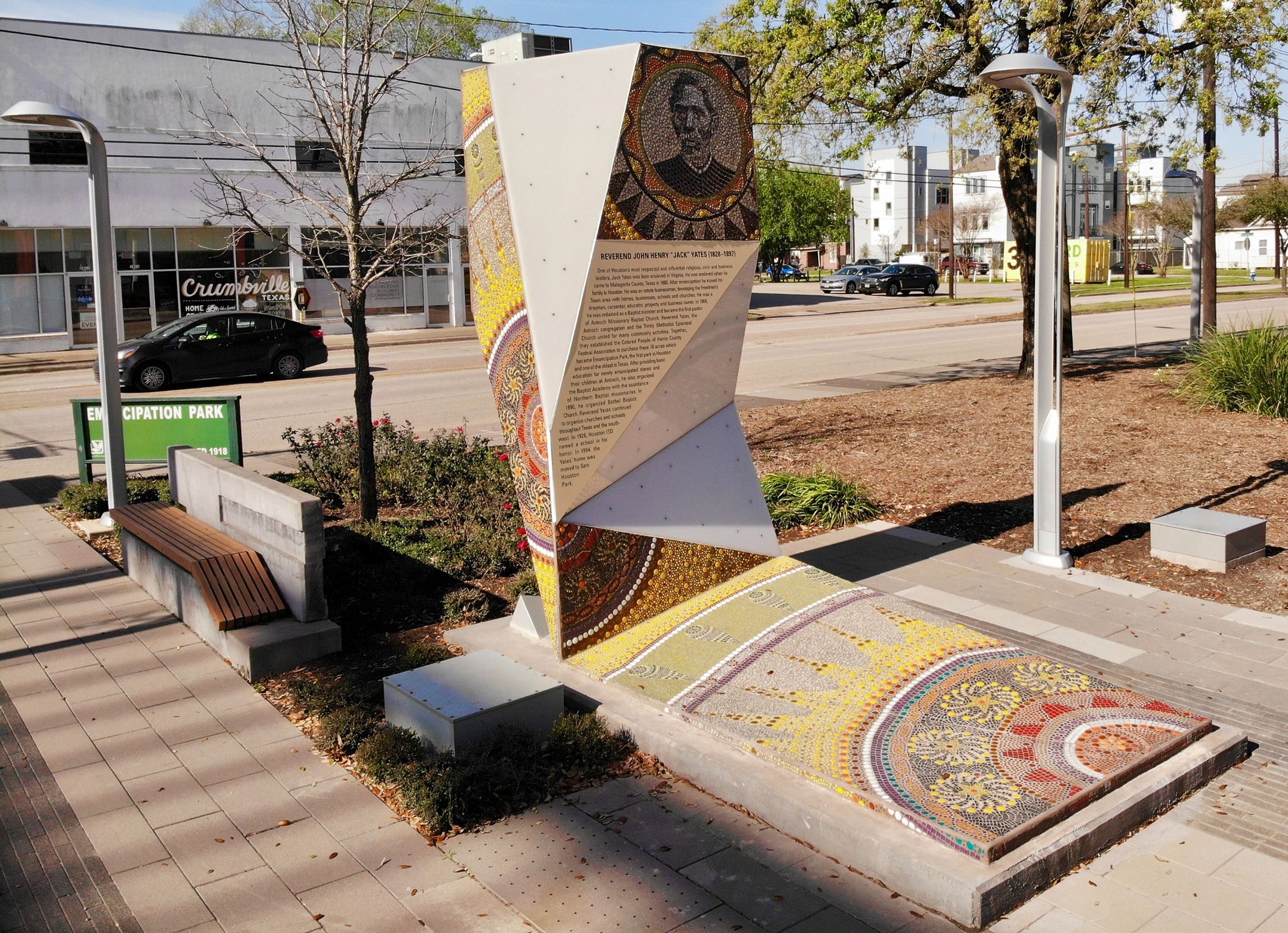 It is a path that has gone through the UH campus twice and now through the UH at Sugar Land instructional site.

As the country and world battled illness, maneuvered through work-from-home and marched for social justice, UH at Sugar Land reached out to Adams to be a part of a new initiative called Diversity Over Division. The effort brought together the Fort Bend County Judge's Office, the Fort Bend County Libraries and UH at Sugar Land to celebrate the diversity that defines both the county and the University.

"We knew we wanted art to tell the story of the diversity of Fort Bend County and the University of Houston," said Jay Neal, associate vice president and chief operative officer of UH at Sugar Land. "Our searching led us to Reginald. It was like all the planets had aligned."

The featured project was to be a mural to celebrate diversity installed at the UH at Sugar Land instructional site.
"The initiative came as the momentum was shifting nationwide. It was the perfect project for me to say something important about how we come together," Adams said. "I believe in diversity and the power of unity, so when the University said we have another initiative that's all about that, it was easy for me to say, 'Hell, yes!'"

Collaboration is featured prominently in Adams' work, and the Diversity Mural is a prime example of that.
"We spent the early conversation talking about the importance and the strength of who we are as individuals and what we bring to our society – me as a person, me as a man, me as a Black man, me as a descendant from Africa or just a human,"
Drawing on the diversity of Fort Bend County, Adams sought out a team of artists whose ethnic and cultural backgrounds reflected the home of the Diversity Mural. Adams enlisted the talents of six artists from around the world – Ami Mehta, Samson Adenugba, Laura Cano Lopez, Tony Paraná, Dandee Warhol and Rhonda Radford Adams.

"When we started talking, I clearly saw that this was bigger than me," Adams said. "I have friends from these places – an Indian artist, a Brazilian artist, a Nigerian artist. Fort Bend is a microcosm of each of these cultures. I could bring artists from each of the places represented in this county, making the power of that art piece resonate far greater than if I had done it on my own," he said.
The team created six separate pieces that were forged into one mural, a colorful tapestry of unity, community and diversity. Images depicted children from diverse backgrounds embracing and drawing strength from each other, maternal energy nurturing the world, diverse elements in nature creating one miraculous flower, an indigenous boy whose piercing gaze captivates the viewer as he dares you to look away. The materials, colors and textures as diverse as the scenes they depicted.
"We choose to not live in the monochrome of our ignorance but in the technicolor of our diversity."
-D.E.E.P., "Growing Tomorrow in a Field of Today"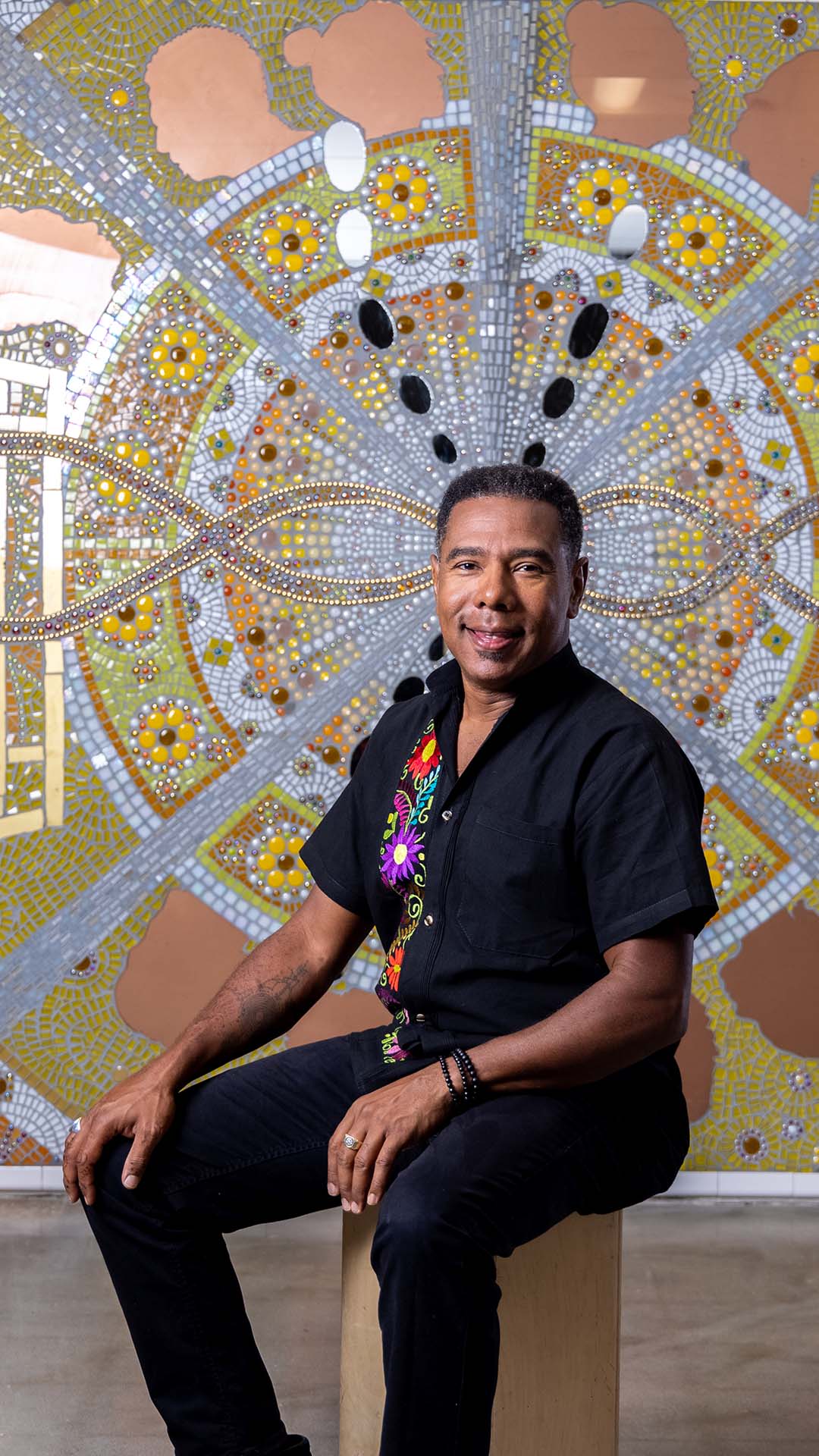 "Seeing the finished piece, it was beautiful because the art work, the energy from it, I could feel, and it was in such alignment to what we wanted to address with the theme of diversity over division," Adams said.

The panels are supported by words of a poem written especially for the mural and for the Diversity Over Division initiative, "Growing Tomorrow in a Field of Today," by Houston poet D.E.E.P.

"In so much of this world, we consider social issues to be someone else's problem. We imagine climate change being solved by our children or racism being better for the future. But in reality, we have to face those issues today to have any lasting change," D.E.E.P. said. "The poem wants to get at that. This idea that we have control to not put off until tomorrow the change that is necessary for today. Poets are record keepers of the times, town criers who remind people of their responsibility and make them more aware of the things they can't see or refuse to see for themselves."

One line, "We choose to not live in the monochrome of our ignorance but in the technicolor of our diversity," flows through each panel and draws them together.

"The collaboration with D.E.E.P. was a beautiful dance," Adams said. "The willingness to truly collaborate was evident. All the artists were responsive, which was indicative of how true to the mission of diversity over division this project was."

The Diversity Mural is installed on the east windows of the Brazos Hall building. The mural faces the University Branch Library and is located in a highly trafficked area for students and visitors. Adams hopes anyone who stops to look or snap a picture or access the QR code to watch D.E.E.P. as she recites the poem leaves inspired – by the colors, by the words, by the images and by the collaborative power of art and artists.

"That's the piece I want to savor, because it was beautiful to see people work together," he said. "I am honored to have been a part of that."