GETTING GRAPHIC
Graphic Design Student Project Connects Communities, Transforms University Gateway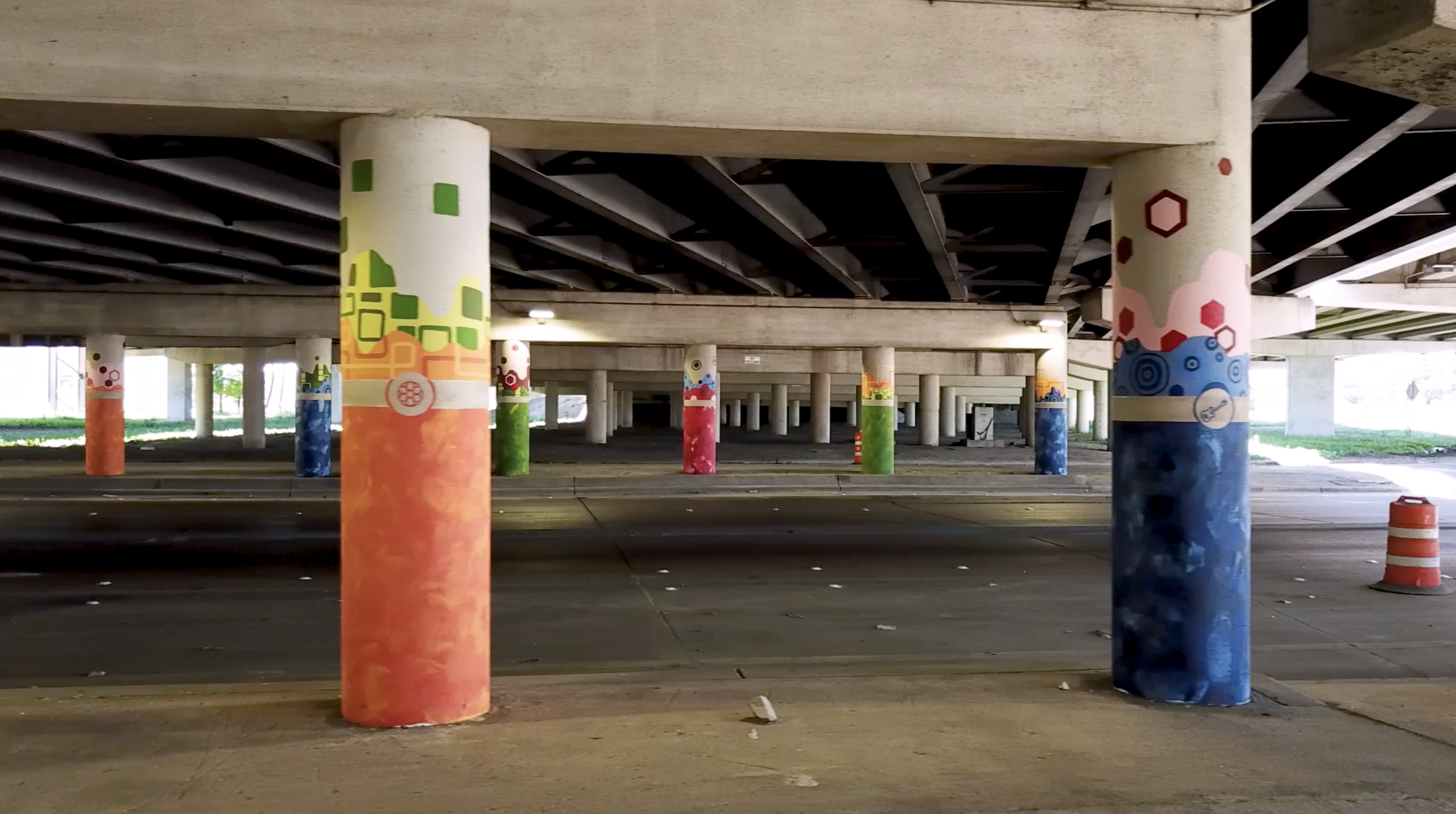 What began as a class project for graphic design seniors in the University of Houston School of Art has blossomed into an impressive public art initiative transforming the gateway to the UH campus.
With every brush stroke, graphic art students under the mentorship of Mario Enrique Figueroa Jr.— artistically known as aerosol artist GONZO247, emblazoned 22 pillars along Cullen Boulevard under the Interstate 45 overpass. They carefully chose the vivid colors, bold patterns and descriptive icons to reflect the characteristics of the four surrounding communities and brighten the environment for the thousands of commuters who pass through every day— by car and on foot.
"Usually people think of art as fine art, something you only see in museums," said Meliza Resendiz, student designer. "It's really cool to know that if you are doing something and you put it out in the street, that people are able to appreciate it. Maybe someone who doesn't have access to a museum or doesn't know about art, can be like, 'Hey, I can do that too.'"
"Perspectives," as the design is called, showcases the rich histories of Eastwood, Third Ward, East Downtown Houston – known as EaDo, and University of Houston. Each circular pillar features icons, such as a guitar to symbolize the music culture of the Third Ward or a cougar paw to represent Shasta, the legendary UH mascot.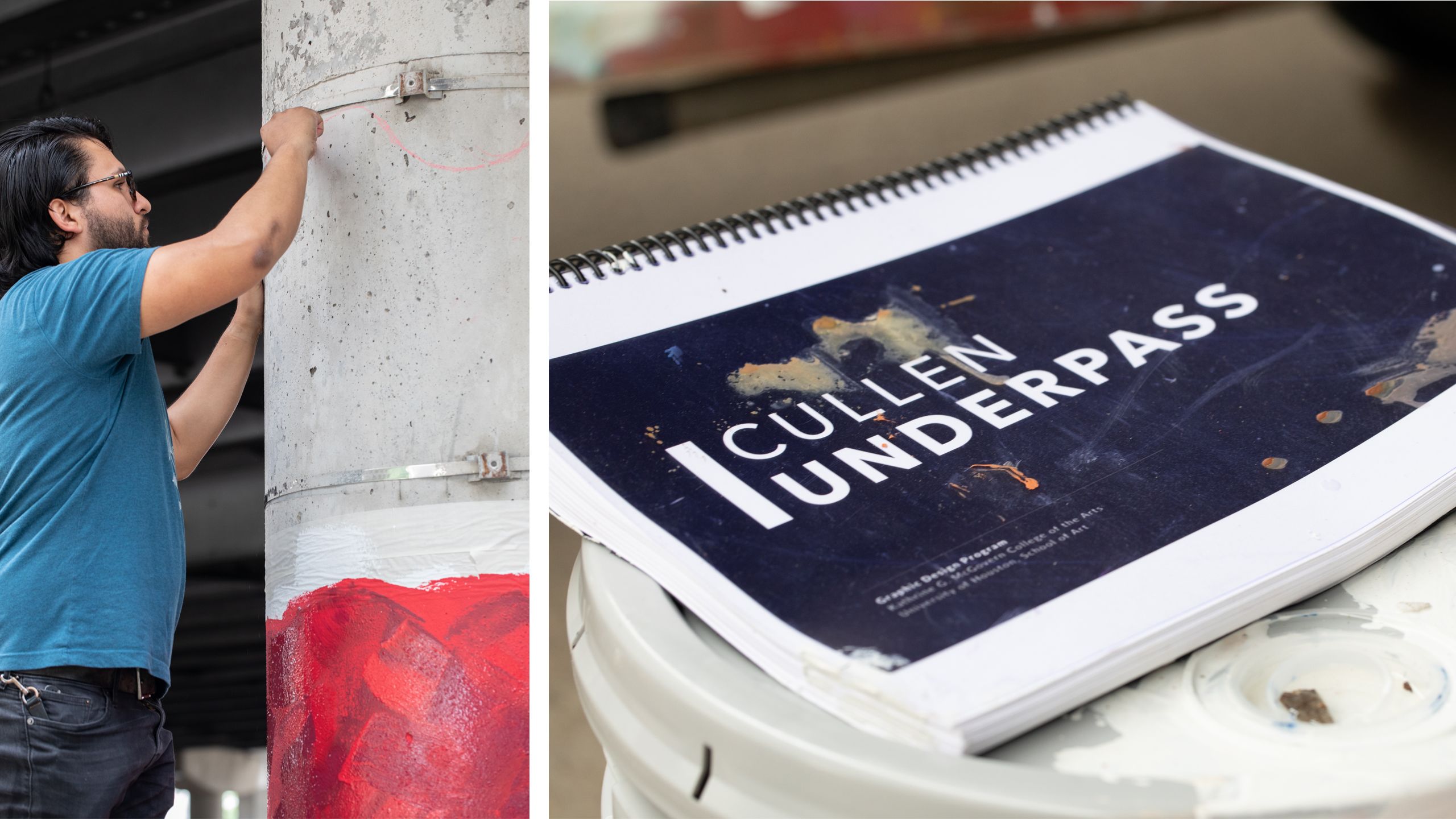 Art imitating community life
In the months leading up to the art installation, GONZO247 mentored the students from conception to implementation. He encouraged them to research the histories of each diverse community and tell their stories with bright colors and powerful symbols. For graphic designers trained to use typography, it was a powerful exercise in thinking outside the lines.
"This project was challenging because it was one of the largest scale assignments we've ever had," said student designer Annette Wong. "It was a really good experience to interact with people and figure out what kind of questions and information we could find in order to make the information we convey accurate."
When we were thinking about Eastwood, we were thinking about the tight knit community that it is, and green really spoke that to us," said student designer Camilo Monroy of the brainstorming process. "For the Third Ward, we were thinking about the music history, which is one of the many aspects of the Third Ward,, and so we decided to go with the blue color palettes represent rhythm, blues and soul."  The students took a similar approach to designing a concept for each of the four neighborhoods.
This unique beautification project was a collaboration between state, city and county officials, area developers, the University of Houston and members of the four communities that make up "Perspectives."
"It's always great to work with students, because I feel like they are getting a good taste of real-world experience from start to finish, designing something to install and figuring out how to work with different agencies like Texas Department of Transportation, City Hall, management districts and universities," said Gonzo. "This is what I do every day, and for them to see what it's like to do something that's really going to be impactful for the community, I think that's a great lesson in itself."
What started as a class lesson has turned into a lasting legacy for these students. Through this project they became an integral part of adding to the culture of public art in Houston and at UH.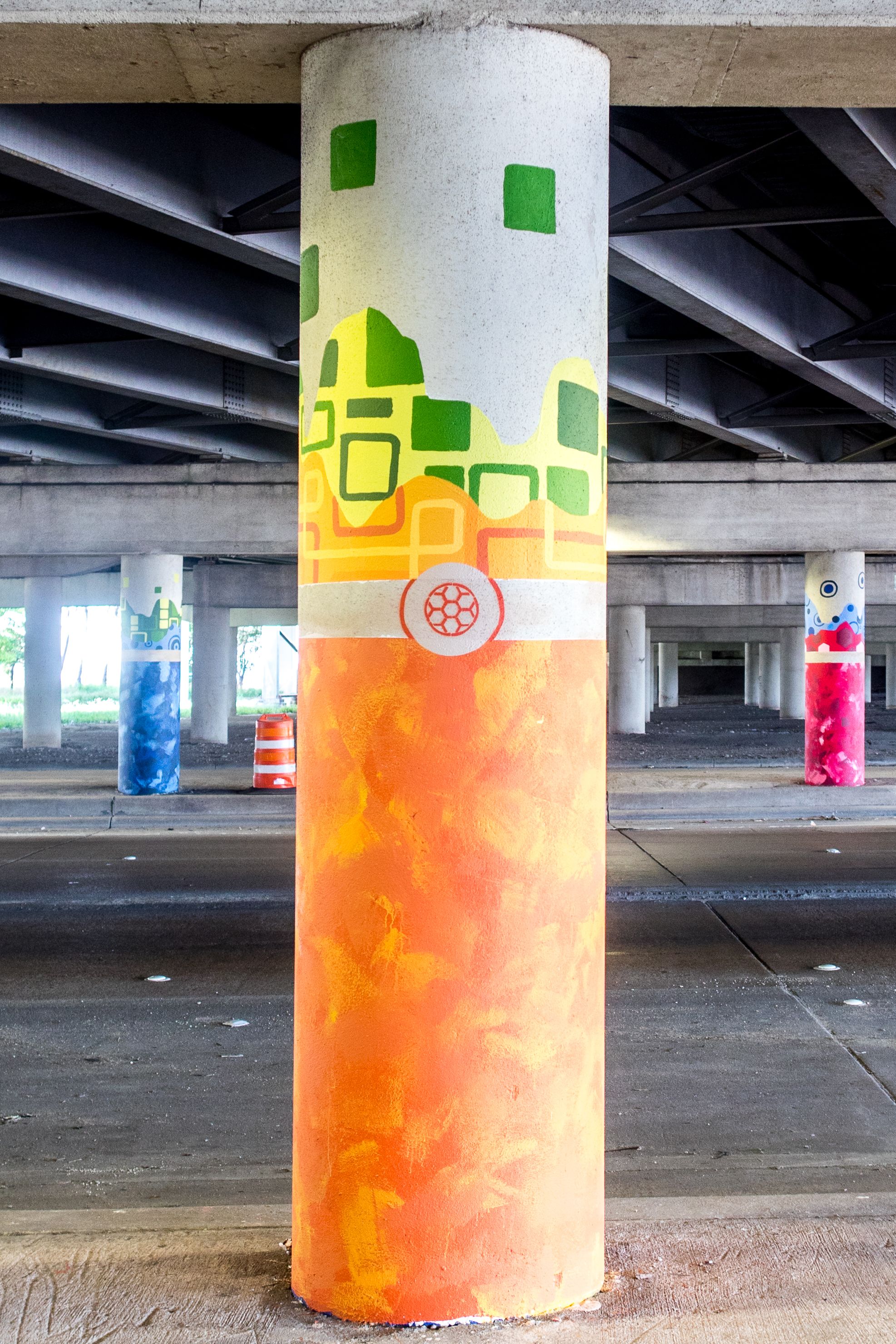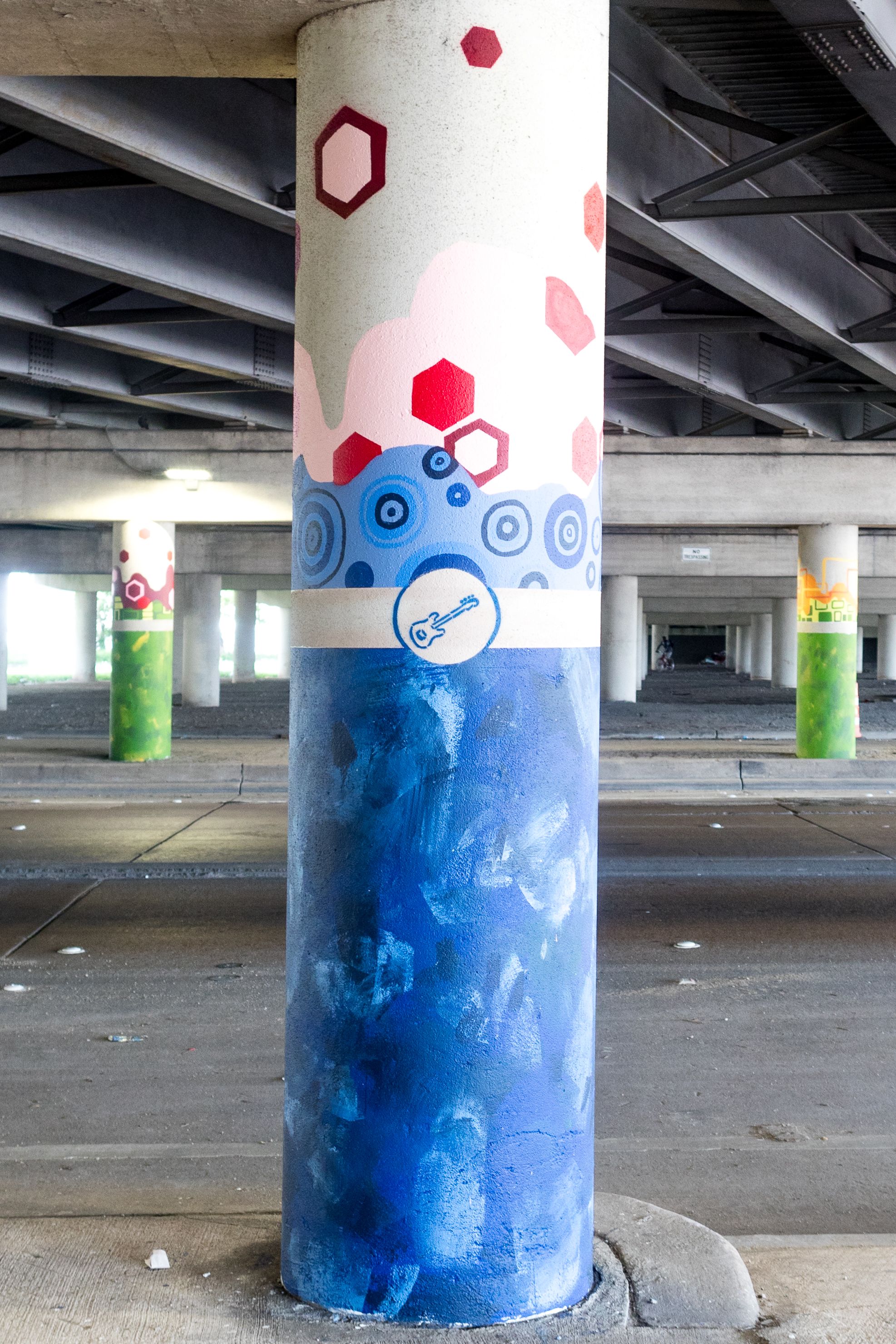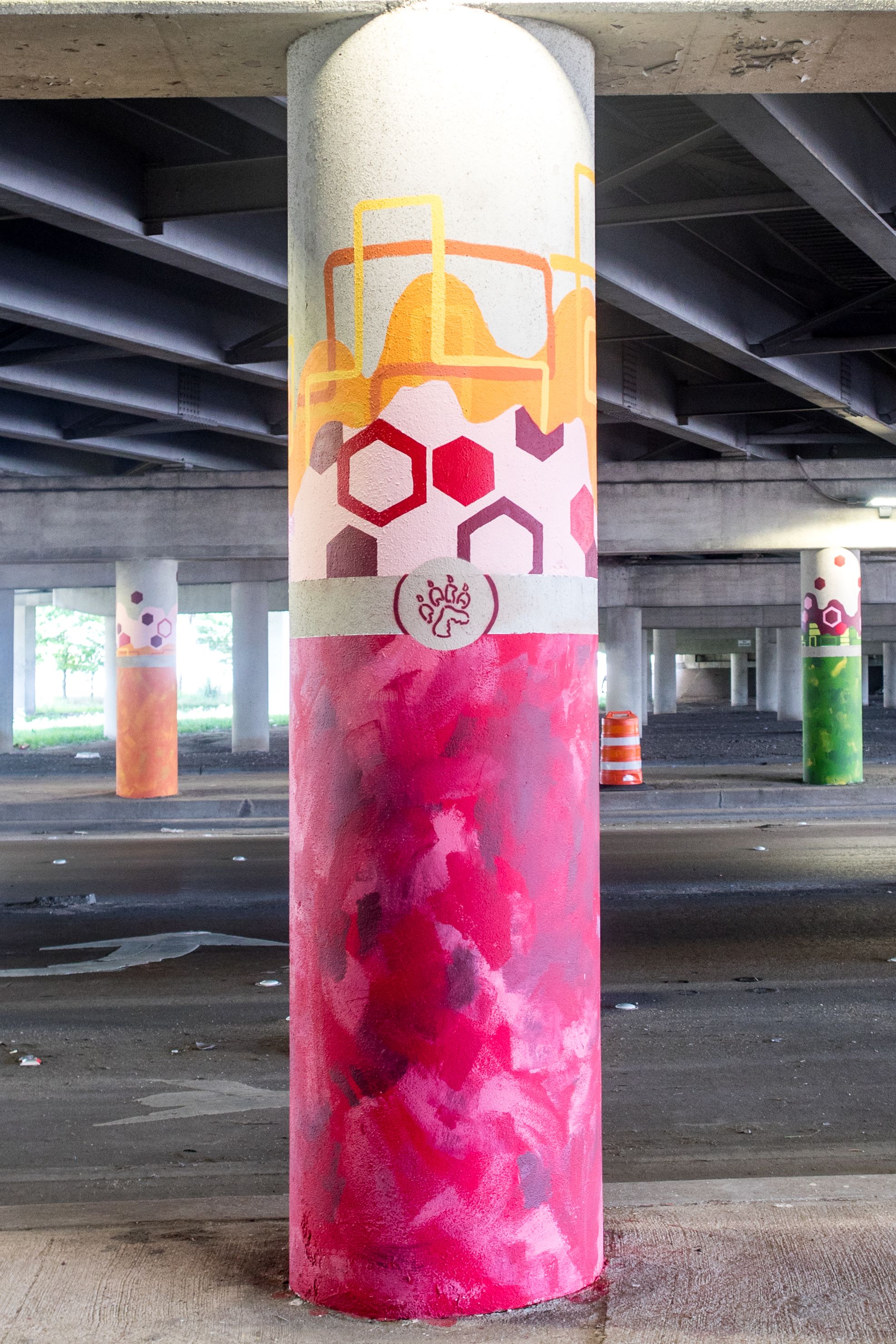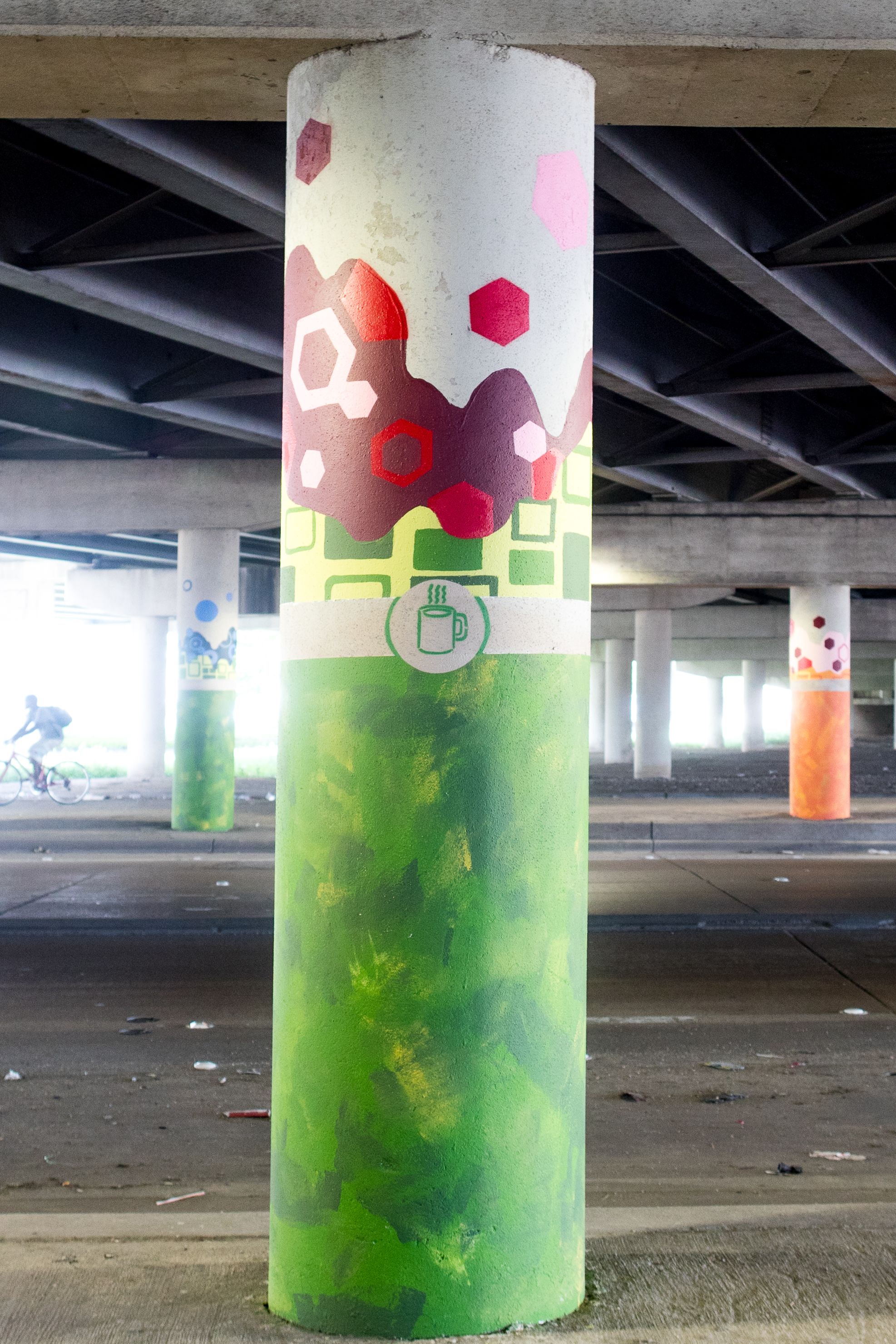 Credits: Story by Sara Tubbs | Videography by Aaron Rodriguez & Greg Ortiz | Photography by Jessica Almanza & Ben Corda | Design by Damisi Delaney
For more feature stories from the University of Houston, visit stories.uh.edu.
A communication by the University of Houston Division of University Marketing, Communication and Media Relations.
Do you have a story idea you'd like to share with UH?
Email us at stories@uh.edu. We regret that we cannot respond to every submission. If your submission is a good fit, we will follow up with you directly.