SPUR 5 TRAFFIC UPDATE
UH Campus Traffic Impacted by Major Road Construction on Spur 5 Between Old Spanish Trail and University Drive

The Texas Department of Transportation has informed the University of Houston there will be significant traffic flow changes on Spur 5 beginning as early as Monday, May 22. The immediate changes include:
Spur 5 will have only one southbound lane open from University Drive to Old Spanish Trail (leading away from campus).
All northbound lanes on Spur 5 between Old Spanish Trail and University Drive (leading to campus) will be closed and the Wheeler Avenue intersection at Spur 5 will not be accessible.
To enter campus from Old Spanish Trail, we recommend taking the alternate route via Martin Luther King Boulevard, which connects to Wheeler Avenue.
Wheeler Avenue remains open between southbound Spur 5 and Martin Luther King Boulevard.
Spur 5 Traffic Map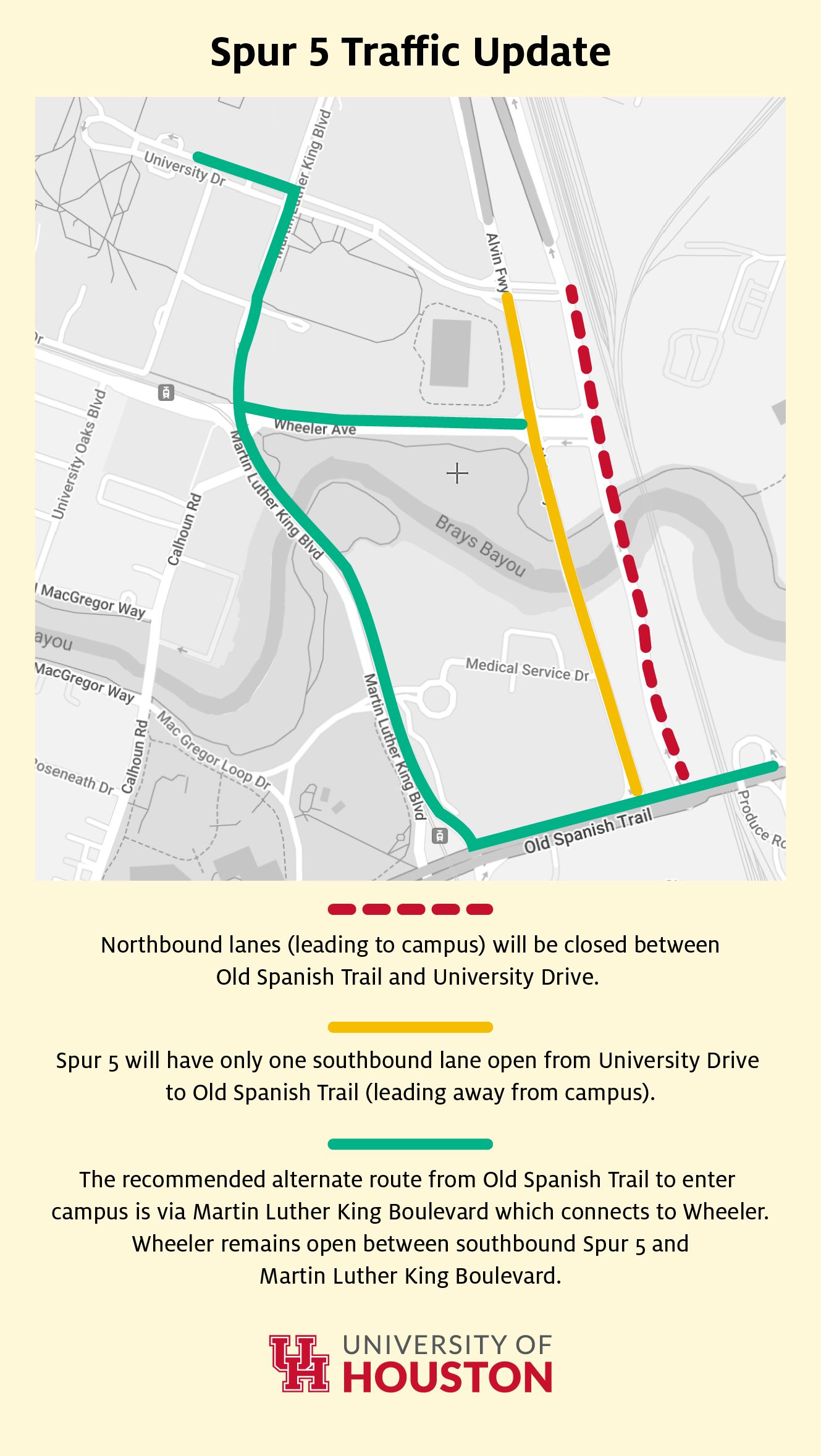 Please note that this construction along Spur 5 between University Drive and Old Spanish Trail is anticipated to last a minimum of 120 days. While it may cause some inconvenience during this period, this work is part of a larger, multi-year project to extend Spur 5 and build a four-lane roadway with elevated, multi-directional interchanges between SH 35 (Spur 5) and I-610 South Loop. The purpose of the proposed project is to:
Accommodate regional population growth
Reduce traffic congestion within the project area
Increase north/south mobility
Increase hurricane evacuation capacity