Historic $20M Partnership Extension with TDECU Goes Beyond Stadium Naming Rights
Agreement Features New Initiatives for Financial Literacy, Career Development and Food Insecurity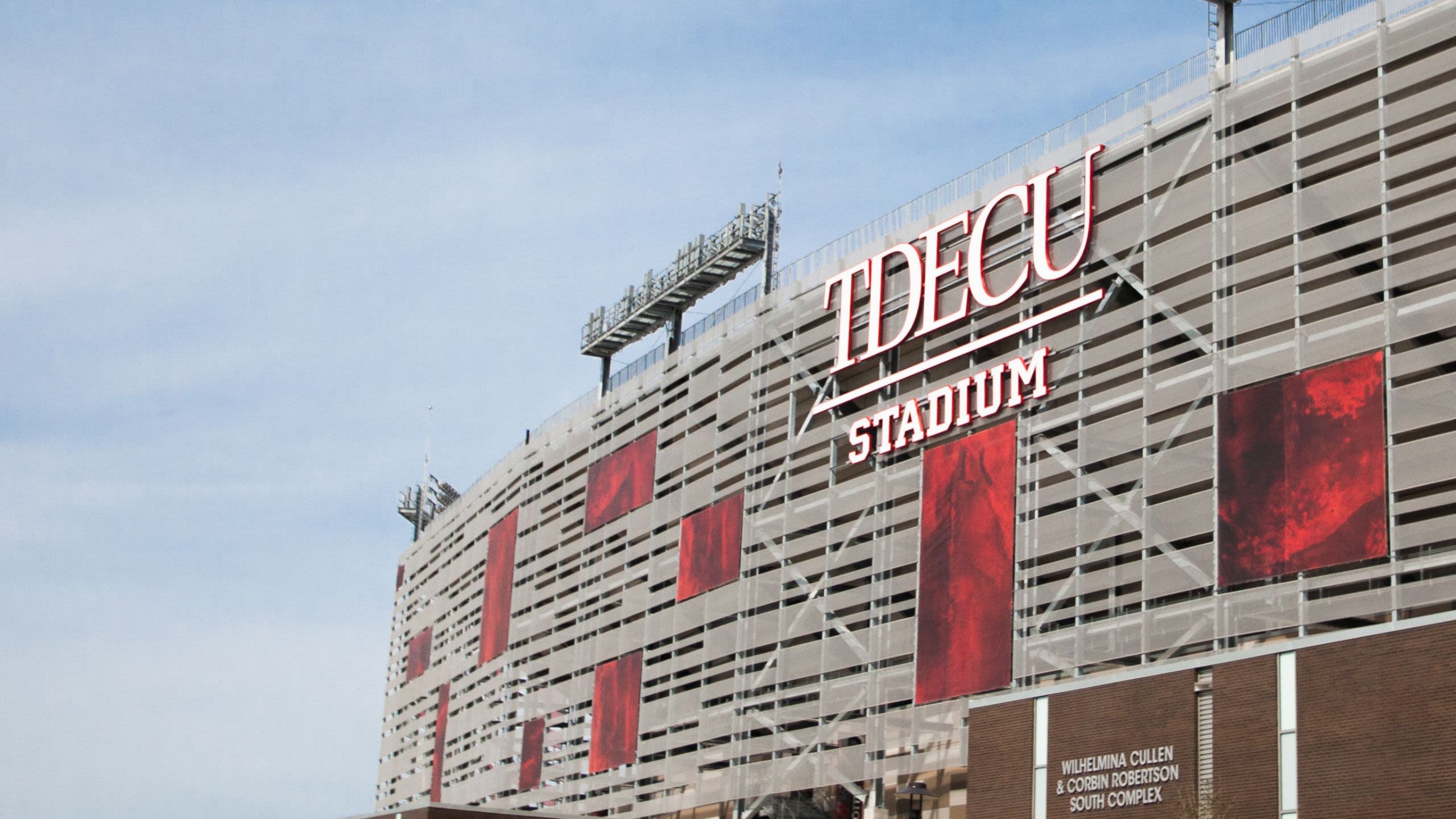 A historic $20 million partnership extension has been finalized between the University of Houston (UH) and Texas Dow Employees Credit Union (TDECU), Houston's largest credit union, to maintain naming rights of TDECU Stadium through at least 2034.
While the gift is celebrated as the most significant agreement of its kind in the history of UH Athletics, the impact of the multitiered partnership extends well beyond the stadium or playing field. The nonprofit financial cooperative is expanding its support across the University in the areas of financial literacy, career development and food insecurity. The agreement was first announced in principle last fall.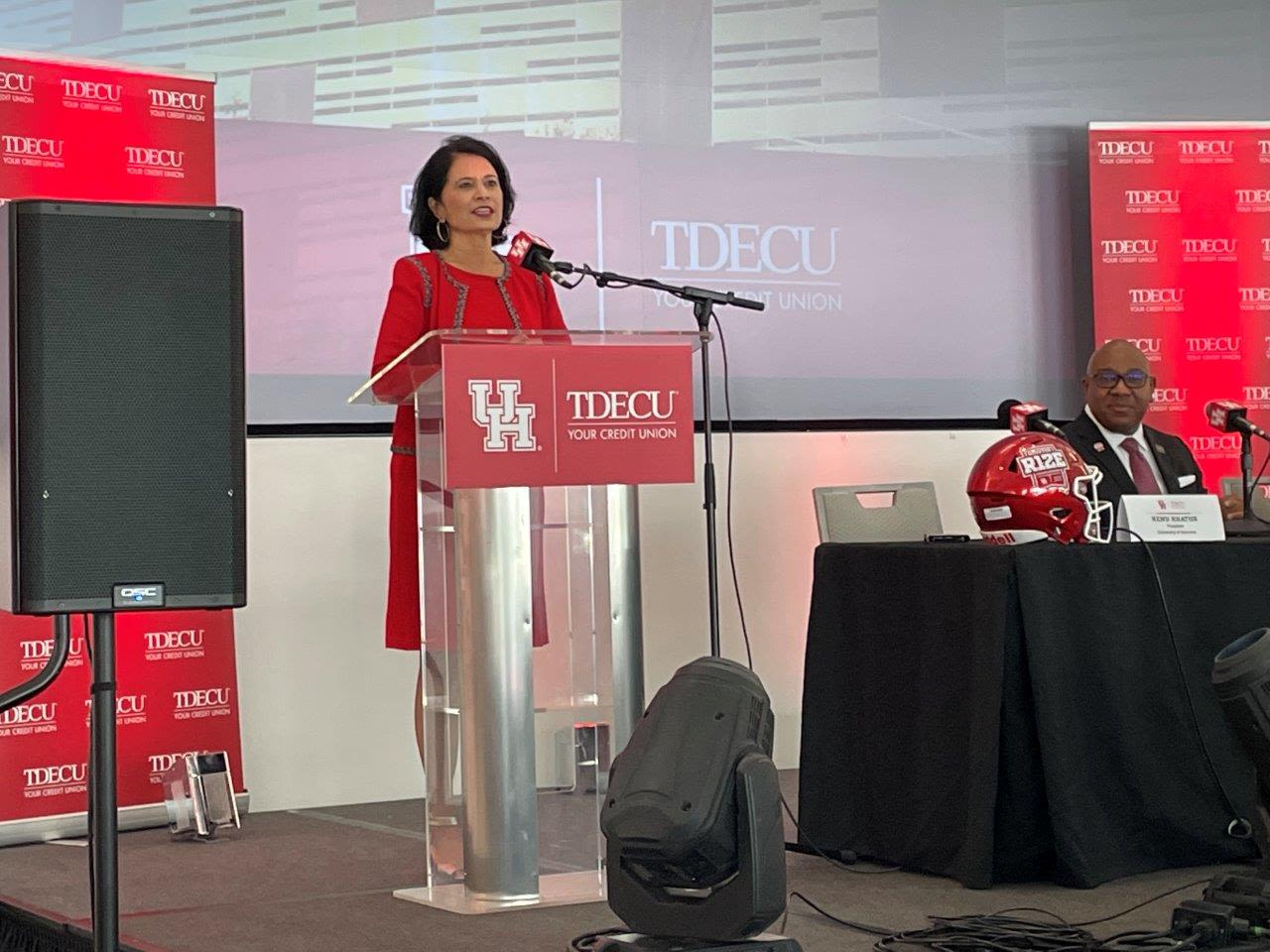 With the Cougars set to officially join the Big 12 on July 1, the renewal provides a strong foundation to not only shape a championship future in the new league, but better positions the University in its pursuit of becoming a top 50 public university.
"This incredible partnership stands apart from conventional sports agreements by virtue of the profound impact it will have on all students across the University. We extend our gratitude to TDECU for sharing our dedication to equipping students for success throughout their time at UH and beyond," said Renu Khator, University of Houston president.
"We recognize that an investment in the University of Houston is not only an investment for this region, but for the nation itself," said Isaac Johnson, TDECU president and CEO. "This commitment will allow us to walk with UH students from the beginning of their education to graduation and beyond. TDECU is everywhere UH alumni need us to be, helping navigate their financial journeys."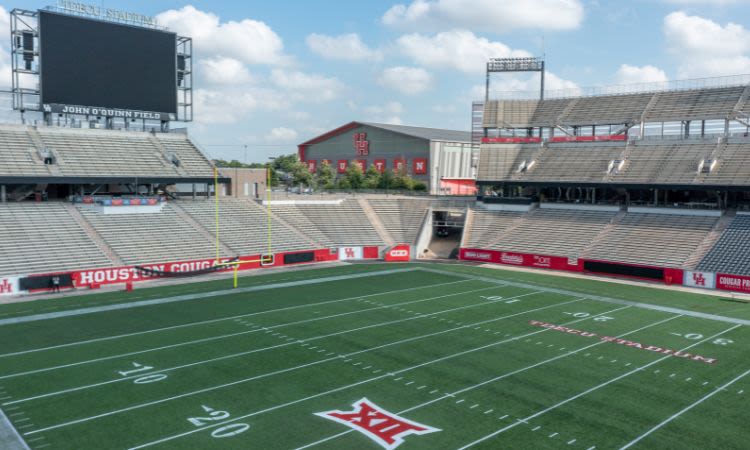 Tackling Food Insecurity
"Bingo!" roared one student before collecting her free groceries. "Score!" yelled another after turning his winning game card into a gift card. UH students and staff enjoyed a captivating fusion of entertainment and education at the inaugural "Basic Needs Bingo" event this spring, a collaboration between Cougar Cupboard and TDECU. Between games, students were educated by financial experts from TDECU about the intricacies and obstacles associated with establishing and maintaining good credit.
But bingo is only the beginning.
As the presenting sponsor of the campus food pantry, TDECU has significantly expanded access to nutritious food for University of Houston students, completely free of charge. Established in 2020 in collaboration with the Houston Food Bank, Cougar Cupboard was created to tackle the mounting issue of food insecurity, which affects approximately 40% of college students in the United States, hindering their ability to sustain a healthy lifestyle. Currently, over 5,500 UH students have registered for the program, with approximately 800 beneficiaries receiving weekly provisions from the pantry.
"Our students' needs continue to grow and we're grateful for TDECU stepping up to support them," said Chris Dawe, assistant vice president for student affairs, health and well-being.
To meet that growing demand, the cupboard will soon double its footprint by moving from its current location at the Campus Recreation and Wellness Center to University Lofts. With more square footage and shelf space comes the need for more volunteers. TDECU employees will regularly be on hand to stock shelves, unload food trucks and help at large-scale distribution events.
"Not only will we have more support from TDECU volunteers, we look forward to creating additional opportunities for financial workshops on budgeting, savings and their connection to addressing food insecurity," added Dawe.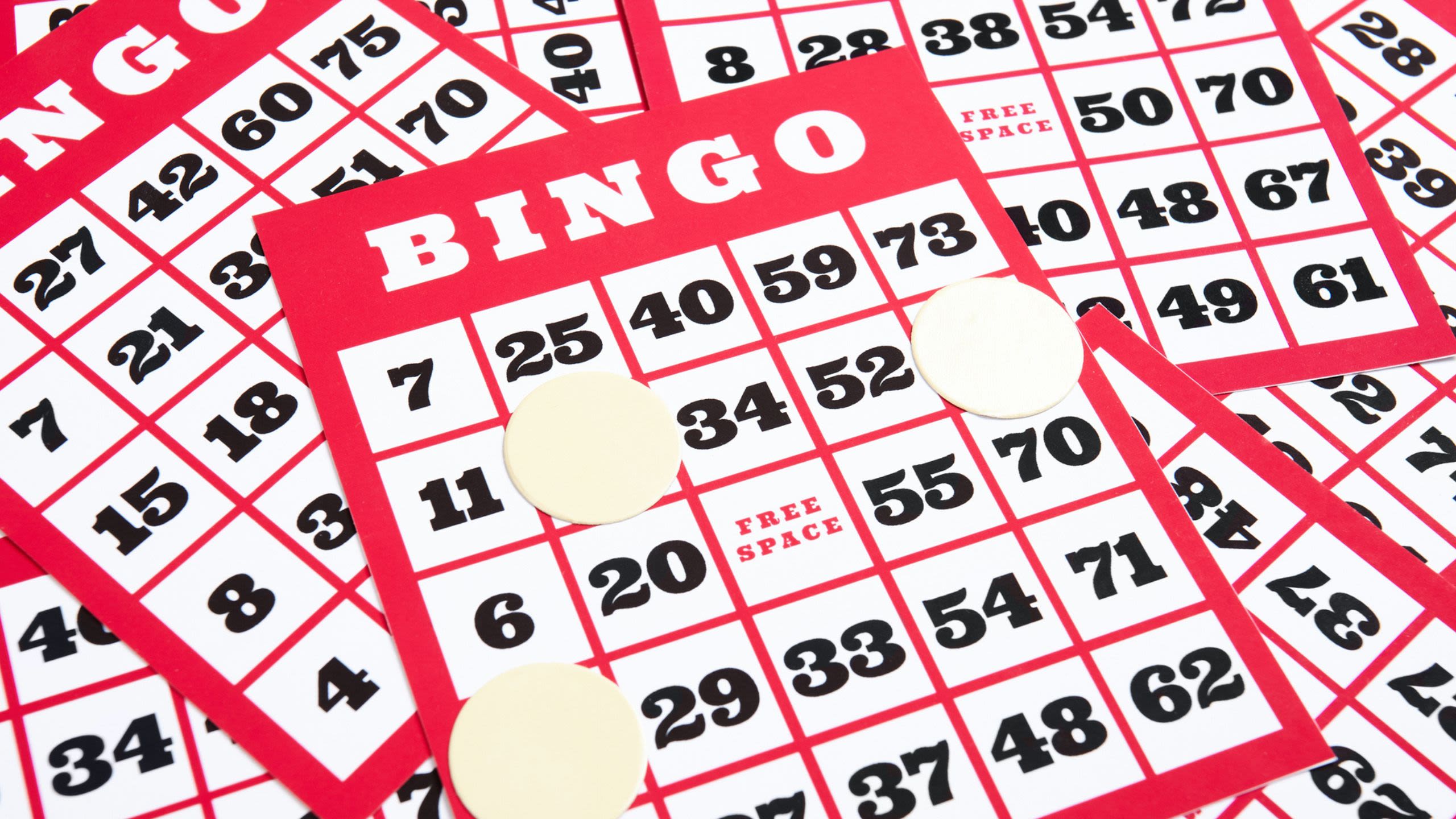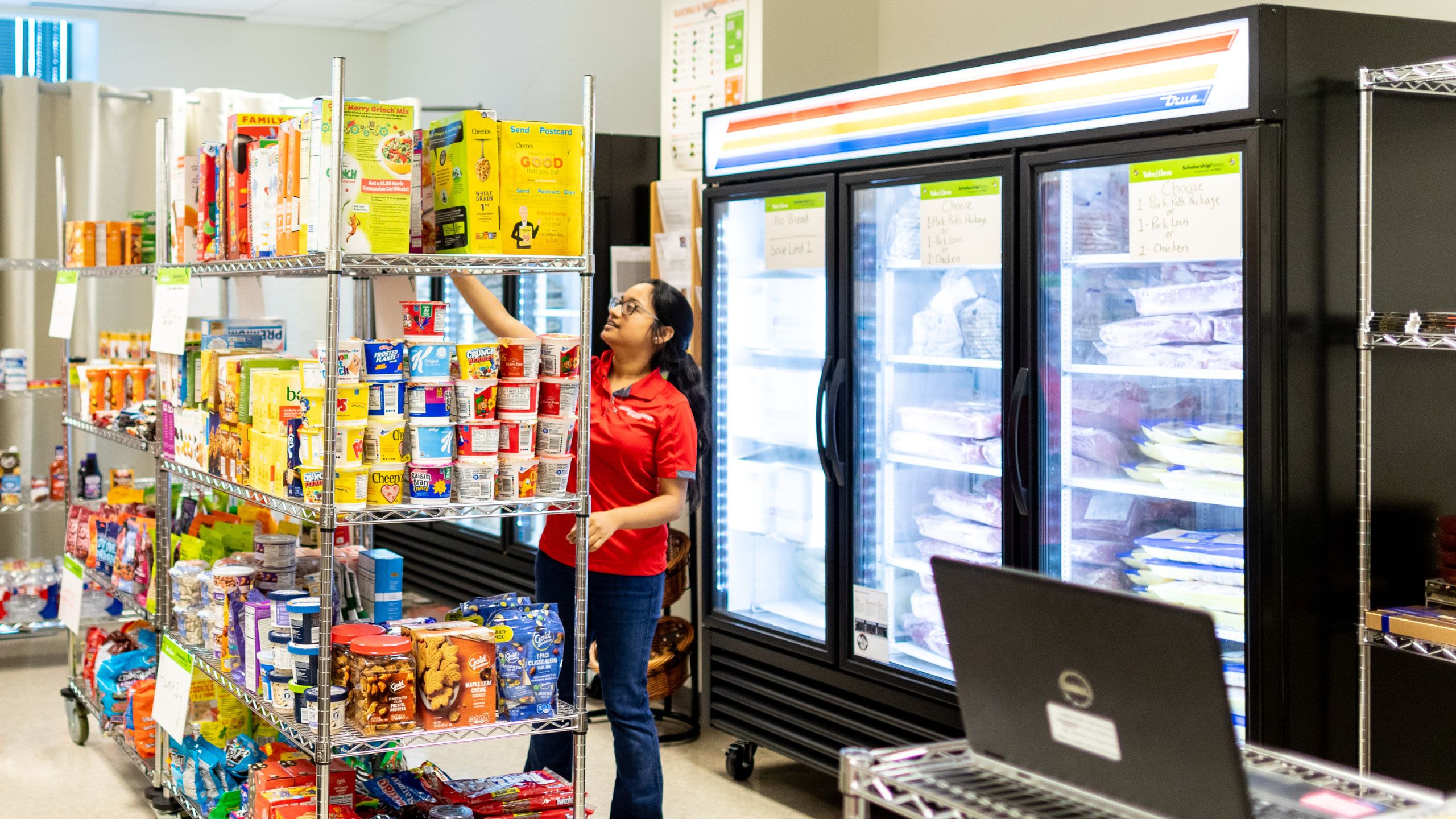 Financial Literacy
As part of the renewed agreement, UH student-athletes at the Dominic and Ellen Ng Houston Athletics Academic Center for Excellence now have access to personalized and specific financial literacy programs. These programs are tailored to meet the unique needs of student-athletes and are supplemented by wealth management educational services that are tied to their name, image, and likeness (NIL) rights. In March, TDECU announced its first NIL agreement with several members of the UH men's and women's basketball teams.
Dozens of student-athletes participated in a new financial literacy workshop series focused on how to properly save and budget, credit card and debt management, taxes, benefits and insurance.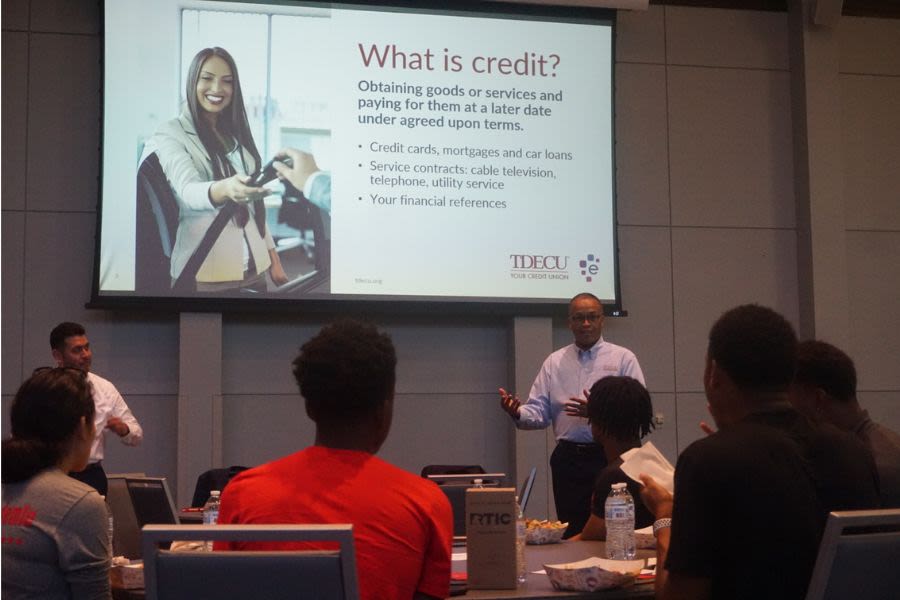 "Our student-athletes are experiencing financial opportunities that maybe they have never seen before. It's important to help educate them on making right decisions so they can accomplish their future goals," said Christal Peterson, director of student-athlete development.
Winter Bogan, a junior sprinter on the Houston Track and Field team, was particularly intrigued by learning how to maintain a high credit score, and the pitfalls to avoid if she doesn't want her credit score to drop.
"Credit is a topic that is frequently misunderstood by young adults as well as adults," she said. "Understanding credit is the stepping stone needed to help us better transition into young adulthood."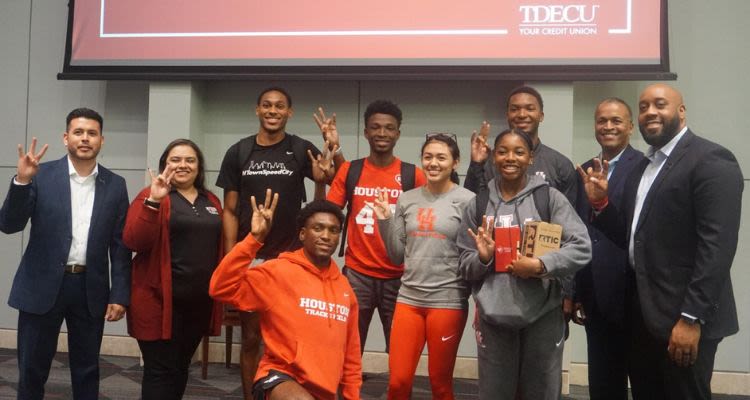 TDECU is the exclusive, on-campus financial institution at UH with a full-service branch inside the UH Student Center South to serve the needs of student members. The credit union was formed in 1955 when a group of Dow employees came together to provide financial help for the hourly worker. That mission of people helping people continues today. TDECU now has more than $4.7 billion in assets and serves more than 382,000 credit union members with competitive financial products and personalized banking services with 35 member centers across the state of Texas.
"Finances are an important aspect of everyone's life and student-athletes are no different. I truly feel that we have made a positive impact on the students' financial journeys, and I am grateful for the partnership we have with the UH community," said Christopher Soriano, TDECU financial wellness program manager.
The credit union also works closely with the C. T. Bauer College of Business for strategic research led by students across different majors. For years, TDECU has recruited students from the Program for Excellence in Selling as interns, many of whom have become valuable team members. Jason Schneider, TDECU's senior vice president and chief financial officer, is a Bauer graduate which makes the partnership even more personal.
"I wouldn't be where I am today without the education I received at UH," Schneider said. "It's important to me, and to TDECU, to continue to create opportunities for generations of students to come."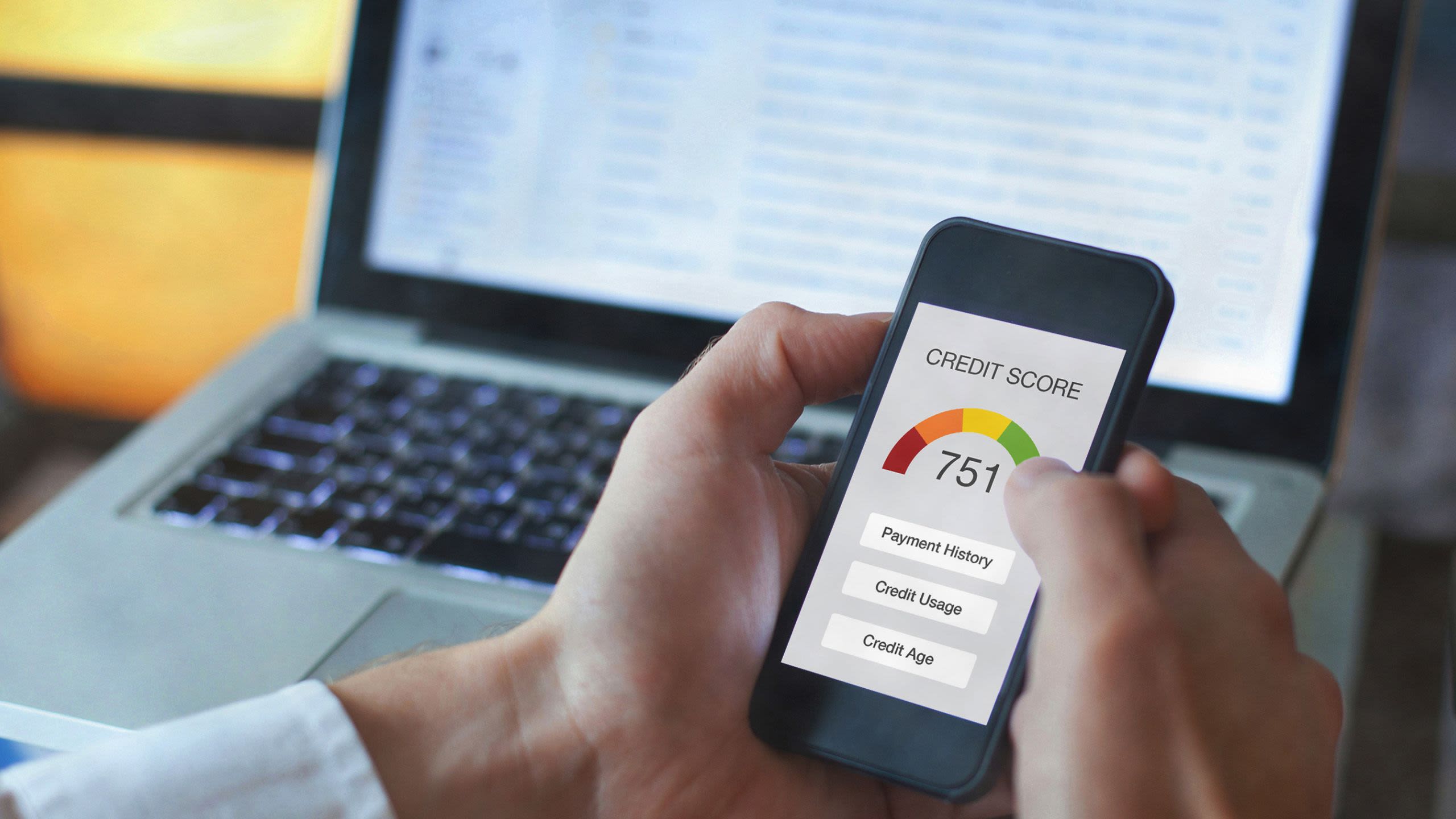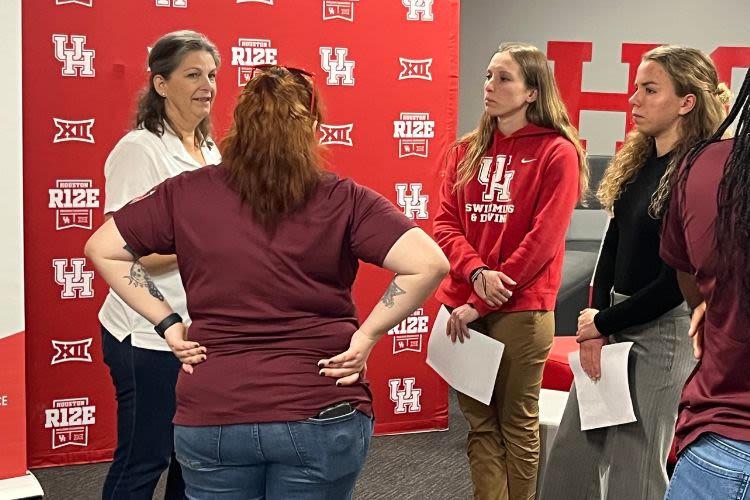 Workforce Development
When a world-class education is combined with the elite skills and competitive fire of a collegiate athlete, the result is a uniquely trained, exceptionally prepared professional for the workforce. In a strategic effort to develop UH student-athletes as lifelong leaders of character who are consistently hired by leading companies after graduation, UH Athletics has launched the Champions Circle program with TDECU as the official sponsor.
"We're extremely appreciative of TDECU's investment, partnership and support of the University of Houston and Houston Athletics over the years," Pezman said.
The Champions Circle drives tactical, strategic engagement between UH Athletics and partner companies, including TDECU, Dell Technologies and Katoen Natie, to create a pipeline of 21st century professionals ready to make an immediate impact in the corporate marketplace.
"Student-athletes bring much more than a core competency to the workplace. They thrive in diverse team environments, excel in the face of adversity and bring out the best in those they encounter. In today's dynamic global marketplace, this versatility is in high demand," said DeJuena Chizer, senior associate athletic director for student-athlete development.
Fan and Alumni Engagement
In anticipation of the Coogs' success in the Big 12 conference and to foster greater fan loyalty, as well as enhance student and alumni engagement, TDECU is sponsoring a new loyalty program. Additionally, TDECU is now supporting the UH Alumni Association and the Young Alumni Association, aiming to strengthen the bonds between the university and its alumni community.
The Pride rewards app presented by TDECU was launched last fall, and offers Houston fans an enjoyable, user-friendly mobile experience where they can win prizes and merchandise by attending games, staying until the conclusion of games, and watching videos and reading stories in the app. More than 5,000 fans have downloaded the app and momentum is building.
"We truly value our fans and want them to feel connected to their team and the University," said Pam Kehoe, associate athletics director for marketing and fan engagement. "The app provides fans with real-time news alerts, schedules, exclusive multimedia content and game day details right at their fingertips."
The app can be downloaded through Google Play and the Apple App Store.
Recognizing the importance of alumni engagement – more than 190,000 UH alumni live in the Houston area – the Alumni Association is partnering with TDECU on a variety of events and programs, including its annual ring ceremony, gala and golf tournament, in addition to the Cougar 100 Luncheon and official football bowl game watch parties. With a goal of reaching new alumni under the age of 35, TDECU will also work closely with the Alumni Association and Young Alumni Association.
"This partnership is great for our alumni because of the access to valuable financial resources, from getting your first mortgage or first car. The relationship we've forged with TDECU over the past decade is invaluable and will only grow stronger in the future," said Mike Pede, UH associate vice president for alumni relations.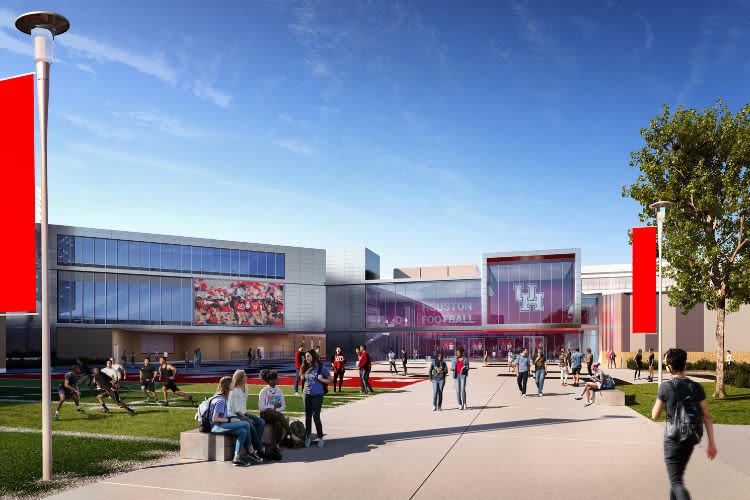 Houston Rise
TDECU's renewed commitment includes substantial support for the planned $140 million Football Operations Center, a state-of-the-art facility considered the cornerstone of a new, championship era in the Big 12. Chris Pezman, UH vice president for athletics, acknowledges the urgent need to continue the momentum and progress made in recent years to UH's athletic facilities and support services.
"We're extremely appreciative of TDECU's investment, partnership and support of the University of Houston and Houston Athletics over the years," Pezman said. "Our supporters and this community have answered the call for the Houston Rise campaign but we've got more in us. It's imperative that we provide our student-athletes, coaches and our programs the resources they need to compete at the highest level in the Big 12."
Since the launch of Houston Rise, UH's $150 million Big 12 Conference fundraising campaign, more than $50 million in pledges and outright donations have poured in. During the past year, nearly 900 new members have joined the Cougar Pride Athletic Fund, the fundraising arm of Houston Athletics.
Other facilities to be upgraded include the Guy V. Lewis Development Center to support men's and women's basketball, and the revitalization of the Athletics-Alumni Center (AAC). Upgrades to the AAC will provide every Houston student-athlete a home that is on-par or better than anything found in the Big 12, according to Pezman.
"Participation, regardless of form, is the lifeblood of the Houston Rise campaign," said John Gladchuk, senior associate athletics director for development. "Each new Cougar Pride donation is a key building block in a championship foundation for Houston Athletics."
When UH first partnered with TDECU in 2014 and opened the $128 million TDECU Stadium, it was the largest-ever naming rights deal for a college football stadium at that time. Now, on the cusp of another major milestone and propelled by the enduring strength of an extraordinary partnership, the Houston Cougars are primed to compete in the Big 12, both on and off the field.
-Story published on June 21, 2023