Making History
UH Students Reflect on Black History Month
While Driving Change in their Communities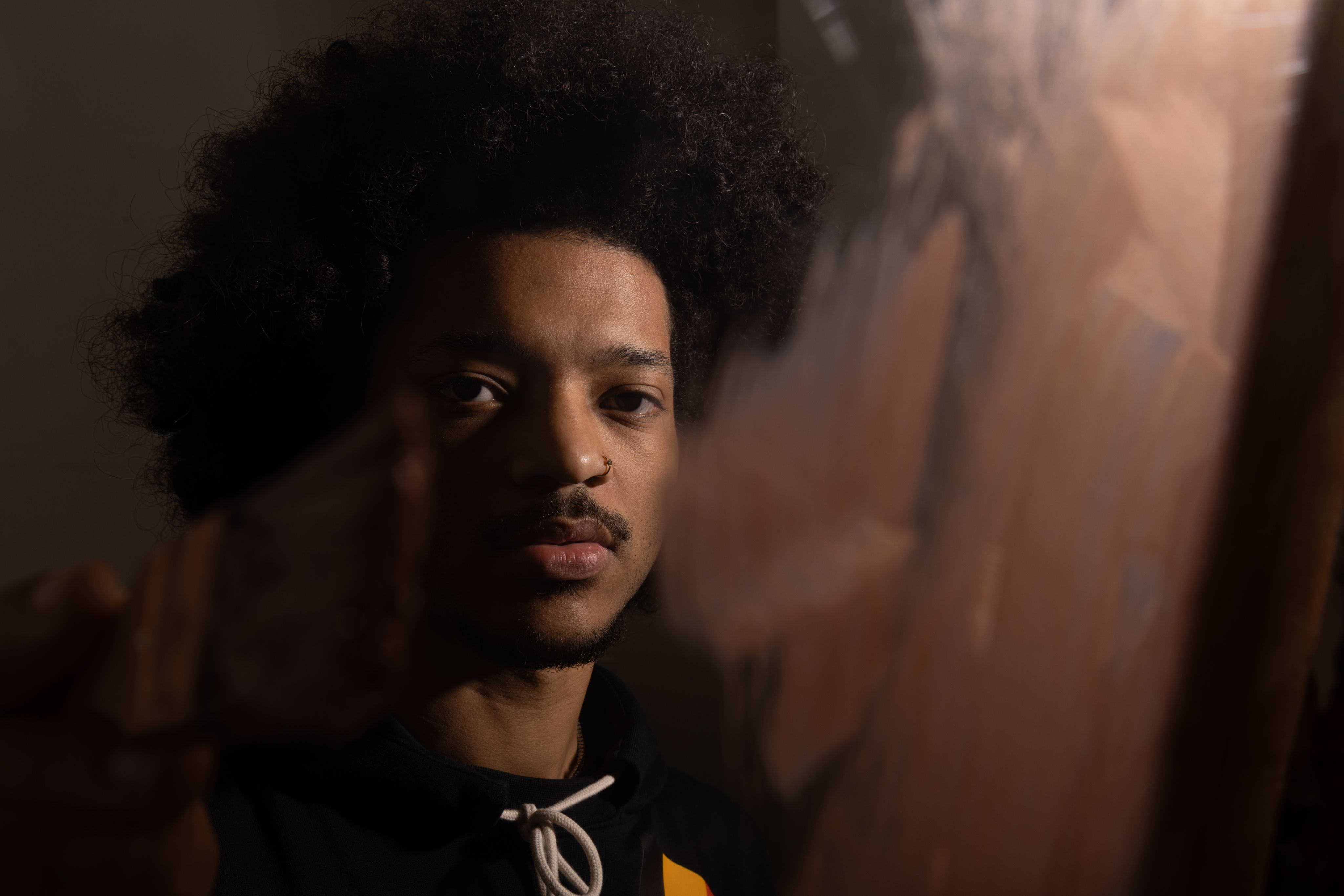 Boxing legend and civil rights activist Muhammad Ali was never short on words of wisdom or witticisms. Among the departed champion's most endearing statements is one that is often linked to Black History Month.
"Don't count the days. Make the days count."
The message is indeed appropriate during the 28 days comprising February as Americans commemorate the achievements of Black heroes and innovators. Beyond this month, the University consistently recognizes the countless Cougars who are poised to make history through their work on campus and in the community. This article spotlights just some of the students effecting positive change in our world.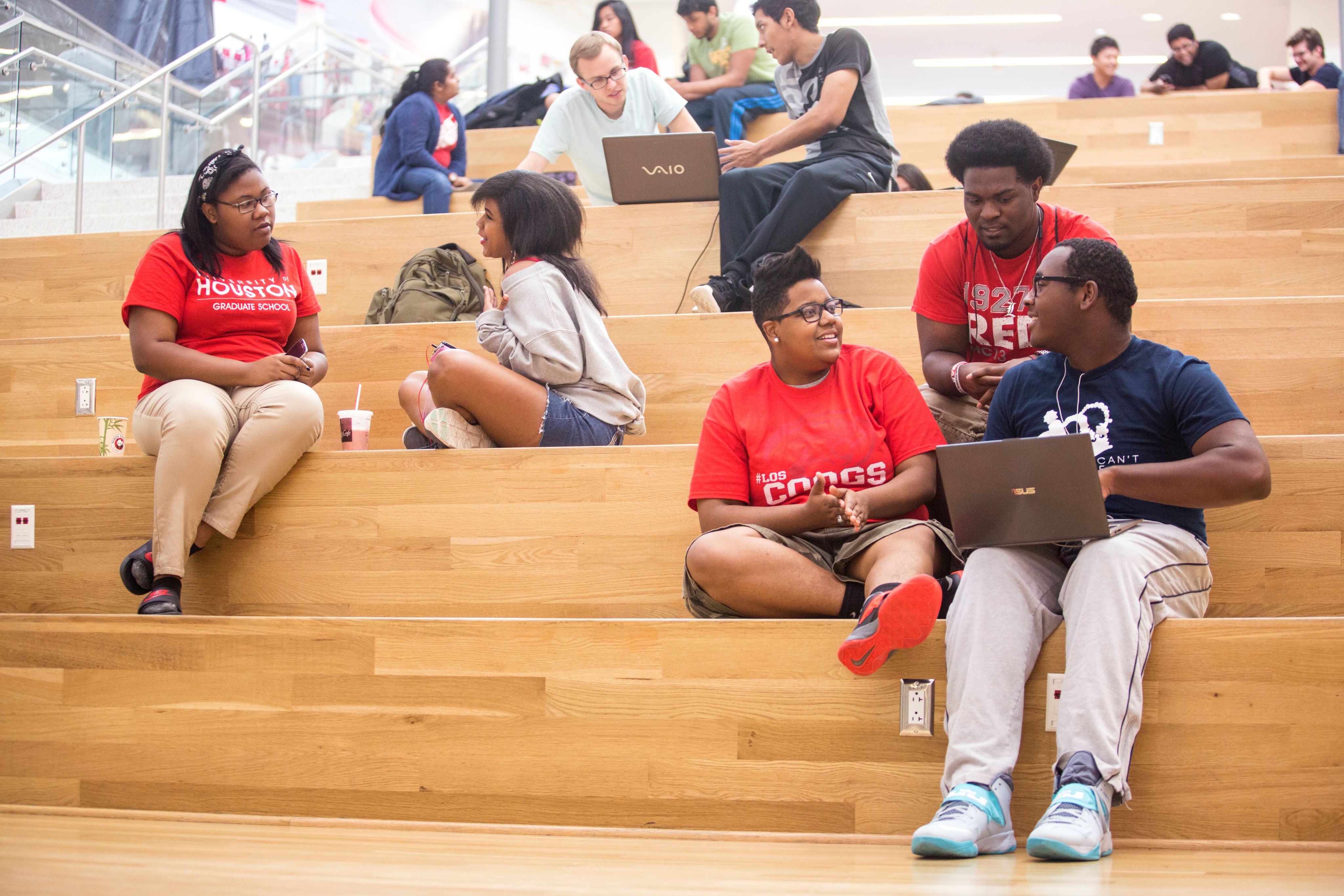 Service to Others
Although Kacey Williams is no longer in the U.S. Army, she continues to serve her nation and her fellow veterans, thanks in part to lessons learned at UH's Hobby School of Public Affairs.
Having served in Iraq, she is well aware of the mental health struggles faced by former members of the armed forces. Williams, a Master of Public Policy candidate, experienced such challenges firsthand and now wants to make a difference for fellow veterans.
She created the framework for the proposed Suicide Turndown Ongoing Prevention (S.T.O.P.) Act that would help provide veterans with mental health resources. Williams is receiving support in her efforts, but the S.T.O.P. Act is still very much a work in progress.
Her education at the Hobby School and role as a policy analyst for State Rep. Jacey Jetton are preparing her to further advocate for others.
"I want to help pass policies that have a positive effect on all individuals," she said. "Martin Luther King and Malcolm X changed the world in their early 30s. I am in my late 30s, so I'm a bit behind. But, it's never too late to make an impact."
Black History Month, she said, offers additional motivation to give back to others. When reflecting on the adversities and triumphs of her ancestors, she feels a sense of empowerment and inspiration to help not just fellow veterans but all Americans in need.
"Black History Month helps me move forward," she said. "It's powerful because it's American history, and it demonstrates the many things that African Americans have contributed to our country. When we reflect on the accomplishments of Black Americans, it allows us to better appreciate people of all races."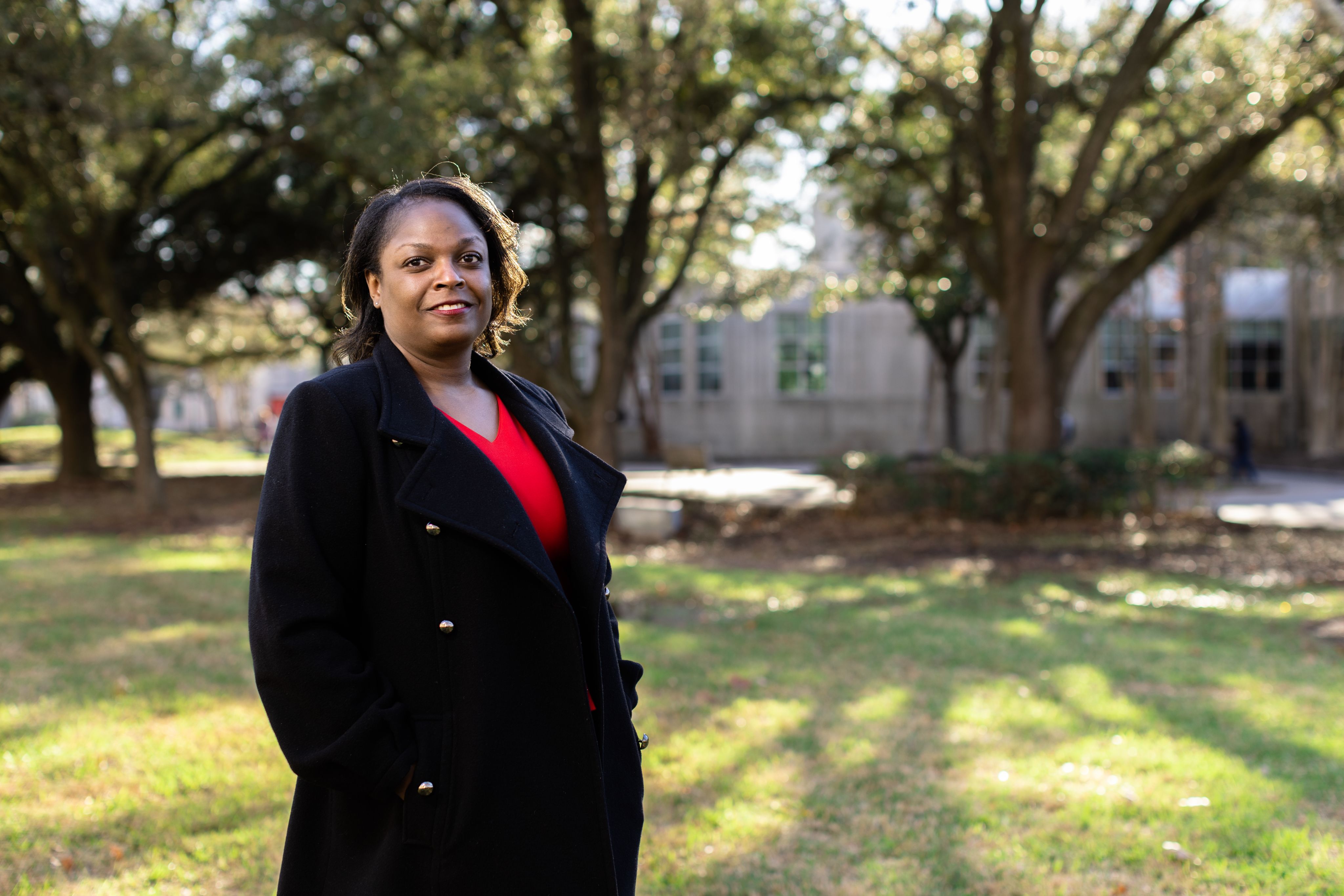 Perfect Chemistry
Morris Olumba has certainly soared academically and athletically at UH. Now, he wants to apply his talents as a scientist to help others reach new heights.
Olumba, a former high jumper on the UH track team, is a doctoral candidate and graduate research assistant in UH's Department of Chemistry. His dream job is working for NASA or a federal research laboratory.
"My parents immigrated to the U.S. from Nigeria and always stressed the value of education," he said. "With that in mind, I wanted to do well in school. Astronauts, I thought, had to be the smartest people in the world. So, that's what I wanted to be while growing up."
At UH, Olumba has received numerous honors including the International Precious Metals Institute's Outstanding Student Recognition, the Carl Storm Underrepresented Minority Fellowship and the Chemistry Graduate Student Research Award. Such honors did not come without some hurdles.
As an undergraduate student balancing academics with athletics, his grades suffered. The support of faculty, however, helped level the playing (and studying) field for Olumba.
While he once envisioned himself in outer space, Olumba has become more grounded. Still, he'd like to inspire others to reach for the stars as aspiring scientists.
"I've noticed that Black chemists are rare," he said. "It's important to show others that this is a discipline that they can succeed in. Third Ward schools are so close to the University, so I'd love for students to see that they can go to college and achieve the things I've achieved … and that I look just like them. Anything is possible if you just try."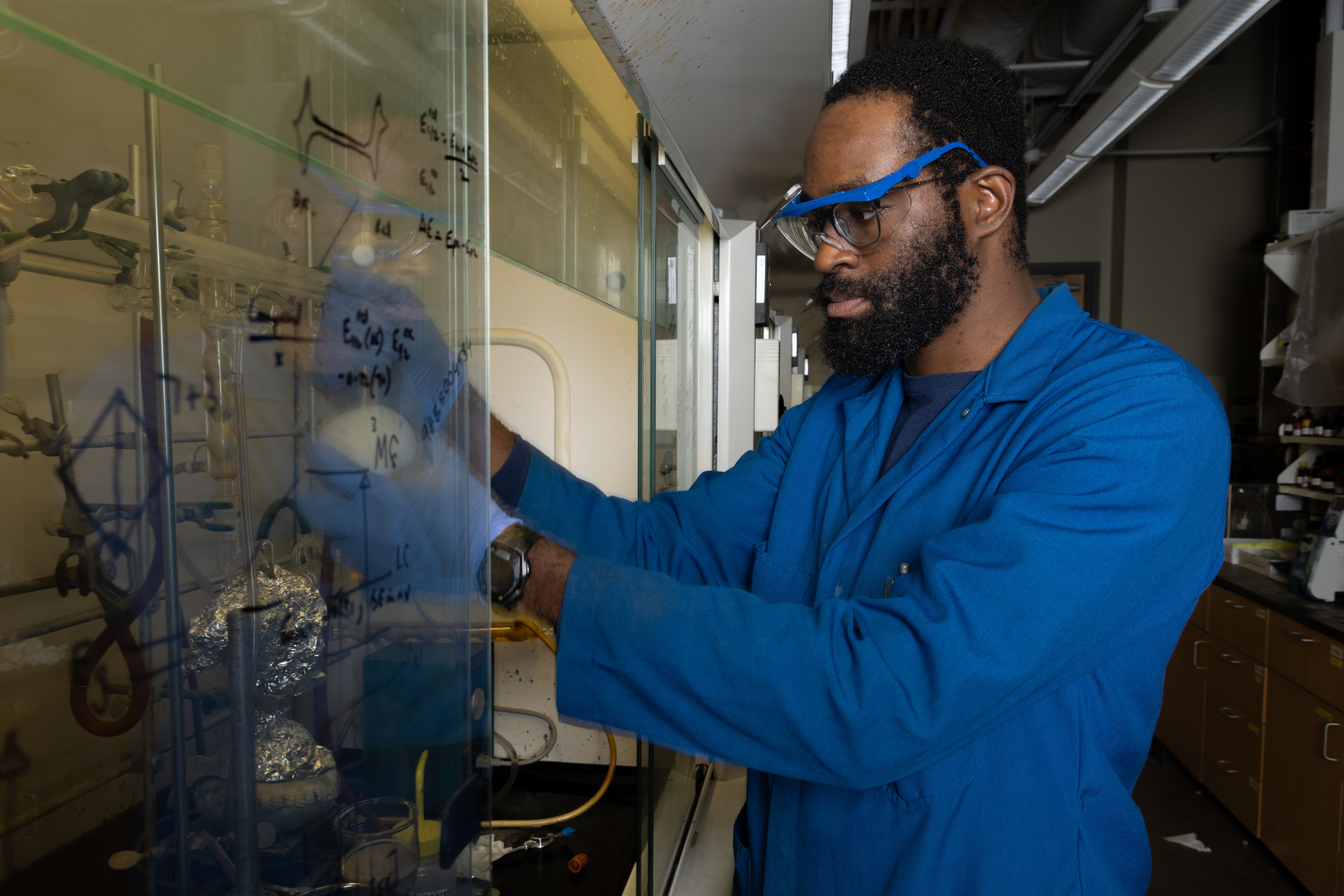 "Black History Month at UH serves as a reminder of the complexity of the diversity on campus that makes the UH population unique and vibrant."
Alyssa Green, UH Honors College student
Helping Students Find Their Voice
In selecting a university, Alyssa Green sought an institution with an inclusive student body. She found such a learning environment at UH and within the Bonner Leaders Program at the Honors College.
Green, a sophomore liberal studies major, valued the opportunity to be around students who looked and thought differently from herself. She also appreciated the Bonner Leaders Program's mission of supporting the nearby Third Ward.
In 2020, she launched the initiative AmplifyHer to help Third Ward middle school students find their public speaking voices. Through her efforts, Students from Navarro Middle School and the FORGE for Families (a local community center) have worked with UH mentors to gain confidence as communicators.
"By cultivating techniques of public speaking, we aim to empower leadership, advocacy and develop academic and professional proficiency," she said.
Green's passion for helping others also is driving her goal of earning a Juris Doctor degree from the UH Law Center. Through her Phronêsis minor and the Honors College's 3+3 Program, she will be eligible to begin law school by her junior year.
"This program allows me to be able to do what I love, advocating for others and inspiring change," she said.
Green is grateful for her experiences at UH and her opportunities to serve fellow Houstonians. During Black History Month, she is particularly appreciative for the University's commitment to students such as herself.
"The beauty of this university is that we may be different, but we still celebrate our differences together," she said. "Black History Month at UH serves as a reminder of the complexity of the diversity on campus that makes the UH population unique and vibrant."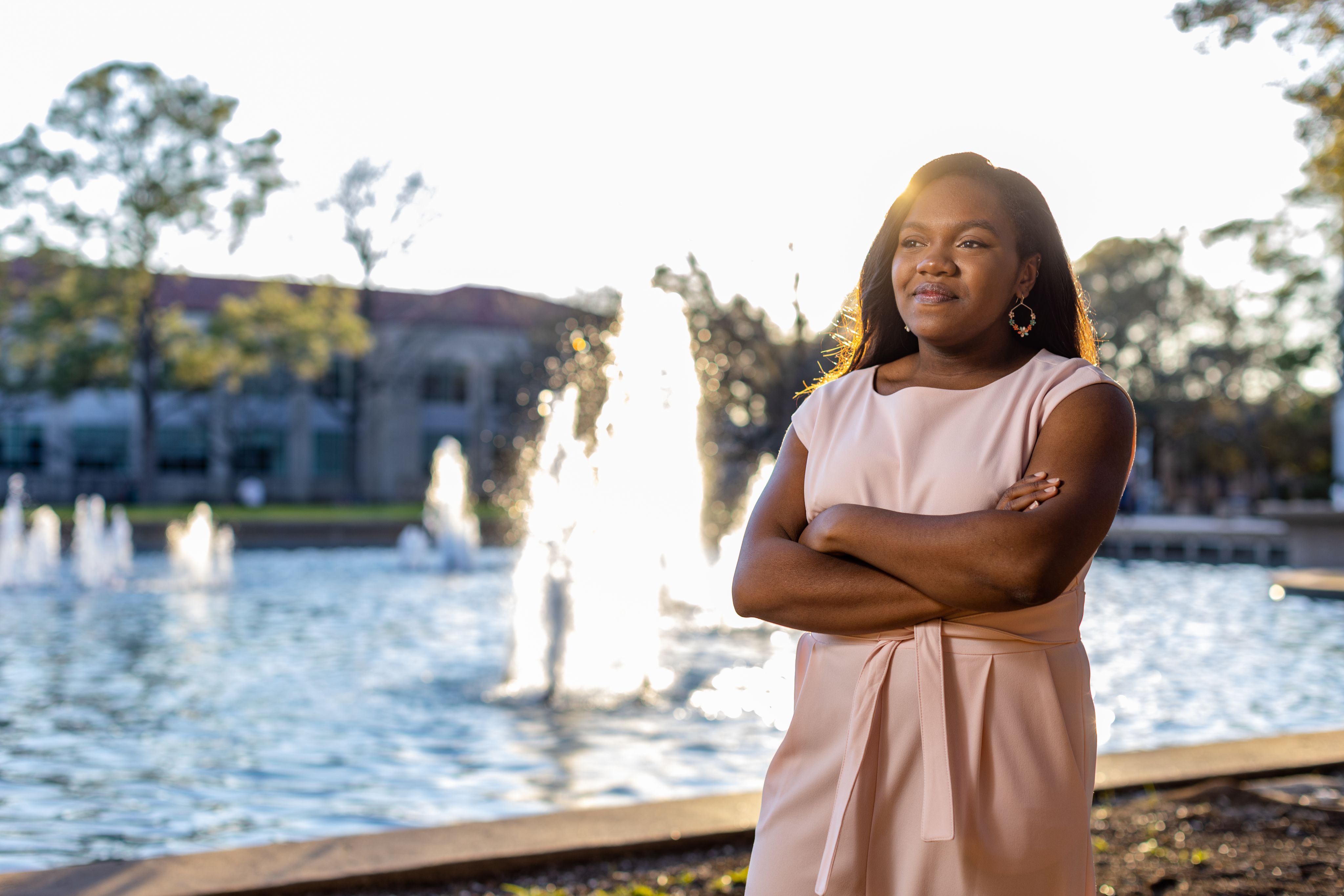 "You can't think about Black History Month without thinking about Houston."
Arreon Allen, Bachelor of Fine Arts Student
Focused
Arreon Allen's love of film and television serves as inspiration for his research on the representation of Black society in popular culture. A Bachelor of Fine Arts major and painter, Allen has focused projects on spotlighting authentic portrayals of Black identity within films such as the recent Netflix movie "The Harder They Fall."
His artwork also serves to represent Black culture, particularly in sports and entertainment. Allen's paintings capture the visceral impact of boxers in combat, youth culture and musical collaborations between bluesmen.
He is quick to credit UH faculty for helping hone his scholarly eye toward topics such as popular culture, as well as his talents as a painter.
"I've been blessed with the opportunity to work alongside some amazing researchers, artists and educators during my time here," he said. "Collaborating with like-minded students who are passionate, yet also not totally sure about their next move in life is comforting. I've grown to consider the societal relevance of a wide array of artforms, and this abundance of educational resources is invaluable to my development not only as an artist, but as a person."
Allen ultimately wants to take his talents into the fashion world. He also looks forward to expanding his research on Black culture within film and television.
Just as he feels honored to be a part of the University of Houston community, he is a proud Houstonian. This city, he said, is very much a part of Black History Month.
"You can't think about Black History Month without thinking about Houston," he said. "I wish it was celebrated more often, but I think it's important to appreciate the perseverance of those who cultivated the city's foundation whenever you can."