Inside UH Day at the Capitol
University of Houston Requesting Game-Changing Funding from State Legislature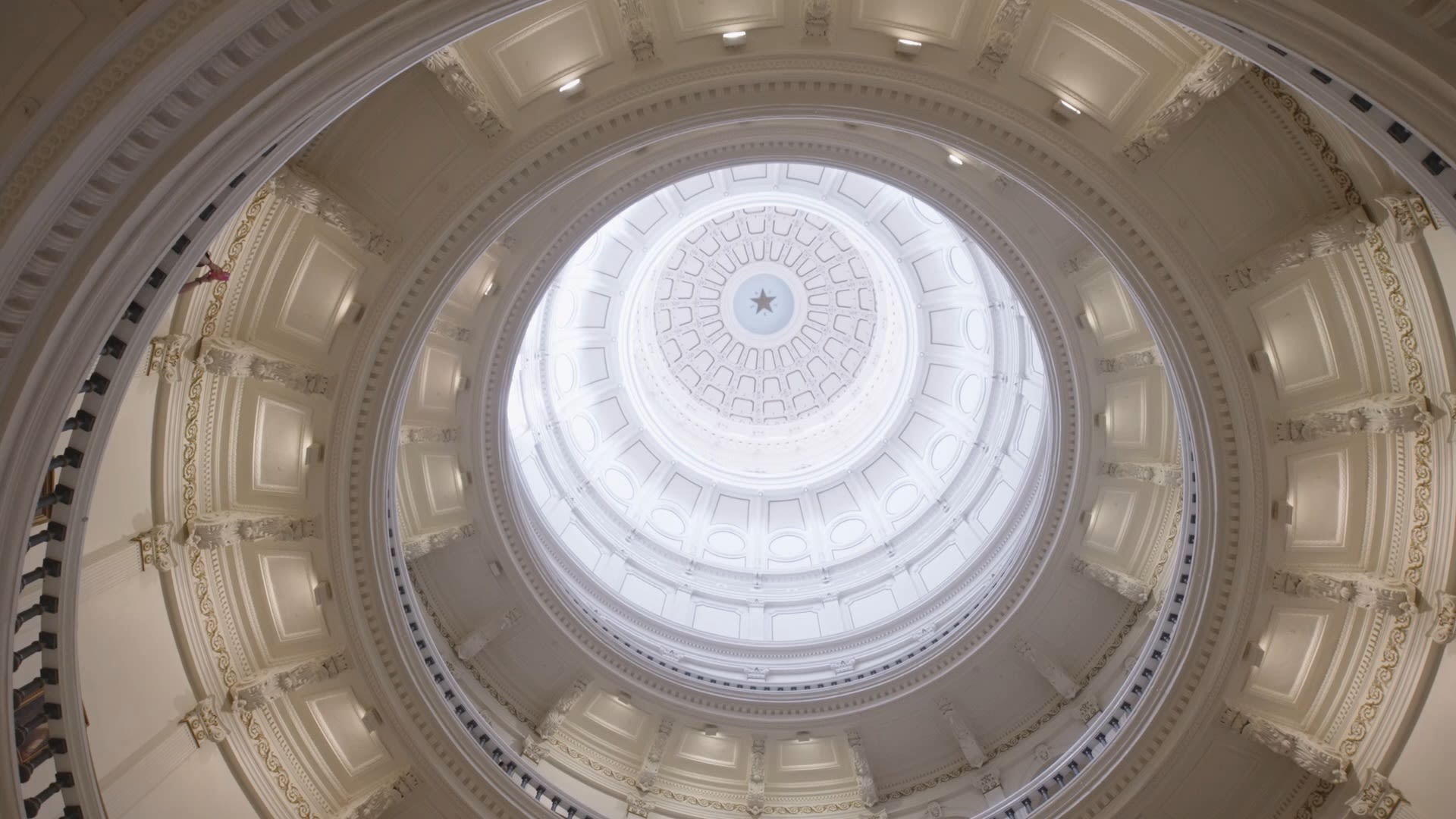 For the first time in four years, more than a hundred Coogs journeyed to the Texas Capitol in Austin for UH Day at the Capitol on March 2. It was a day for students, faculty, staff, alumni and leaders to highlight the University of Houston's accomplishments and priorities for state legislators.
As lawmakers consider how to allocate an unprecedented $33 billion budget surplus, UH is asking for an endowment of at least $1 billion. The creation of a state-supported endowment of this size would help UH realize its potential as a national powerhouse and to achieve a ranking among the Top 50 public universities in the United States.
Based in the largest city in the state, UH and its nearly 47,000 students, is the most well-positioned and likely Texas university to ascend to the Top 50, as ranked by U.S. News & World Report.
The University has improved its ranking by 36 spots since 2003 to be within striking distance. With an unwavering commitment to student success, UH's six-year graduation rate has grown from 48% in 2013 to 64% in 2022. This rate is projected to reach 70% by 2025.
Research spending at UH has grown significantly, too. Annual National Science Foundation-reported research expenditures were $250 million in 2022, a 91% increase from 10 years ago. State investment is needed for UH to reach its goal of $400 million.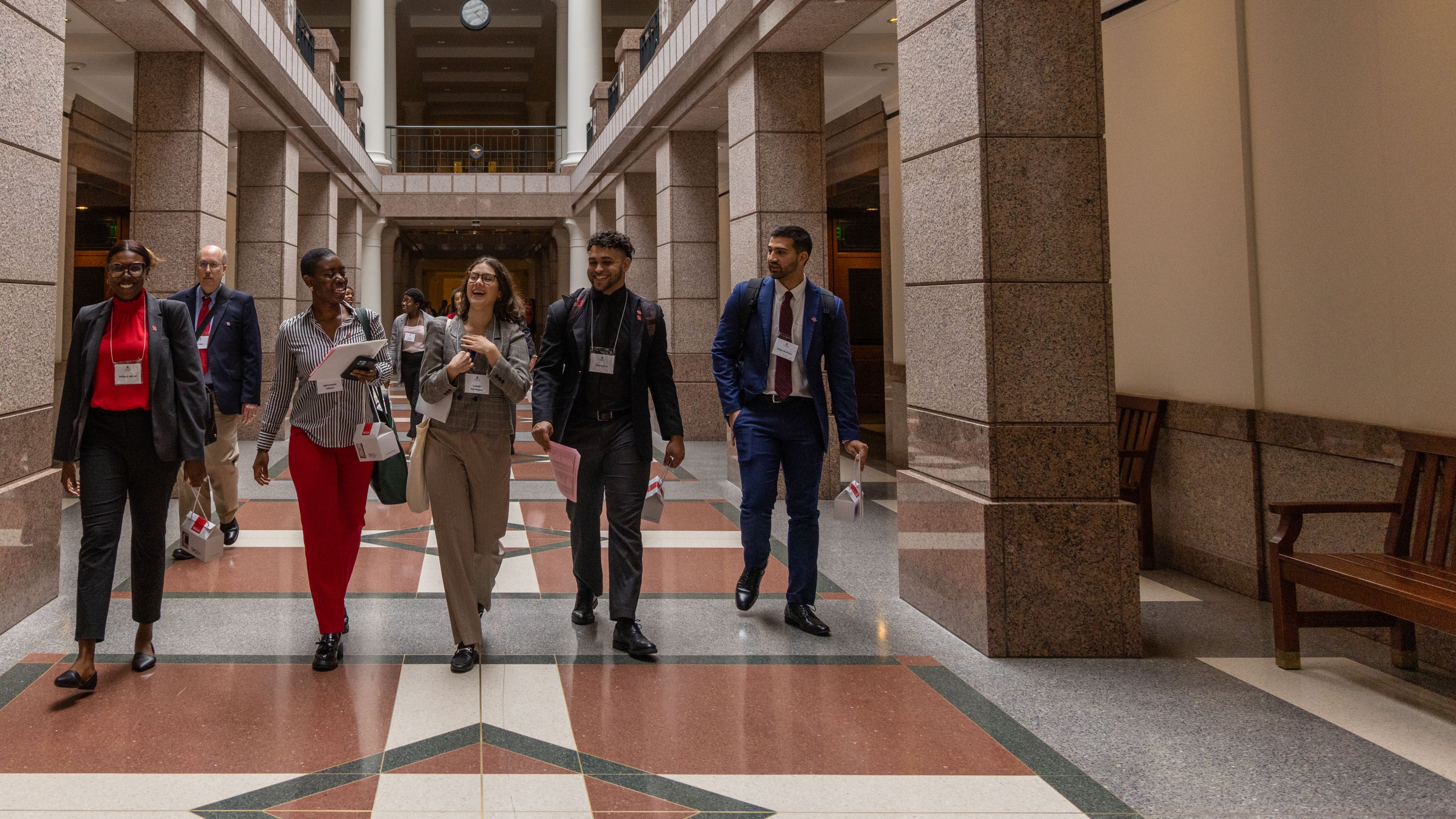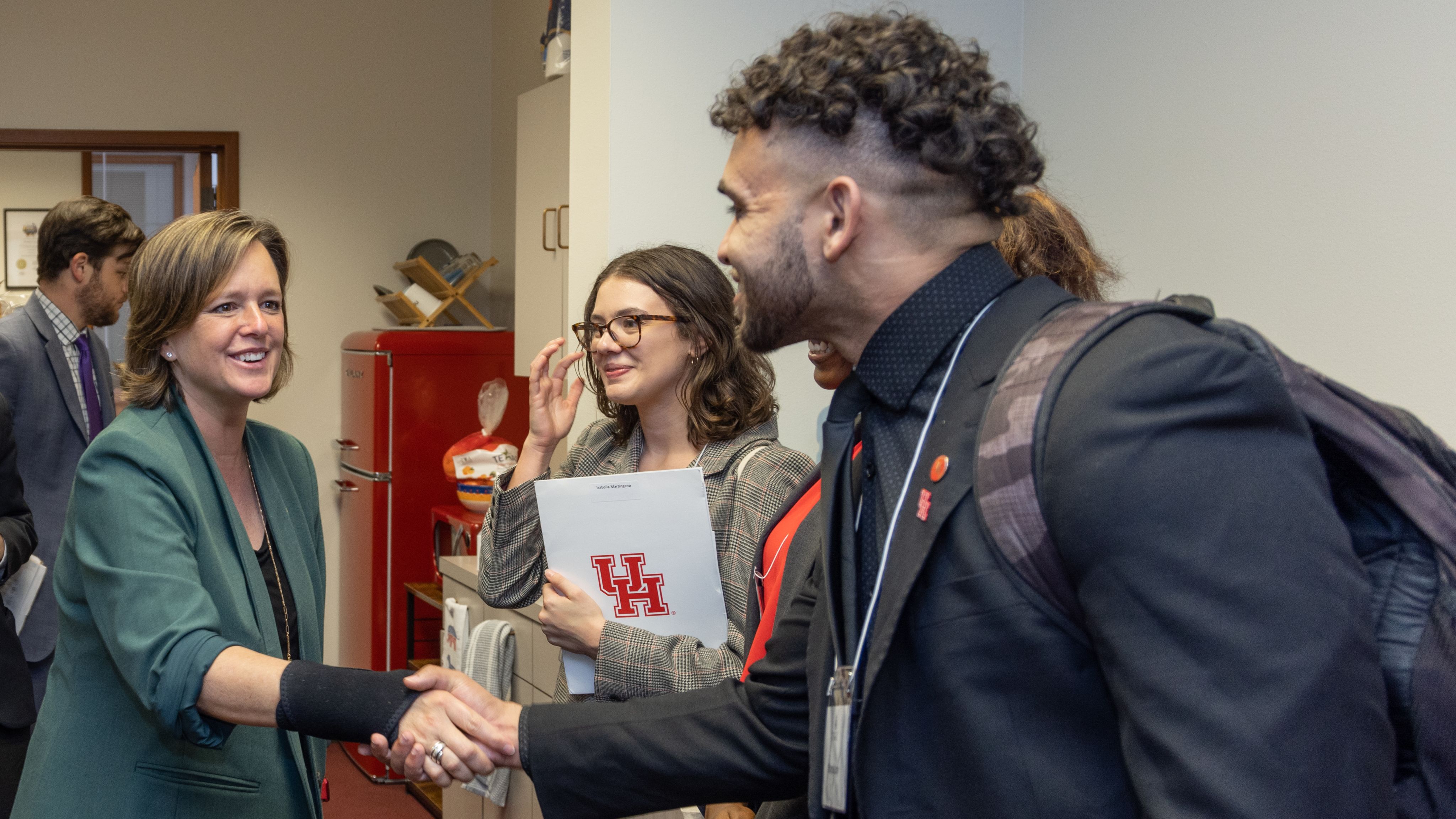 Growing the Texas Economy
Since the founding of the Texas Constitution in 1876, the Permanent University Fund (PUF) has provided the University of Texas and Texas A&M University with a dependable source of billions of dollars to invest heavily in their research initiatives. UH needs its own state-supported endowment not wholly dependent on a state budget surplus.
UH's success equals success for Texas. The state only has two Top 50 public universities: UT Austin and Texas A&M. In contrast, California has nine while Florida and New York each has three.
With a minimum $1 billion state investment, UH will grow its available lab facilities, hire 150 new highly ranked research faculty and improve the student-to-faculty ratio to 19:1. UH will look to make other strategic decisions after these initial investments such as creating national research centers and further improving student success to build UH's national ranking, with an eye toward strengthening the city and state's economic viability.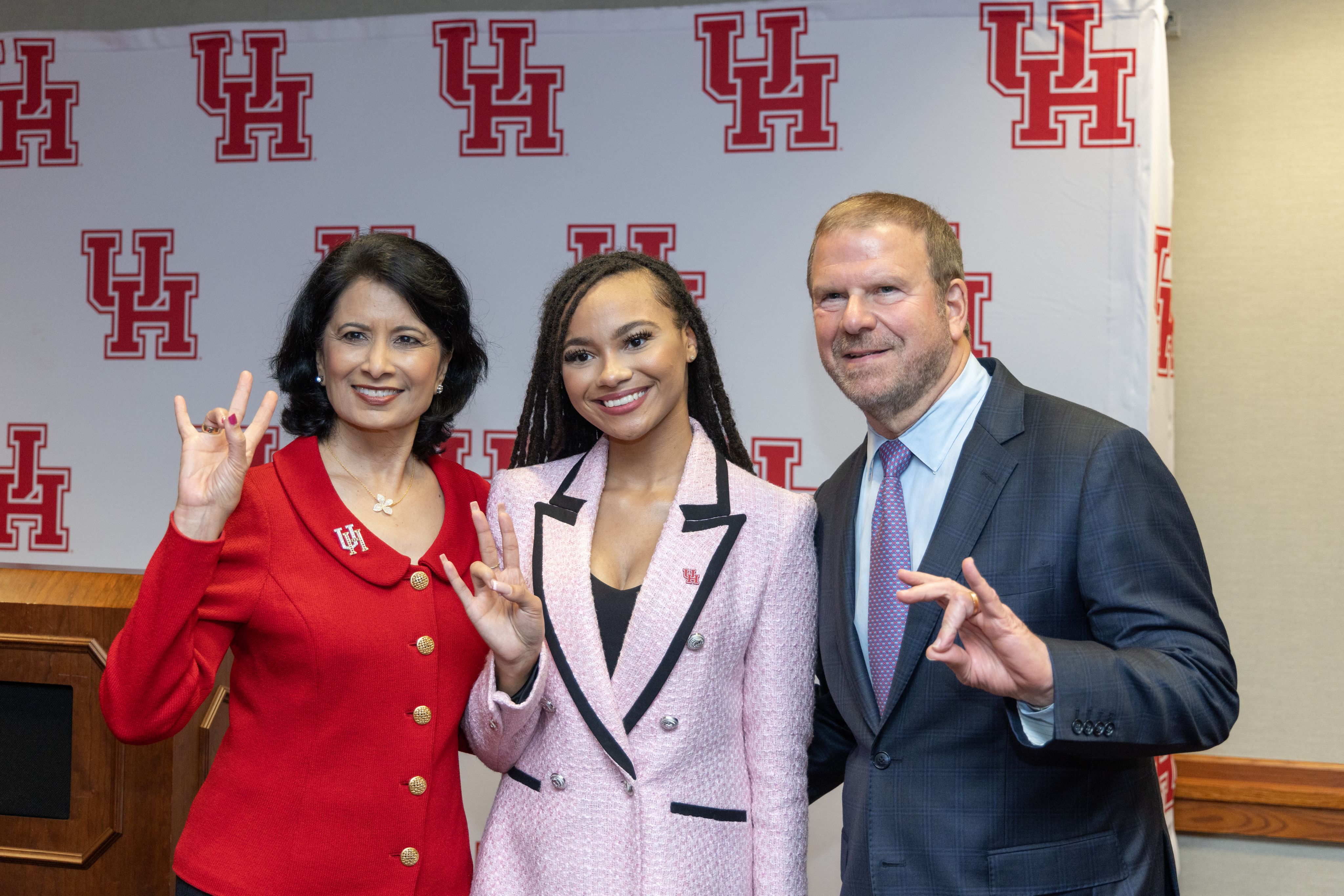 Students Visiting Legislators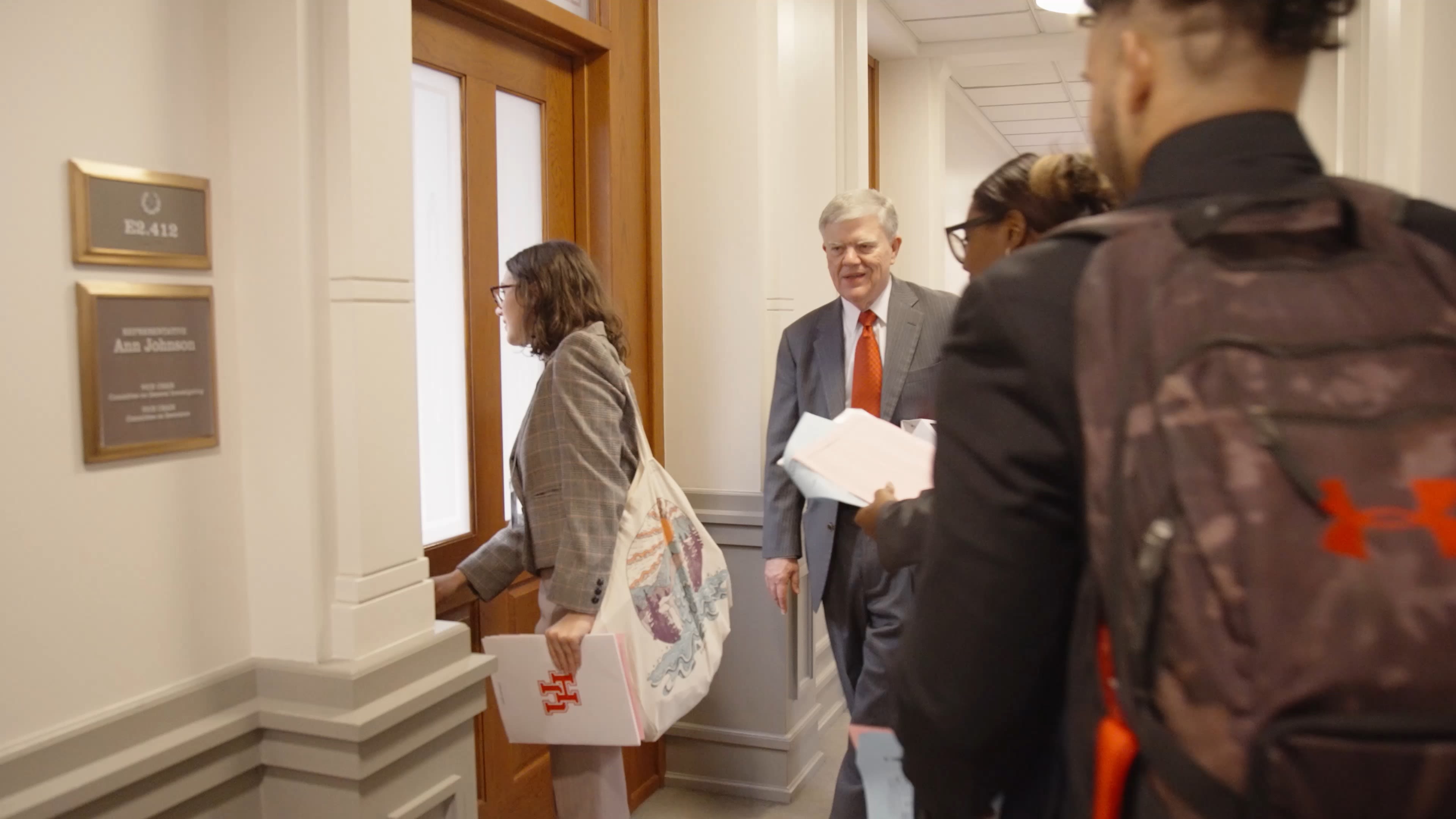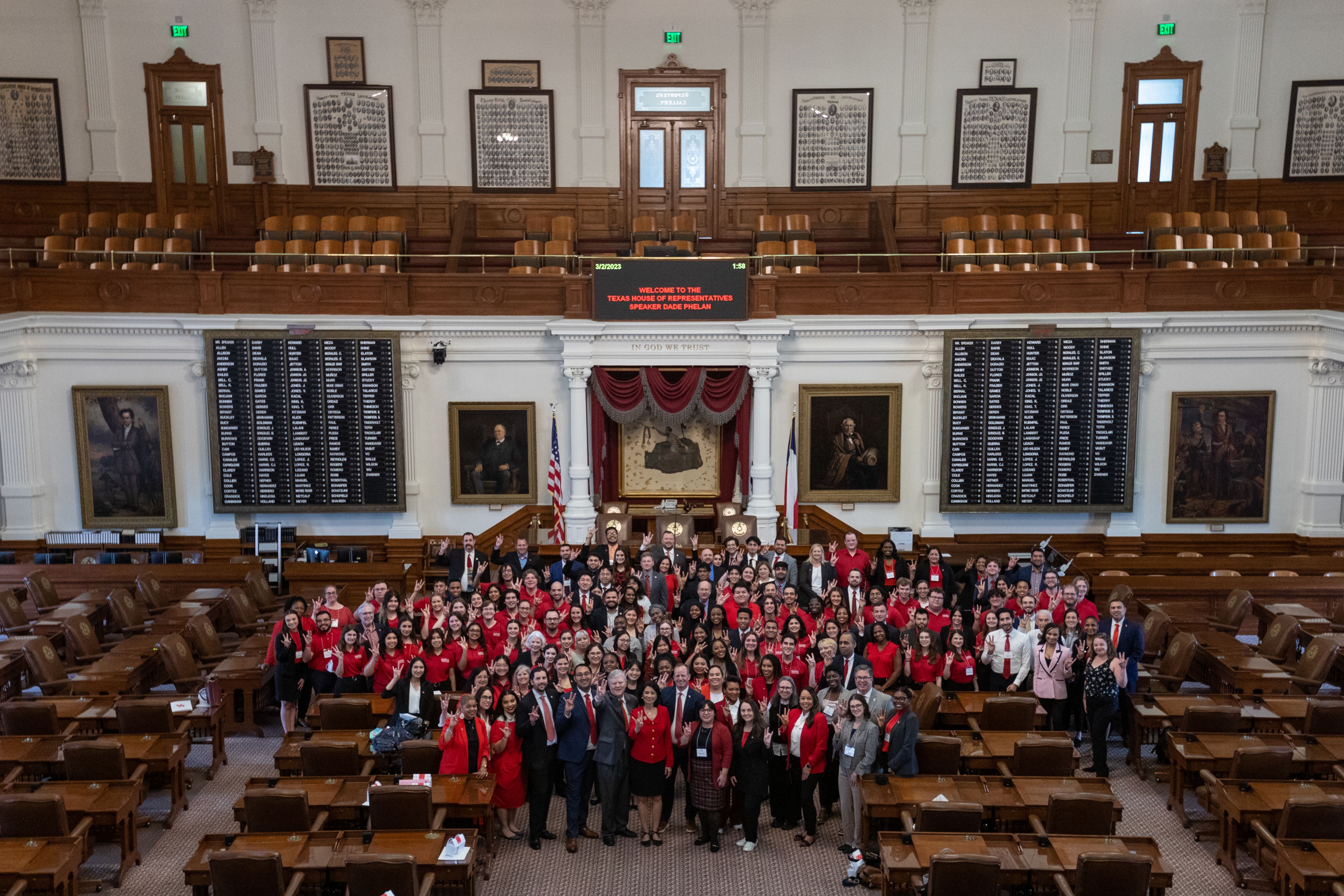 Making the case for Top 50 were dozens of UH students who visited state legislative offices, knocking on their representatives' doors.
Ashlynn McCall, a first-year medical student, along with a group of her peers from the Tilman J. Fertitta Family College of Medicine, visited Rep. Ann Johnson and Rep. Christina Morales. McCall said the experience opened her eyes to the legislative process.
"This has sparked a fire for me to continue political advocacy and move forward into my medical career."
Trayce Gray, another first-year student, said attending UH Day at the Capitol provided a behind-the-scenes look at the legislative process.
"I'm proud to be a Coog and look forward to being more involved in the legislative aspect of health care, while fulfilling my role as a clinician," he said. "In the end, we are advocates, not only for our patients but for our communities!"
Supporting Veterans, Scholarships, Grants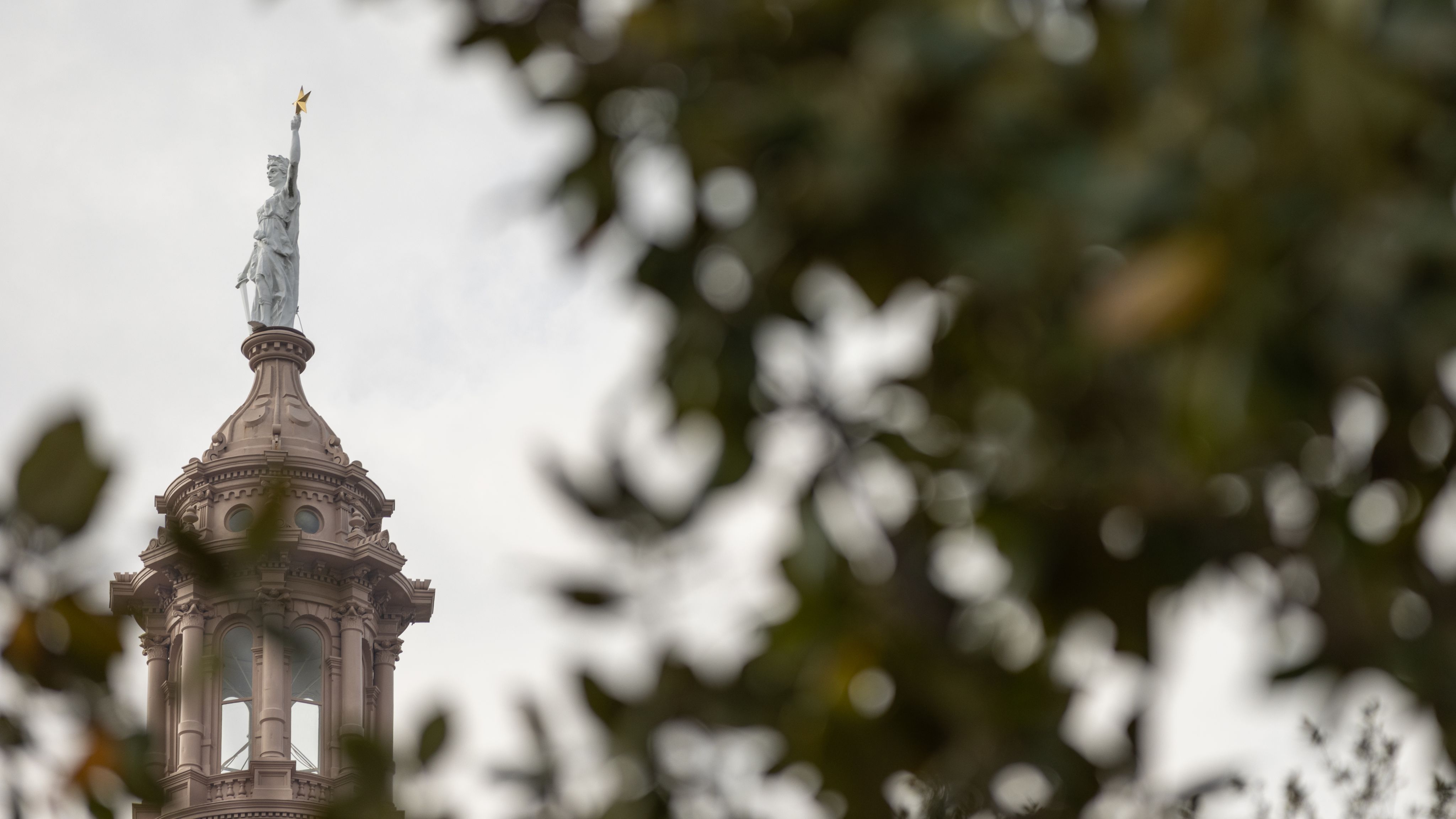 Among UH's other legislative priorities is the request to increase base formula funding. With inflation spiking, operation costs have followed suit. More of this funding would ensure UH keeps its talent and continues to fulfill its mission.
The University is also seeking a major investment in the TEXAS Grant Program, which provides financial assistance to students at Texas public institutions of higher education. Funding of the program would allow many more UH students to achieve their dreams.
In addition, UH supports increased funding for the Hazlewood Act that provides college tuition for qualified veterans, spouses and dependent children. The need to cover costs for veterans and their families is growing faster than the ability of the program to pay.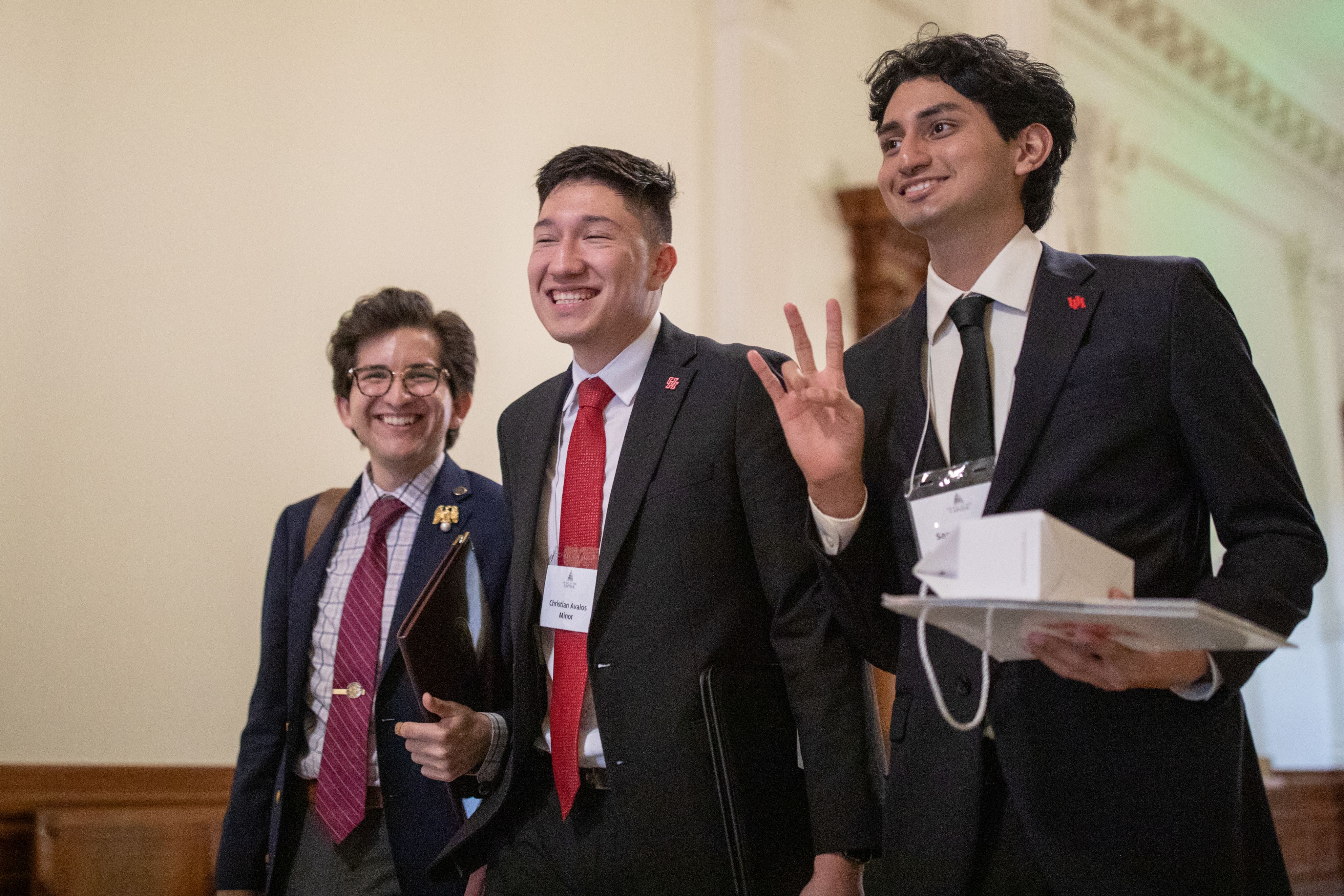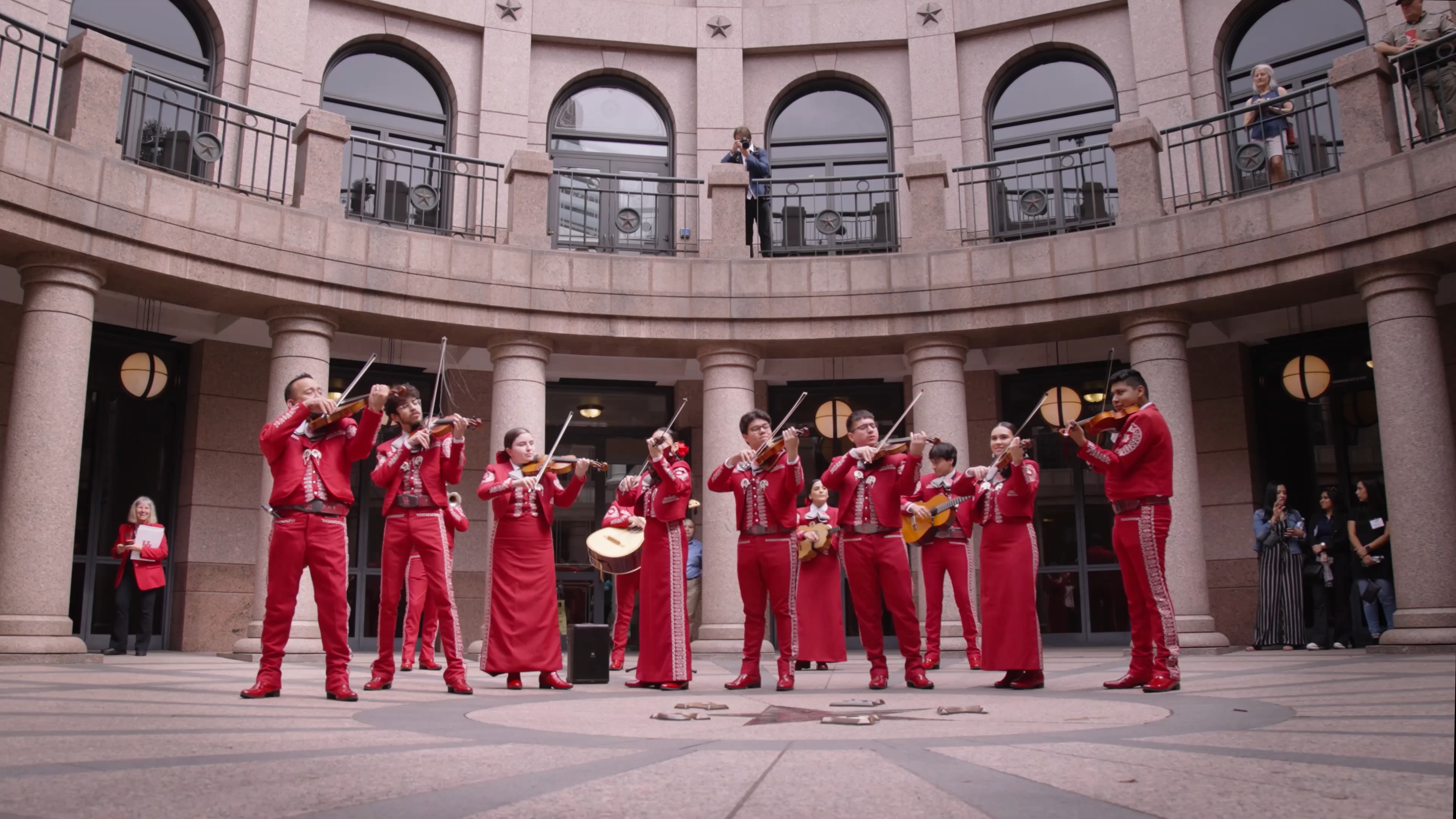 A highlight of UH Day at the Capitol were the song medleys performed by the Mariachi Pumas and Moores School Concert Chorale in the Capitol's open-air rotunda. The Pumas kicked off the day with vocal and instrumental renditions of traditional mariachi songs such as "Sones de Mariachi," "Mocedades" and "El Rey." Following lunch, the Chorale delivered an a cappella performance of pop songs that included "Take on Me," "Wings" and "If You're Gonna Play in Texas" with a UH twist.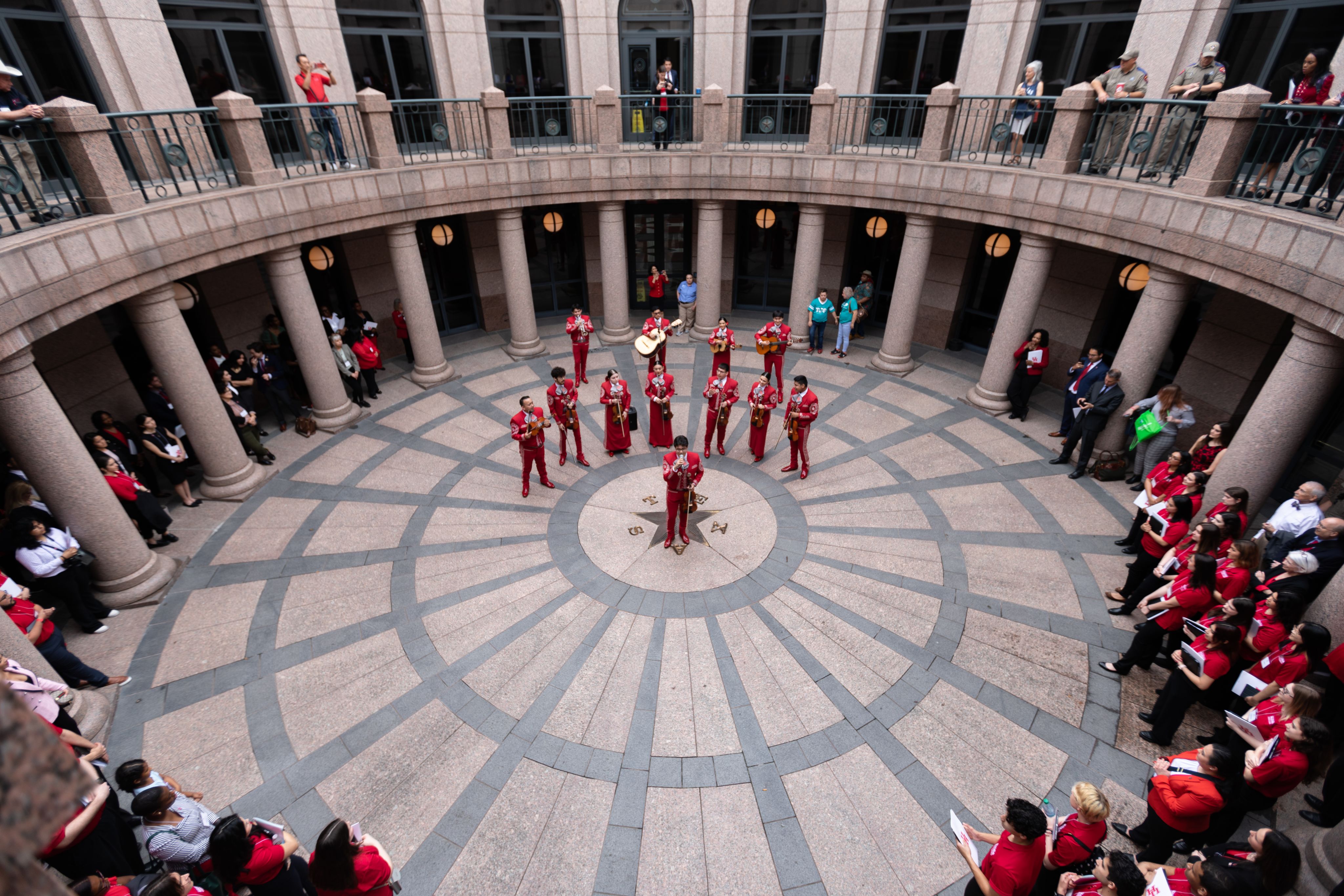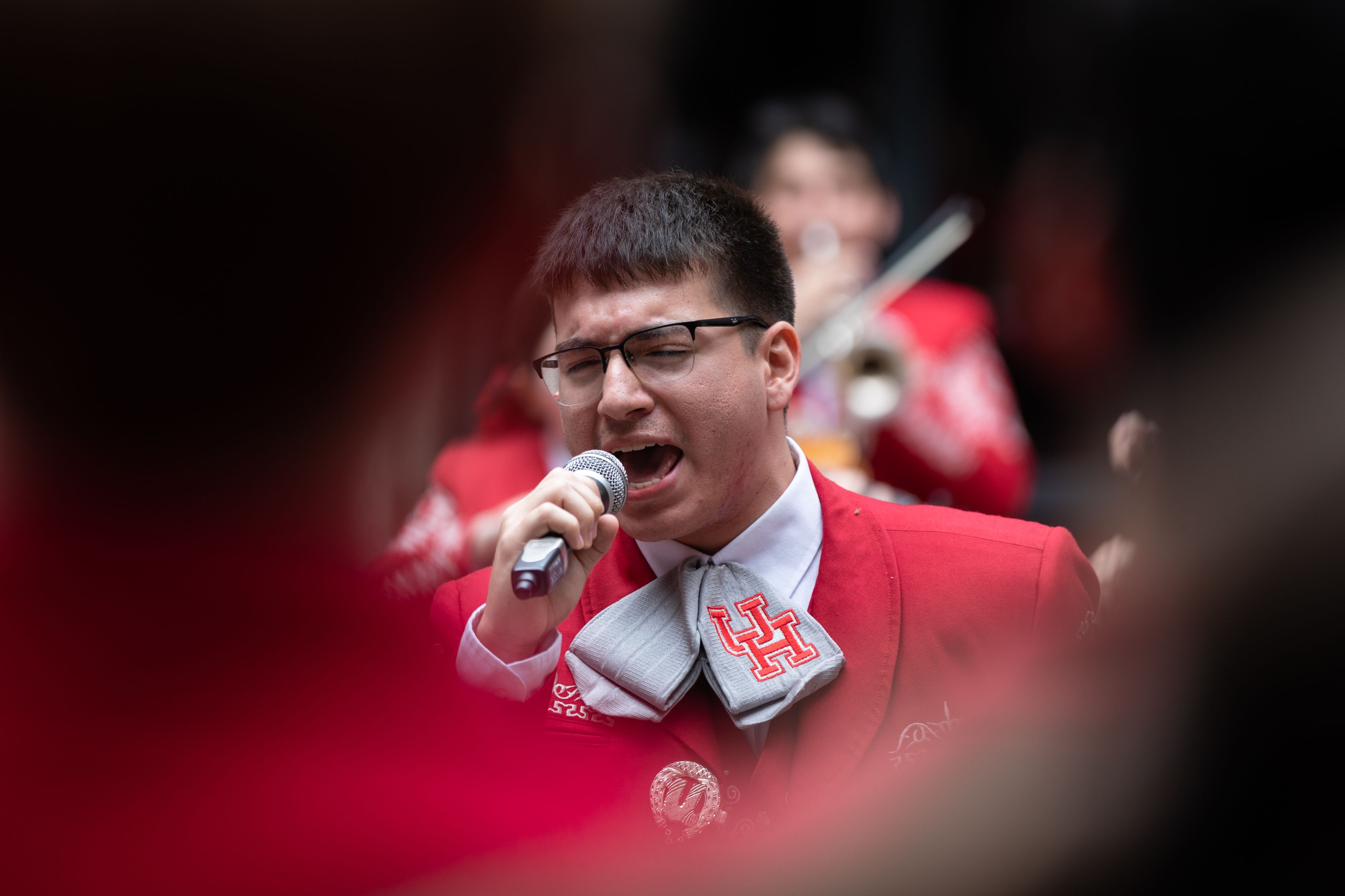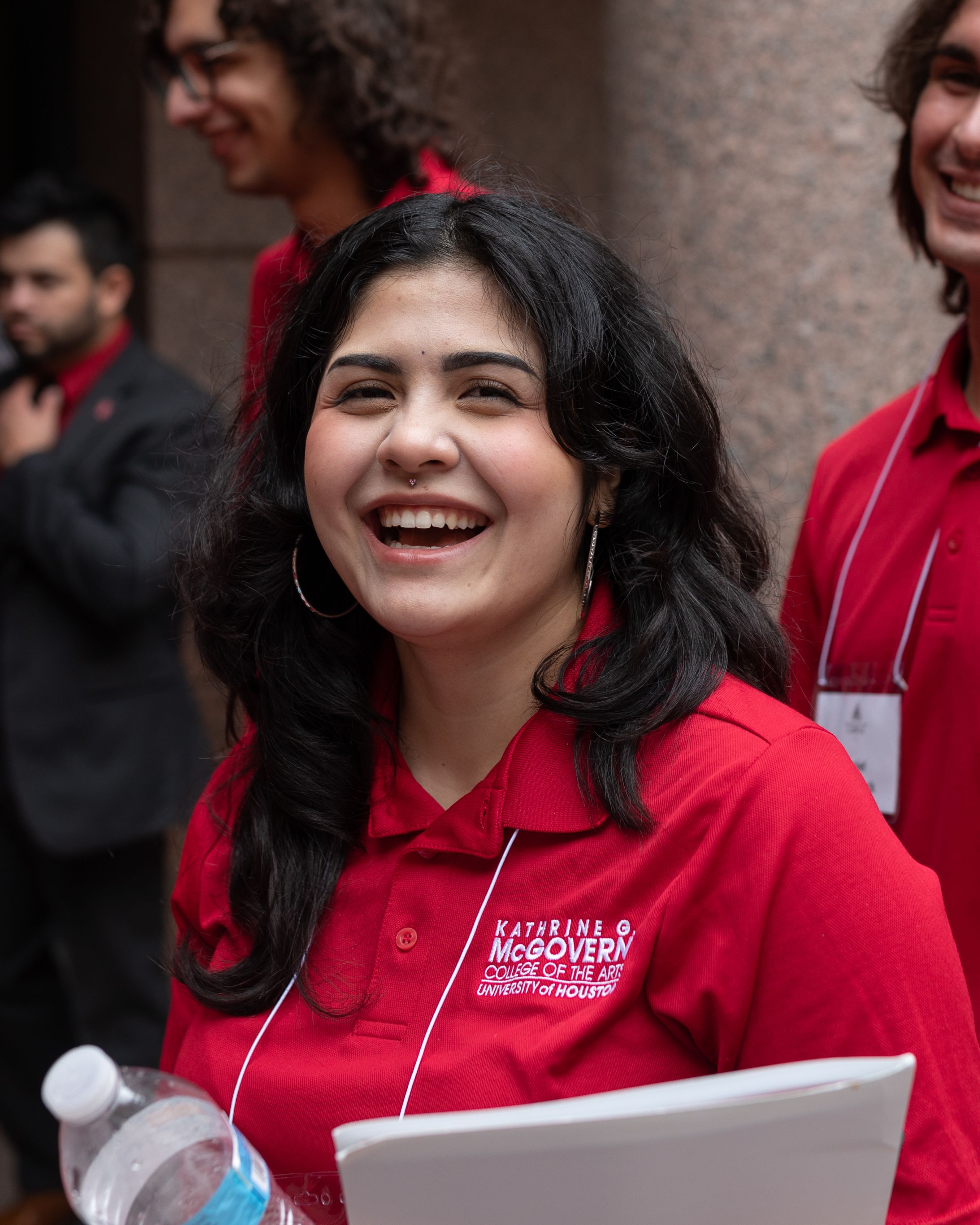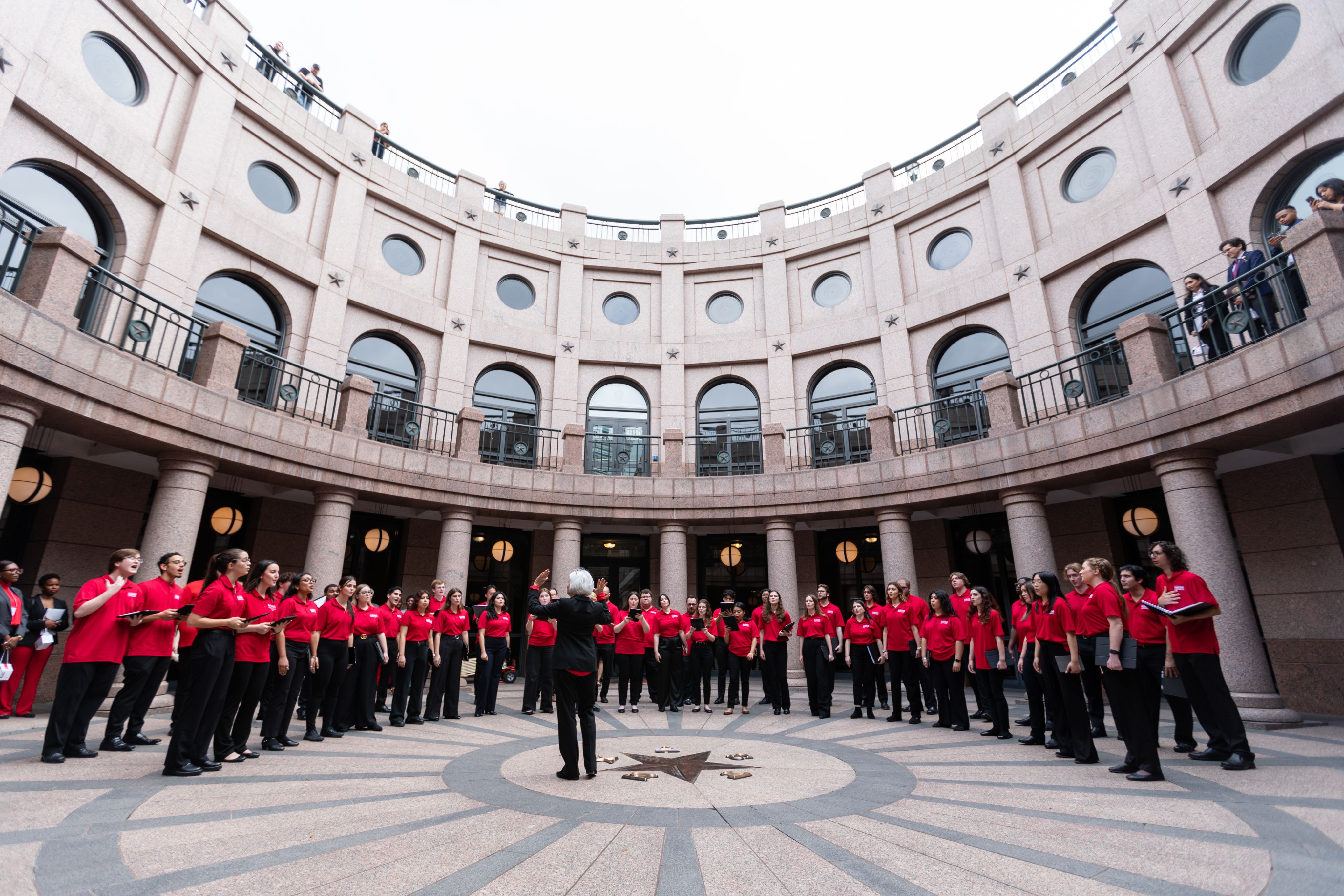 Item 1 of 4