You've Got a Friend in Me
UH Students Organize Festival To Raise Awareness of Peer-to-Peer Mentoring
Life as a commuter student can feel isolating. Drive to campus, attend a lecture, drive away — missing out on the peer-to-peer connections and mental health enrichment opportunities available at the University of Houston. Students at the Jack J. Valenti School of Communication want to change that.
As part of the Valenti Integrated class taught by Jennifer Vardeman, director and associate professor at the Jack J. Valenti School of Communication, students confront real-world challenges while gaining valuable communications skills. Vardeman believes in the power of hands-on learning experiences, and since 2019, her class has partnered with the University's Counseling and Psychological Services (CAPS) to produce videos and social media marketing plans supporting mental health.
This year, their focus shifted to the creation of "CoogsCARE Fest," a mental health awareness event. The students are planning the campaign with Marti Trummer-Cabrera, assistant director for outreach at CAPS. Trummer-Cabrera has dedicated her career to enhancing mental health support on campus, and she was thrilled to collaborate with Vardeman's students on a project close to her heart.
"This year, students are directing their efforts towards enhancing peer-to-peer connections, with a particular focus on engaging commuter students, who can sometimes be more challenging to reach," Trummer-Cabrera explained.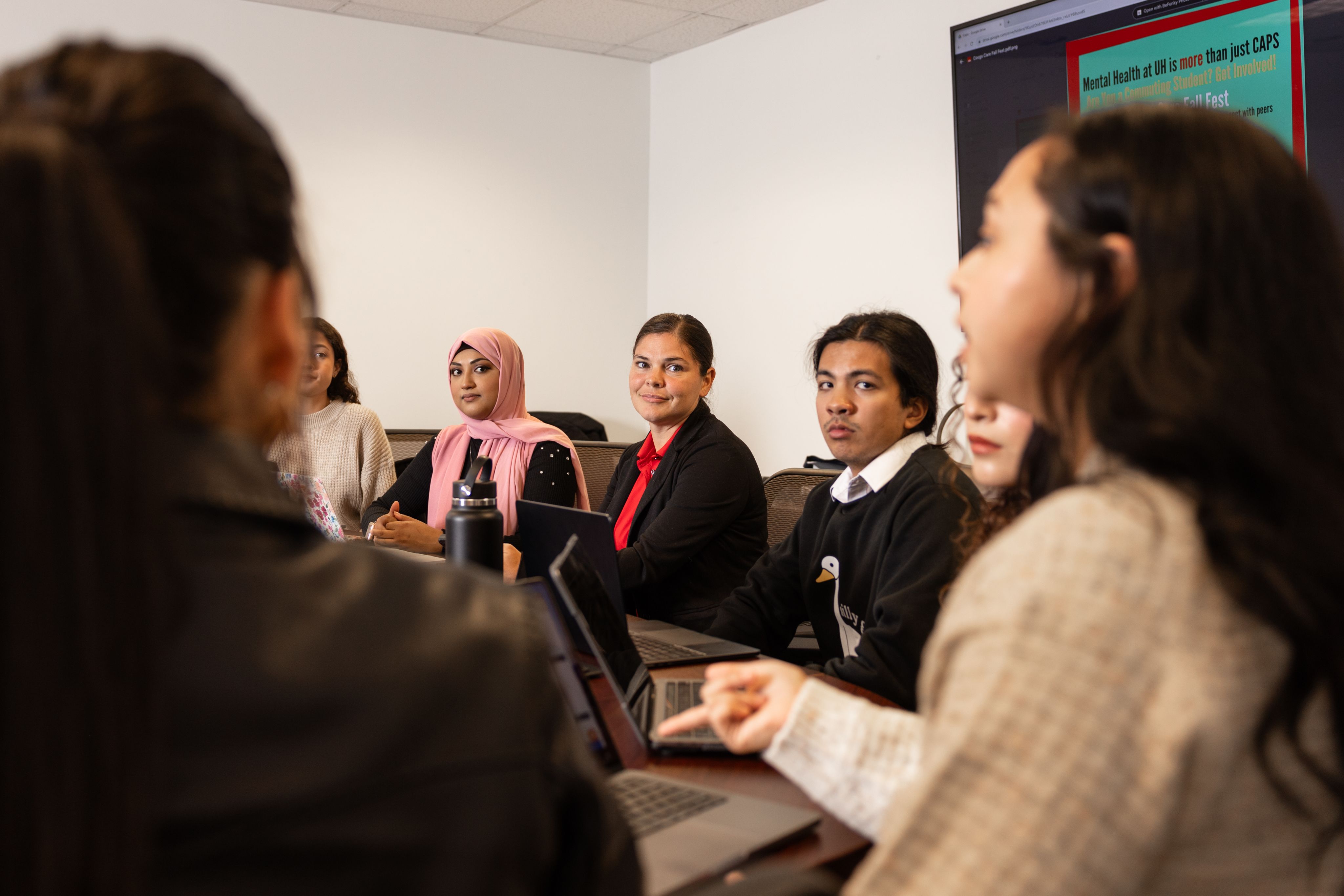 The students have been developing their plans for the festival as part of their class curriculum throughout the fall semester. It is being planned for Thursday, Nov. 30 and will feature mental health resource tables, snacks, tote bag painting, themed activities and more.
"We came up with the plan of having CoogsCARE Fest during a timeframe where commuters will be on campus and students will be getting out of classes for lunch," said Natalia Marinero, public relations student. "The event will have everything they need to know about CAPS and mental health in general."
Marinero's goal is to not only show students what resources UH has but explaining what it can do for them.
Valenti is bringing together students from diverse backgrounds to be a part of the JED campus initiative, aimed at addressing the issue of mental health among college students. Vardeman, who is also faculty lead for the social connectivity JED initiative, believes communicators can play a role in helping communities connect and understand the value of mental health and mental health resources.
"Communicators are important for bringing light to topics that people may be afraid to talk about, like mental health issues," Vardeman explained. "When communication efforts come from within the community, they have a greater impact. These messages are created by students, for students."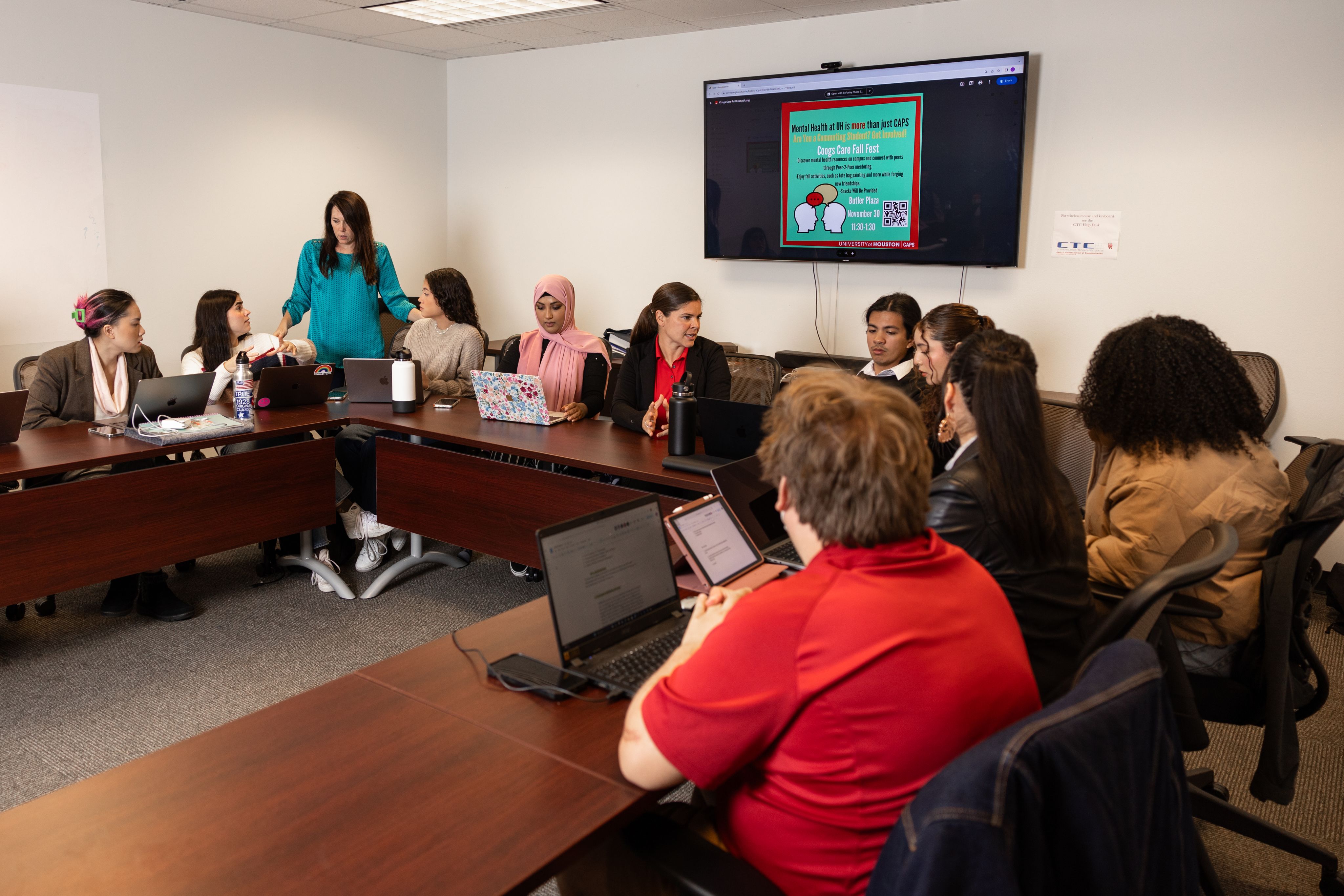 The project's primary focus is promoting peer-to-peer mentoring. The team wants to bring awareness to students, especially commuter students, that this is an option that is readily accessible to them if they prefer not to seek guidance from a professor or professional.
"Peer-to-peer mentoring is super beneficial on campus, because you're talking to someone you don't know, and you get to form a relationship and make a new friend who is going through similar challenges," said Gabriella Galvan, a strategic communication student. She went on to explain, "College students go through a lot and it's sometimes a silent battle that we have to deal with. Being aware that I have people here to support us helps me, and I can only hope that the person next to me feels that they have someone on campus too."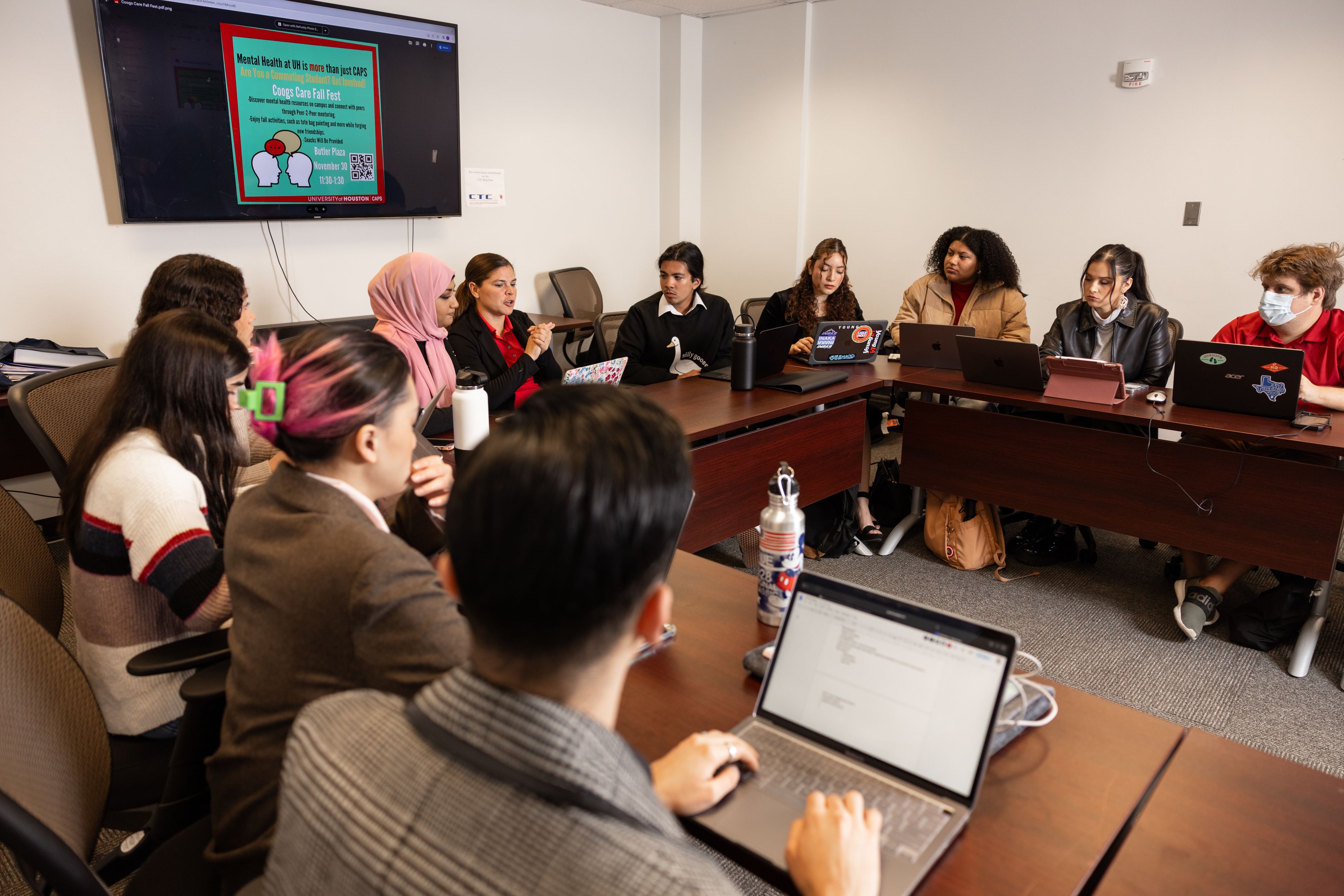 The partnership between CAPS and Valenti Integrated inspires social connectivity, supports mental health, and strengthens the student community. For the students in the class, their perception of the importance of mental health services has evolved throughout their involvement of the mental health campaign.
"Semester after semester, I find that students are so excited about learning more about CAPS resources," Trummer-Cabrera said.
If you are a faculty member, staff, or student interested in joining the JED Campus Initiative please complete this interest form.
For a list of mental health resources available to UH students, faculty and staff, visit the CoogsCARE website.
Need Support Now?
If you or someone you know is struggling or in crisis, help is available. Call CAPS crisis support 24/7 at 713-743-5454, or for the National Suicide and Crisis Lifeline call or text 988, or chat online at 988 Lifeline Chat and Text.