Cougar Basketball Experience
An Inside Look at the Hottest Ticket in Town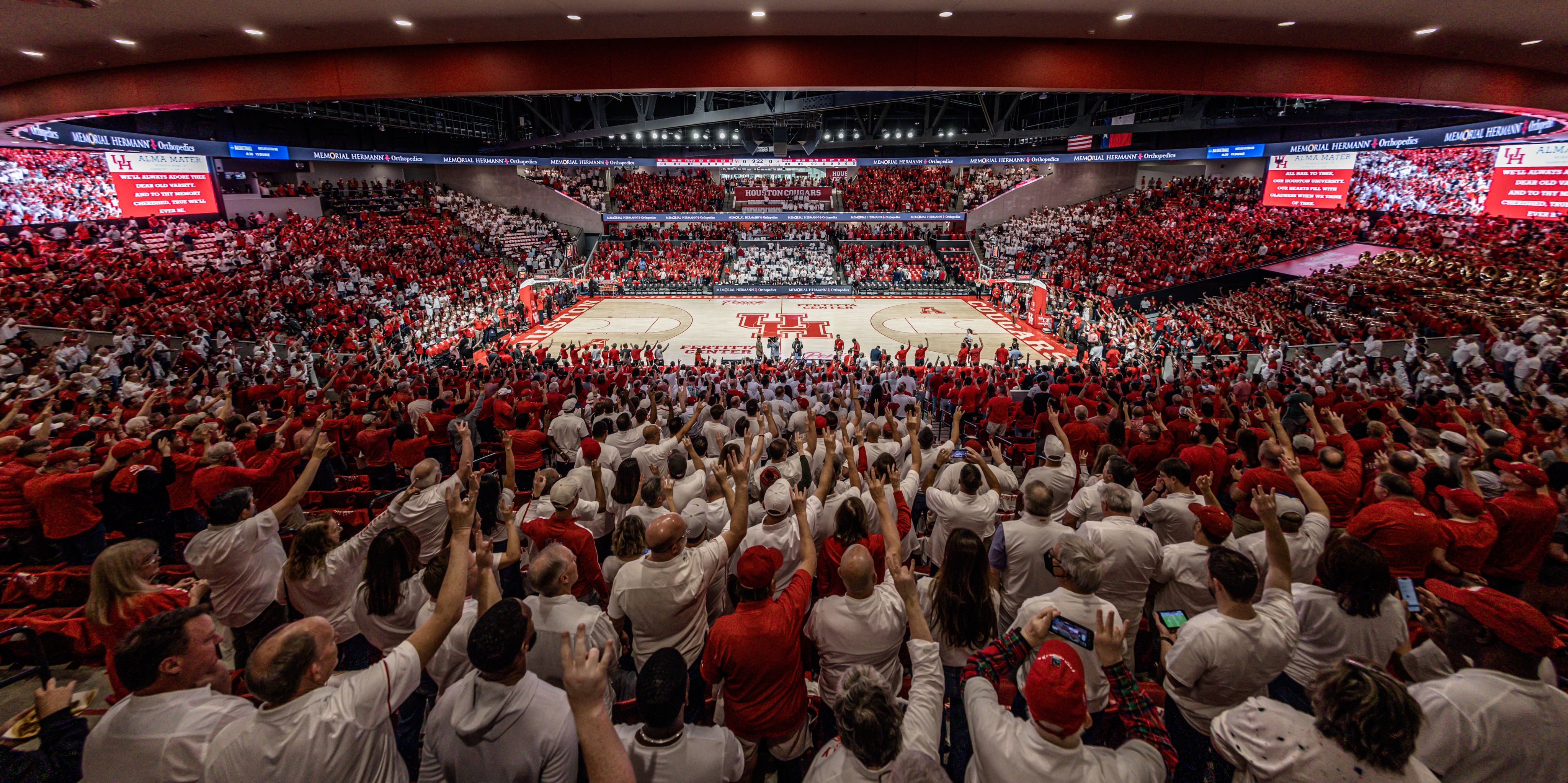 After four straight NCAA Tournament appearances and the team's first #1 ranking in the AP College Basketball Poll since 1983, UH men's basketball is one of the hottest tickets in town.
Winning seasons and national rankings are no longer just aspirations at UH, they have become expectations. We went inside Fertitta Center to get an up-close look at the game day experience.
Fresh off of an NCAA Elite Eight appearance, three starters and seven letter-winners returned from the Cougars' 2021-22 team, which posted a 32-6 overall record, and swept the American Athletic Conference regular-season and tournament titles.
The Houston Cougars are led by Head Coach Kelvin Sampson. In his ninth season leading the Cougars, Sampson recorded his 700th career win on Nov. 7, 2022, against Northern Colorado in the 2022-23 season opener.
The state-of-the-art Fertitta Center, which opened in December 2018, is home court for the men's and women's home basketball teams and women's volleyball games.
At Men's Basketball games, kids can enjoy the cub zone with fun activities and fans can expect in-game entertainment and promotions.
UH set a new attendance record when 7,718 fans packed the arena to see the Cougars take on Alabama on Dec, 10, 2022. It is the team's fifth season to play at Fertitta Center.
Season tickets to UH Men's Basketball are sold out for the third straight season, however a limited amount of single-game tickets for regular-season home games remain available.
"I don't like a lot of glitz and glamour. I like guys who roll up their sleeves and go to work."
- Kelvin Sampson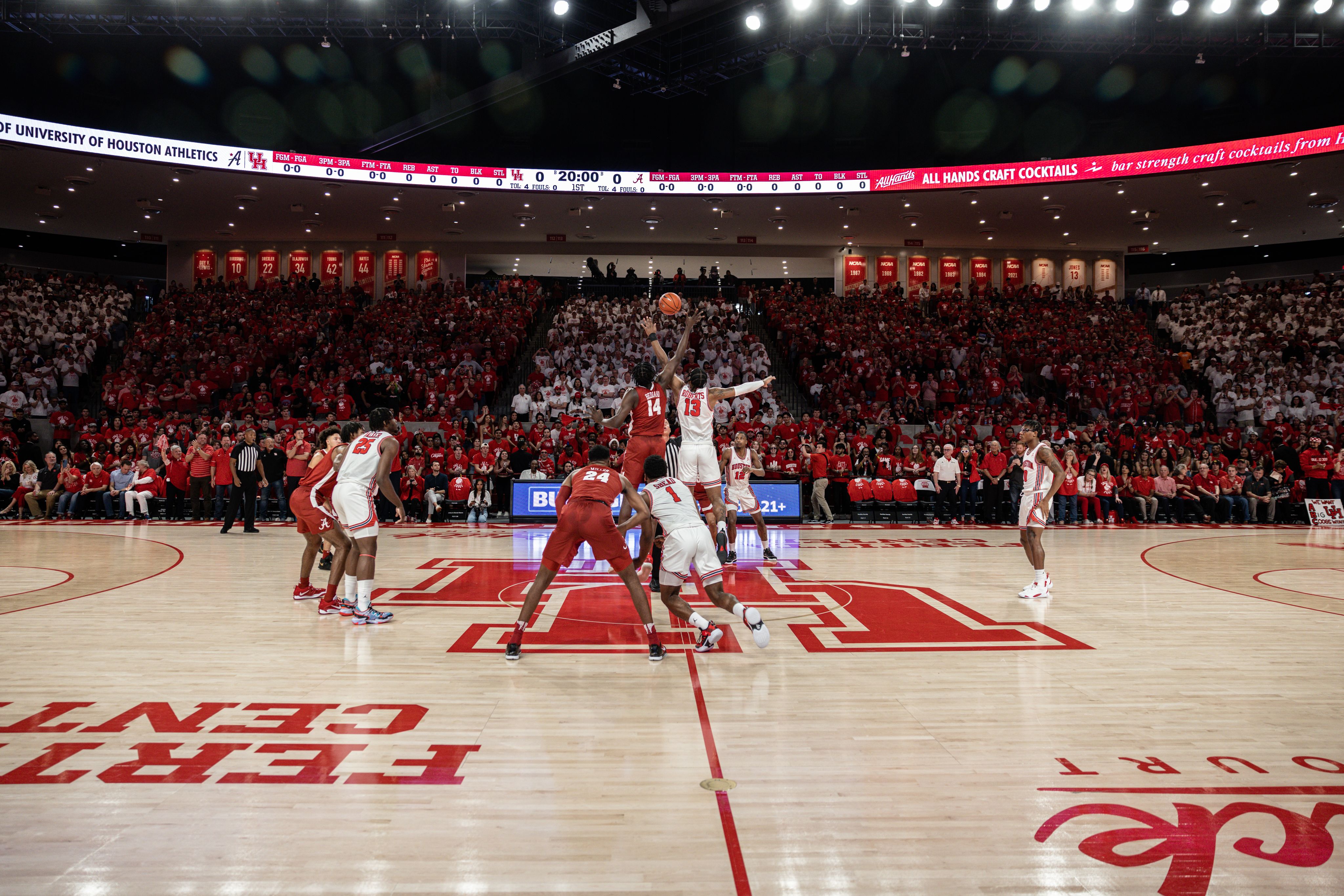 All University of Houston students are invited to student tailgates before every home Men's Basketball game while classes are in session. Held at Cemo Plaza outside of the Cullen Boulevard student entrance, UH students attending the game tailgate approximately two hours before tipoff.
Approximately 100 premium seats were added for students for the 2022-23 season. The first 300 students to enter the arena receive a wristband granting them access to The Cage courtside seating, located in Sections S11-S15. The remaining students sit in Section 109 and a portion of 108.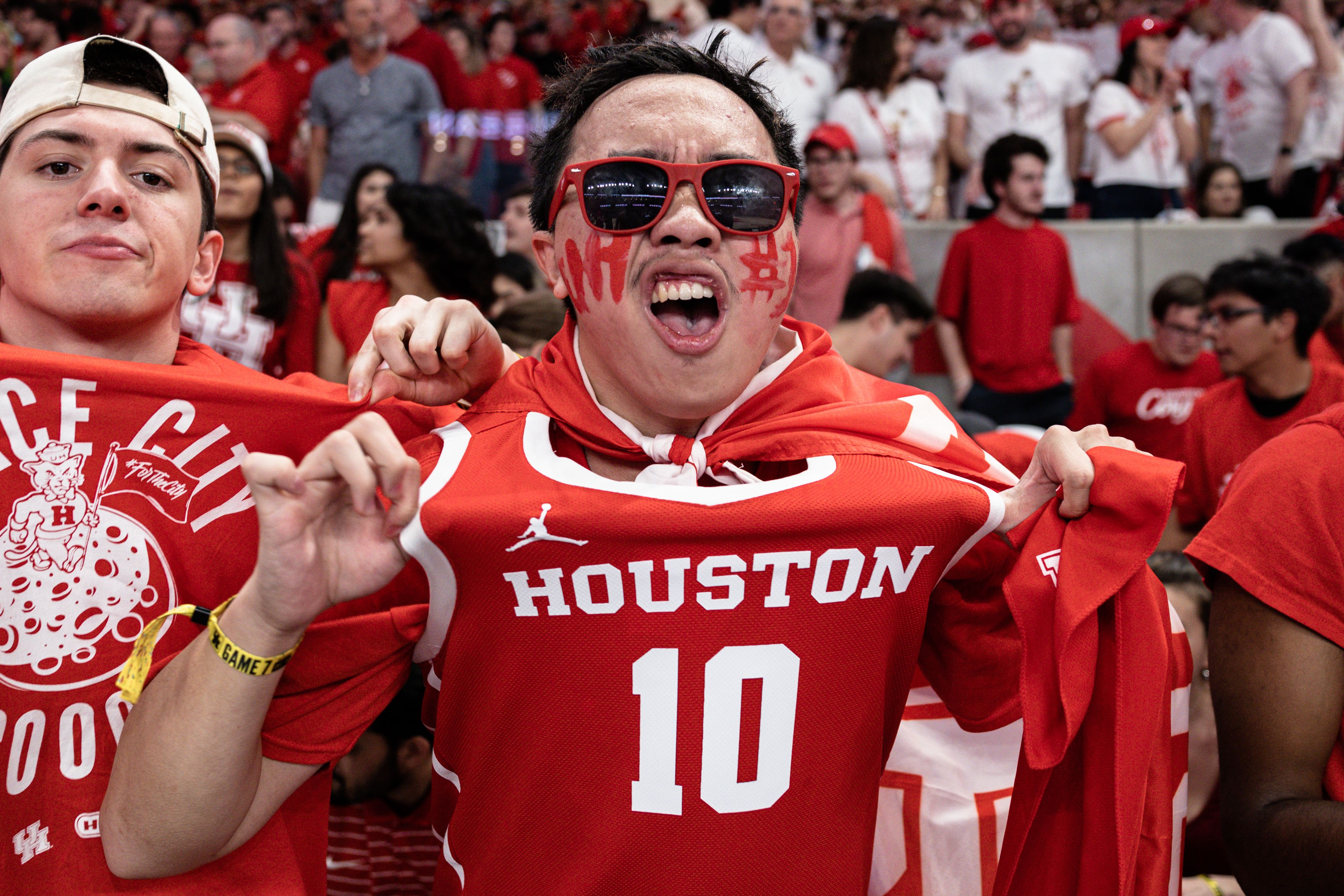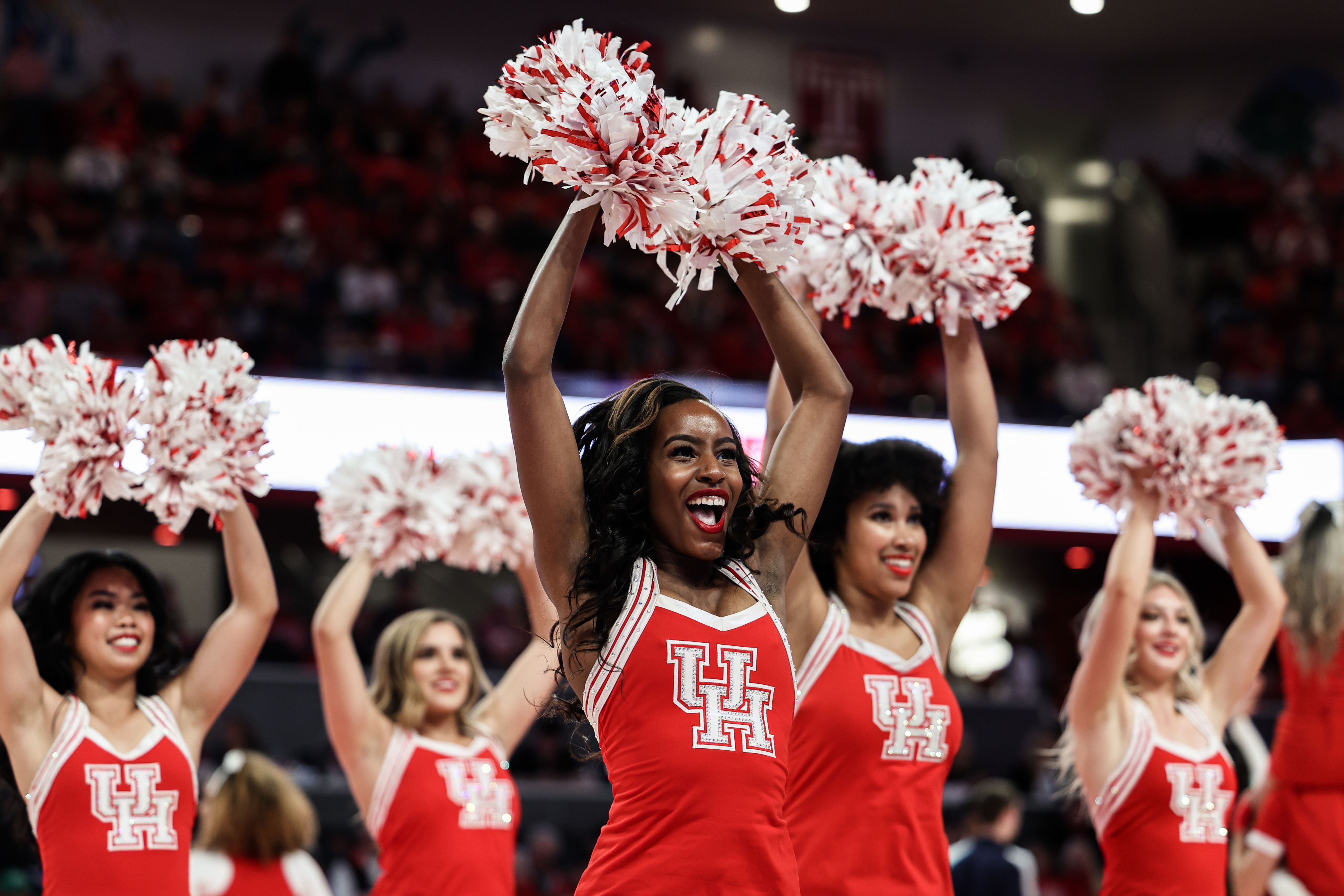 UH dance team performing during a timeout.
UH dance team performing during a timeout.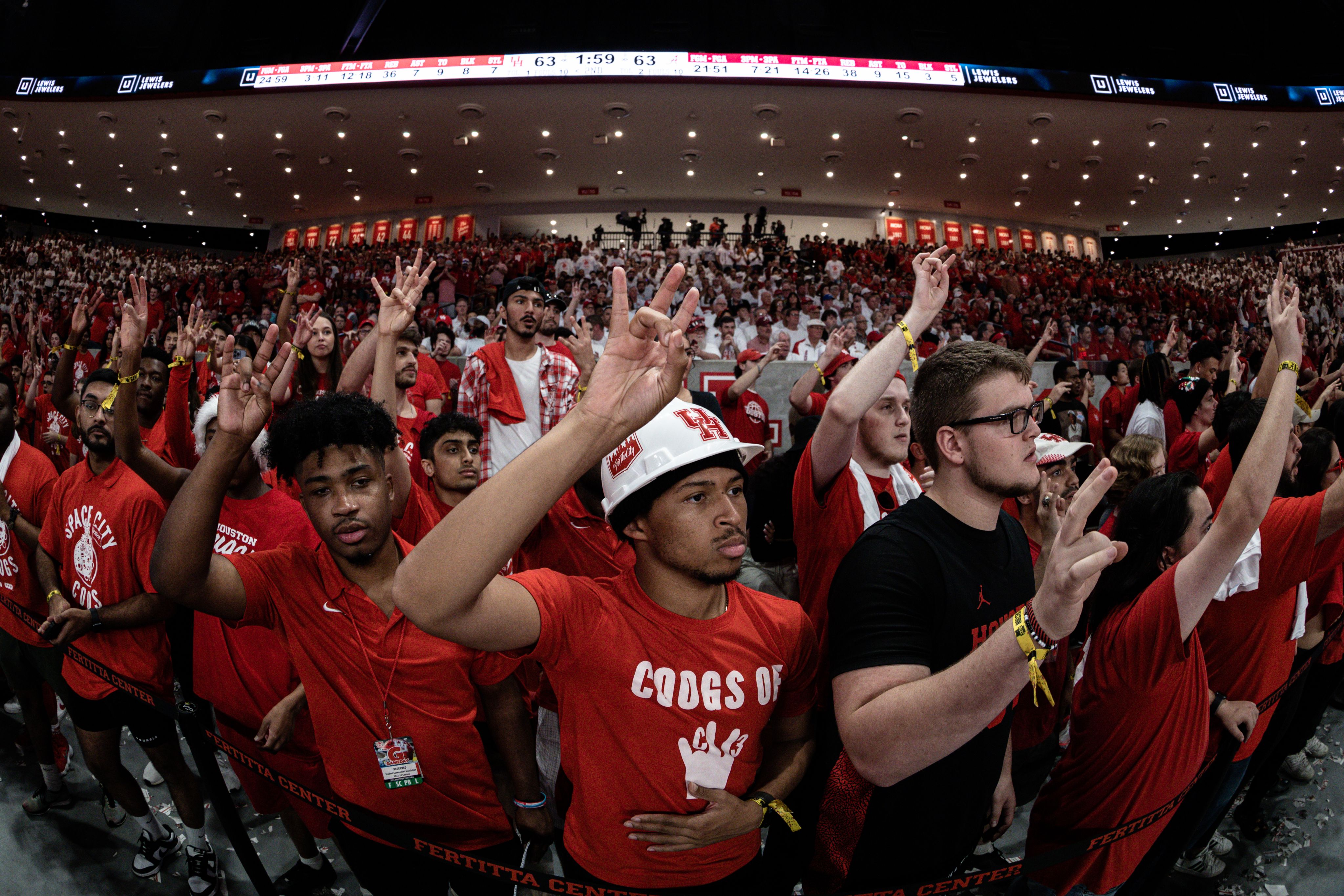 Item 1 of 3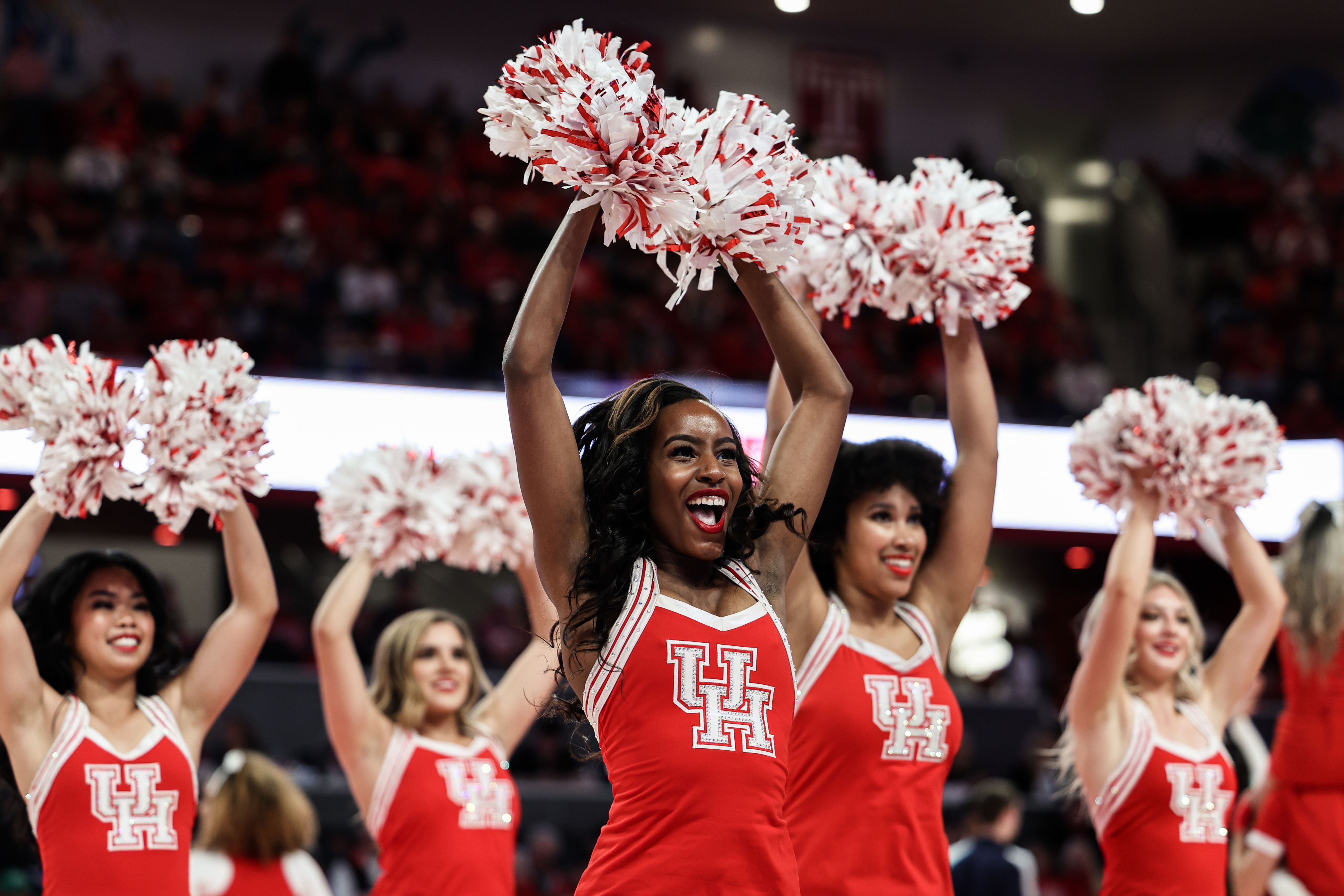 UH dance team performing during a timeout.
UH dance team performing during a timeout.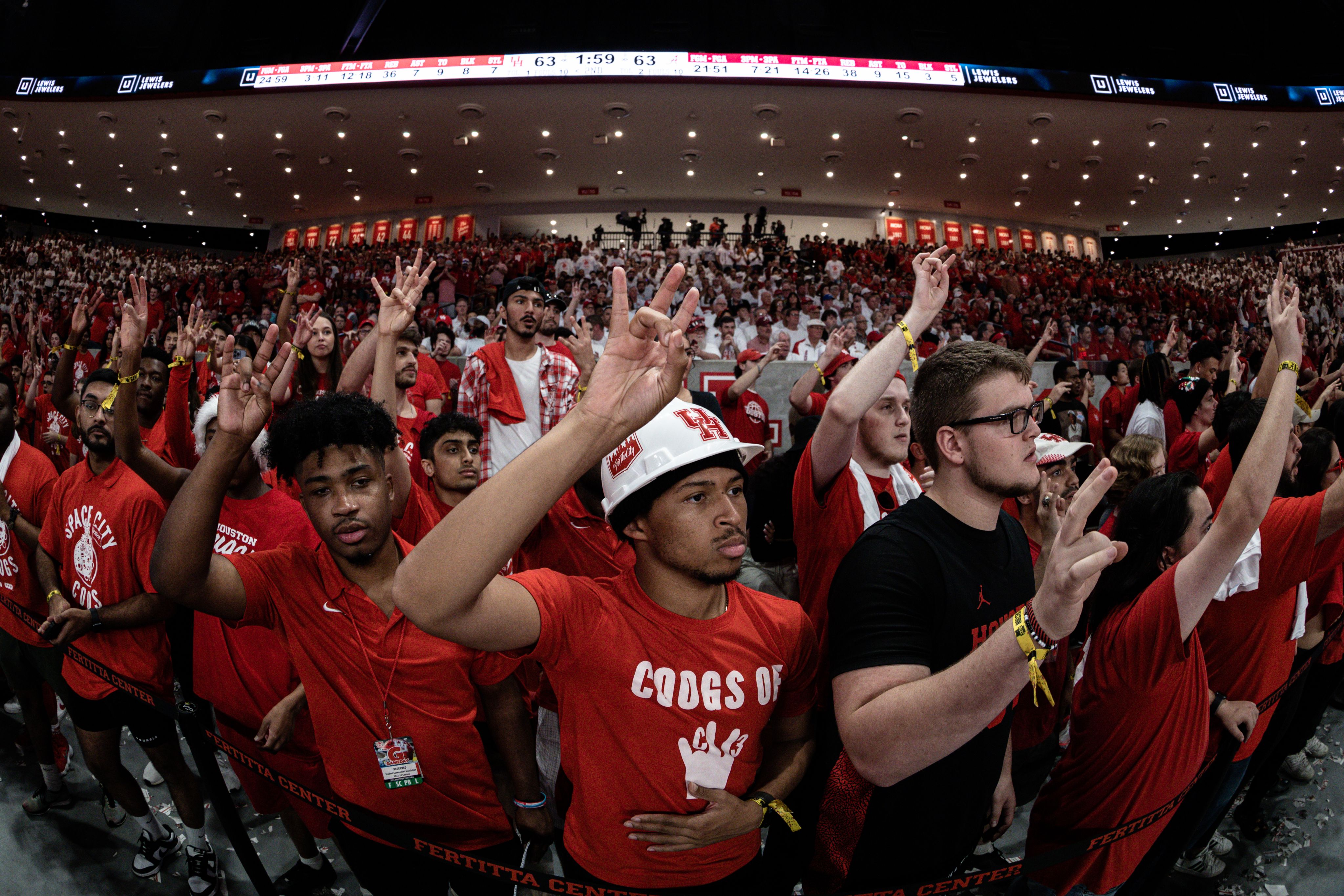 "Coach Sampson has successfully built sustained excellence. It's been a cultural transformation, and what's going on in Athletics can be seen in so many parts of the University. It's about the culture of being hungry, wanting excellence, whether it's on the court, in the classroom or in a research lab. We are trying to build a university that Houston deserves."
Cougar Brass entertains fans throughout the game. One of the premier bands of its kind in the United States, Cougar Brass is the University's musical ambassador for indoor sports. The band performs a variety of pop and traditional music and travels annually for the AAC conference and NCAA basketball tournaments.
This is the last season for UH to play in the American Athletic Conference before joining the Big 12 Conference, and the Houston Cougars are hoping to make history in the 2022-23 season.
The Cougars have competed in four straight NCAA Tournaments five times during the program's history: 2018 to present; 1981 to 1984; 1970 to 1973 and 1965 to 1968). A trip to the 2023 NCAA Tournament would set a school record.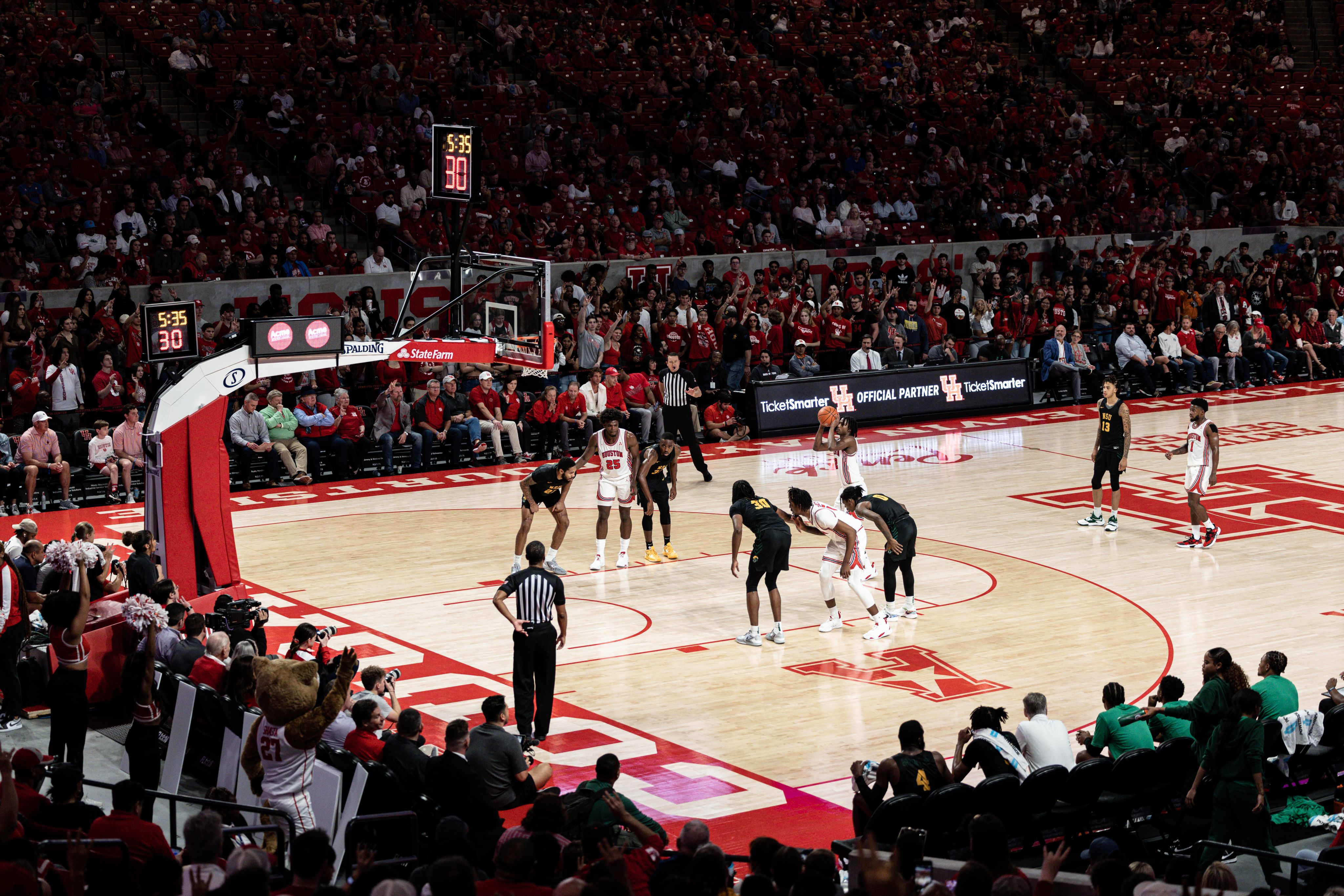 Tramon Mark shoots a free throw.
Tramon Mark shoots a free throw.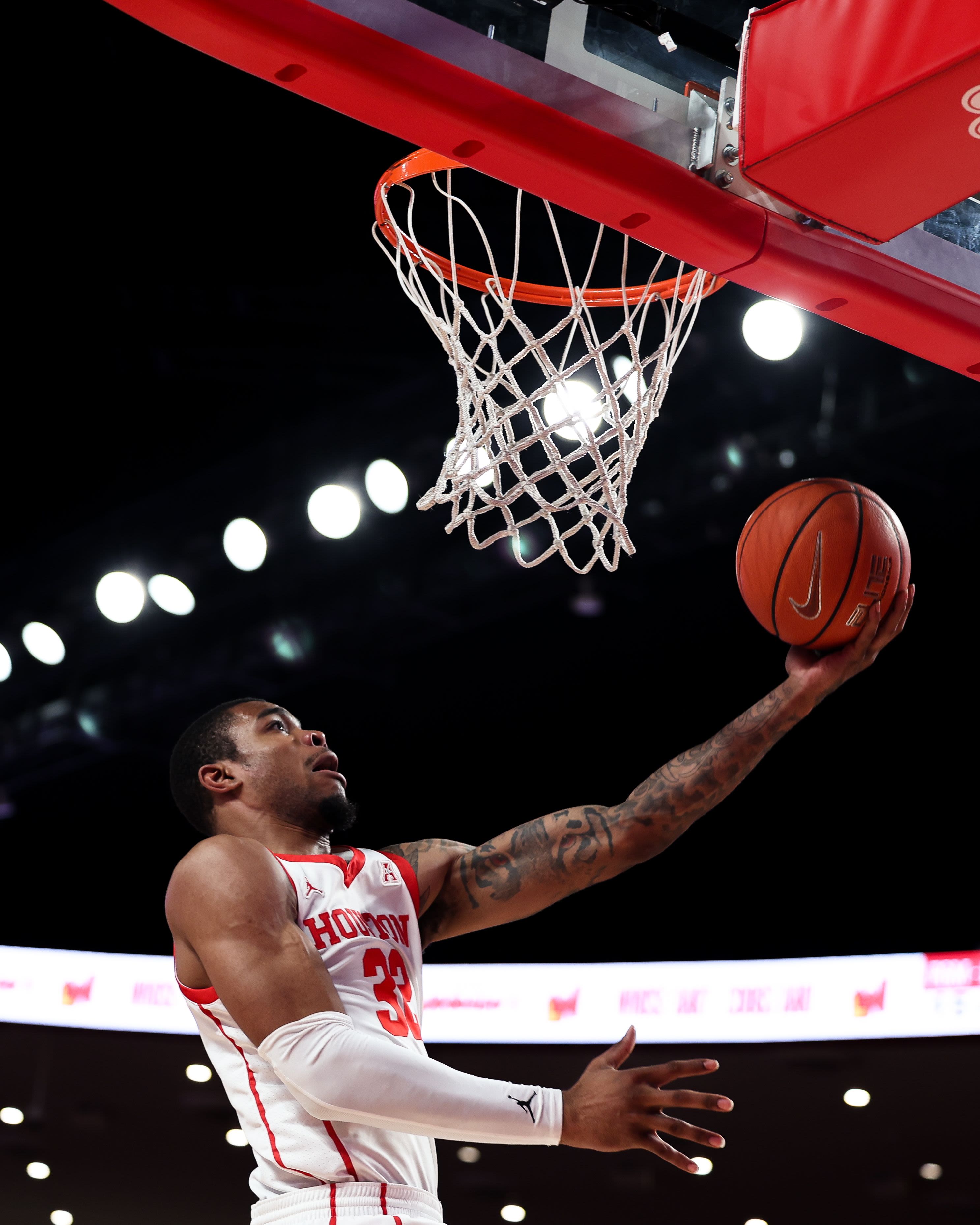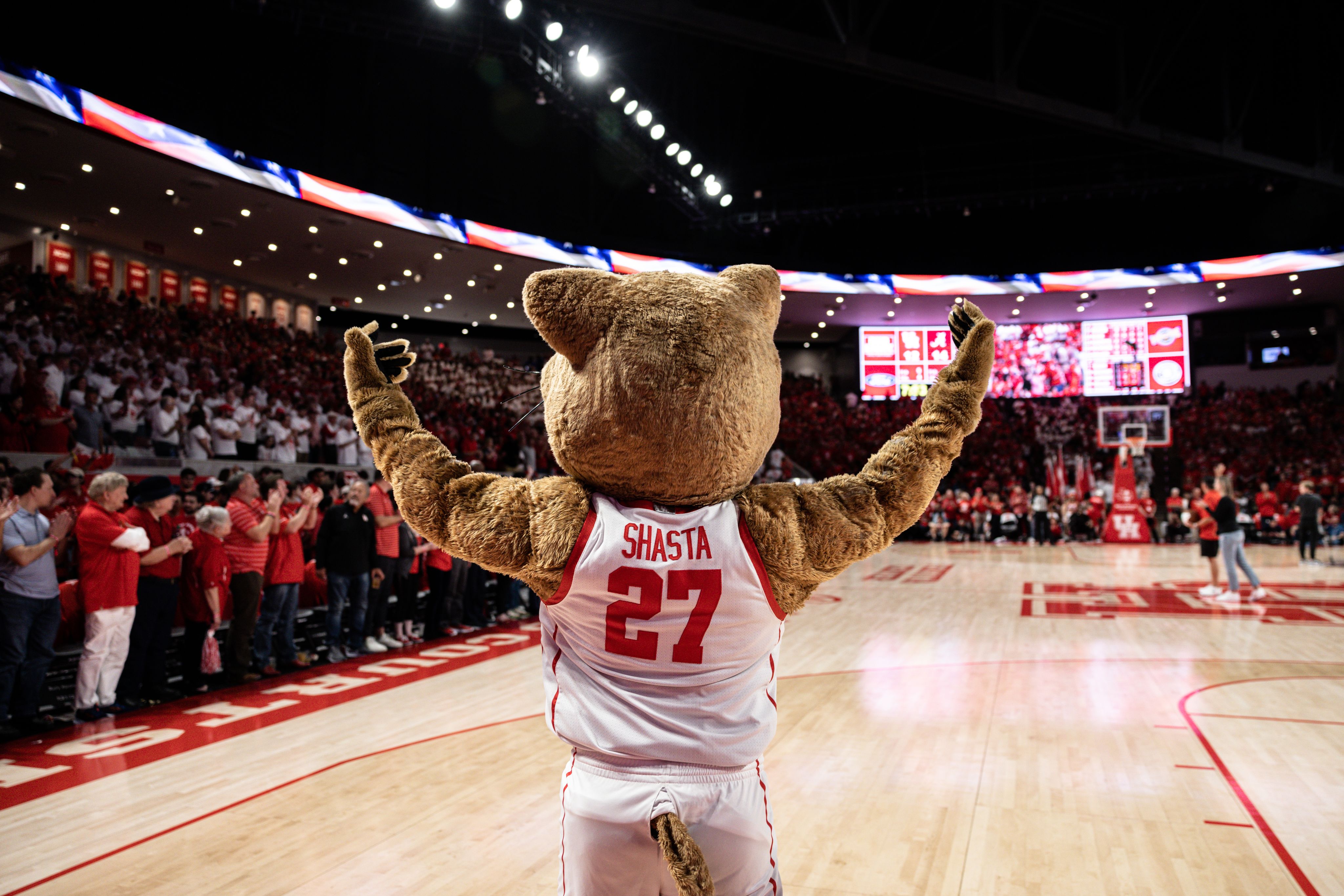 Item 1 of 3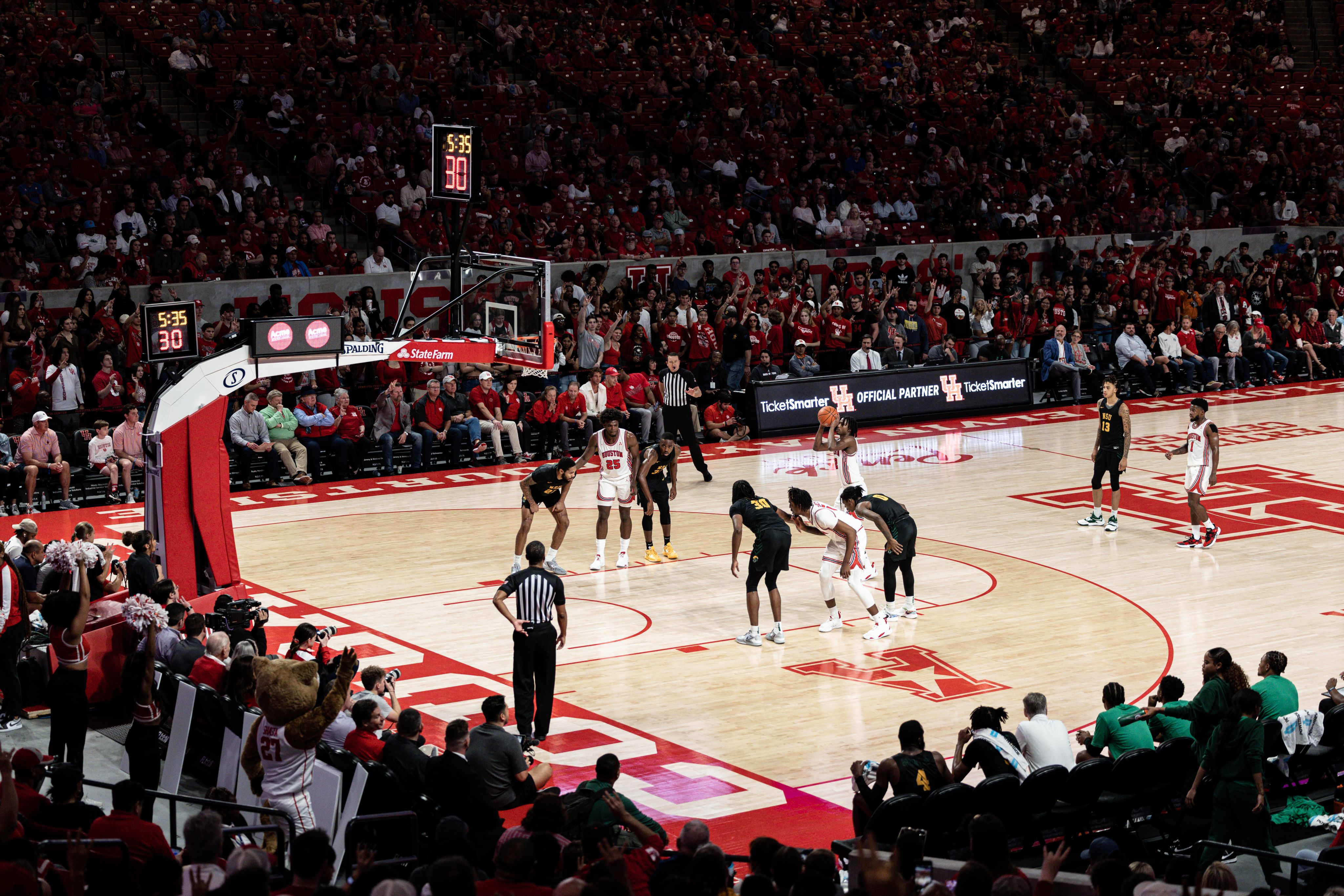 Tramon Mark shoots a free throw.
Tramon Mark shoots a free throw.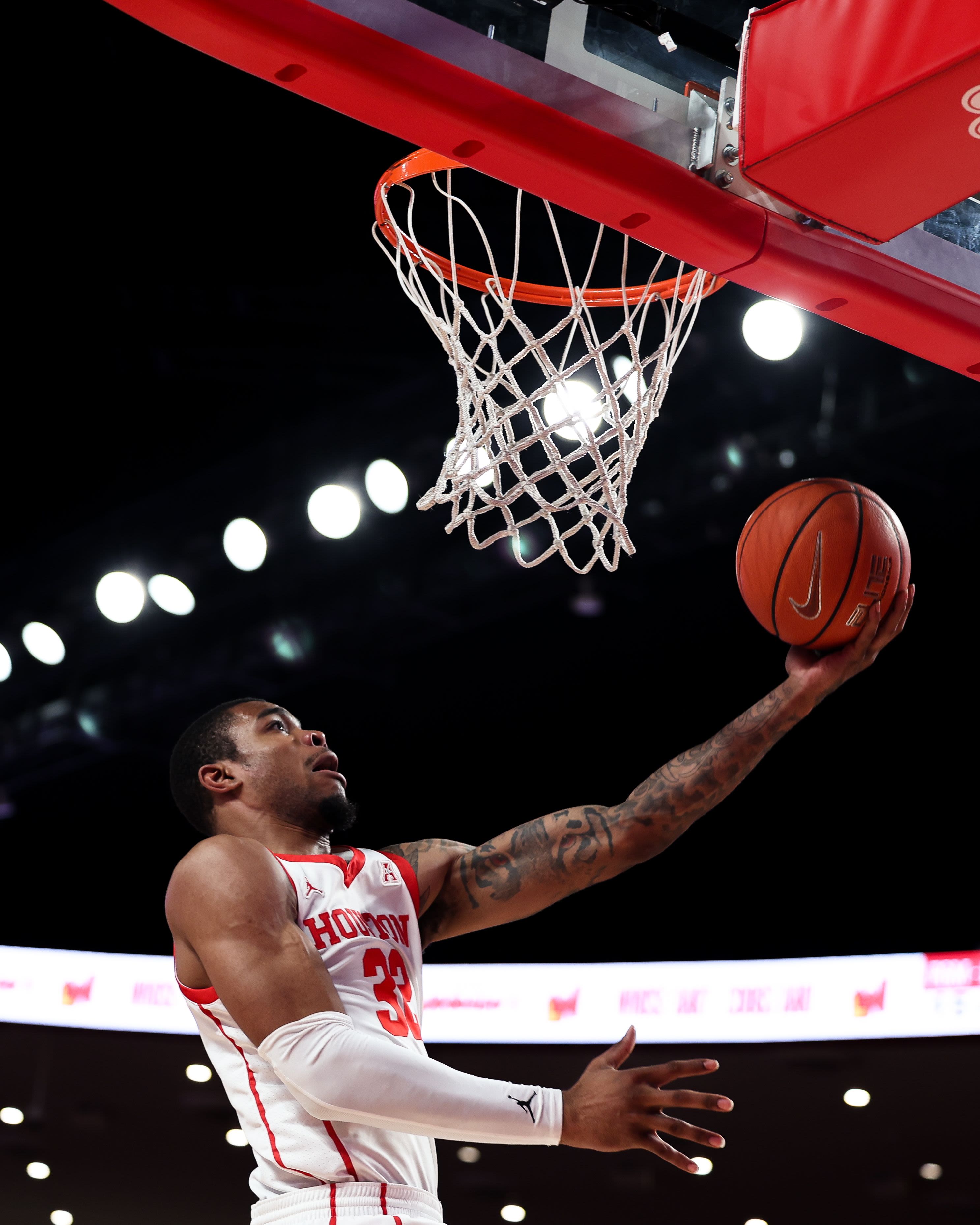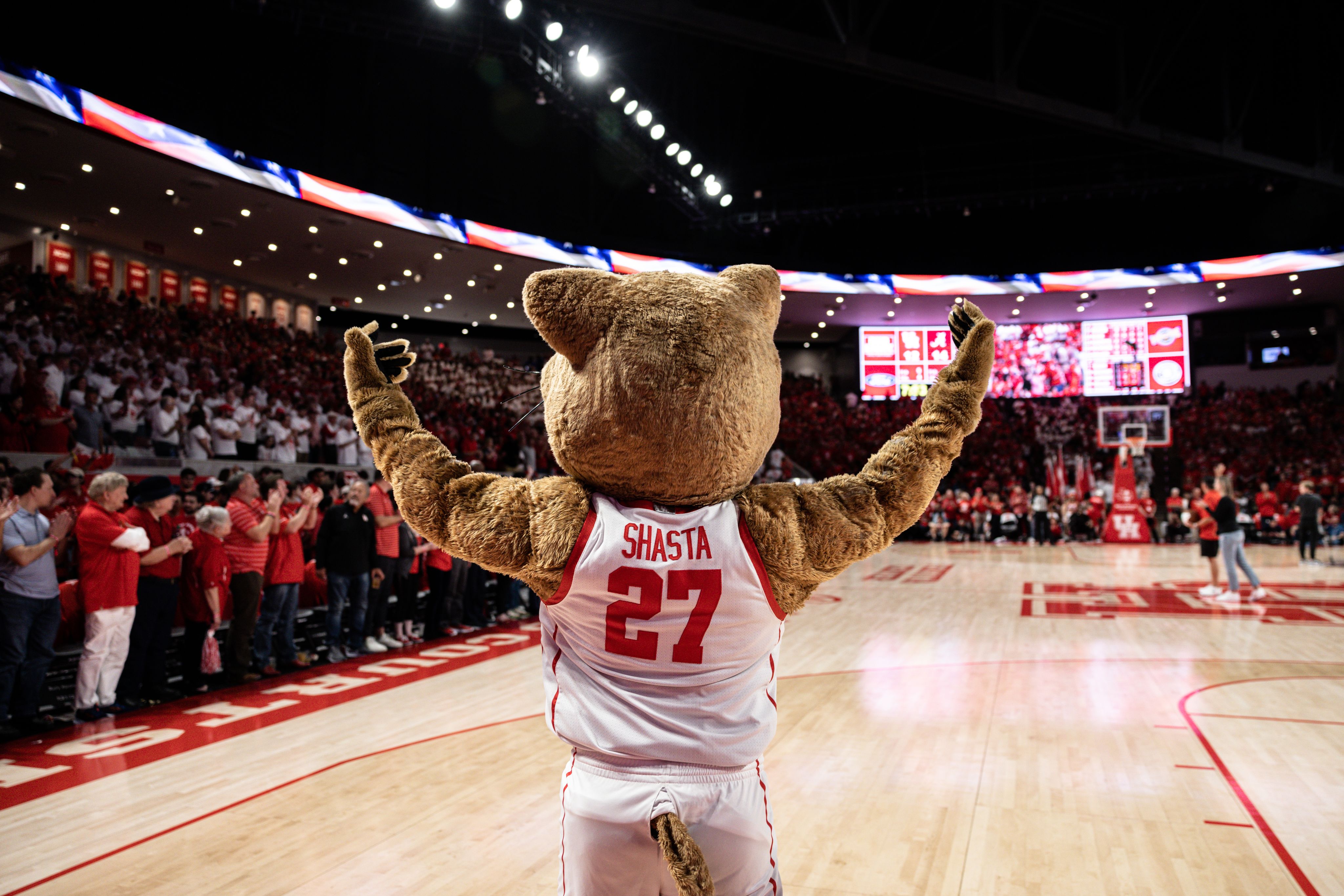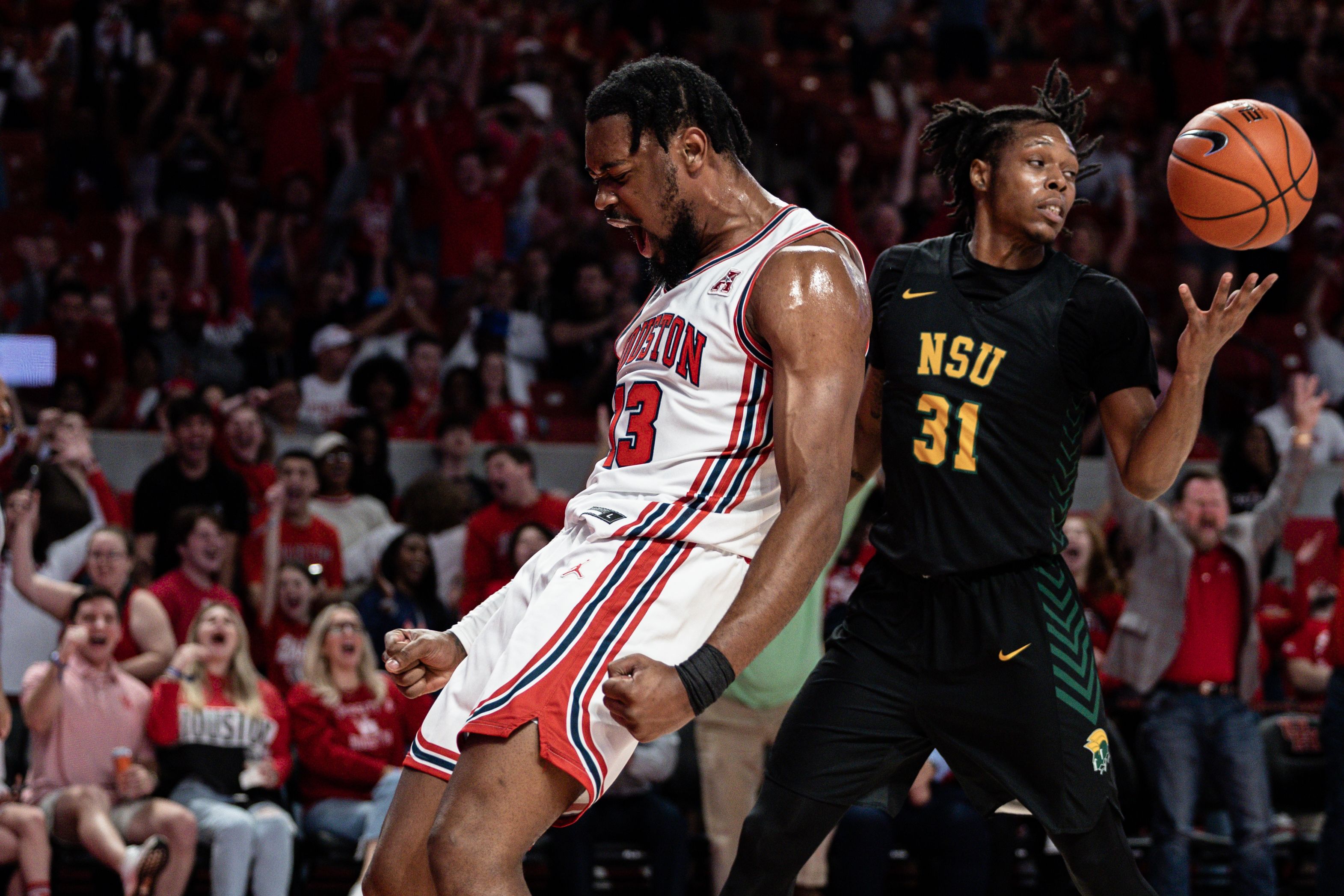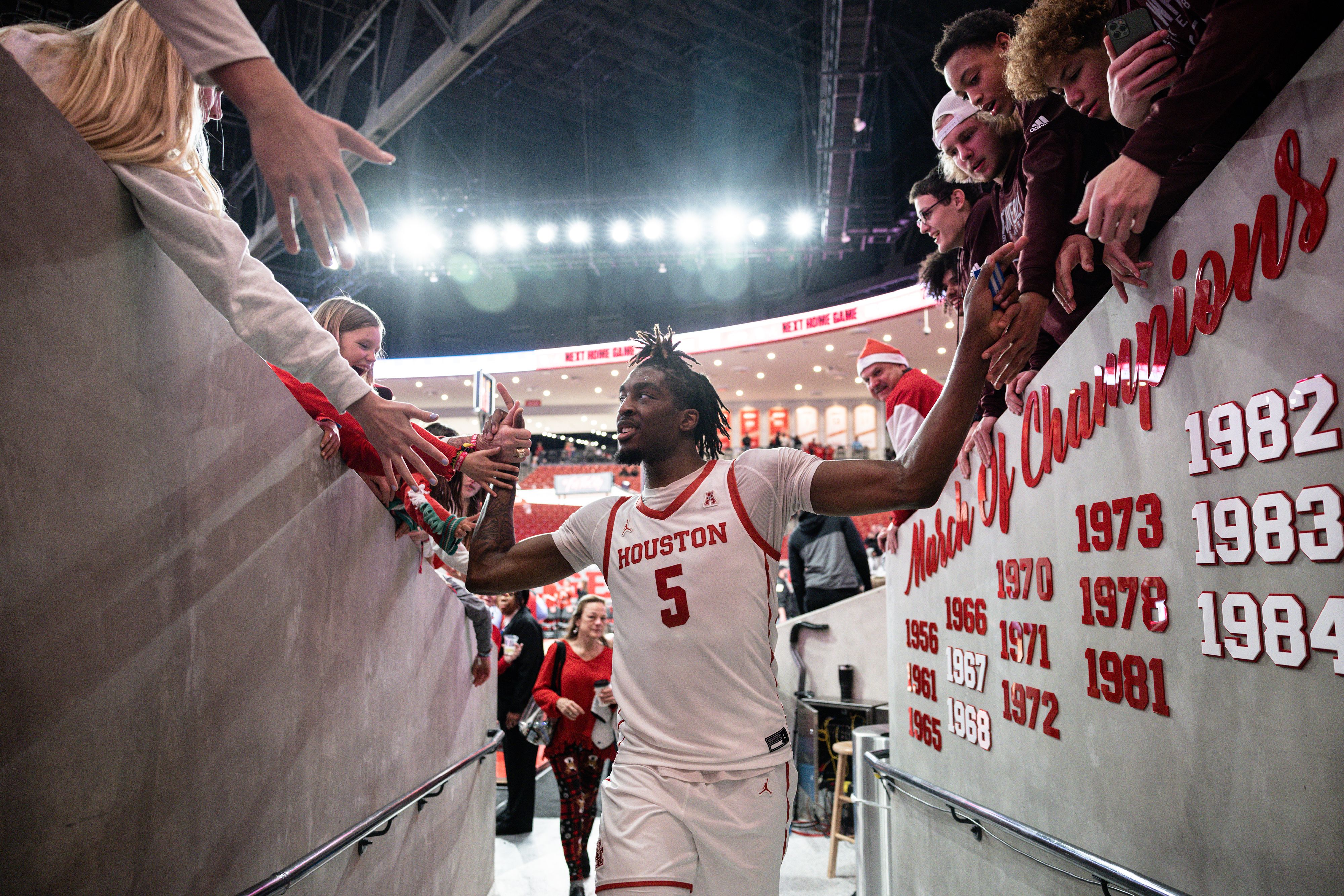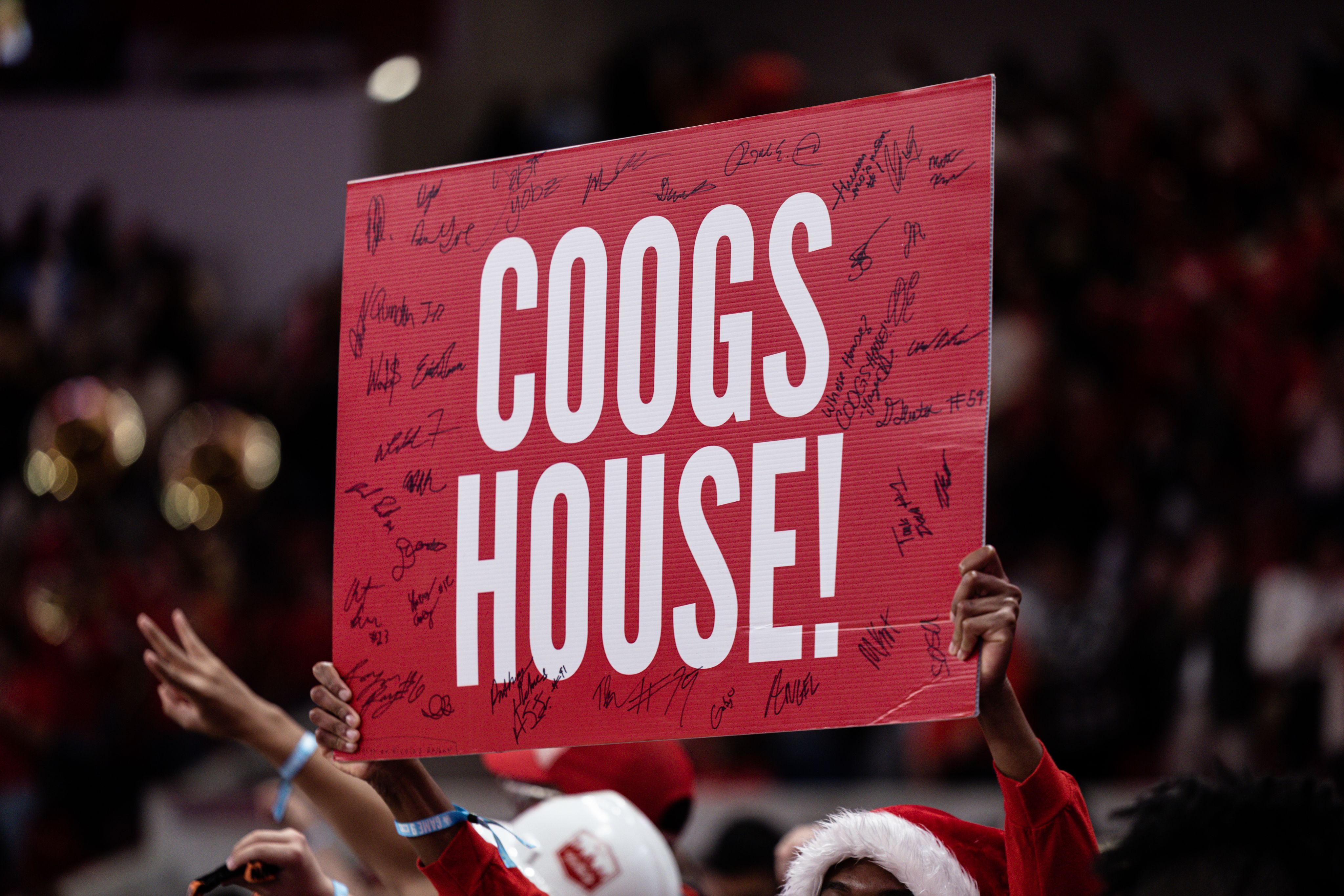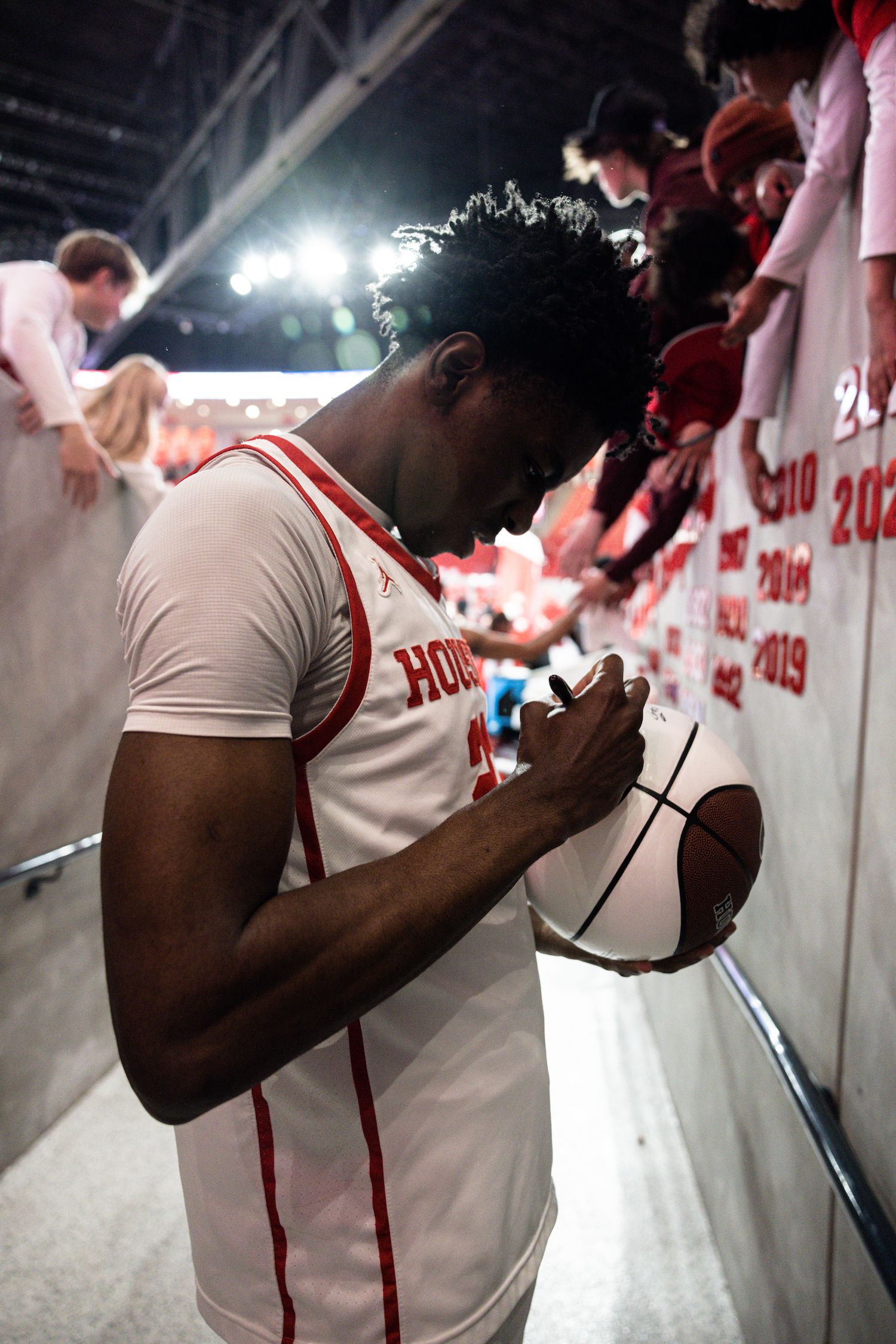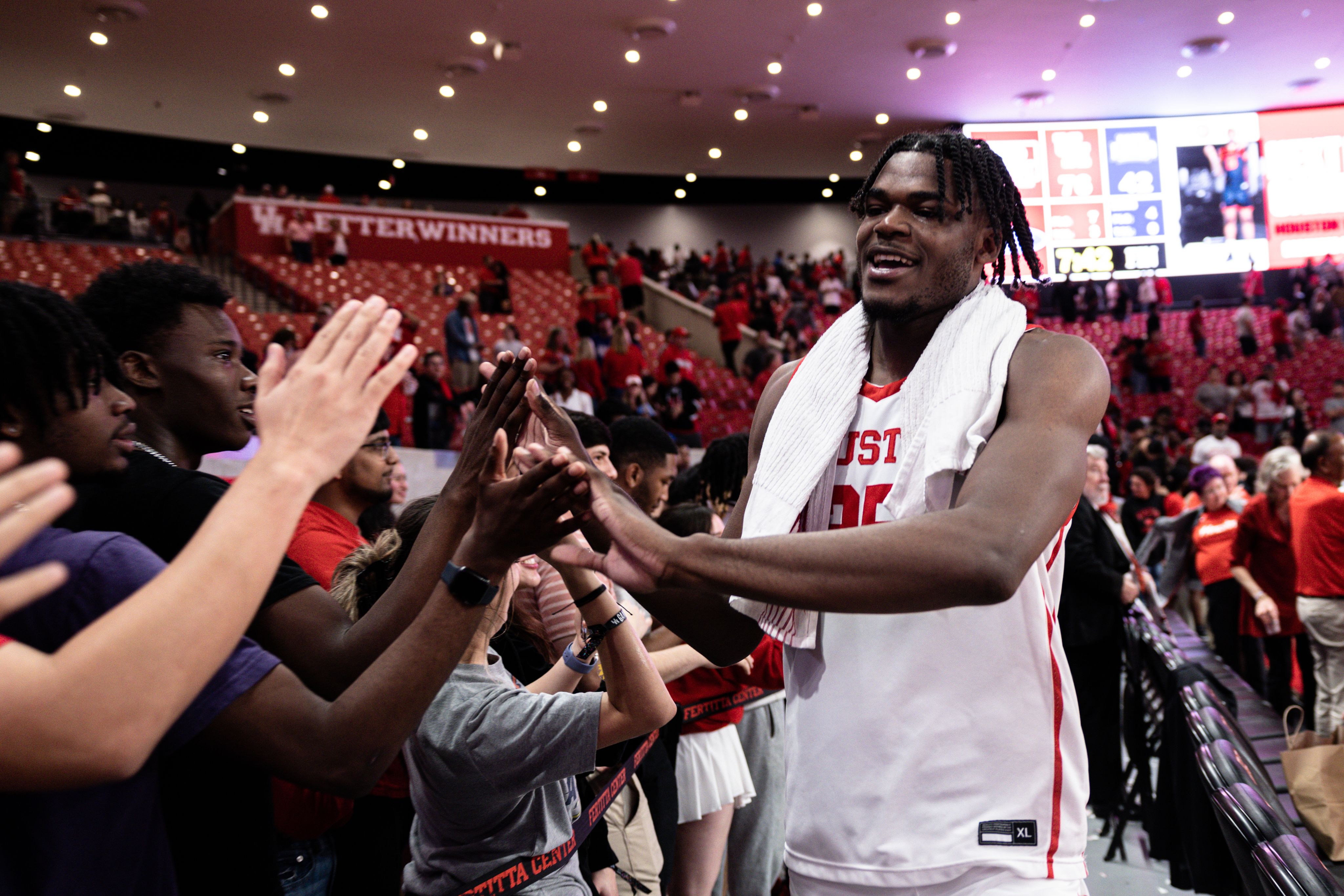 Item 1 of 3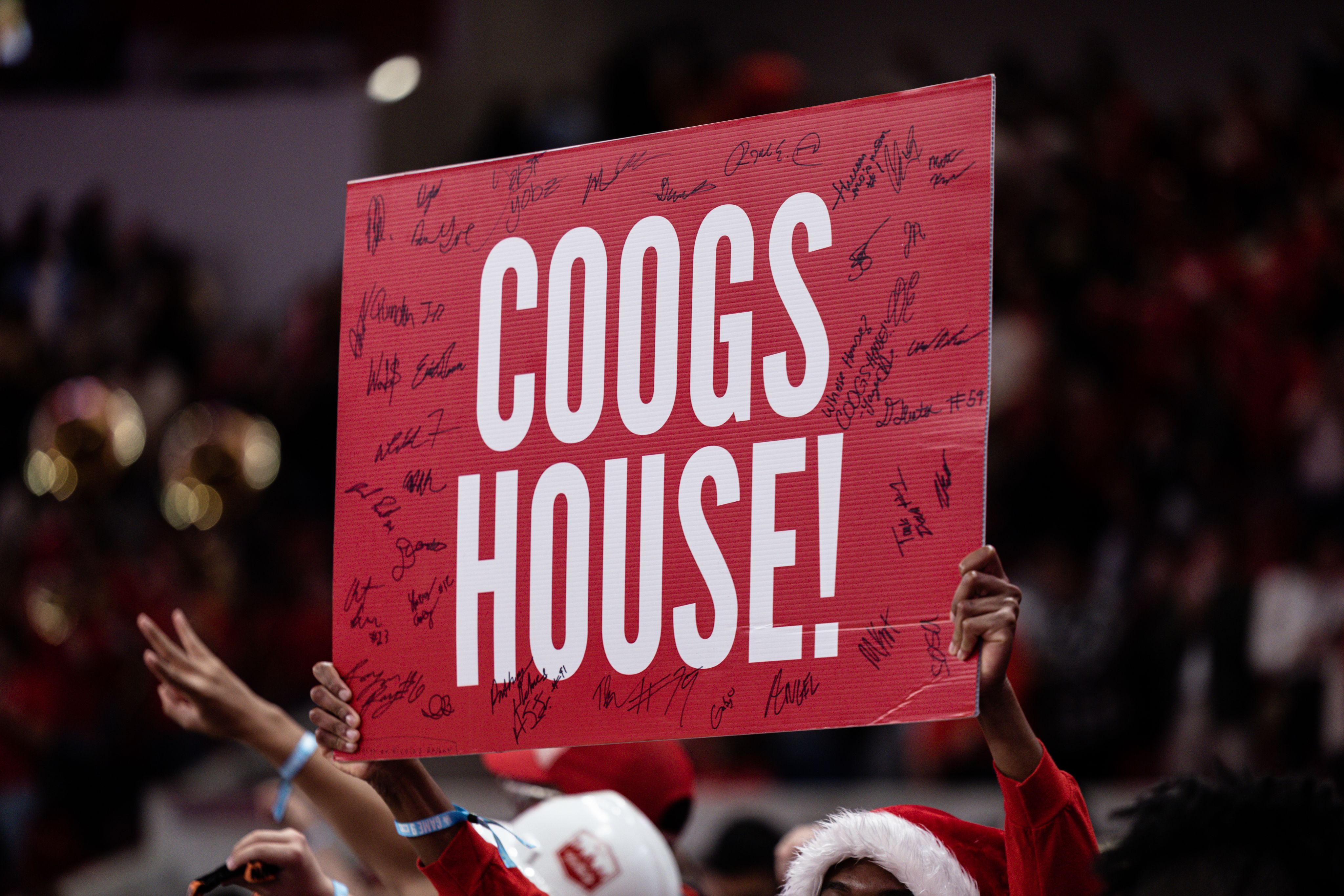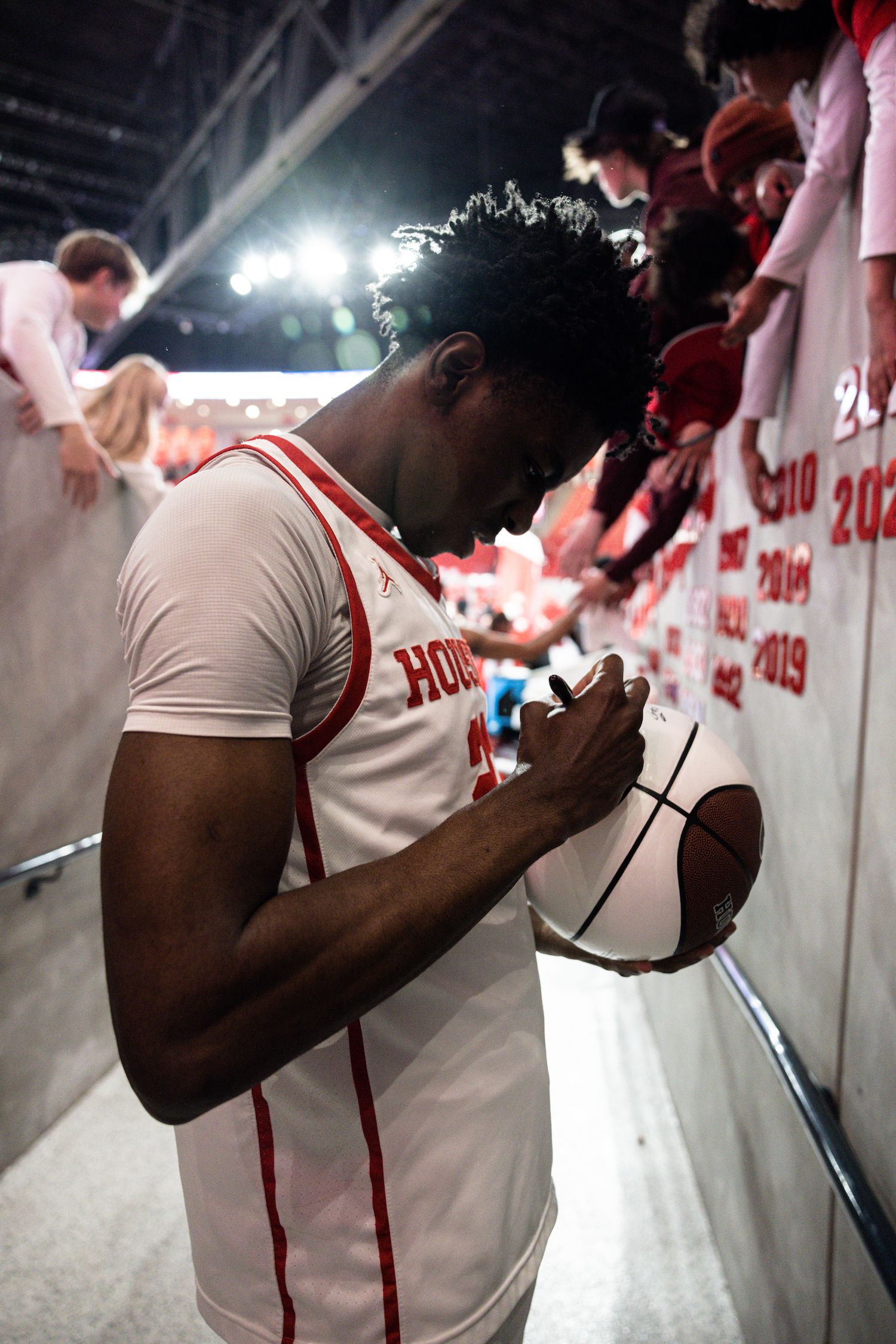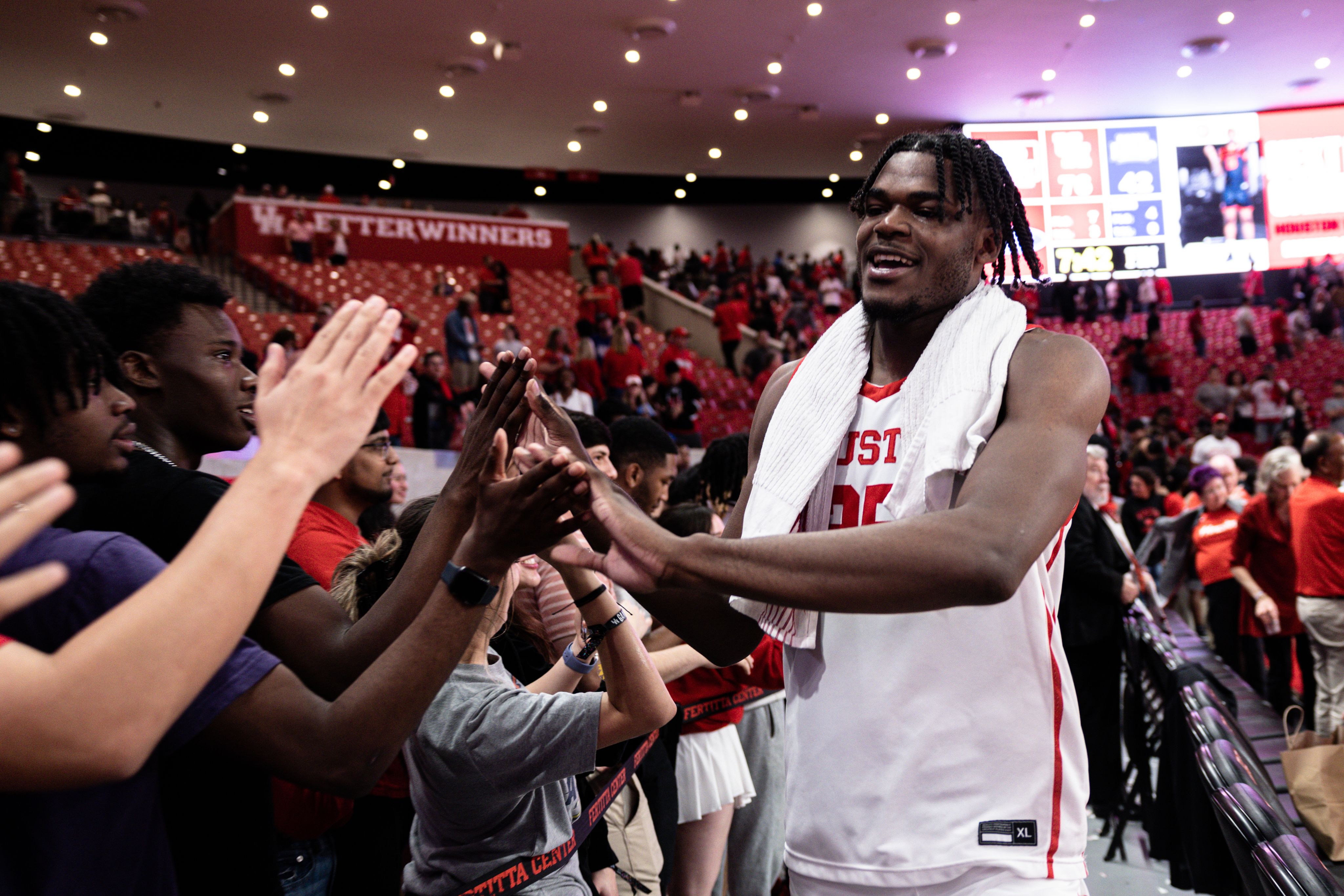 "This team is still evolving, still growing ... I just think we can get better. I have no idea. Maybe a little bit better. Maybe a smidge. Maybe a nudge. Maybe a little bit more than a little bit. I have no idea. But the goal is to find out how do you continue to get better."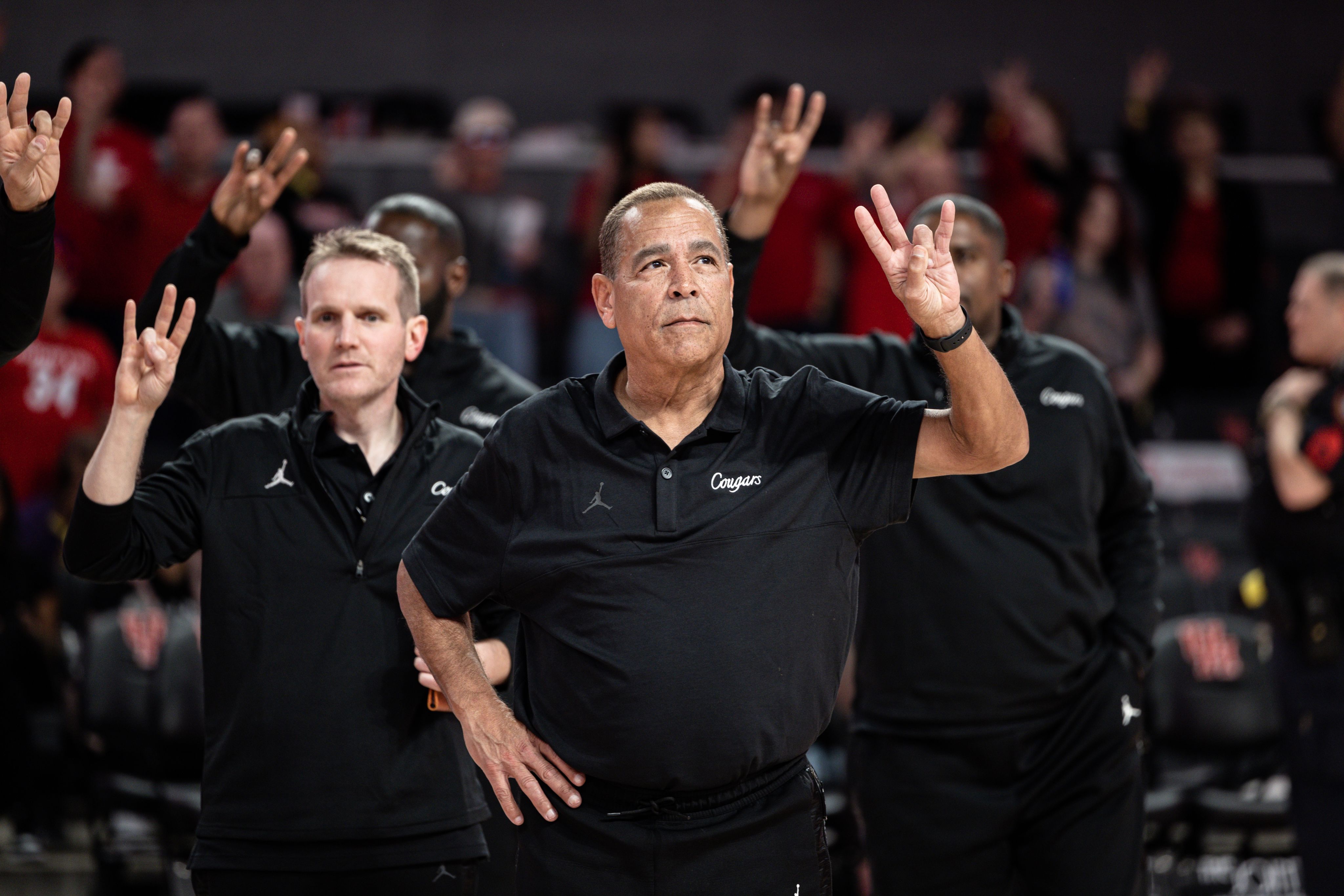 Join the Action
Students can claim tickets at 10 a.m. each Monday for games that week. Go to UHCougars.com/tickets and from the dropdown menu, select "Students" and then "Sign In."
Houston Basketball fans are able to earn points at every home game to redeem prizes, experiences, access Houston Lights - the pregame light show during Houston's team introductions, purchase/access tickets and more through the official app of Houston Athletics.