A Taste of Entrepreneurship
Wolffest Celebrates 20 Years at UH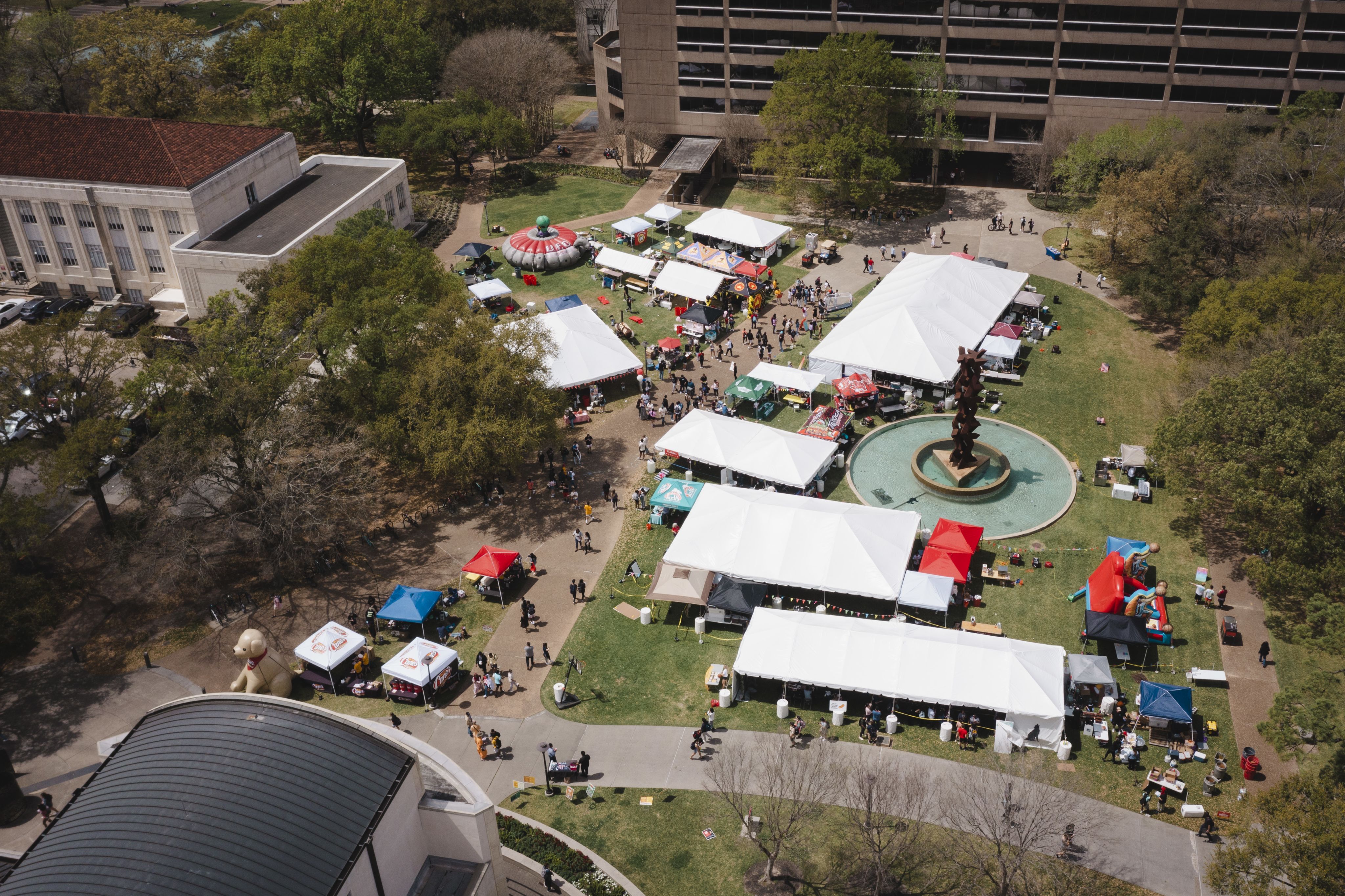 Celebrating its 20th anniversary this year, Wolffest is a spring tradition at the University of Houston. For three days, Butler Plaza becomes a thriving bazaar of competing pop-up restaurants and students enthusiastically selling their wares in brightly decorated tents.

Since committing to the project last fall, students teams from the Cyvia and Melvyn Wolff Center for Entrepreneurship have been working hard developing products, lining up vendors and brand partners, creating marketing plans and setting prices. Their focus? Raising money for scholarships and student activities. As the nation's No. 1 undergraduate entrepreneurship program, the bar for success is higher than ever.

We went inside the tents of this WCE capstone course, which raises $250,000 annually, to get a glimpse of what the students hope will be a success - but it's never without unexpected challenges.
The long hours of preparation for the festival have been stressful and fun according to Moodi Odat, Wolff Center Entrepreneurship senior. His biggest challenge as CEO of the Houston City Limits team was learning how to motivate people without a monetary reward. He's learning a lot about leadership and said that reminding his team of the "worthy cause" – scholarships for future students – has proven to be the best driver.
Dan Meaux ('96), owner of the Crawfish Shack in Crosby, Texas, has been donating his time, expertise and crawfish to Wolffest students for nine years. The UH Conrad N. Hilton College of Global Hospitality Leadership alumnus teaches students how to cook crawfish and on the first day of the festival, he helps the students set up their tent, and prep and cook the live crawfish.
Wearing a shirt with the vibrant colors of Colombia, Danna Ceron stops to chat with Steve Stephens, CEO of Amegy Bank, Dave Cook, director of the WCE, and Keith Rubenstein, CEO of Texas Pipe & Supply.
Cook and the local CEOs expressed pride and admiration for Ceron, a 2020 graduate of the WCE, who started her own entrepreneurial boutique and then came back to UH to mentor the next class of students. Ceron said giving back to the program that grew her personally and professionally is the reason she came back as a volunteer project manager to the event.
Soulfull is "the groovy team" according to its CEO and WCE senior Nathan Morales. The team's mission is to reunite the community through a common love of food and music. The colorful Soulfull pop-up shop offers a variety of records and foods to keep festival attendees' "soul's full." Morales said the WCE program is a rigorous 40 to 60 hours of work for students each week, which is one reason it remains the nation's No. 1 undergraduate entrepreneurship program.
Payment technology frustrations did not deter Amanda Fernanda Diaz from selling tamales or stop Vicky Henderson from purchasing them. Diaz' parents are entrepreneurs who started their business with "literally 75 cents in their pockets," she said. They now own Tortilleria La Fe, which has two Houston locations, and support their daughter's entrepreneurship dreams by donating enough tamales for the Backyard Wolves team to sell during the festival's three-day run.
Wolffest can be a grind. Quindon Jefferson-Bowers is running on fumes … he got just two hours sleep the night before. But as a member of the Space Cowboys team, his adrenaline is working overtime. Since the beginning of the semester, his team has been selling churros at the Student Center twice per week. So even before the start of the three-day festival, his team has raised over $15,000 from the fried dough stick rolled in cinnamon and sugar cookies. He believes they are positioned to win the competition.