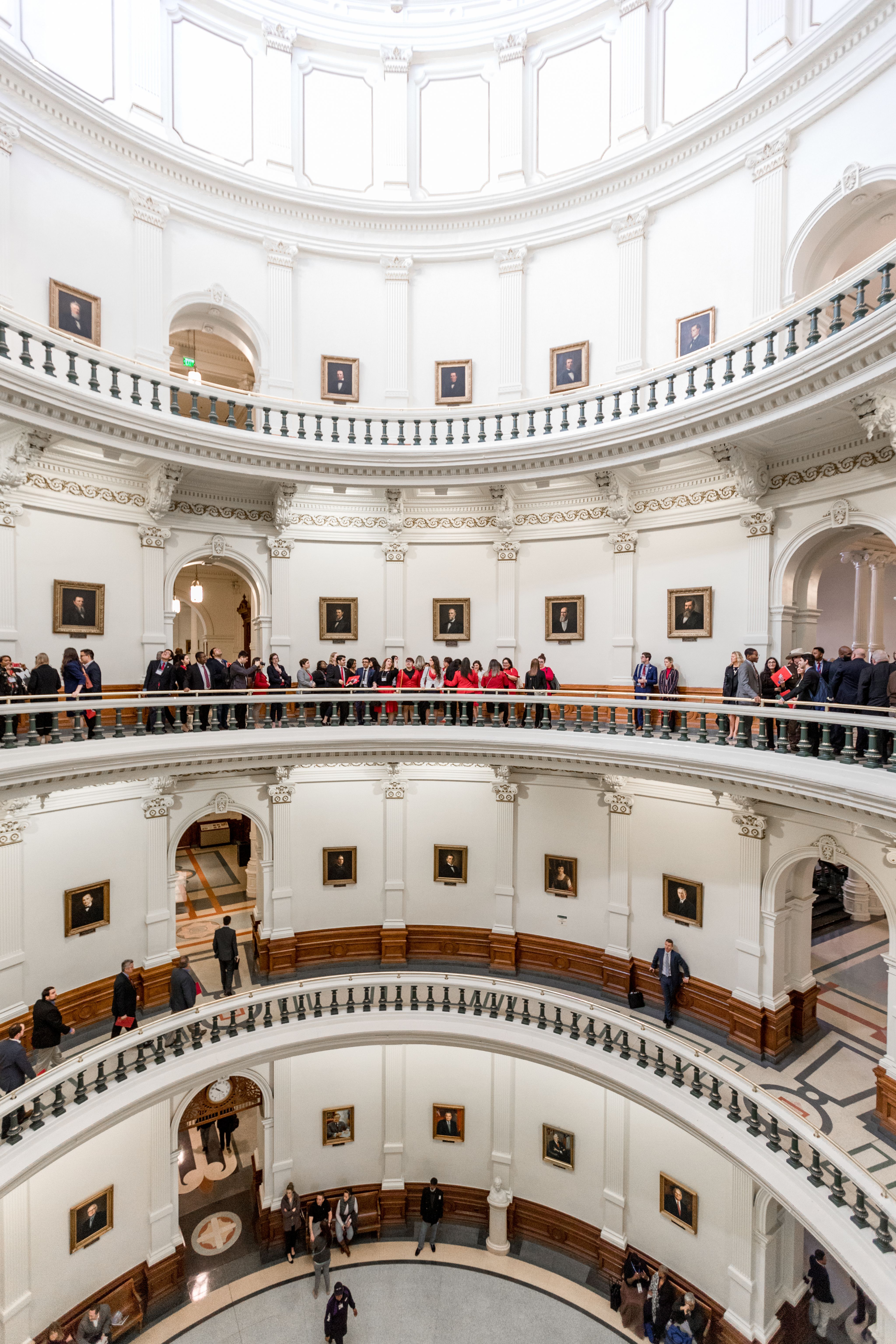 Austin may be a popular tourist destination for some, but when it comes to advancing the University of Houston, the 170-mile trip to the State Capitol is all about business. University leaders – President Renu Khator and members of her leadership team, UH System Regents, community supporters and others – prioritize nurturing relationships with state lawmakers and decision-makers whose support is critical for UH to realize its ambitions.
During his seven years as vice president for governmental relations at UH, Jason Smith has seen a significant surge in legislative support for UH thanks to its steady ascent in academic and athletic prestige. "Back then, we were seen as an 'up and coming' research university. Now we're consistently mentioned in the same breath as University of Texas at Austin and Texas A&M. It's not hyperbole – it really is what legislators are saying."
There is still one glaring difference, however, between UH and those two other flagship Texas institutions: funding. The UT and A&M Systems are the sole beneficiaries of the Permanent University Fund (PUF), a state-owned investment fund that's been collecting royalties from oil and gas leases for over 130 years. With a net asset value of more than $24 billion, PUF has distributed billions to the two university systems.
But what about the dozens of other public higher education institutions in Texas?

Fighting for Funding Reform
Once the third rail of Texas politics, PUF is now the target of a reform aimed at making higher education funding more equitable. In 2015, then Rep. Sylvester Turner authored a bill to add the University of Houston to PUF. Two years later, Rep. Carol Alvarado proposed the "Permanent University Fund II" to benefit the UH System and the Texas Tech University System. In last year's 87th legislative session, two Lubbock lawmakers filed similar pieces of legislation to reallocate one-third of PUF to emerging research universities. While none of the proposed legislation passed, the fact that legislators are more empowered to challenge the funding disparity is a striking show of support for UH, according to Smith.
Then this happened during the last session: For the first time in its history, UH received a $50 million appropriation for institutional enhancements. UT and A&M have received similar funding for years, but never UH. "It's recognition that we need more resources to continue on our trajectory toward achieving our goal of being ranked among the nation's Top 50 public universities," said Raymond Bartlett, senior vice president for administration and finance. "It's a game-changer."
The John M. O'Quinn Law Building
The John M. O'Quinn Law Building
Transformational Investment
Not only will the new funding advance student success and research initiatives in Houston, it also laid the foundation for a more sustainable funding source in the future. During the next legislative session in 2023, UH intends to ask the state for a $1 billion permanent endowment that would provide the University, depending on investment returns, an additional $40 million to $50 million a year.
"There's a lot of support for this in Austin, and I think we're in a great position," Smith said. Even Gov. Greg Abbott expressed support for the endowment and consistently applauds the remarkable transformation of UH under the leadership of President Renu Khator.
"She has done more to advance a university than any other person I've ever met," said Abbott last year during an event on the UH campus.
The University also received extensive legislative funding in 2021 to support four major capital construction projects, including a new medical research facility in the proposed TMC3 facility at the Texas Medical Center and a fourth academic building for UH at Sugar Land. At UH, two new facilities are in the planning stages – a building for the Hobby School of Public Affairs and a new building to house innovation and entrepreneurial-related programs.
Substantial legislative support is evident, indeed, for the University of Houston in Austin, leaving Coogs hungry for even more progress in the future.
"We have momentum and tremendous support," Smith said, "But we plan to keep our foot on the gas."