Beautiful in Blue
Artist Muna Al-Bader Connects Cultures with New Mural at UH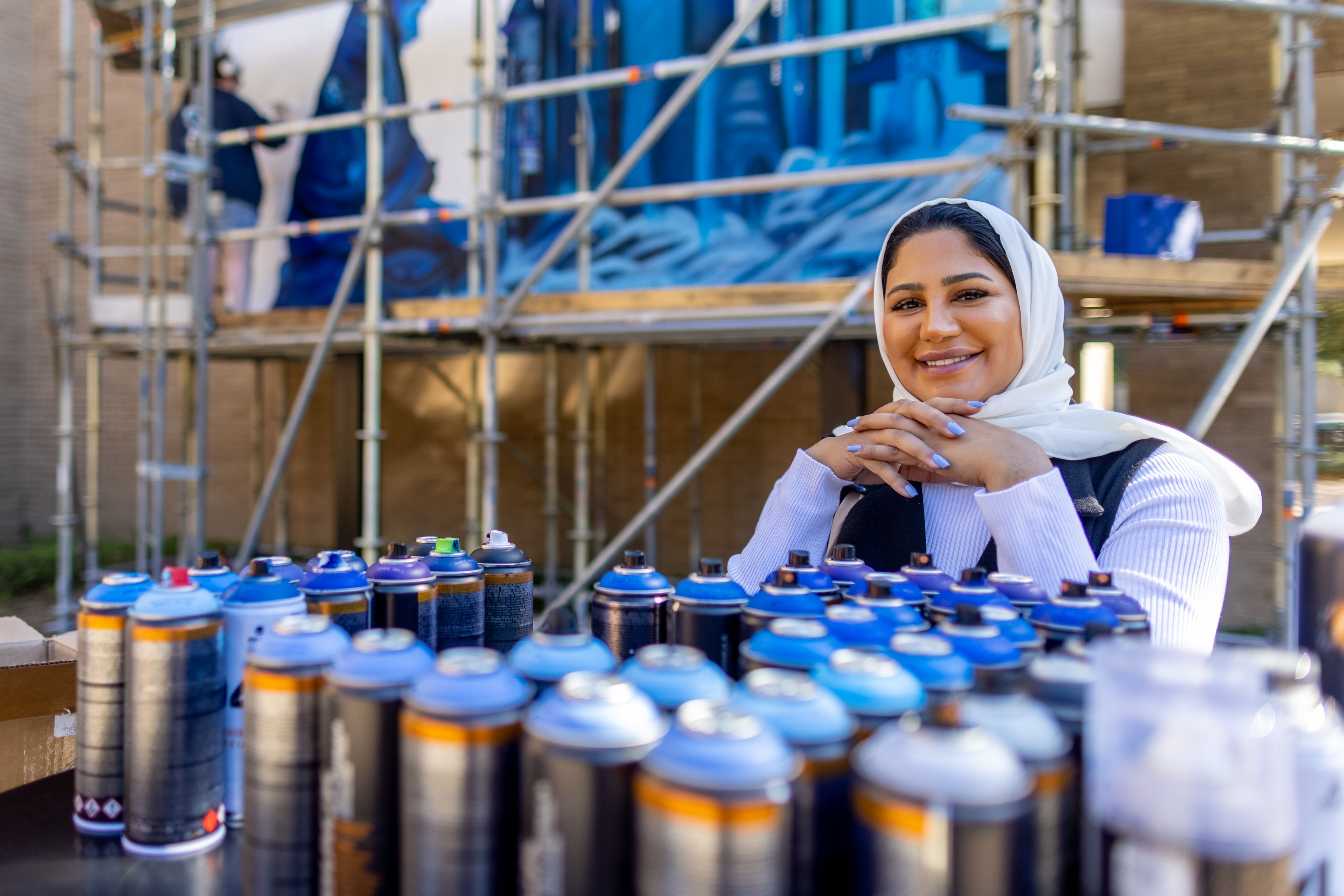 "Even if you don't understand my language, you can see my art and understand my culture."
Balanced on scaffolding as high as 15 feet at times, Muna Al-Bader shakes her can of spray paint and points it toward the substantial canvas mounted before her. Curious onlookers stop to witness the artist in action as she gives shape to a new mural on the University of Houston campus.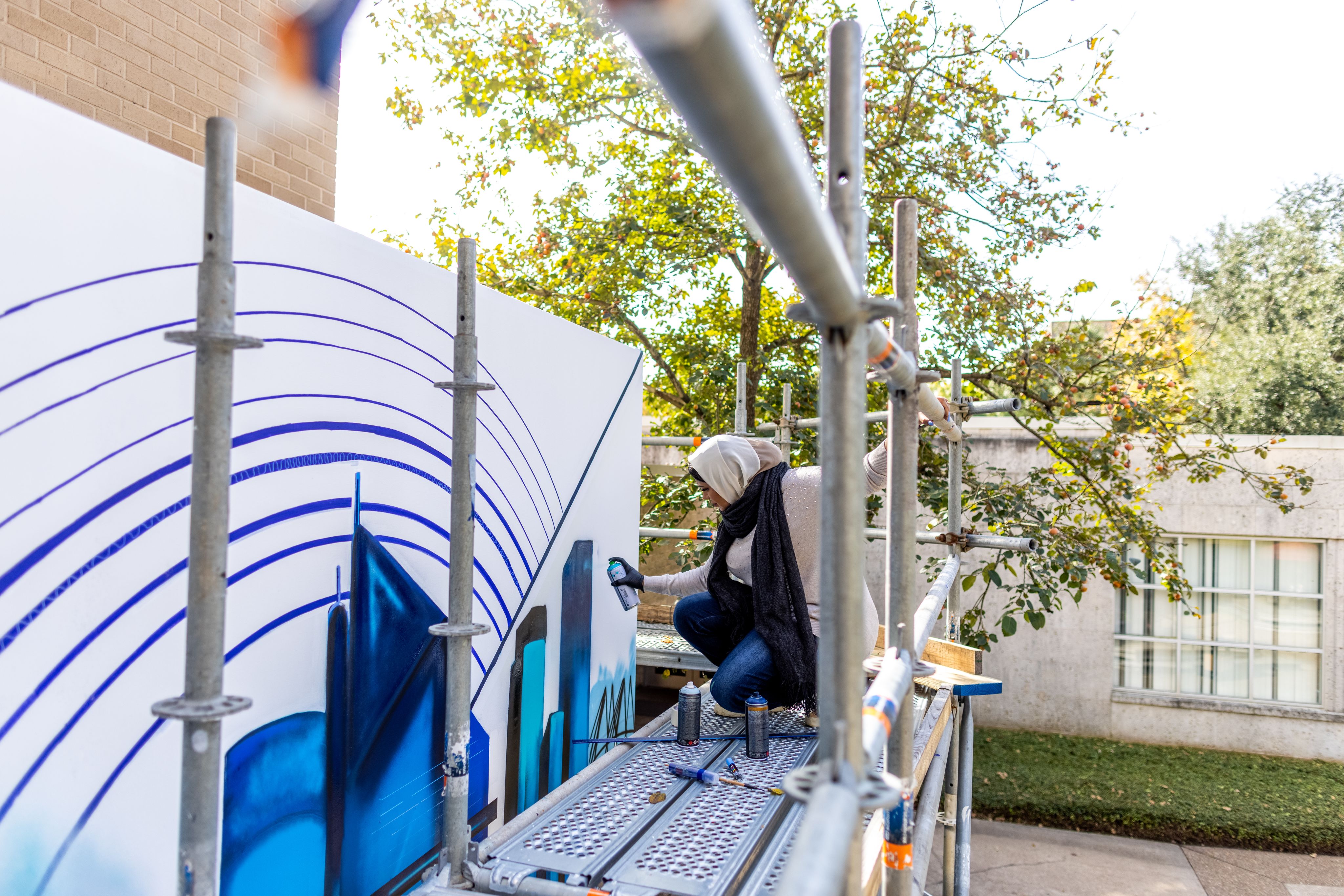 "Cultural Bonds," in all its blue glory, illustrates half a century of cultural ties and strong diplomatic relations between the United States and Qatar, Al-Bader's home country.

The 10 feet by 15 feet masterpiece features a young girl wearing a traditional Arab head-dress, kneeling as she admires the merged skylines of Houston and Doha, Qatar's capital city. The buildings sit on top of dunes that bind the two lands together.

"The painting is reminiscent of my childhood and how I've been watching my country progress in the fields of education and urban civilization," explained Al-Bader. "My father, who was educated in the United States, always told me that education builds nations."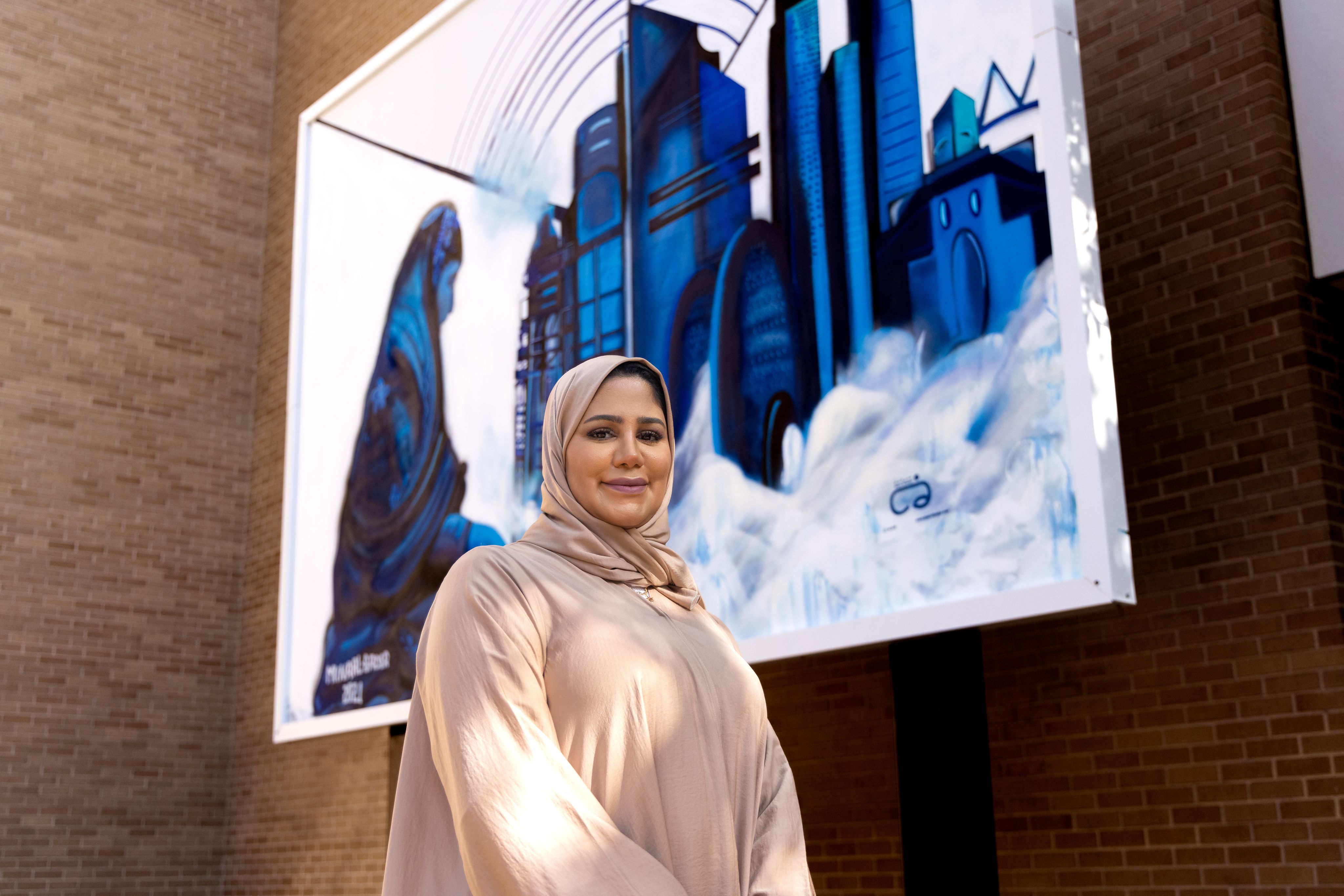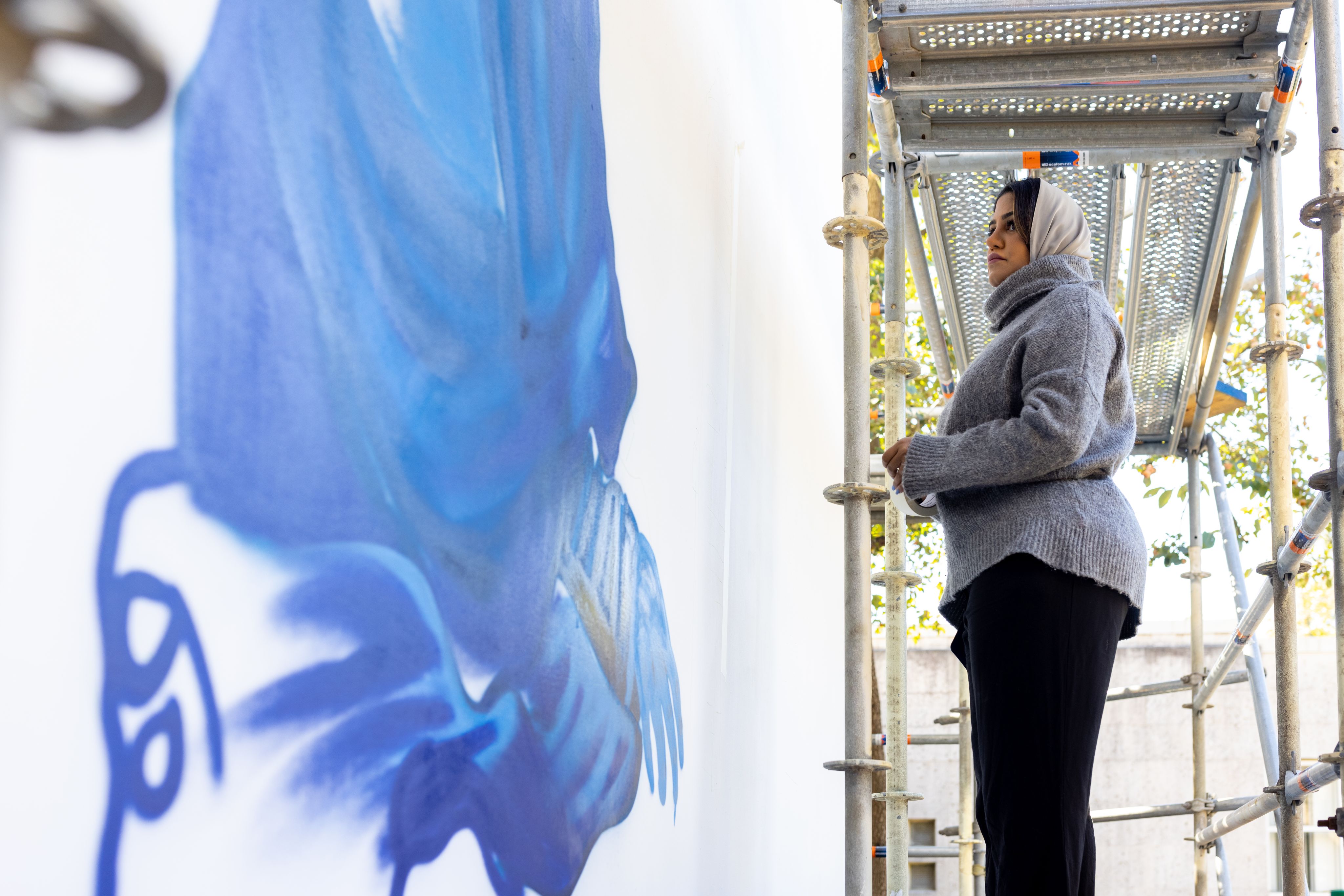 The artist's visit to UH was made possible through a partnership between Public Art of the University of Houston System, University of Houston-Clear Lake Diplomacy Institute and Qatar Museums. Commissioned in celebration of the Qatar-USA 2021 Year of Culture,"Cultural Bonds" will be on view outside the UH College of Technology through Nov. 2022.
"Despite the limitations and challenges faced from the pandemic, the Qatar-USA 2021 Year of Culture has persevered to provide a true cultural exchange, and a deep connection between the citizens of both countries," said Gigi Do, associate vice president and senior international officer of Global Learning and Strategy/Diplomacy Institute at UHCL.
Al-Bader is an IT engineer and business analyst by trade but has worked as an artist for more than a decade. In addition to murals, her paintings and sculptures have been shown at numerous exhibitions across Qatar, but she has never created or displayed art outside of her country… until now.


A newly minted international artist, Al-Bader's work is positioned in the UH Arts District within eyesight of globally known artists eL Seed, who painted his "calligraffiti" mural on the exterior wall of the Graduate College of Social Work in 2016, and the late Carlos Cruz-Diez, whose "Double Physichromie" was commissioned by Public Art UHS in 2009 (resited in 2018).

"In the 50-plus years since Public Art UHS's founding, we've undertaken many international projects as well as generated countless opportunities for artists to develop their first works in the public realm. However, I have to say that Muna's mural has been our first truly global collaboration," said María C. Gaztambide, Public Art UHS director and chief curator.  "Our time together enriched all who supported the making of this mural ­–students, colleagues, faculty, the community and new friends who joined us from near and far. Now that 'Cultural Bonds' is complete, it remains a prescient marker for the experience as well as a true bridge between cultures."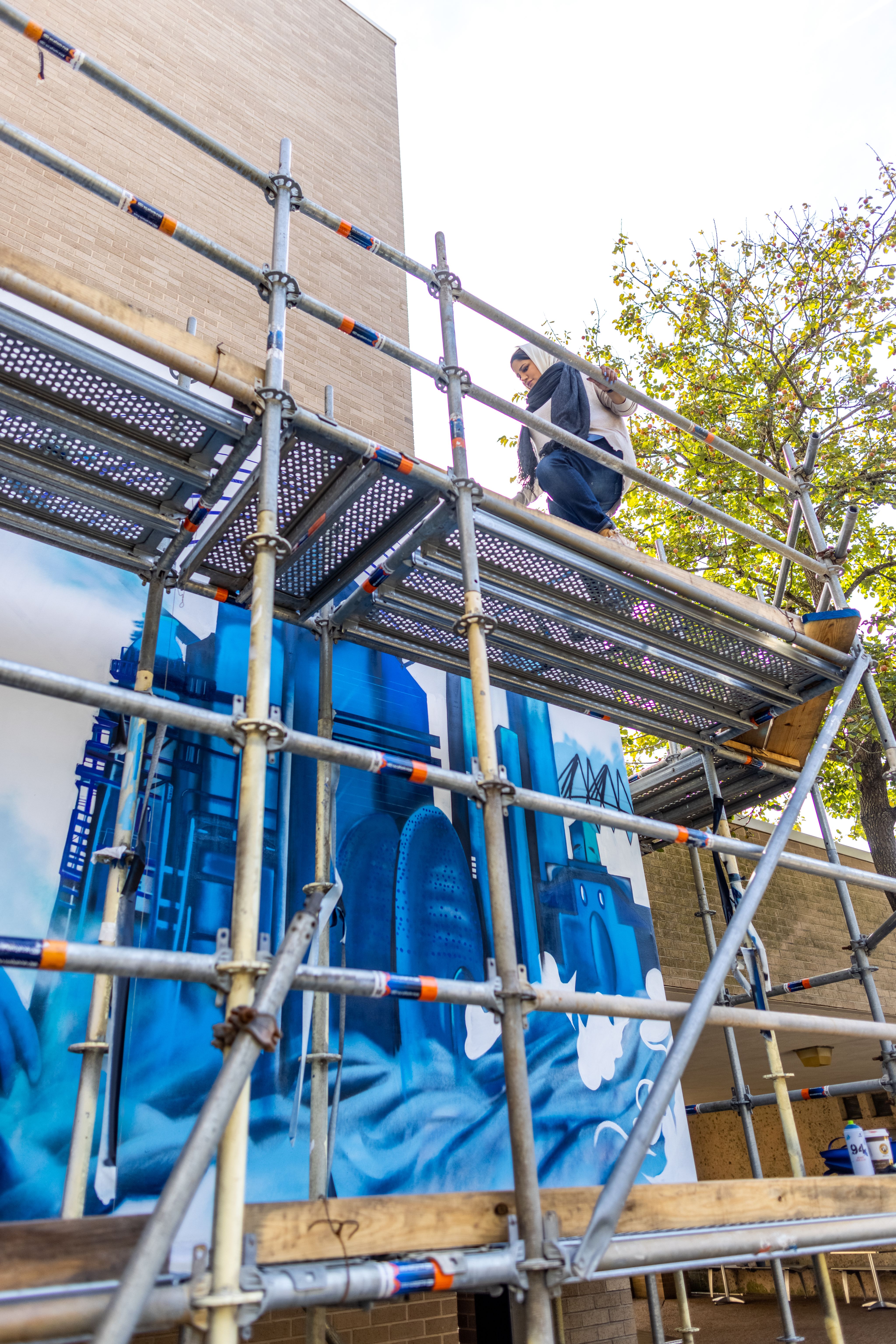 "Blue is also connected to emotions, and I am putting my emotions into the painting."
Al-Bader used varying shades of blue spray paint, ranging from dark indigo to ice blue, to create "Cultural Bonds." All color, she says, is inspired by the universal qualities of art.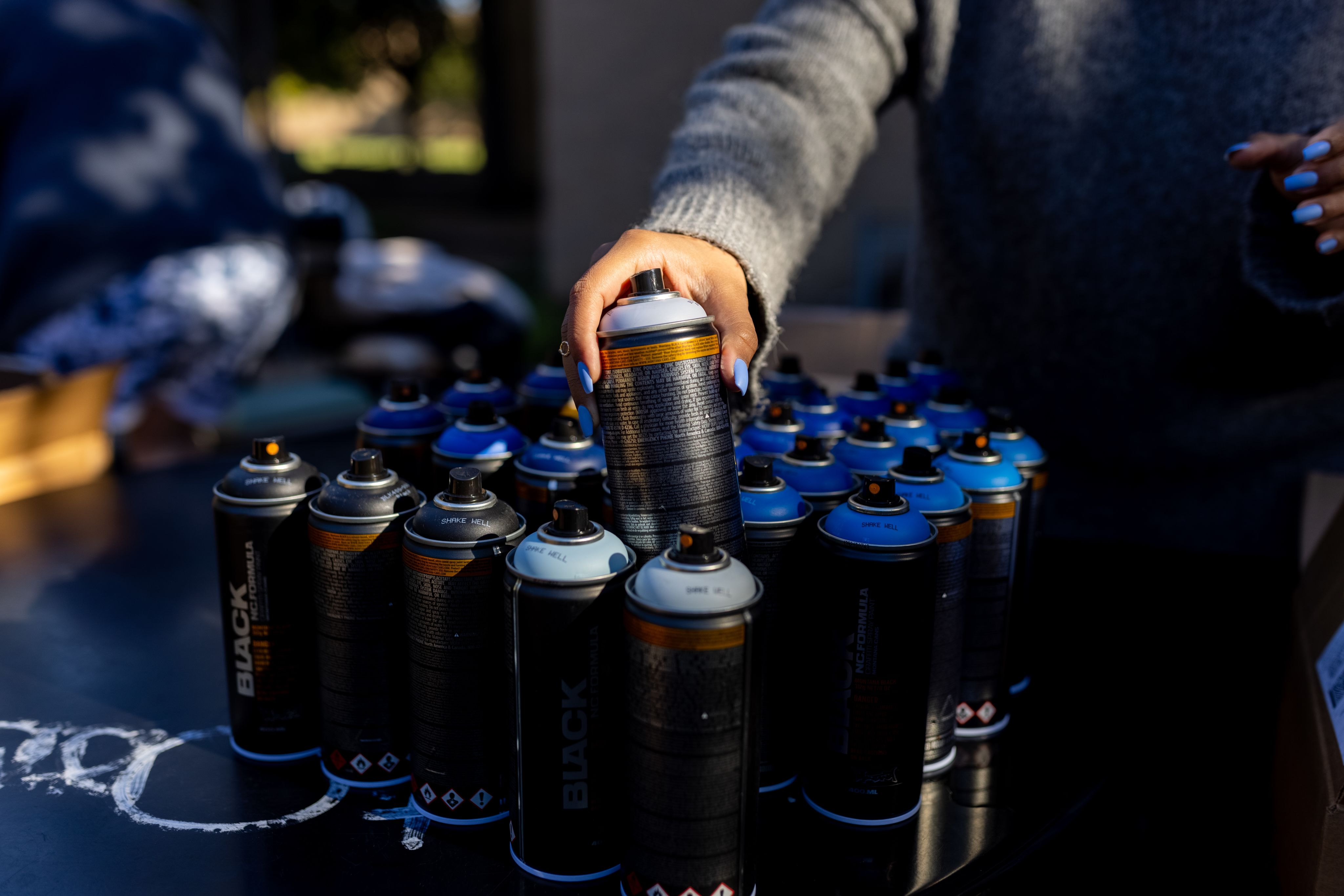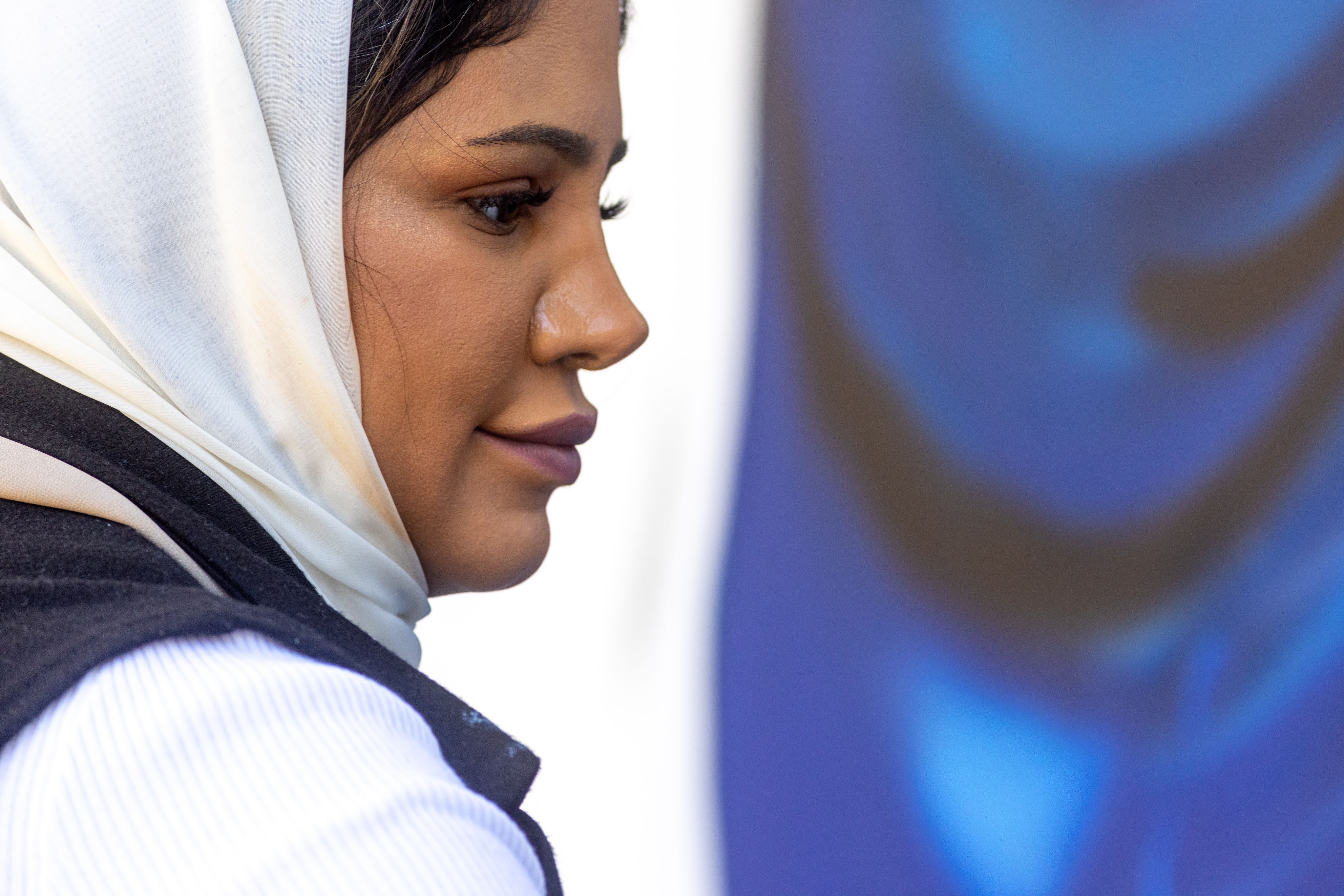 "Blue represents the water, the sky, harmony, life – everything that makes us breathe and live. Blue is also connected to emotions, and I put my emotions into the painting," the artist explained. "My work is like a spoken language, even if you don't understand my language, you can see my art and understand my culture."

Madelyn Foutz, a fine arts graduate student at UH, whose own work focuses on diverse cultures, shared scaffolding space with Al-Bader during the creation of the mural. Foutz painted the background in white and cleaned up any speckles of paint that went astray.  The experience was one Foutz will never forget.

"Being able to see her work from start to finish, watch her problem solve in real time and discuss the process with her was truly eye-opening," Foutz shared.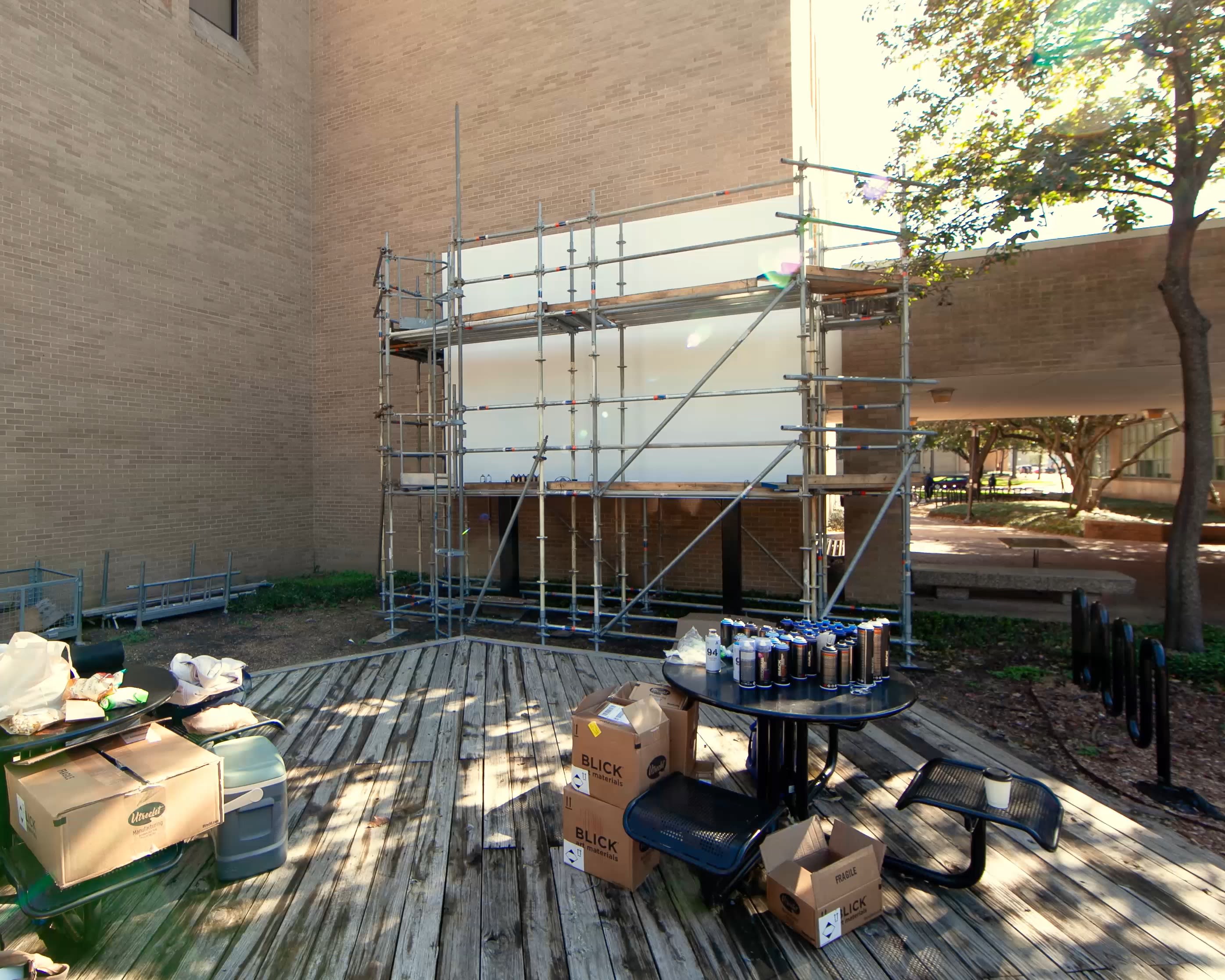 Video courtesy: Gustavo Campos and Gradient
Video courtesy: Gustavo Campos and Gradient
Al-Bader is one of several Qatari artists who are traveling to different U.S. cities this year for the Qatar-USA 2021 Year of Culture, a cultural exchange program designed to deepen understanding between nations and their people through a variety of art installations, exhibitions and festivals. Al-Bader's work at UH is among a handful of murals in select U.S. cities that extends Qatar Museums' mural program, JEDARIART, internationally for the first time.

"We are so pleased that Al-Bader's work will be on view at the University of Houston. By introducing these talented artists and their artwork that tell such rich stories to cities across the U.S., we are able to create a mutual partnership and understanding of both cultures," said Aisha Al Attiya, director of Cultural Diplomacy, Years of Culture.

The Qatar-USA Year of Culture 2021 mural project at UH is supported by Qatar Museums, Exxon Mobil and Qatar Airways.