SOCIAL RESPONSE
UH Graduate College of Social Work Launches Mask Drive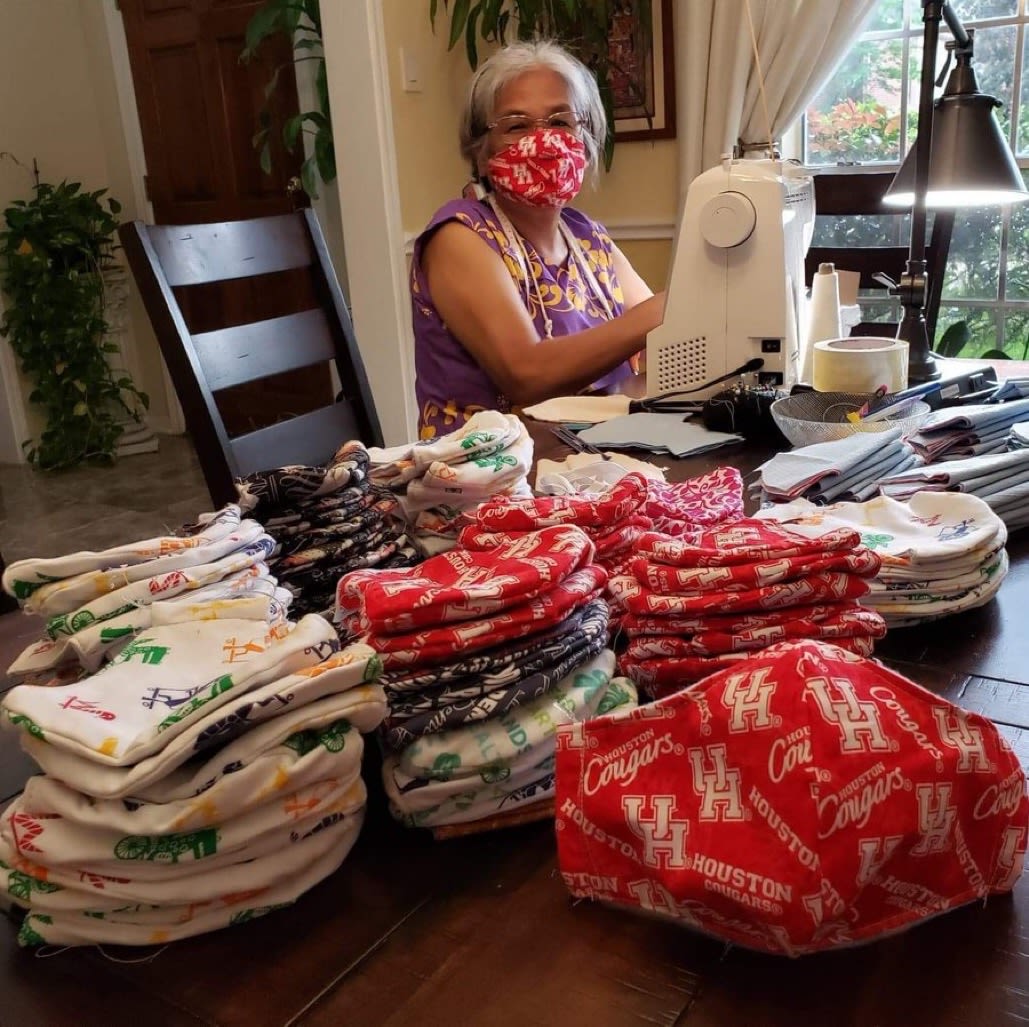 When a crisis hits Houston, Holly Davies looks for opportunities to volunteer on the front lines. During the devastating "Tax Day" and "Memorial Day" floods in 2016, and Hurricane Harvey the following year, she managed thousands of volunteers from around the world to provide food, shelter and financial assistance to victims. But with her energy so focused on helping others, Davies acknowledged it was easy to overlook her own needs."I was lucky we had mental health experts watching our backs while we watched everyone else's," Davies said. "The shelter cooks would stand in front of volunteers with a plate of food to make sure we ate."
With her flood-related volunteer efforts behind her, Davies is hunkered down at home like millions of others during the COVID-19 crisis. She can't help but think of the unimagined strain facing first responders with the well-publicized shortage of personal protective equipment. But it's not just doctors and nurses who need PPE.
Davies, a long-time sewer with a home full of fabric, is one of nearly 50 volunteers to step up and sew masks for the University of Houston Graduate College of Social Work mask drive, launched in early April to help social workers, and eventually their clients. Half of the volunteers are alumni while the other half consists of faculty, staff and students, like Davies, who expects to graduate this fall.
"Sewing has always been my self-care activity, but now I'm doing it to care for others. During emergency times, it's important that everyone helps," said Davies, who has already sewn more than 250 masks for various grass roots mask drives with no plan to stop anytime soon. Her three sons have helped too. "A lot of people are working together to fill all those gaps."
Social workers are often overlooked members of the "front line," still providing essential face-to-face services for children and families who are especially vulnerable to both the health effects and social consequences of the virus.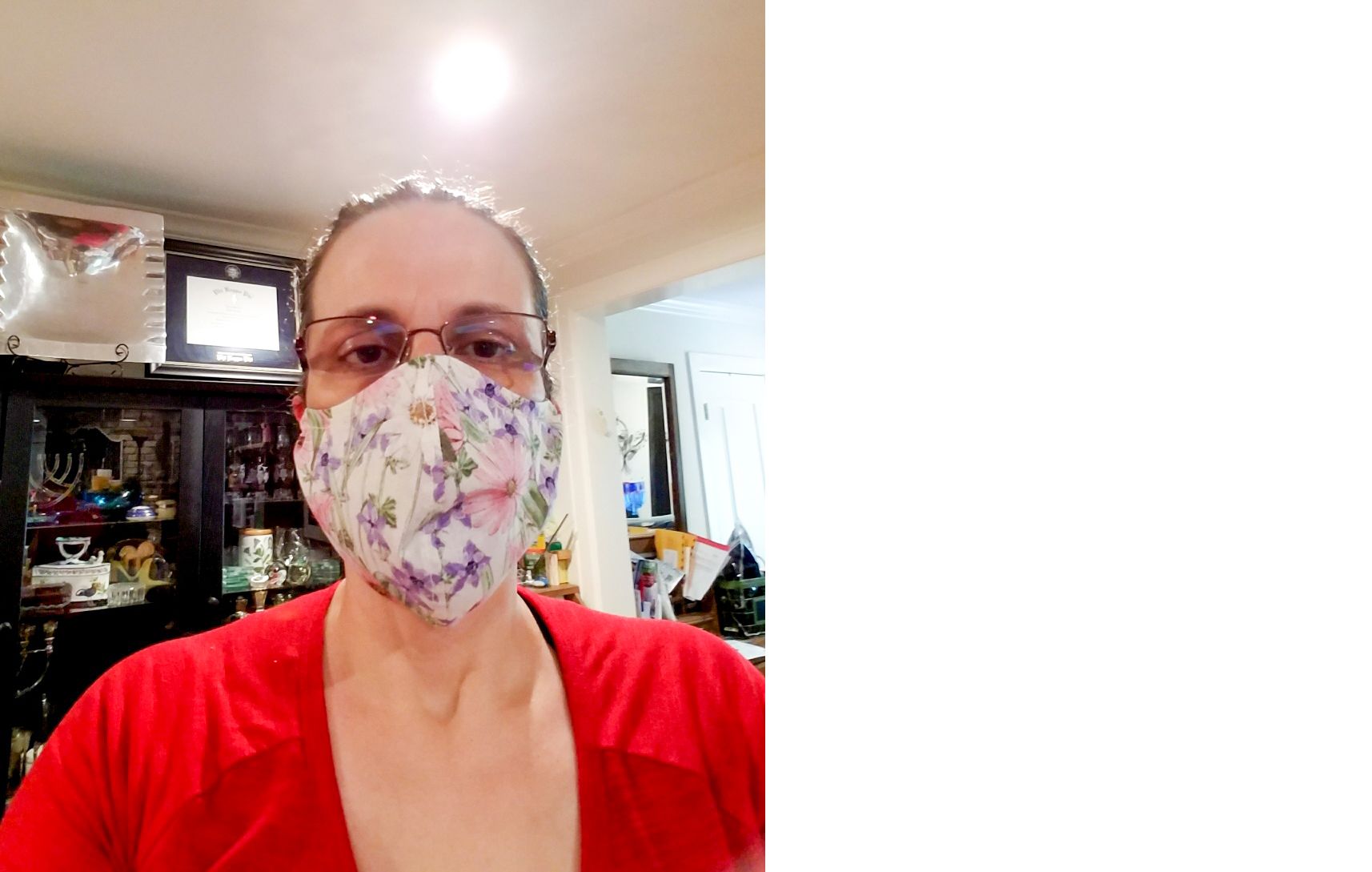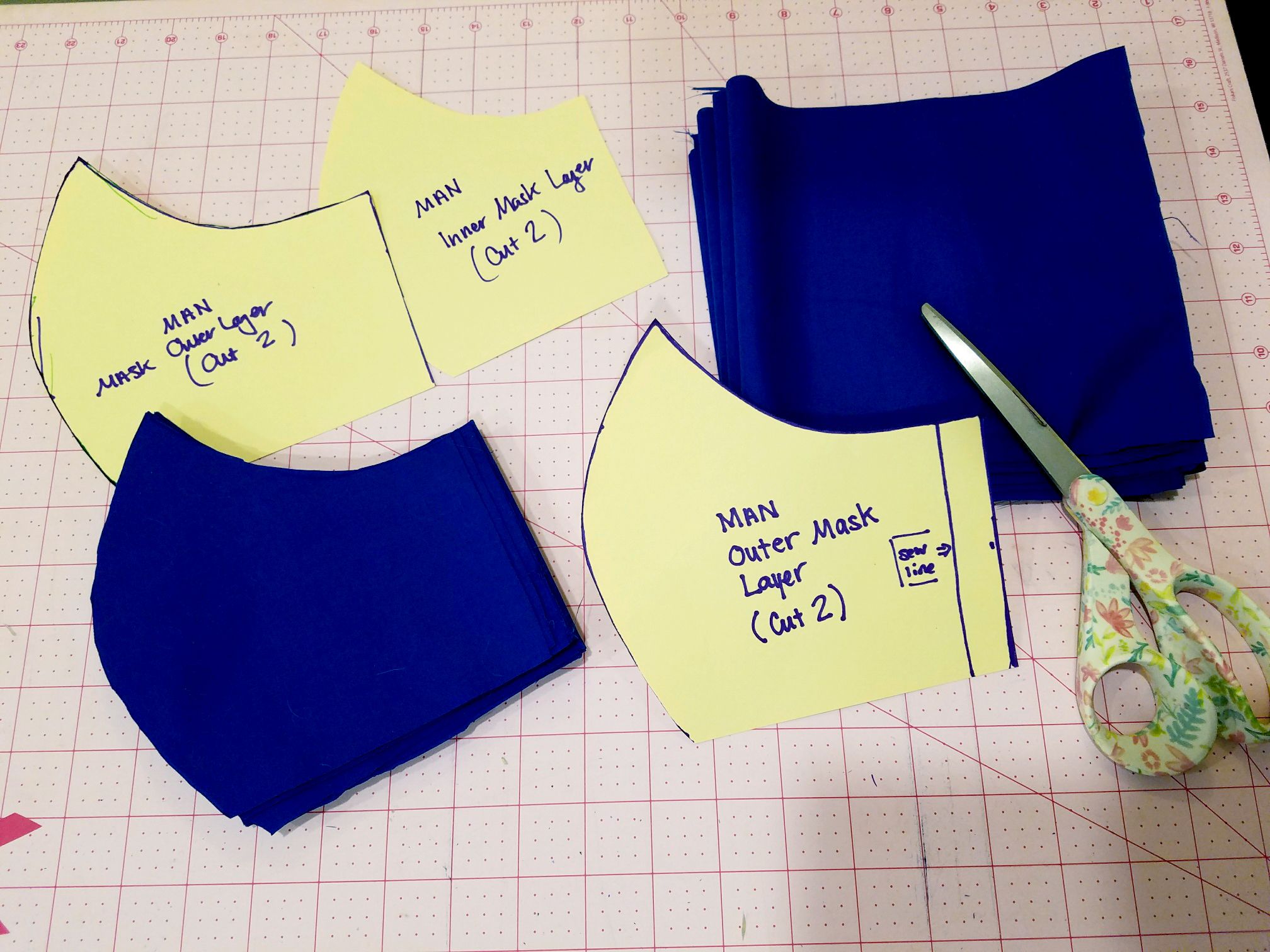 McClain Sampson, associate professor of social work whose research focuses on health promotion for mothers, is leading the charge to identify and distribute masks to Houston area agencies that serve victims of domestic violence, child welfare and the homeless. "As you can imagine, there's an endless need because we're trying to promote the best way to lower risk of spreading COVID-19, which is everybody wearing a mask," she said.
More than 300 masks were delivered to nine agencies in just the first week of the GCSW drive, and the need is growing every day, according to Sampson. Every time the college posts the need on social media, more volunteers sign up. "Our goal was to do something fast because time is of the essence, and we're really touched by the response."
The Houston Area Women's Center, working to end domestic and sexual violence through advocacy, counseling, education, shelter and support services, received one of the first shipments.
"It is heartwarming to know the social work community has our backs and is looking out for our care and safety. As essential staff at HAWC, we are on our own front lines serving a vulnerable population. Thank you to the UH GCSW! We are so grateful," said Aly Jacobs, director of counseling and advocacy.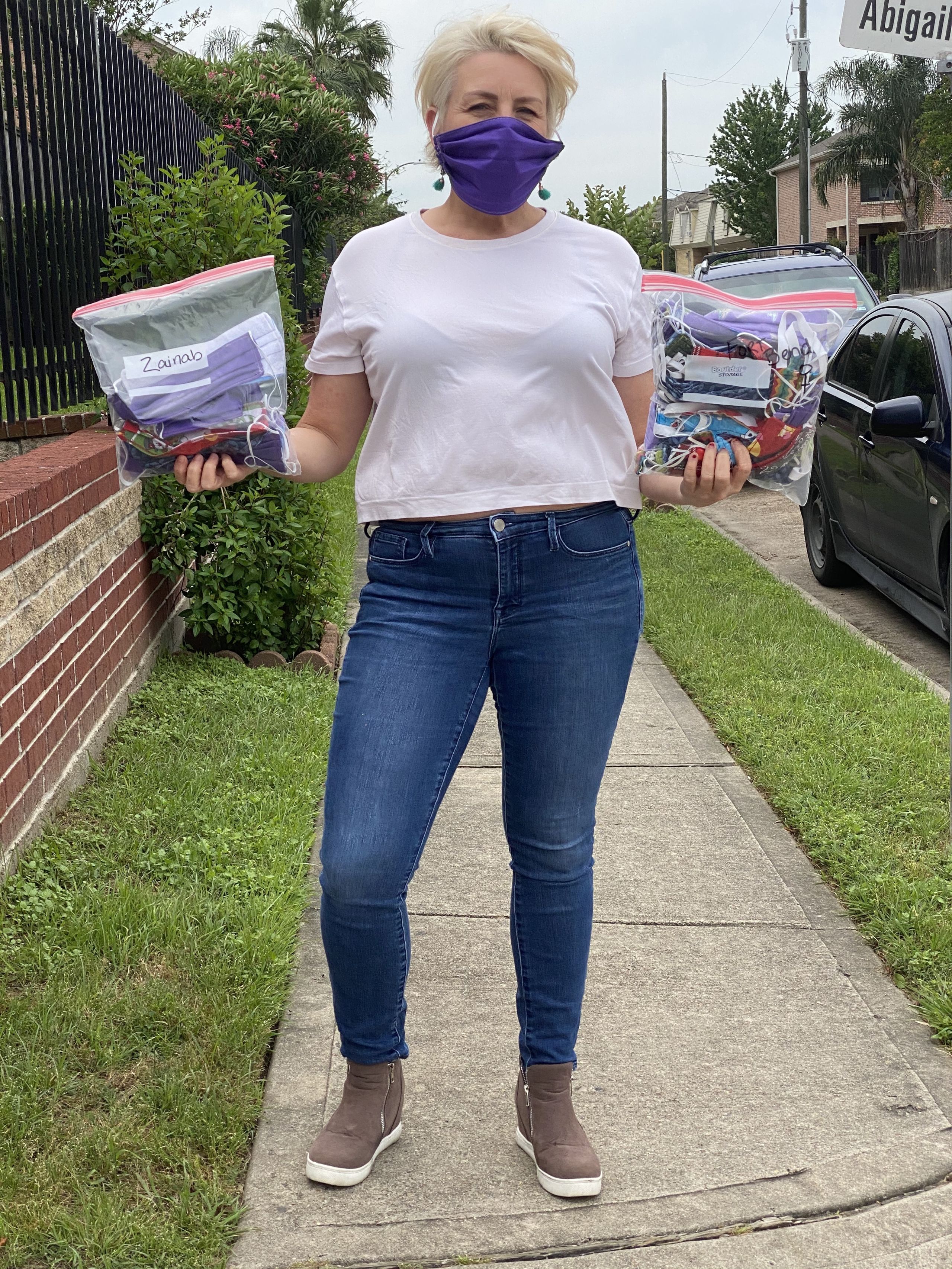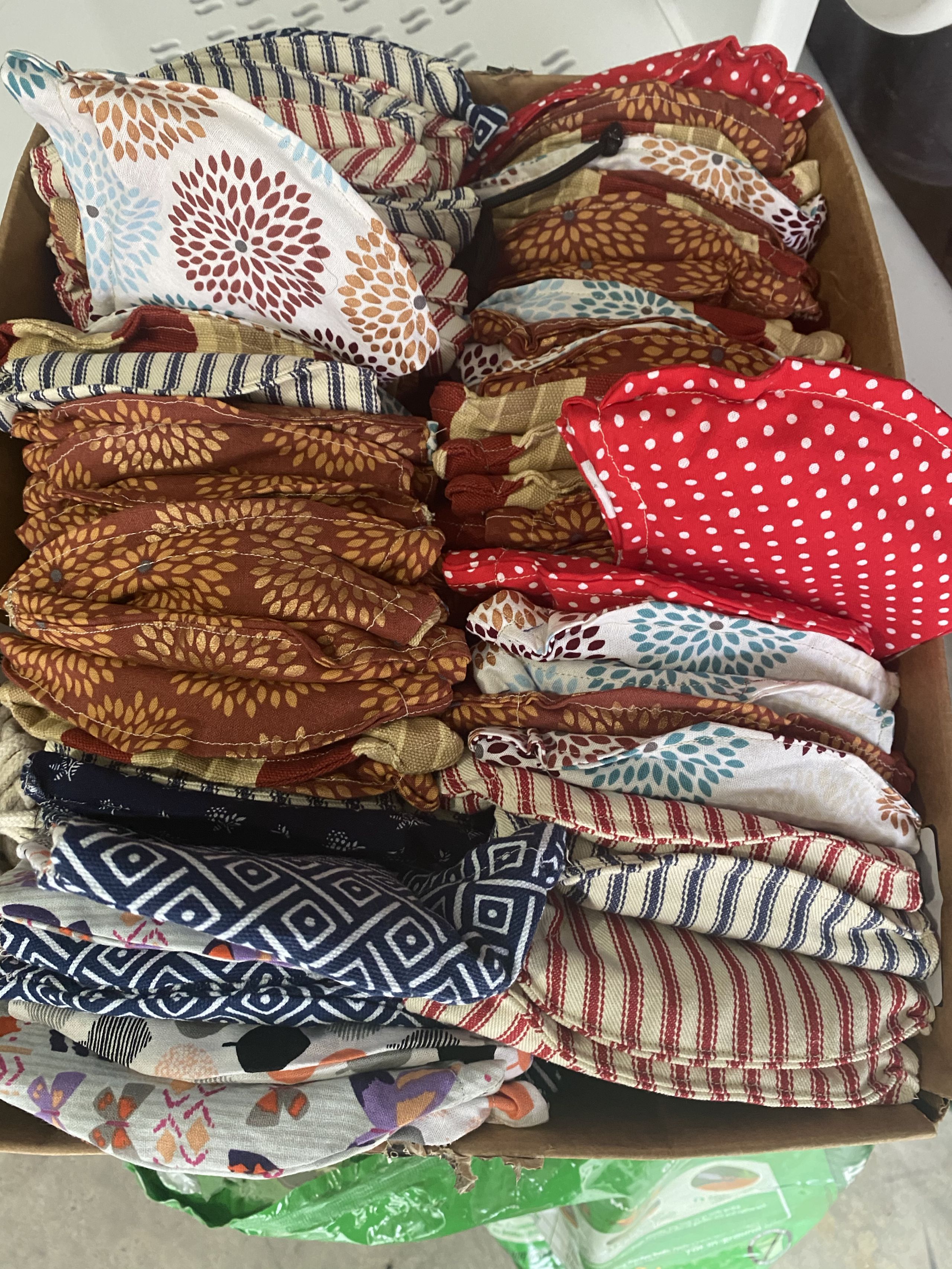 Much of the mask material has been donated, while some volunteers are using their own. Elizabeth Wingfield, administrative assistant to GCSW dean Alan Dettlaff, has "yards and yards" of Cougar red fabric she bought to sew costumes for cosplay – she and her husband dress up as fantasy characters from video games or historical periods. Now, instead of sewing the "Red Mage" costume from Final Fantasy as planned, she's making bright red masks. "The joke is that sewers will never run out of fabric because we always buy fabric whether we have a project or not. I'm just happy I can help."
After taking several online mask-making tutorials, she's had to improvise a bit because some supplies are hard to come by, including elastic for ear loops. So instead, she sews strings to tie in the back. And what about an alternative for those metal nose pieces? "Pipe cleaners," Wingfield said with a giggle.
While the masks fill a desperate need for first responders, the act of sewing fills a need for volunteers too. "I needed to take my mind off watching the news. It helps me connect with people, and I think that's what we need most of all right now," she said.
Wingfield, who is five months pregnant, is perhaps most connected to her husband, who isn't much of a sewer, but is quite skilled on the 3D printer. However, instead of printing plastic swords for cosplay, Evan Pollino, a graduate of the UH College of Technology, is 3D printing face shields for health care workers.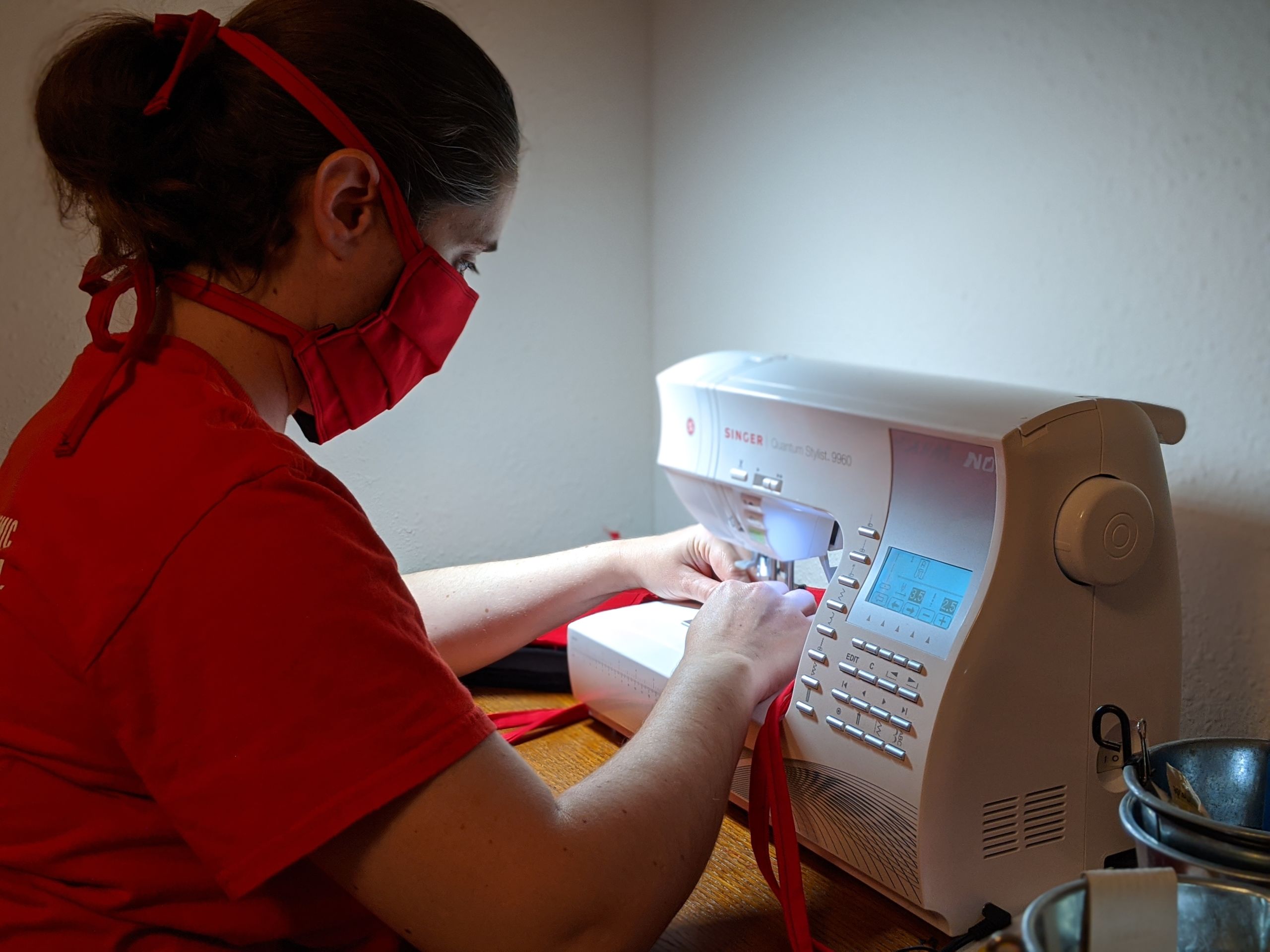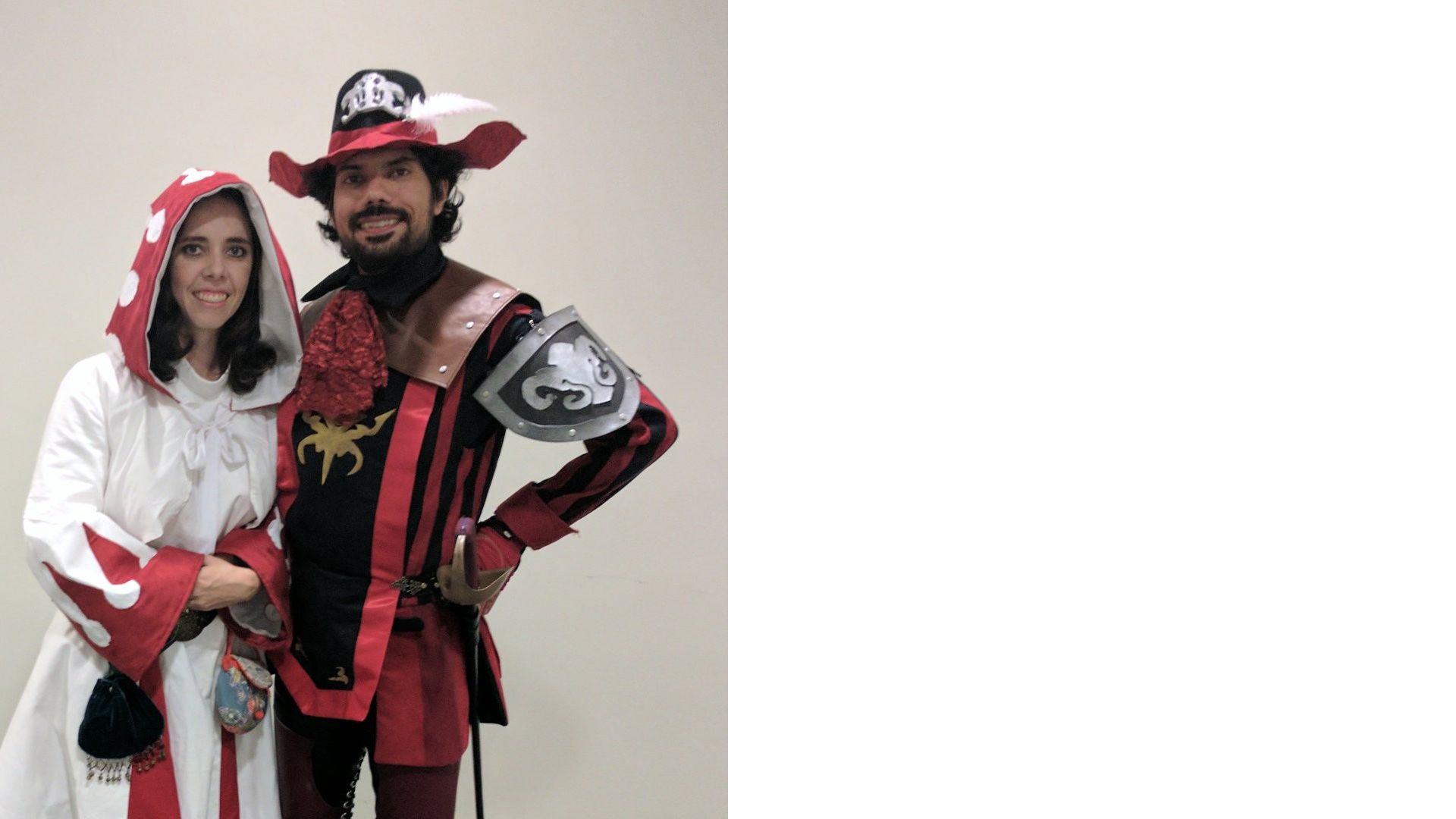 Sewing masks.
3D printing PPE.
Staying home and keeping a safe social distance.
All ways to support those still fighting COVID-19 on the front lines.
As for Elizabeth and Evan, they're expecting a baby girl in August. Until then, expect her sewing machine to keep humming. "I don't think the need will go away for a long time."
---
A communication by the University of Houston Division of University Marketing and Communications.
Story Credits
Written by Chris Stipes
Photo editing and digital story design by Jessica Almanza and Ben Corda
Photographs courtesy Luz Borja, Holly Davies, Elizabeth Wingfield and Connease Warren.
Do you have a story idea you'd like to share with UH? 
Email us at stories@uh.edu. We regret that we cannot respond to every submission. If your submission is a good fit, we will follow up with you directly.