A VISION FOR THRIVING, SUSTAINABLE GLOBAL COMMUNITIES
UH Architecture Students Present
'City of Refugees' with World-Renowned
Ai Weiwei at Aedes Exhibition in Germany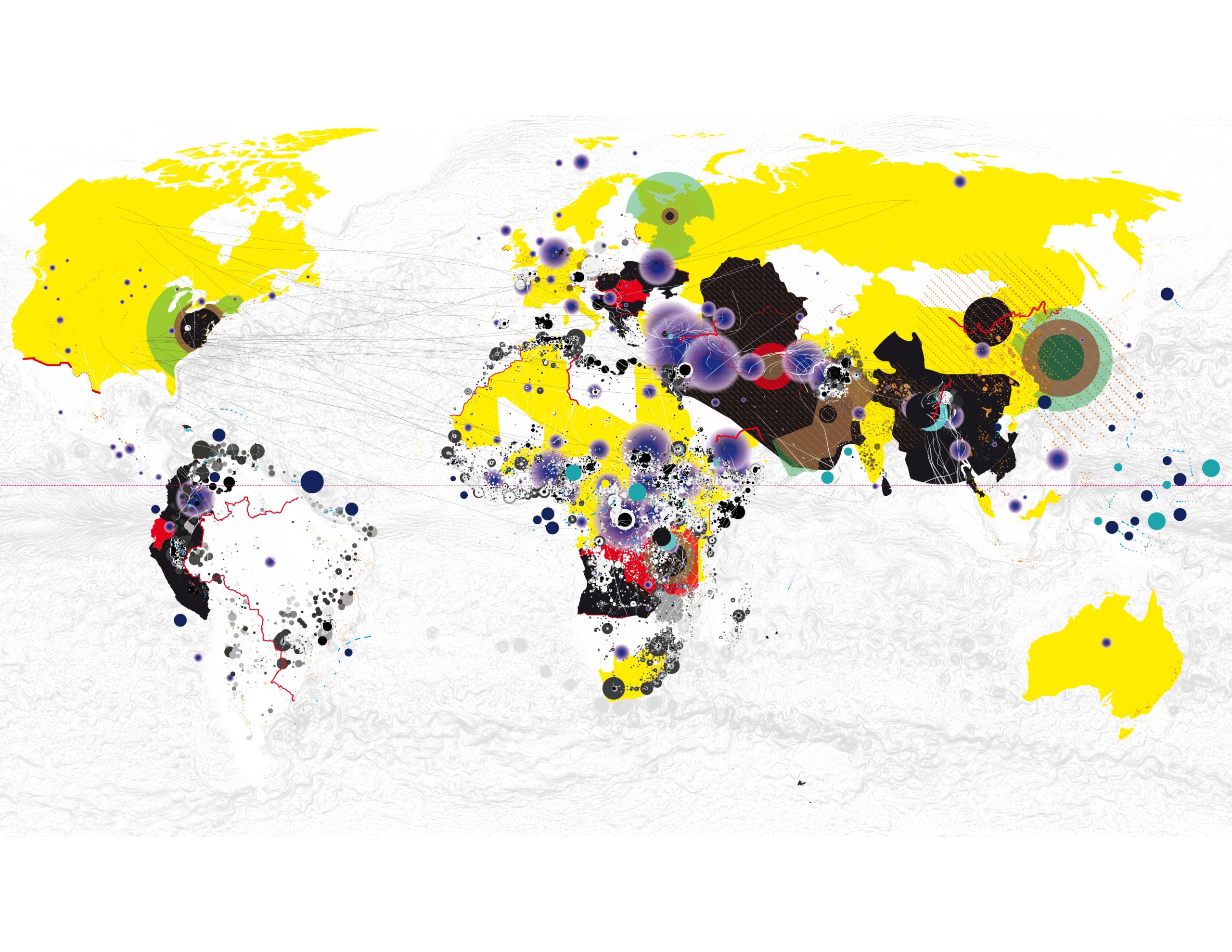 Ai Weiwei's path from artist to one of the most influential social activists of our time has been paved in personal experience. From growing up in a Chinese labor camp to later being exiled with his family, Ai lived in harsh conditions until a teenager. Living conditions of refugees around the globe and themes of human ingenuity and resilience despite the most extreme circumstances are at the center of a tandem interactive exhibit with Ai Weiwei and the University of Houston Gerald D. Hines College of Architecture and Design at the prestigious Aedes Architecture Forum in Berlin, Germany.
"City of Refugees," an exhibition presented by UH architecture students, and "Purgatory," the art installation by Ai Weiwei, together turn the spotlight to challenges faced by refugees and offer solutions to building self-sustaining and thriving refugee communities across the globe. 
"In the camps at Bangladesh the houses are lightboxes, there is pouring rain, but inside it is not hot and it stays dry," said Ai Weiwei, about the living conditions refugees experience. "To think these odd buildings with no cost and made of bamboo, much of it built by non-architects, is created by people with waste materials and everything is so intelligent."
Building a City of Refugees
The problems embodied by Ai Weiwei's "Purgatory" inspired "City of Refugees" and a three-year intensive sequence of design studios led by Hines College professors Peter Jay Zweig and Gail Peter Borden, both fellows of the American Institute of Architects (FAIA). The project centered on developing a provocative approach to proposing four prototypical refugee cities of varying sizes on four continents, ranging from 50,000 to 500,000 people.
"I fell in love with the idea of a city for people that have been impacted by problems in their own countries."
Carlos Soto ('20), has a personal connection to the project. "When this assignment began in 2017, people from my home country of Venezuela were leaving on foot to escape to Colombia. They were stuck in limbo between their drastically changing homeland and a place they were not used to."
"City of Refugees" reinterprets Thomas More's 1516 book "Utopia," in that it represents a place transcending the fate of those who have been displaced from their homeland. The concept of the refugee city developed by the UH team is built upon universal architectural principles and local traditions openly welcoming migrants looking for a place to be free and act independently.
"The blending of local and social customs with the imported influx of refugees creates an environment that is committed to the idea of a 'pledge' given upon arrival to the city, for social acceptance through community volunteer programs, self-empowerment, education, shared communal kitchens and work spaces," said Zweig.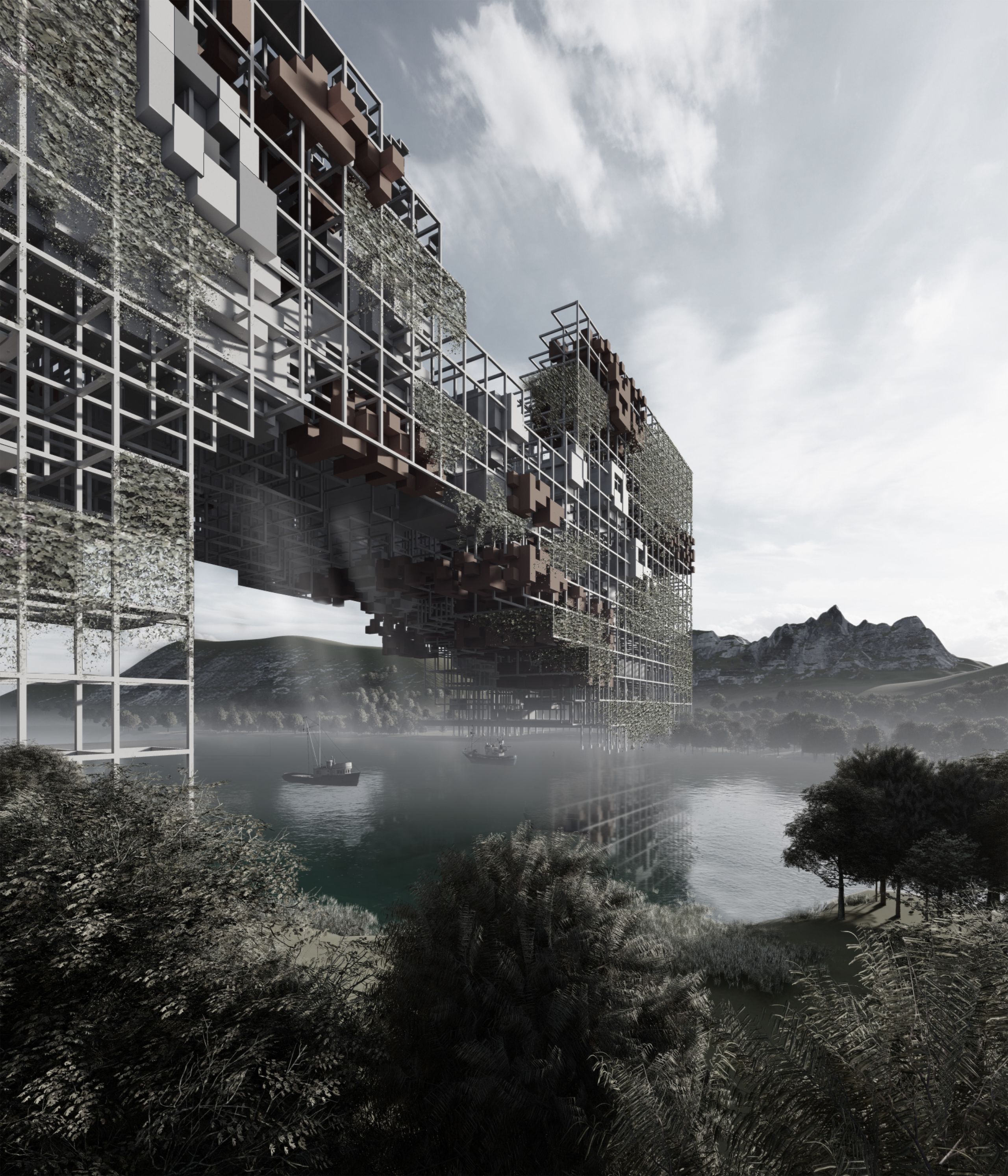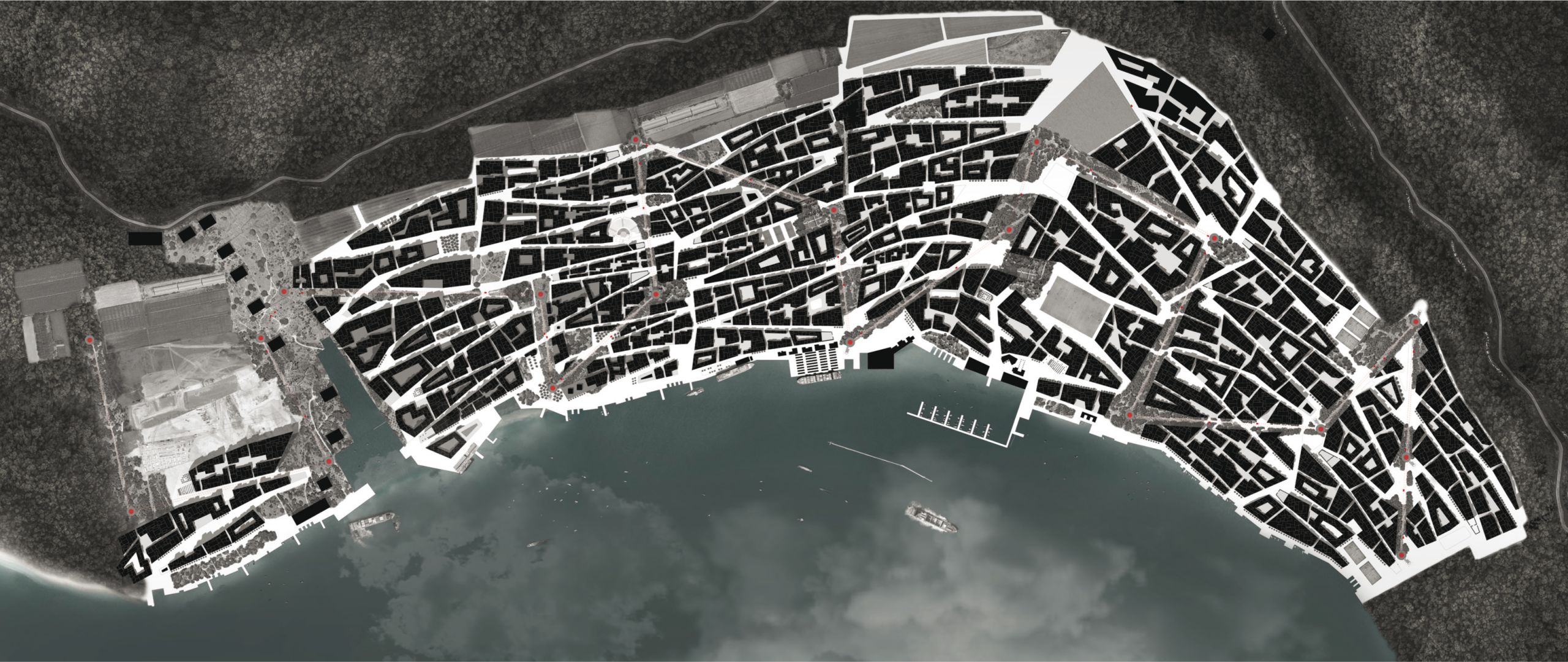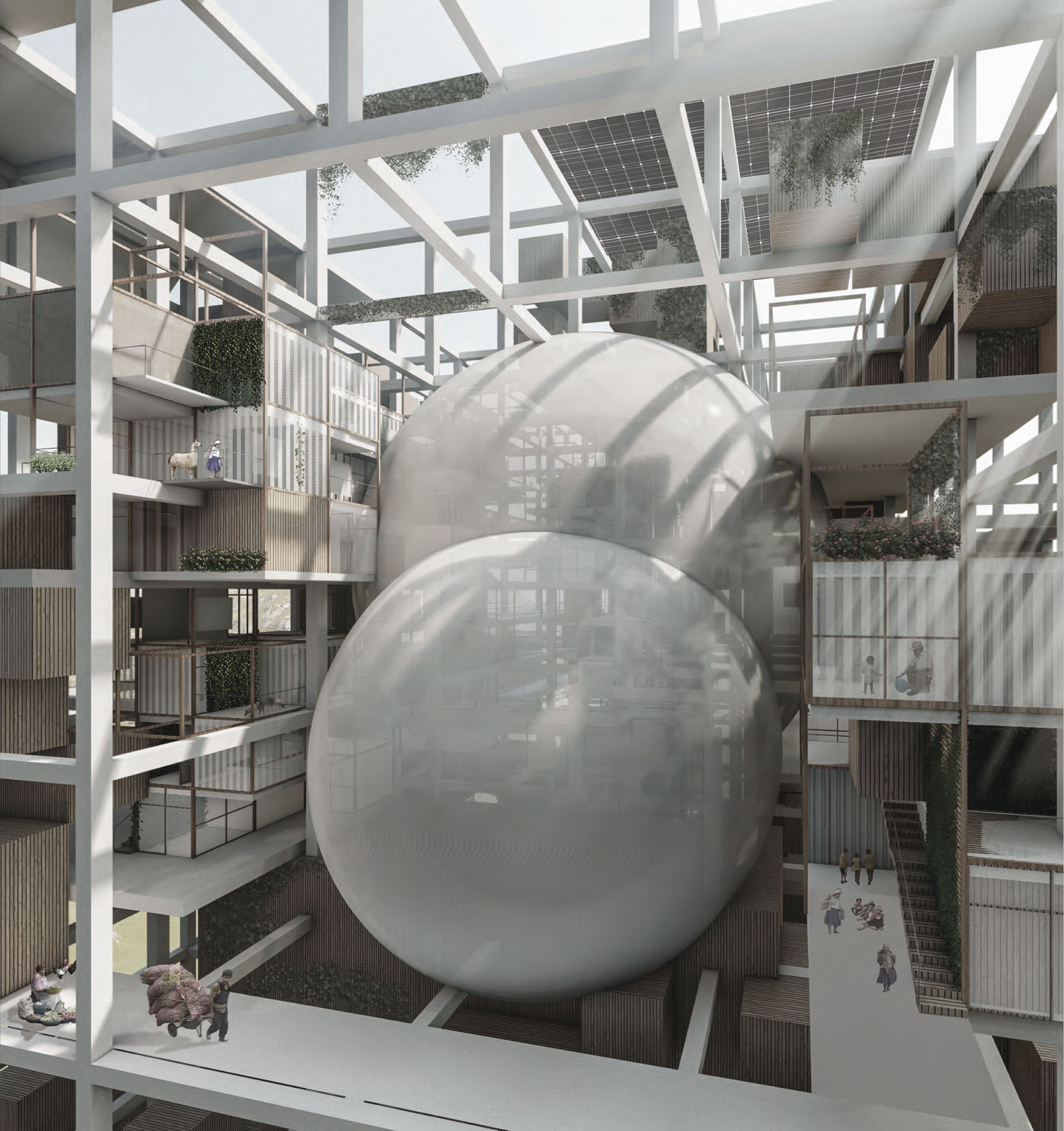 "Bridge City" interior perspective
"Bridge City" interior perspective

"Upcycle City" aerial perspective
"Upcycle City" aerial perspective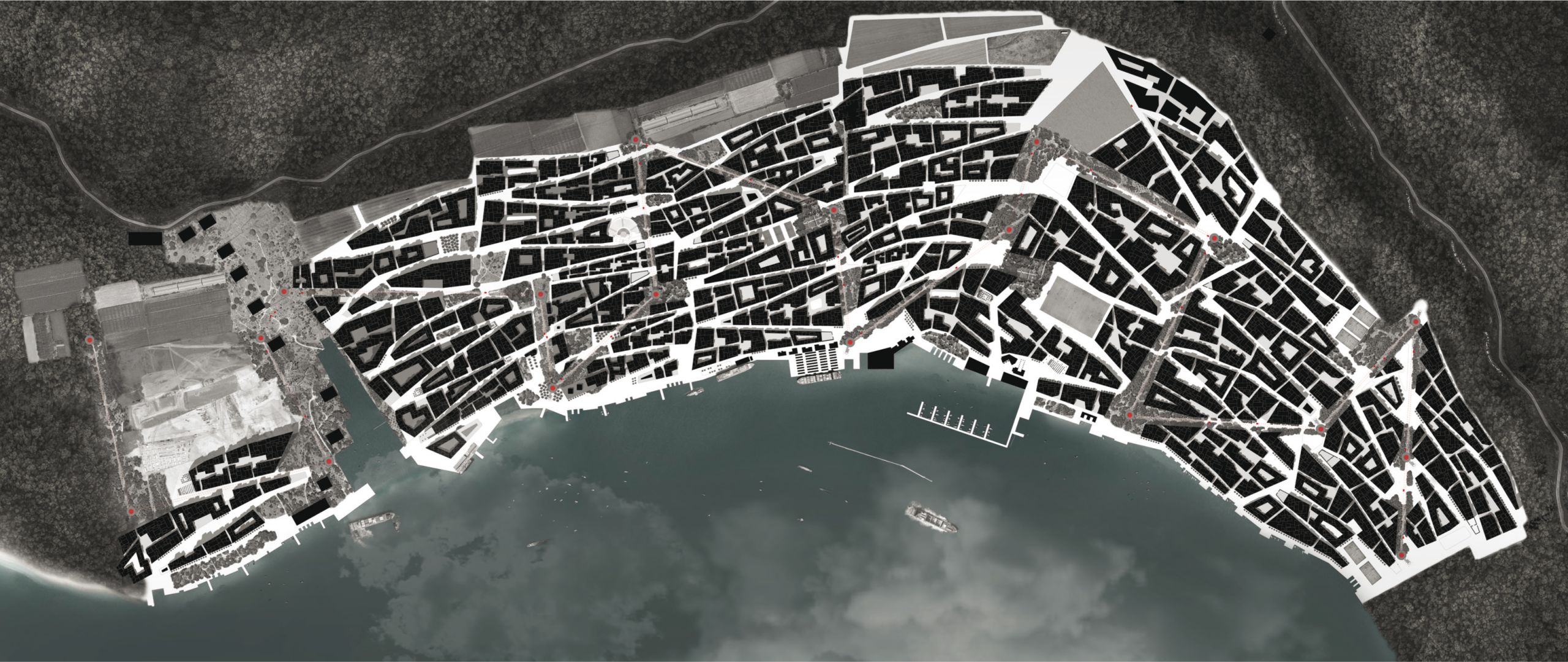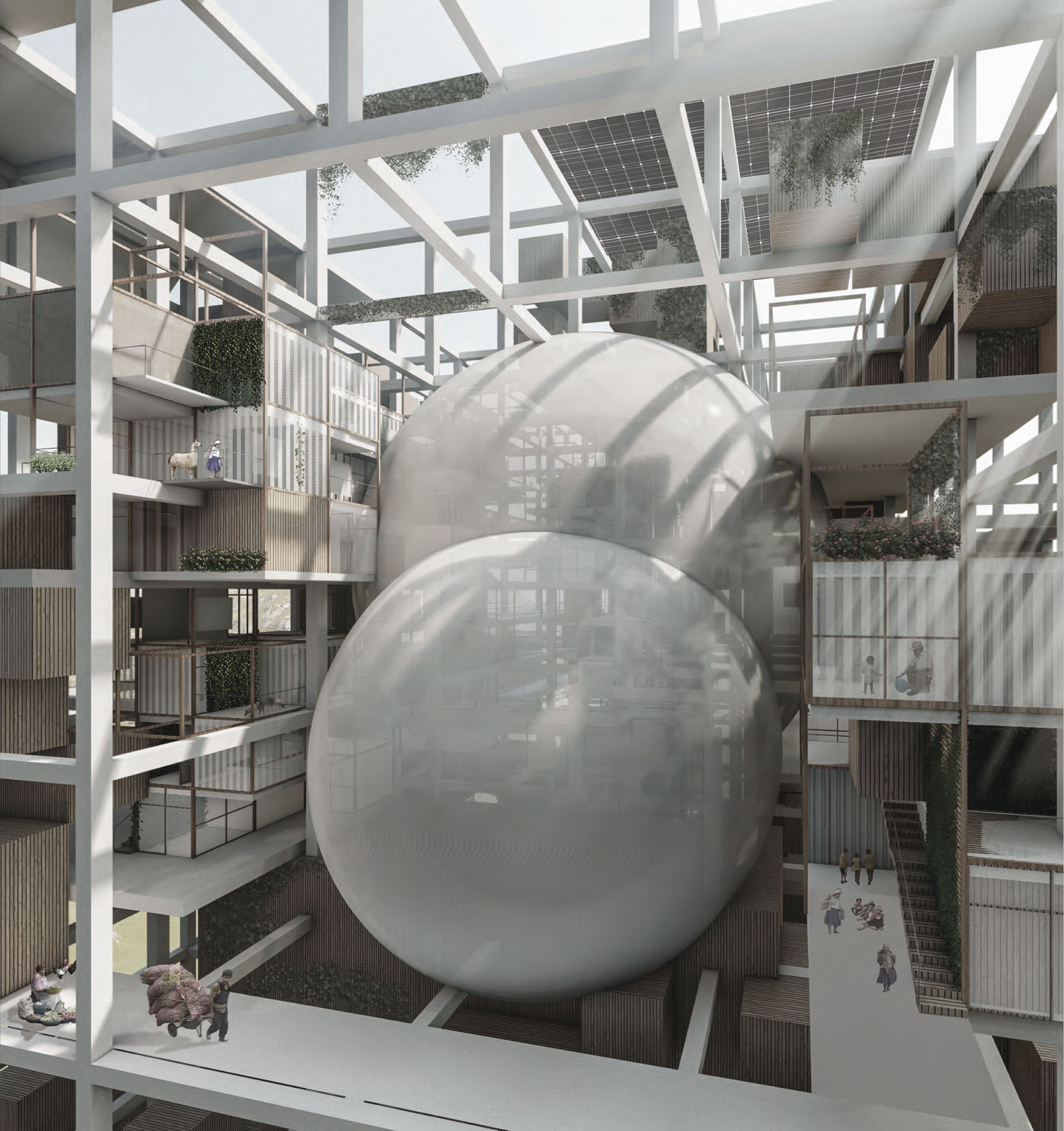 "Bridge City" interior perspective
"Bridge City" interior perspective

"Upcycle City" aerial perspective
"Upcycle City" aerial perspective
Four Cities
As United Nations-sponsored free economic zones, the four proposed locations in "City of Refugees" create a platform for a new multi-ethnic society based upon justice, tolerance and an economically viable net-zero environment. The cities are intended to embody world citizenship with an emphasis on education, health and responsibility – a place where people could come to create their own lives.
BRIDGE CITY (South America) – located on the Rio Santiago in Ecuador near the Peruvian border just south of the equator
gRADIANT CITY (Africa) – located on the east side of the Democratic Republic of Congo (DRC), on the edge of Lake Edward and on the border between DRC and Uganda
SWITCHBACK CITY (Southeast Europe) – located on the border between Serbia and Romania along the Danube River near the city of Tekija, Serbia
UPCYCLE CITY (South Asia) – located on the Coast of Bengal in Bangladesh near the border to Myanmar
In funding the establishment of these cities, students researched and analyzed the annual United States military defense spending, amounting to $700 billion. They found that one-quarter of one percent of the military budget could easily fund a city of refugees.
"A geometric infrastructure, partnered with indigenous material systems allowing for regional contextualism empowers residents to individually infill, develop and complete the urban fabric," said Borden, describing the impact of urban innovation on the project. "The result is an innovative, sustainable, evolutionary and interconnected community-based city."
While the exhibition features a 20-foot three-dimensional model, it takes on an immersive format extending beyond the physical models and drawings, welcoming participants to enter into an augmented reality that coexists with the physical exhibition.
"My hope is their investigation and proposals will inspire change and be a catalyst for action supporting refugees throughout the world."
"We are excited to exhibit again at Aedes as part of Aedes' 40th anniversary and with the highly respected and influential international artist Ai Weiwei," said Patricia Belton Oliver, FAIA, dean of the Hines College. "The work of our students and faculty on this exhibition is timely and the blending of traditional models and drawings with augmented reality offers an extraordinary experience. My hope is their investigation and proposals will inspire change and be a catalyst for action supporting refugees throughout the world."
"City of Refugees" is the Hines College's third international exhibition in the last six years, supported by the generosity of the late Gerald D. Hines. The exhibition is on display at the Aedes Architecture Forum, alongside Ai Weiwei's "Purgatory" through Thursday, Jan. 7, 2021.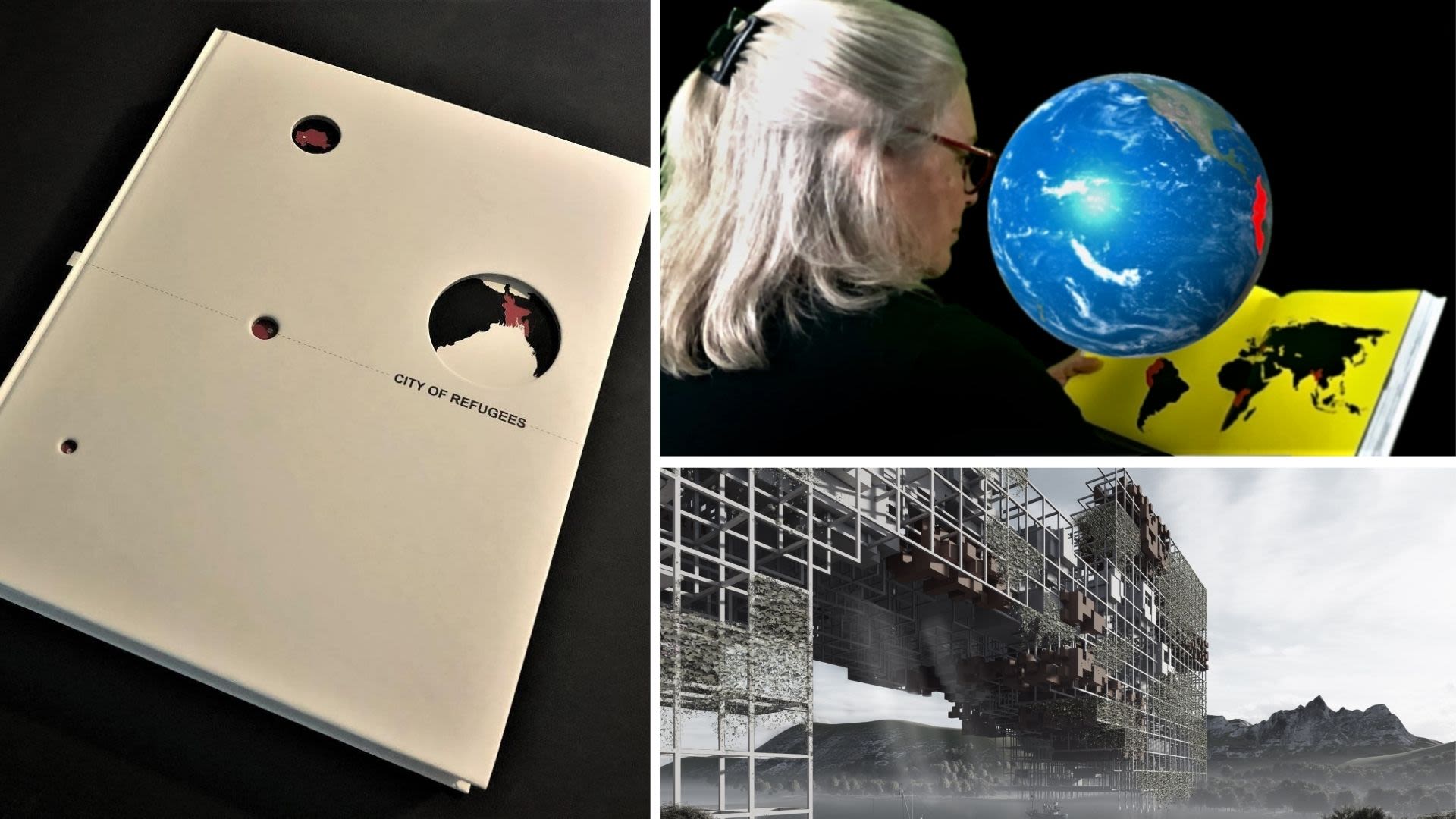 An accompanying "City of Refugees" book creates an immersive and interactive experience through the use of augmented reality layered throughout the traditional print publication.