AVANT-GOURD
A UH alumna takes a break from her day job to celebrate the season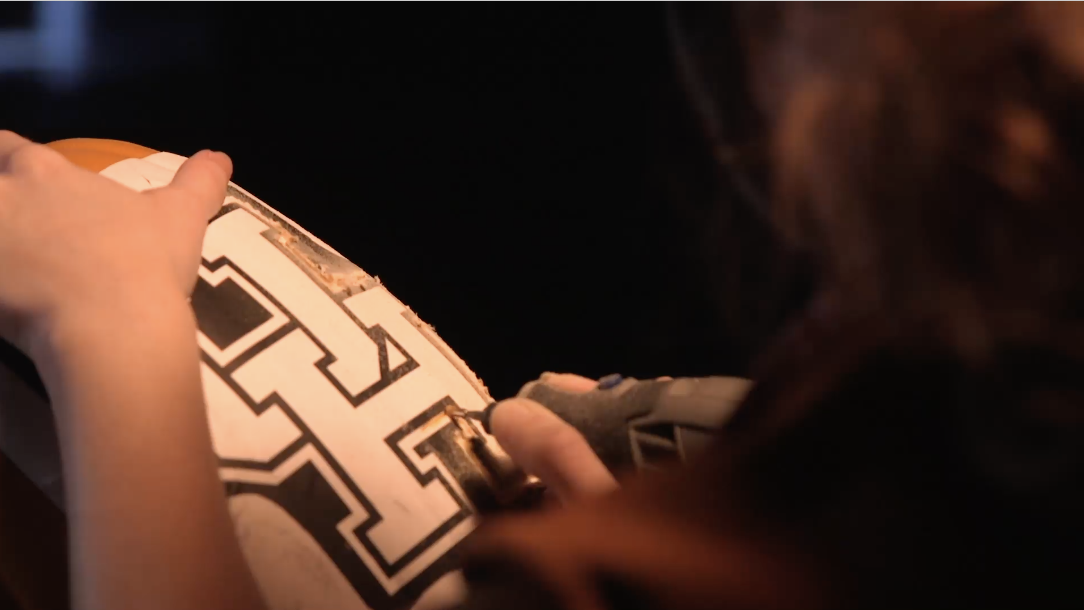 HOUSTON- Oct. 25, 2019 – As time for her favorite holiday drew near, Courtney Wunder reached for her mechanical drill.
It was time to get to work.
When other people might take up knitting or yoga to shake off the stresses of the day, Wunder puts on a playlist of spooky tunes and immerses herself in fantasy-inspired seasonal works of art, carefully etched into pumpkins and brought into high relief with a LED bulb.
If you knew Wunder as a biology major in the University of Houston's College of Natural Sciences and Mathematics – she was Courtney O'Connor then, before she married Blake Wunder – you might have seen her designs featuring Jack Sparrow, anti-hero of the "Pirates of the Caribbean" movies.
Newer versions showcase Harry Pottery, a wildly intricate version of the Hogwart's Castle and David Tennant from "Dr. Who." (Wunder also likes Jodie Whittaker, the latest female Doctor, but hasn't yet enshrined her in orange.)
She did a Houston Strong pumpkin in honor of people affected by Tropical Storm Imelda, and one featuring Peter Dinklage of "Game of Thrones" fame.
And in a case of life-meeting-art, Wunder had a pumpkin featured in an episode of "Critical Role," the web-based series based on the role-playing game Dungeons & Dragons, earlier this month. "That was pretty cool," she said.
Especially since she also plays D&D regularly with friends from her theater days at Pearland High School. "I was a nerdy kid," she jokes. "I'm still nerdy."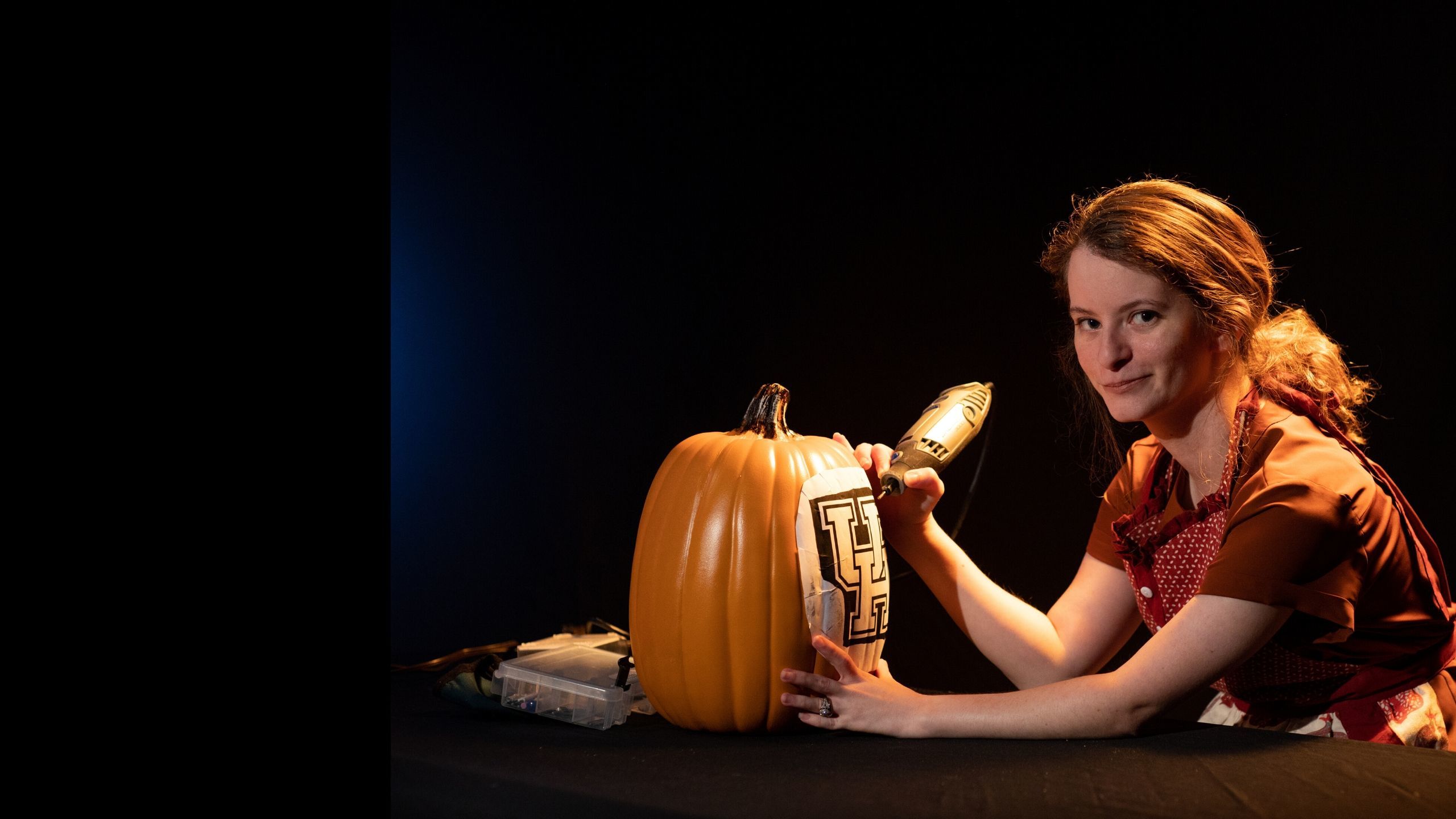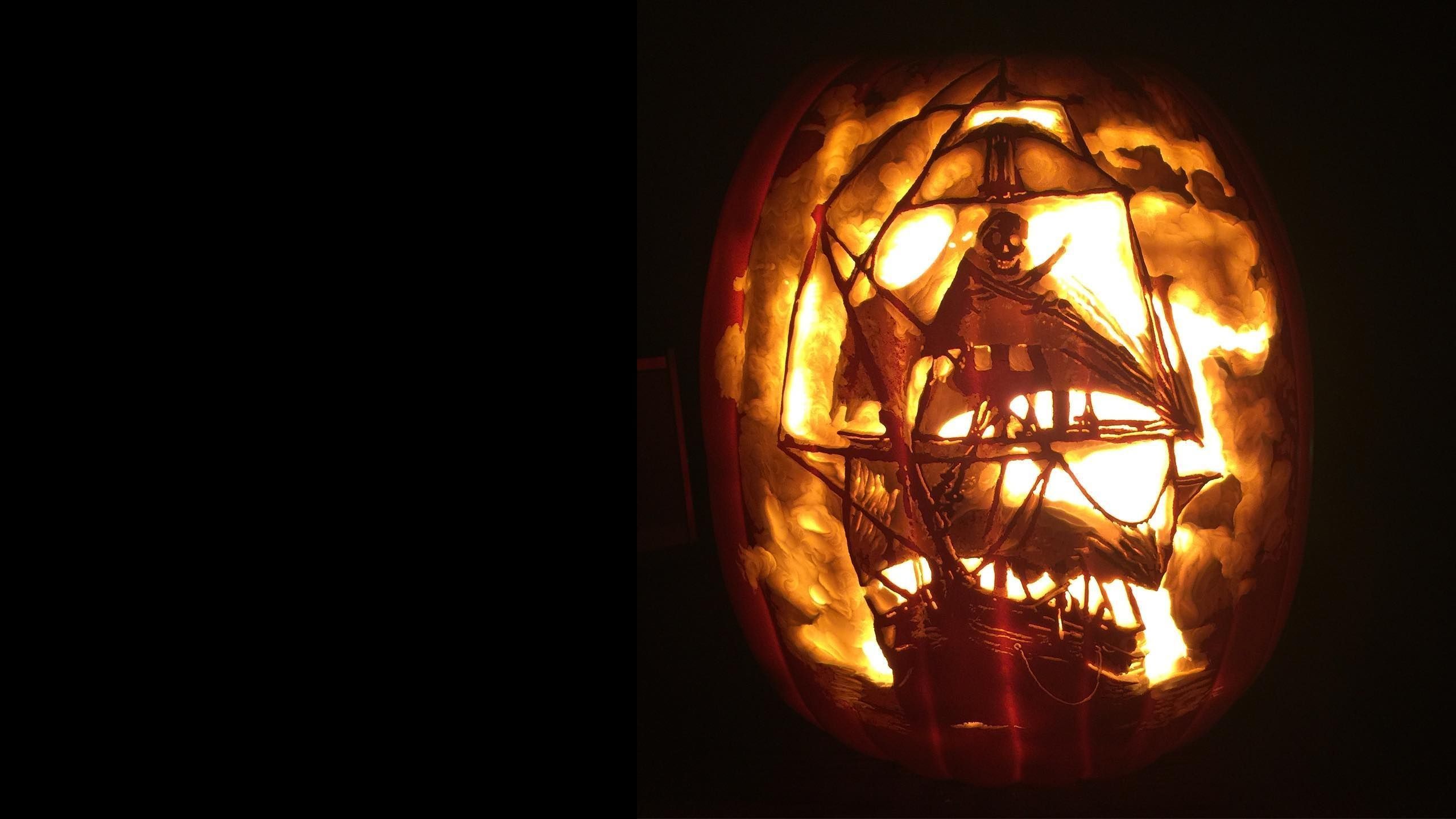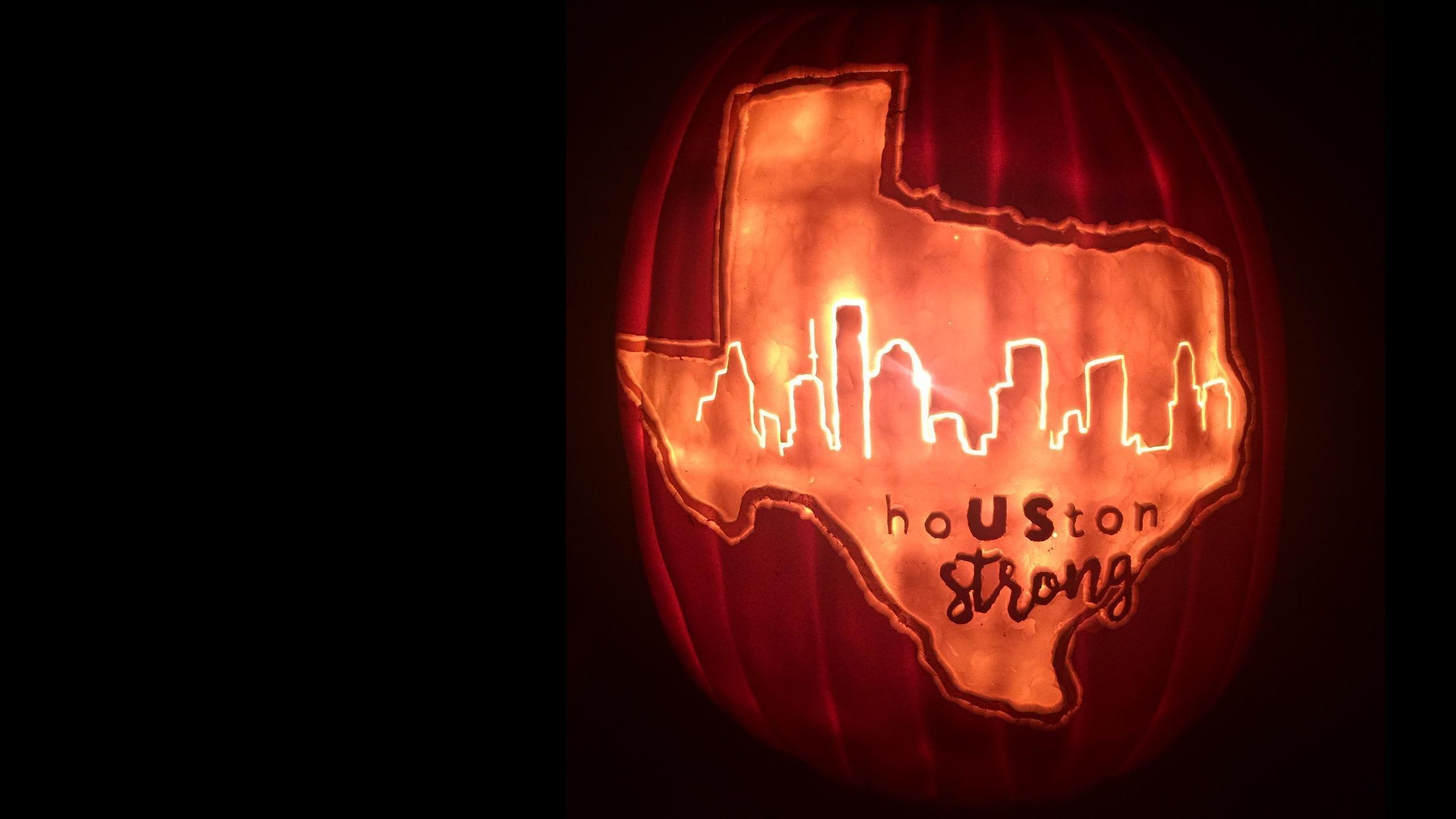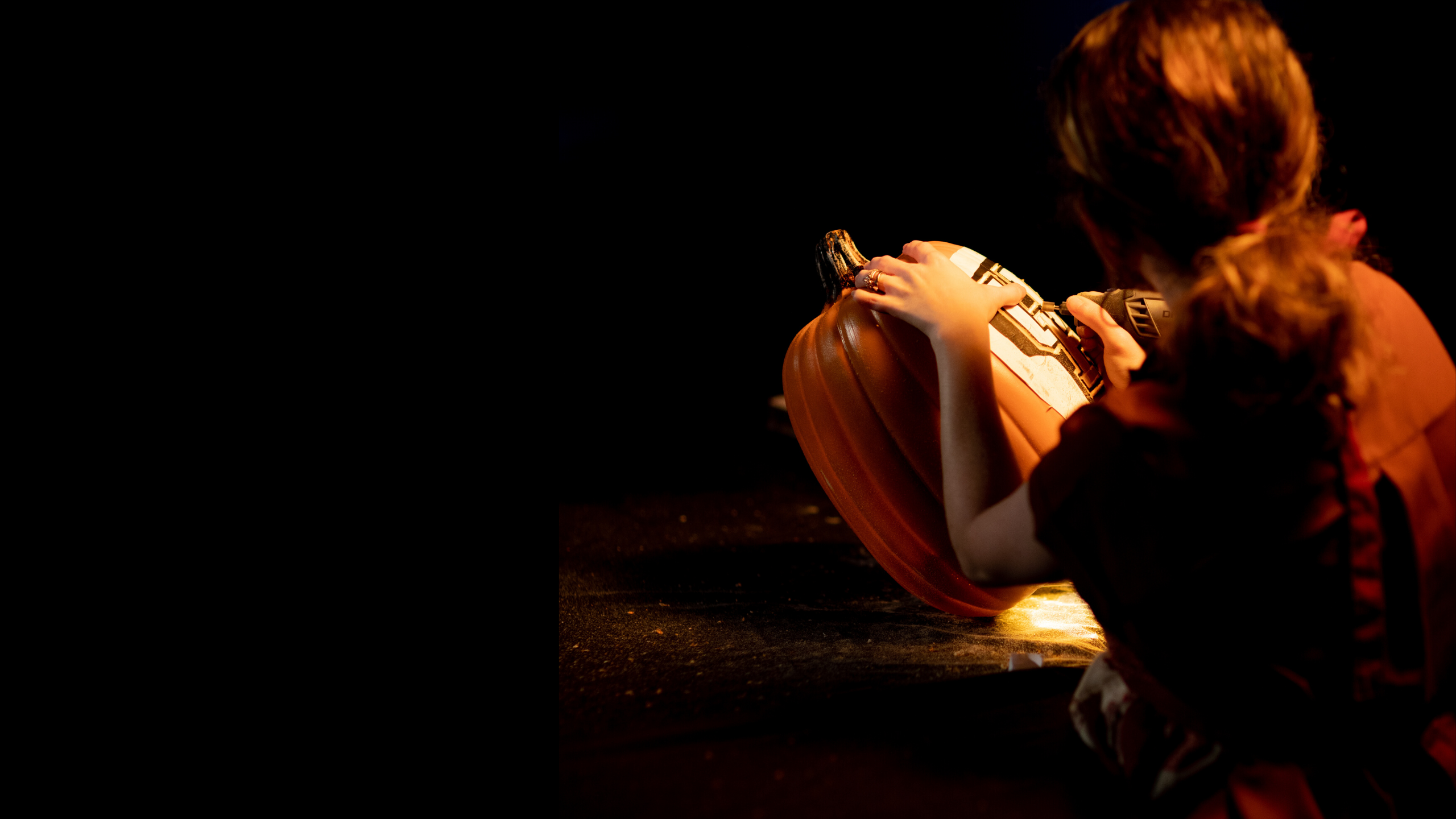 An artist working in a fleeting medium
She's also an artist, a long-time pumpkin carver who by middle school was creating her own increasingly complex designs.
By the time she got to college at UH – Wunder earned a biology degree from UH in 2011 and completed a second degree in molecular genetic technology from the University of Texas MD Anderson Cancer Center in 2013 – people were paying attention.
There was just one problem. Wunder worked with real pumpkins, and they were messy. Also fleeting.
"I would be really sad when they got moldy after just a few days," she says. "Thank you, Houston weather."
After spending hours on a carving for a friend, she wanted the work to last. Eventually she began experimenting with foam pumpkins, purchasing different types and styles from local hardware stores and hobby shops to figure out what worked best. Foam pumpkins, it turns out, require an entirely different touch, and Wunder today uses an electric drill with dozens of drill bits to choose from, depending on the look she's after.
Gradually, her work has gained attention. It's showcased on her Instagram page, @Wunderkinspumpkins, she's received coverage in the Houston Chronicle and Houston television station KHOU did a feature on Wunder and her work last year.
Or you might have spotted it at the Melting Pot, a fondue restaurant on Westheimer.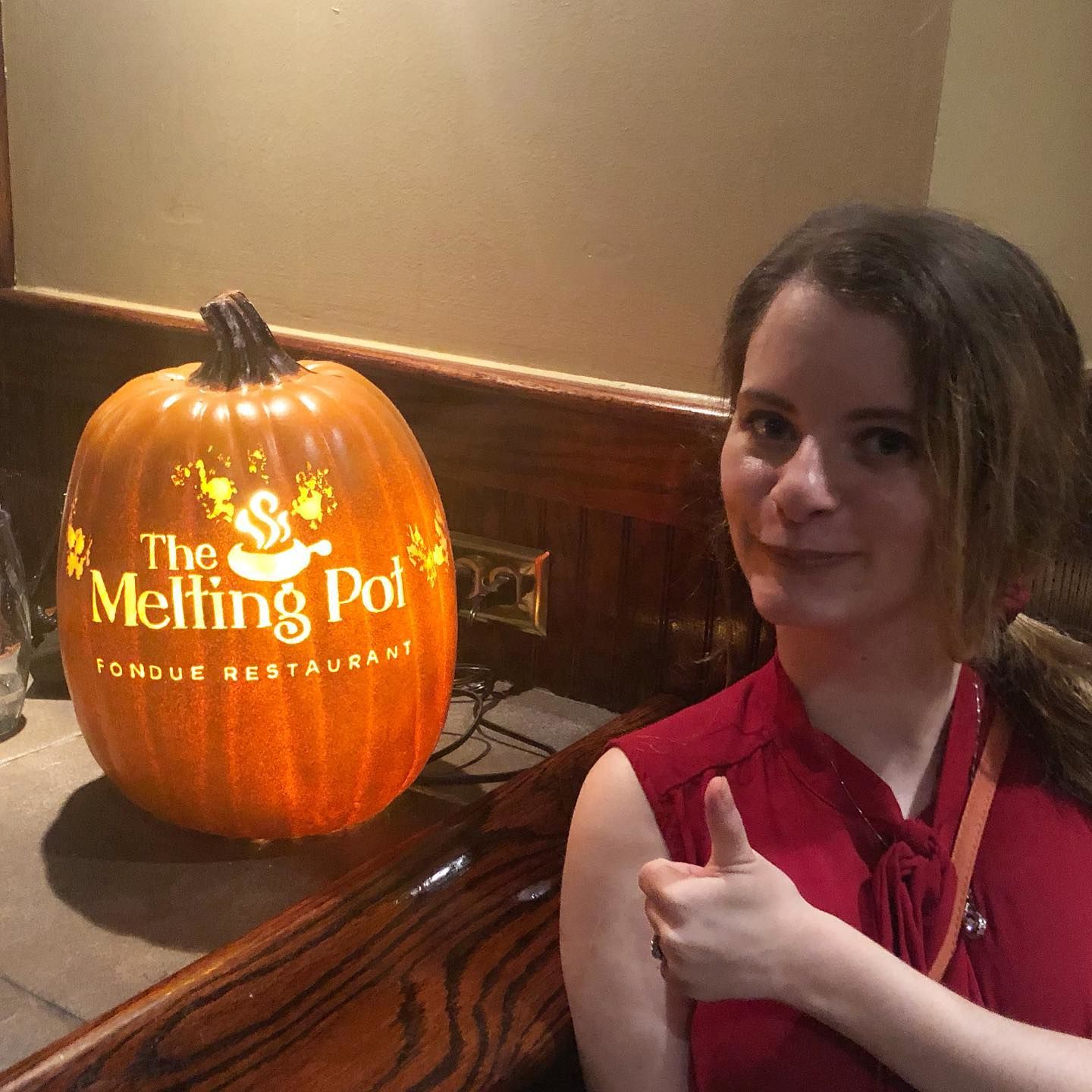 "People stop and take their pictures with it all the time," manager Gavin Bittick says. That's actually the second pumpkin Wunder has done for The Melting Pot. Bittick said the restaurant's owner, who lives in Nashville, saw the first and took it back for the Melting Pot there.
"He said, 'OK, you're going to have to get another one, because I'm taking this one,' " Bittick reports.
Painstaking focus and attention to detail
The pumpkins have one thing in common with Wunder's day job as a medical genetic technologist at MD Anderson: Both require strict attention to detail, something she says comes naturally. "I like creating order out of chaos."
Like her job, the carving rewards painstaking focus. But Wunder says the evenings and weekends spent carving are also a time to unwind.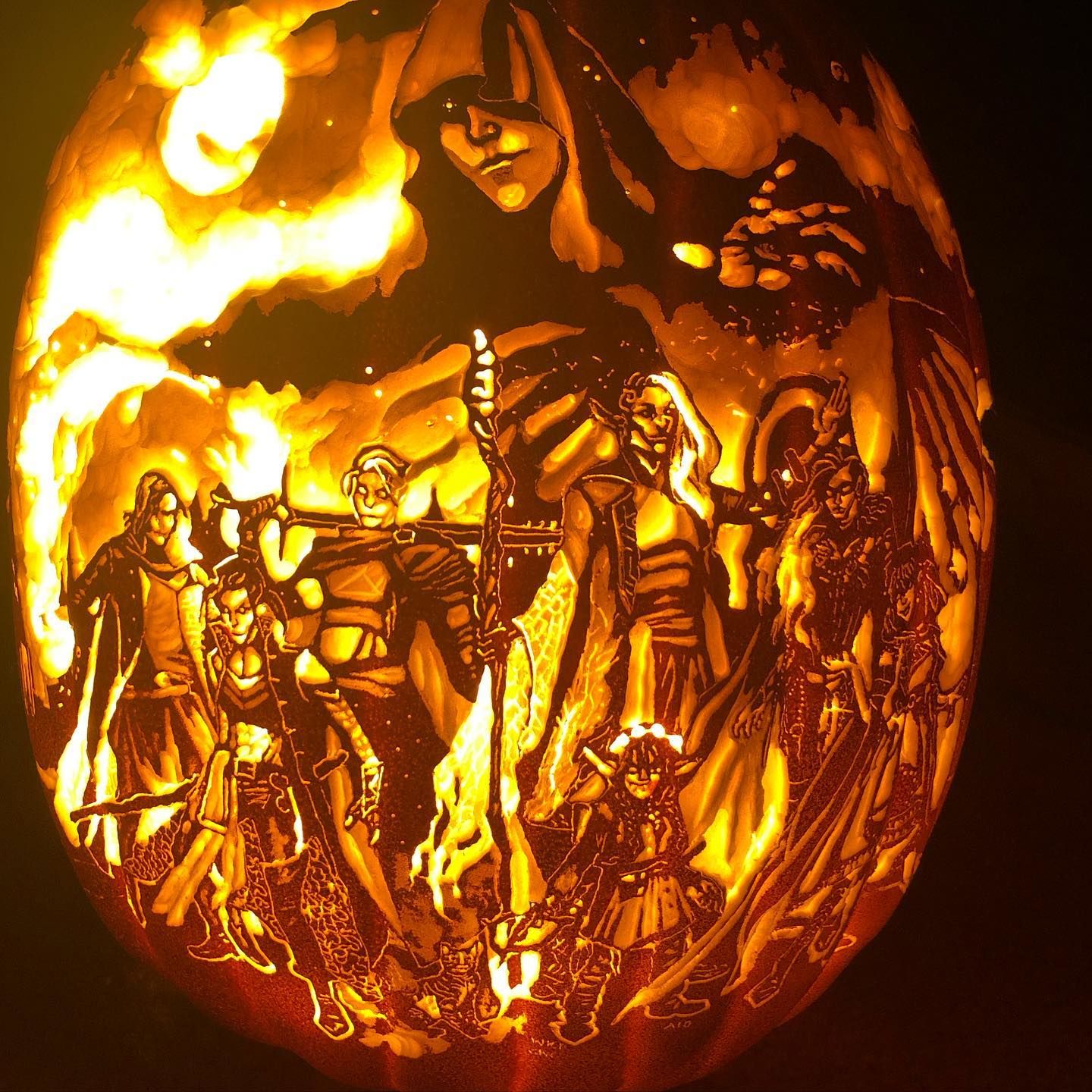 "It kind of relaxes me from the stress of the day."
This isn't put-your-feet-up relaxing. Instead, Wunder, her face covered by a mask to protect against flying foam dust, sits hunched over her latest project, moving the drill in smooth, steady strokes to slowly bring her vision to life.
Every few minutes she pulls back, clearing carving debris from the drill bit and returning to work.
Some projects are finished relatively quickly – the interlocking UH for her alma mater took just over an hour – while more intricate work can take 10 hours or longer.
And then, she bids the works goodbye, sending them off to friends, family and clients.
Halloween may be her favorite holiday, but Wunder's home isn't a pumpkin fantasia for trick or treaters.
"Most of the time I end up not having enough pumpkins carved to have any for my house," she says. "My goal this year is to do one for myself."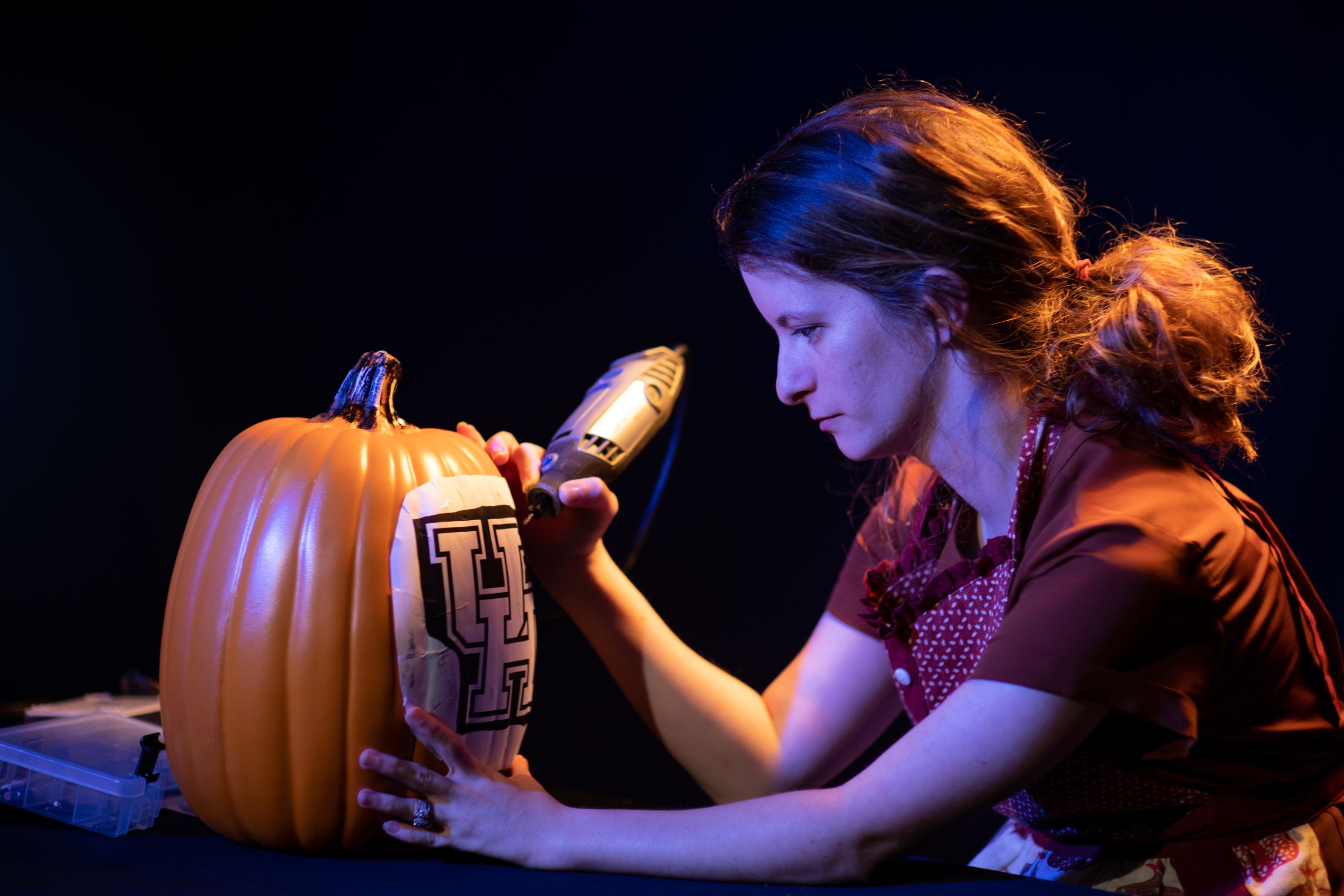 ---
A communication by the University of Houston Division of University Marketing, Communication and Media Relations.
Credits
Story by Jeannie Kever
Photography by Jessica Almanza and Ben Corda
Thanks to Wunderkins Pumpkins for use of additional photos
Videography by Aaron Rodriguez and Greg Ortiz
Layout by Shawn Lindsey
Do you have a story idea you'd like to share with UH?
Email us at stories@uh.edu. We regret that we cannot respond to every submission. If your submission is a good fit, we will follow up with you directly.