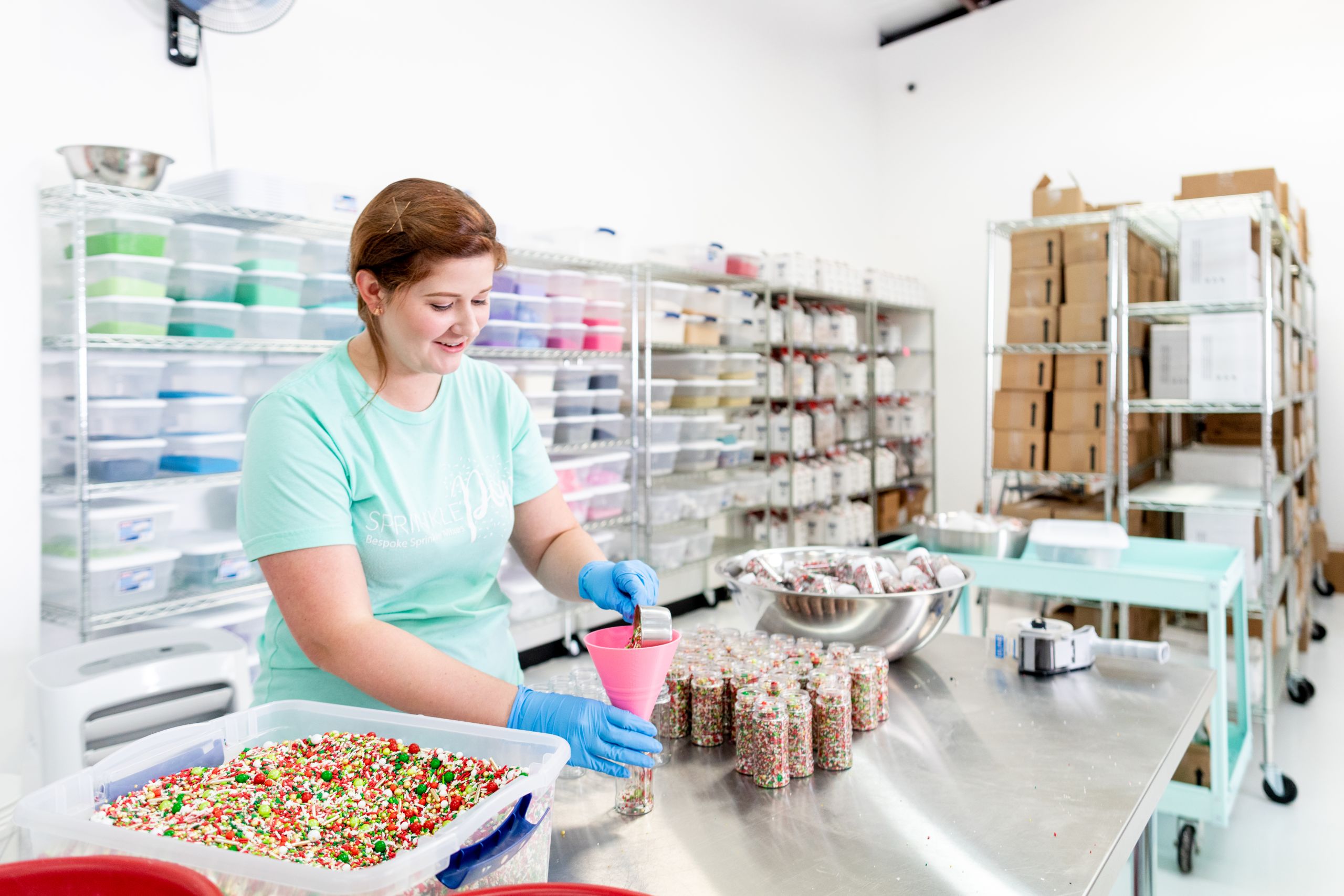 University of Houston alumna Elizabeth Butts takes on a challenge. So far, she's winning.
HOUSTON, Oct. 8, 2019 – By day, Elizabeth Butts was the definition of a successful businesswoman, putting her finance degree to work as treasury manager for an oil company. Nights and weekends, she was slipping deeper into a world celebrated by Pinterest, Instagram, trade shows and other places haunted by creative bakers and culinary artists.
And in January 2018, she went for broke, quitting her job to focus full time on Sprinkle Pop, the custom sprinkles business she had launched from her kitchen in Katy just 10 months earlier.
But some things haven't changed.
Butts is still the definition of a successful businesswoman, just one whose days are filled with custom colors, sweet treats and international sales. Sprinkle Pop, it seems, has become a star in the world of custom baking.
Unicorn Sprinkle Mix, anyone?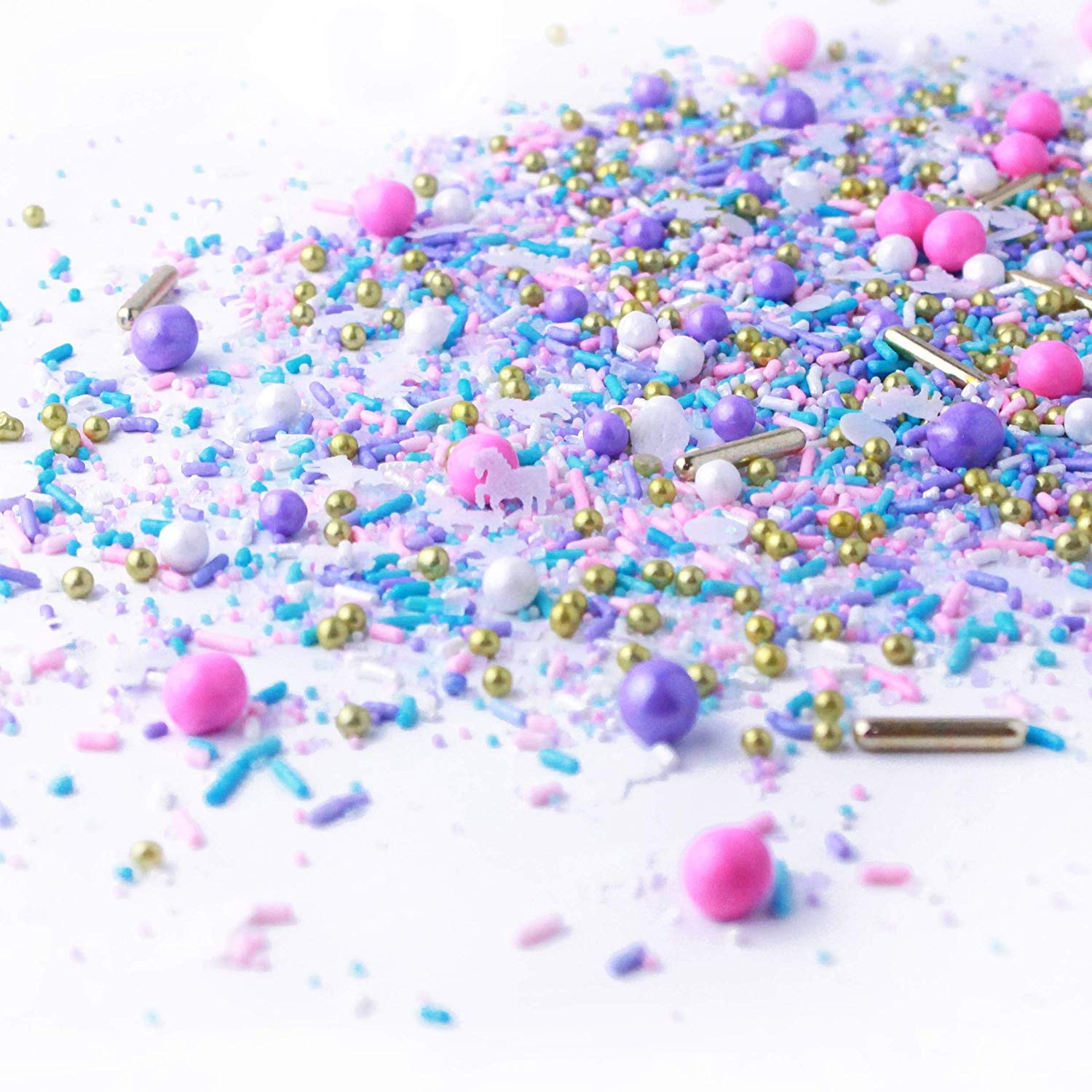 Unicorn mix, with edible paper unicorns, is a perennial favorite. Photo courtesy of Sprinkle Pop.
Unicorn mix, with edible paper unicorns, is a perennial favorite. Photo courtesy of Sprinkle Pop.
Sprinkles taken to the next level.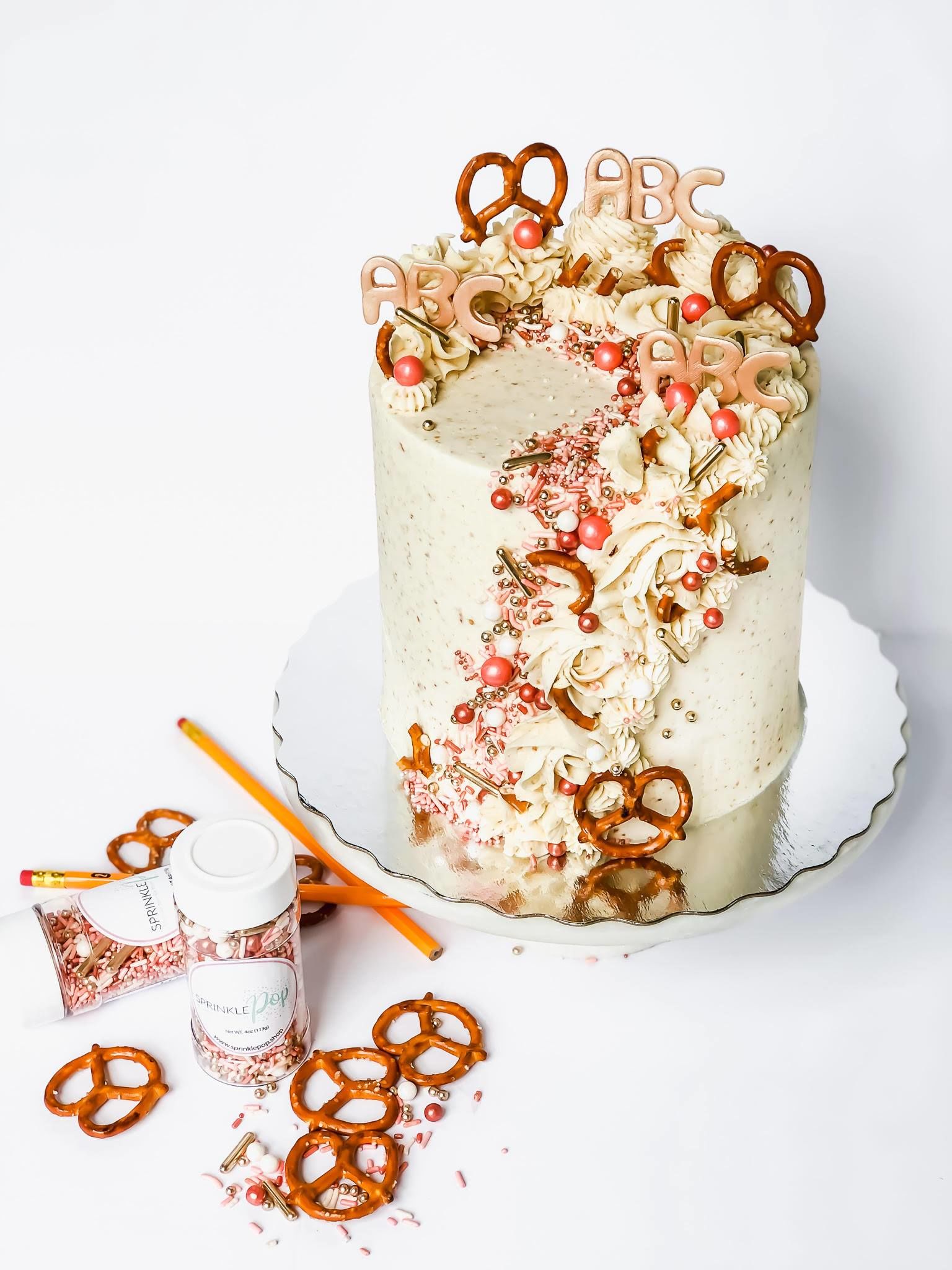 Sprinkles can add style and a touch of whimsy to even the most elaborate cakes. Photo courtesy of Sprinkle Pop.
Sprinkles can add style and a touch of whimsy to even the most elaborate cakes. Photo courtesy of Sprinkle Pop.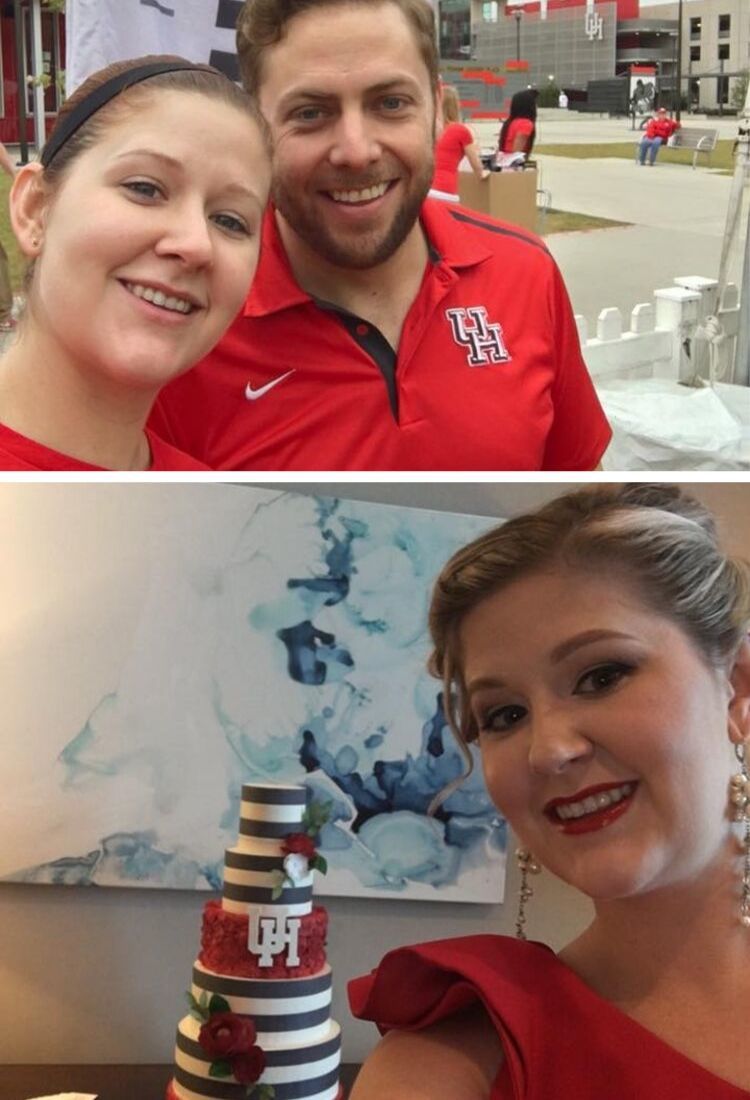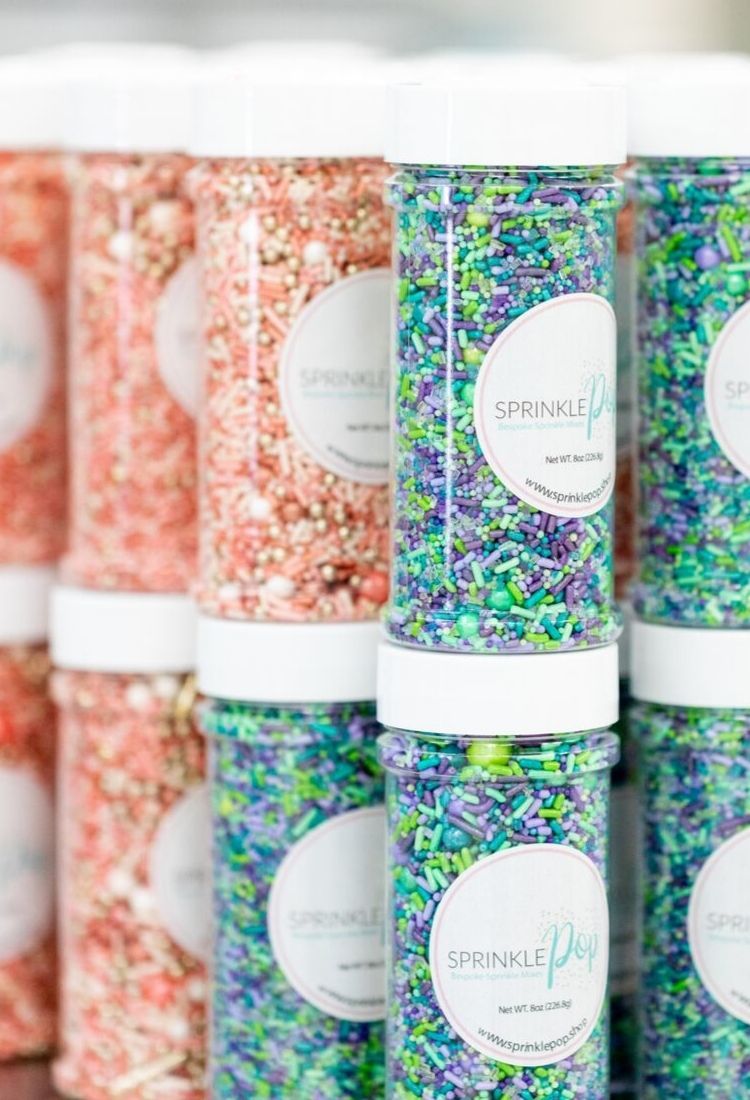 Back before she ever thought about custom sprinkle mixes, Butts entered the cake world almost by accident. A boyfriend's brother was having a birthday, and she made a cake, topping it with fresh strawberries.
No one cared that she made the cake from a mix. Brother and boyfriend were impressed.
And she was hooked.
Flash forward to January 2017. She had earned a finance degree from the University of Houston C.T. Bauer College of Business in 2009, married fellow alum Sean Piper – they met at Frontier Fiesta when Piper, who had graduated several years earlier, joined his former fraternity brothers at the campus party – and was settled into her business career. Baking cakes was a sideline, a creative outlet that introduced her to a thriving online community of cake decorators.
But as she worked on a cake for a baby shower that January, she couldn't help feeling it was missing something. It needed sprinkles – after all, a baby shower is often known as a baby "sprinkle" – but she couldn't find any in the party's color theme.
Undeterred, Butts took white sprinkles and custom dyed them in her kitchen. Problem solved, and an idea born.
By March 2017, she was in business selling those brightly colored pops of sugar, lending whimsy and adornment to sweet treats and earning $1,000 that first month.
Turns out... sprinkles are big business.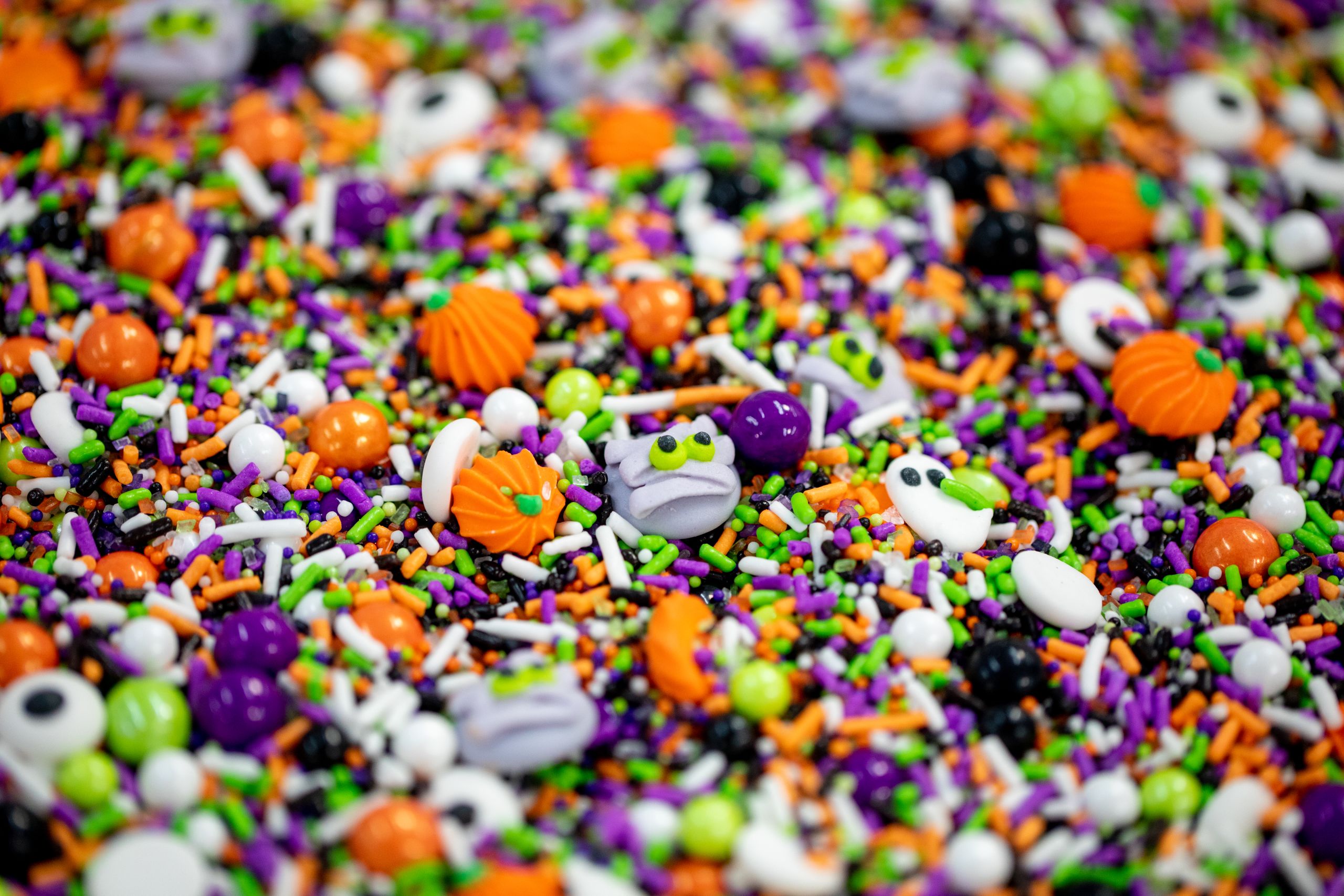 Seasonal mixes, complete with tiny sugar ghosts for Halloween, are popular with customers.
A popular Halloween mix features tiny sugar ghosts.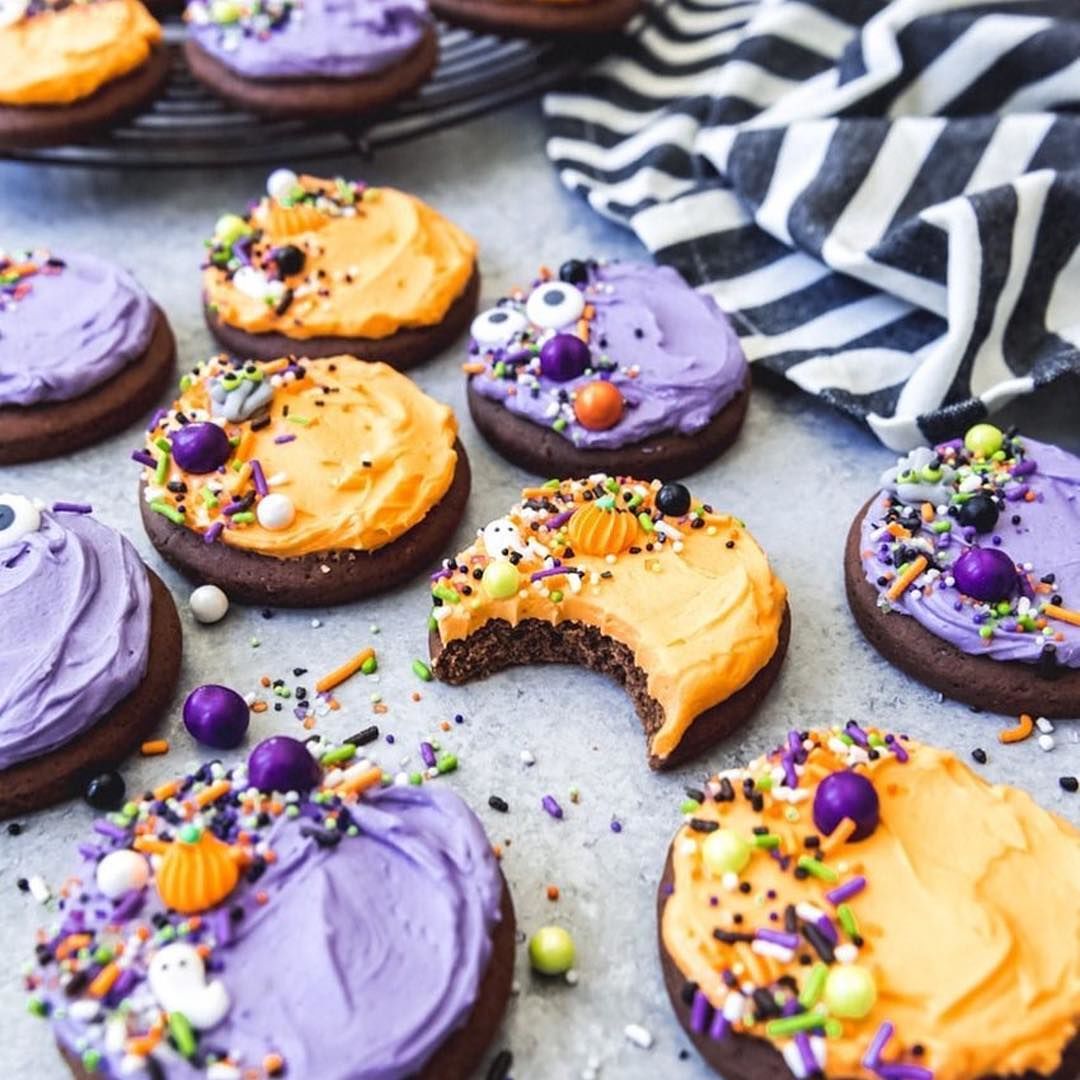 Photo courtesy Sprinkle Pop on Instagram @sprinklepop.shop
Photo courtesy Sprinkle Pop on Instagram @sprinklepop.shop
"I'm kind of a sprinkle addict," Bunny King confides. "They're fun. They're cute."
King, a former home economics teacher, is co-owner with her husband, Jeff King, of the Great Texas Pecan Candy Co., with stores in Katy and Gruene. She knows sweets. And sprinkles.
She met Butts and Tisha Frank – a cake decorator from Cypress who became Sprinkle Pop's first employee – at the Sugar Plum Market at the Stafford Center last year. King likes to shop local, and she liked the possibilities the Sprinkle Pop inventory offered for the dipped Oreos and dipped marshmallows she makes and sells.
"They have unique items," King says. "And they're pretty."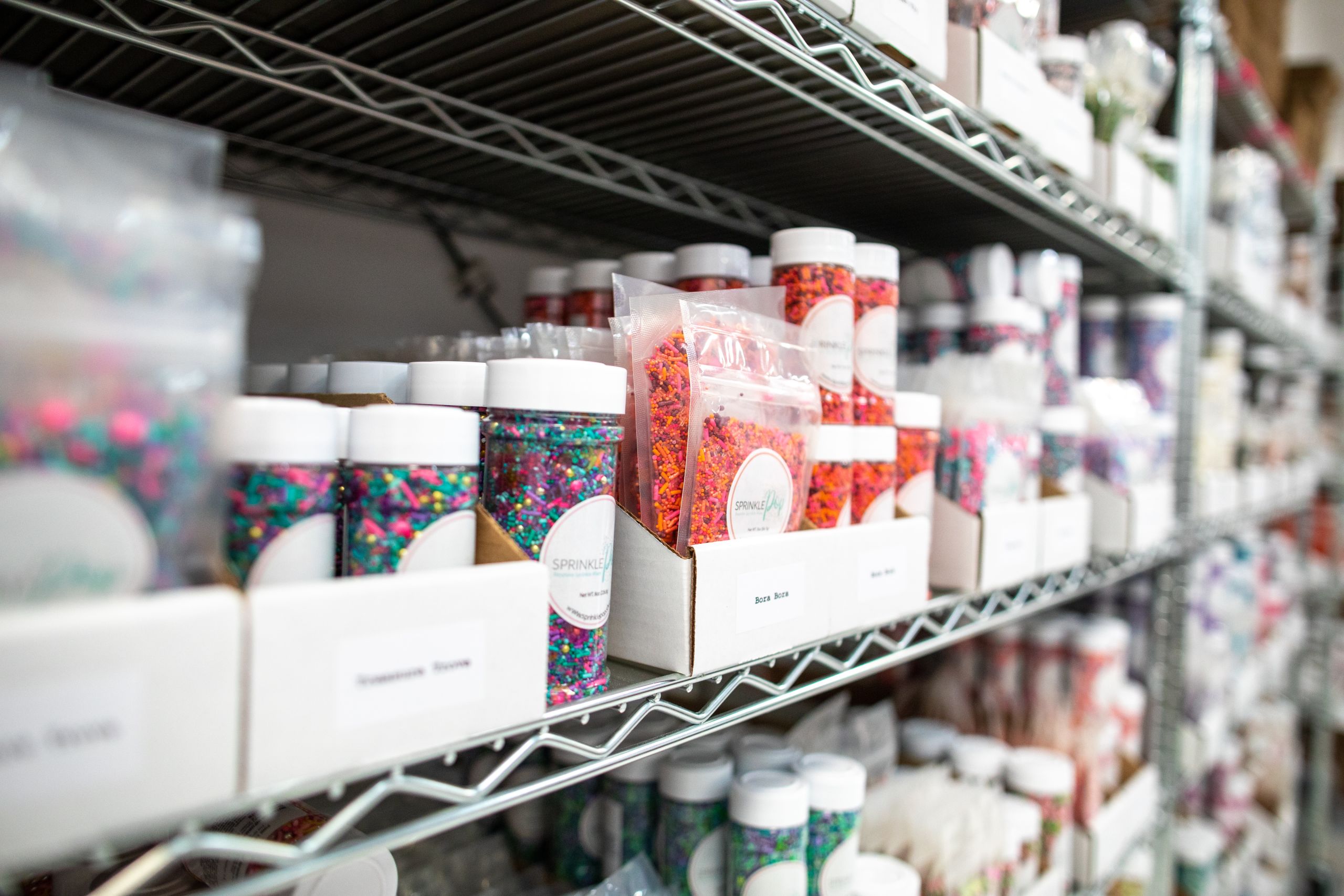 To the uninitiated, "unique" would be an understatement. There are scores of mixes to choose from at any one time, from the Dia de los Muertos Sprinkle Mix, complete with tiny sugar skulls, to Dark Unicorn, Lavender Lullaby and Oh Snow Cute. Custom mixes make the combinations almost endless.
There are tiny beads of sugar, unicorns made from edible paper, metallic rods, bright green shamrocks and Cougar red hearts.
And increasingly, there are sales. A lot of sales. The company is on track to surpass $1 million in lifetime sales this year.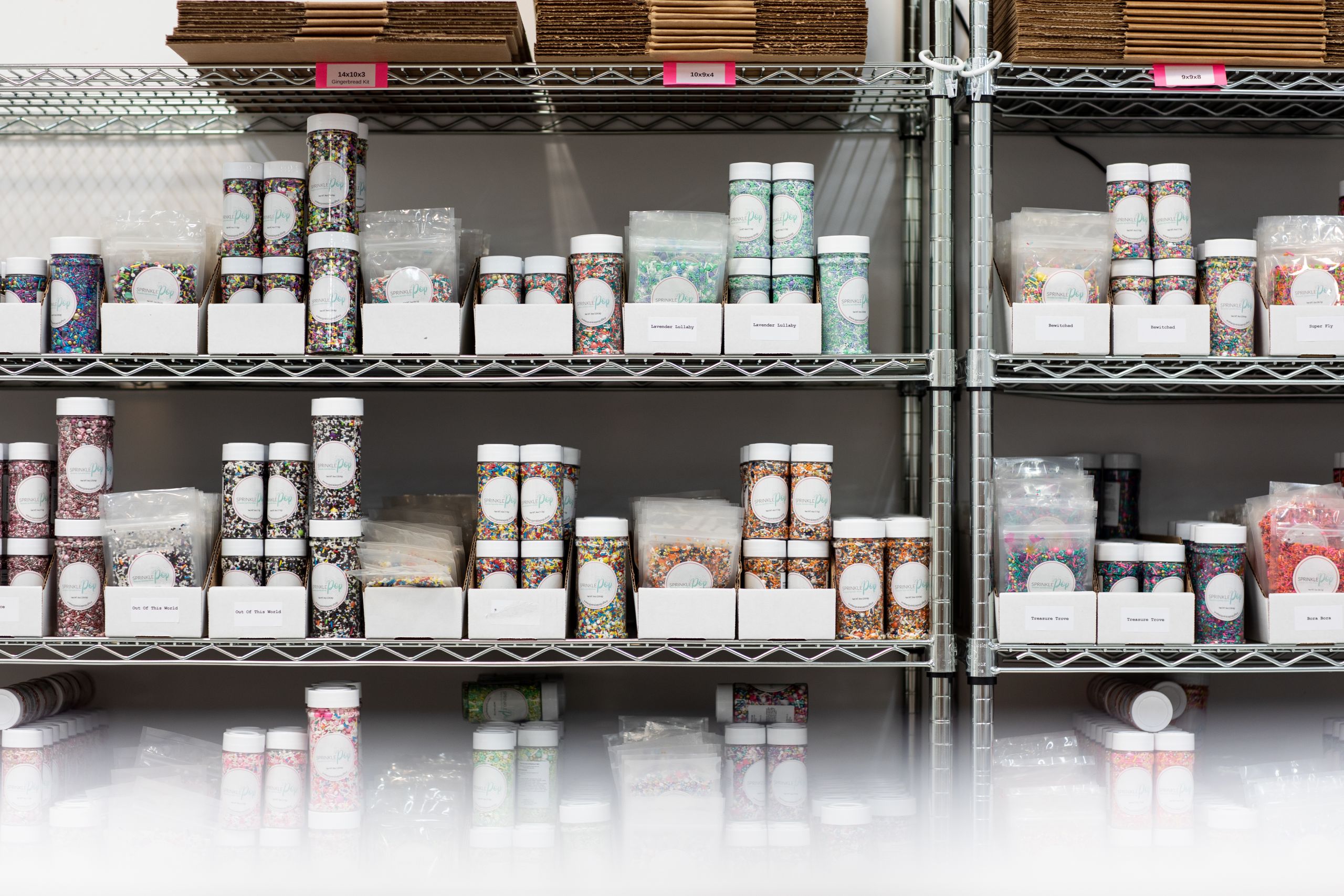 "My long-term goal – even though I went to school in finance and was working in oil and gas – had been to do cake decorating as a business," Butts says. "And then Sprinkle Pop came up, and it just felt so right. It's been crazy."
She already knew baking and sprinkles. She knew business and finance. An online course taught some basics about the industry.
"I started thinking about this as a business, not just a hobby."
E-commerce required a steep learning curve. "It means you have to be an expert in website design, sales and marketing," she says. Marketing, especially, has been an eye-opener as she has relied on both the old-fashioned kind via trade shows and advertising, and the modern marketing power of social media influencers.
For the first six months or so after launching, the company earned about $1,000 a month. Then, just in time for the 2017 holiday season, she hired a social media influencer to produce two videos.
The videos went viral. National Public Radio did a story, and celebrity cook Rachel Ray featured the bespoke sprinkles in her magazine. Butts and Piper were spending all day at their day jobs – he works in biotech sales – and another six hours or so making sprinkles, bottling, labeling and shipping.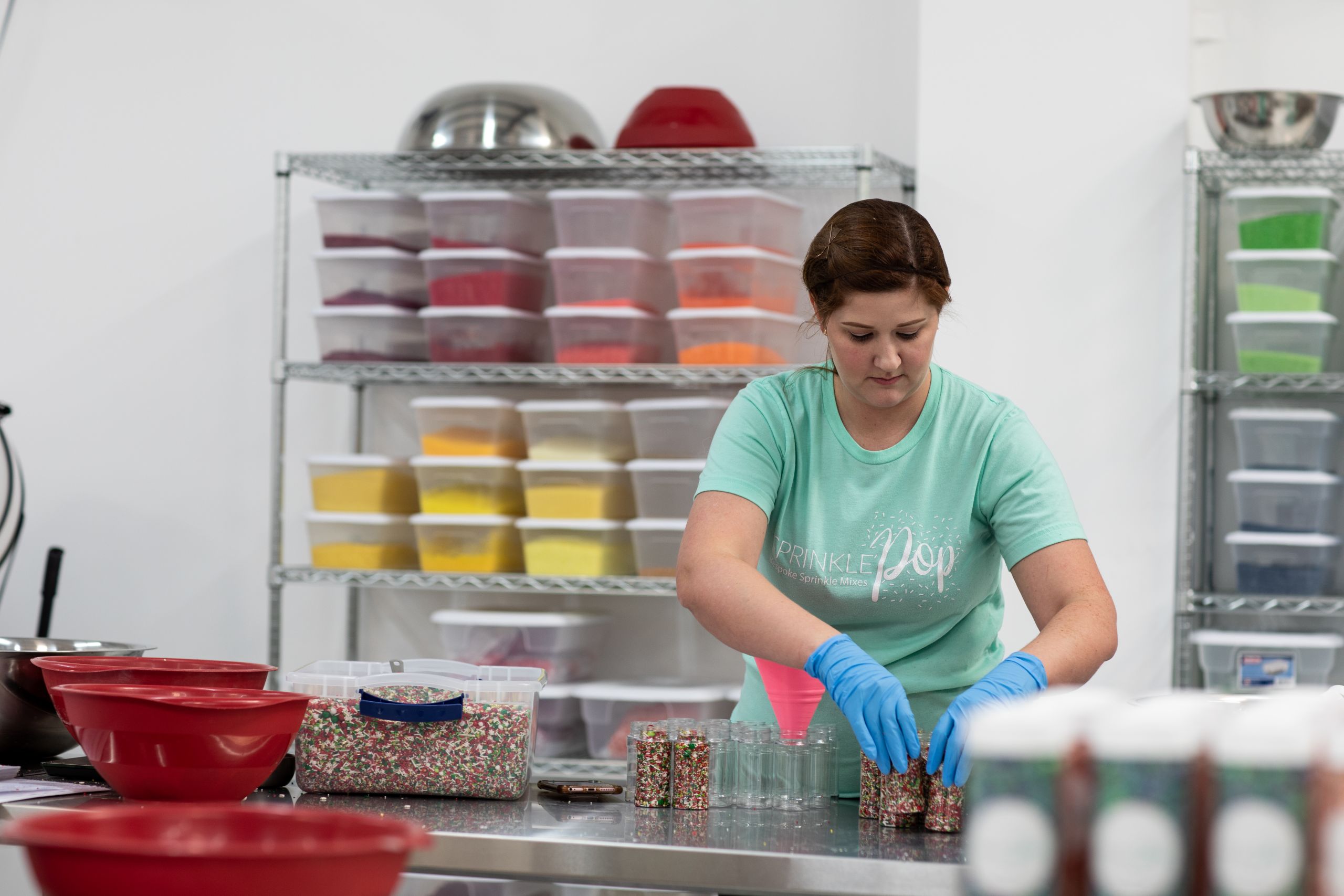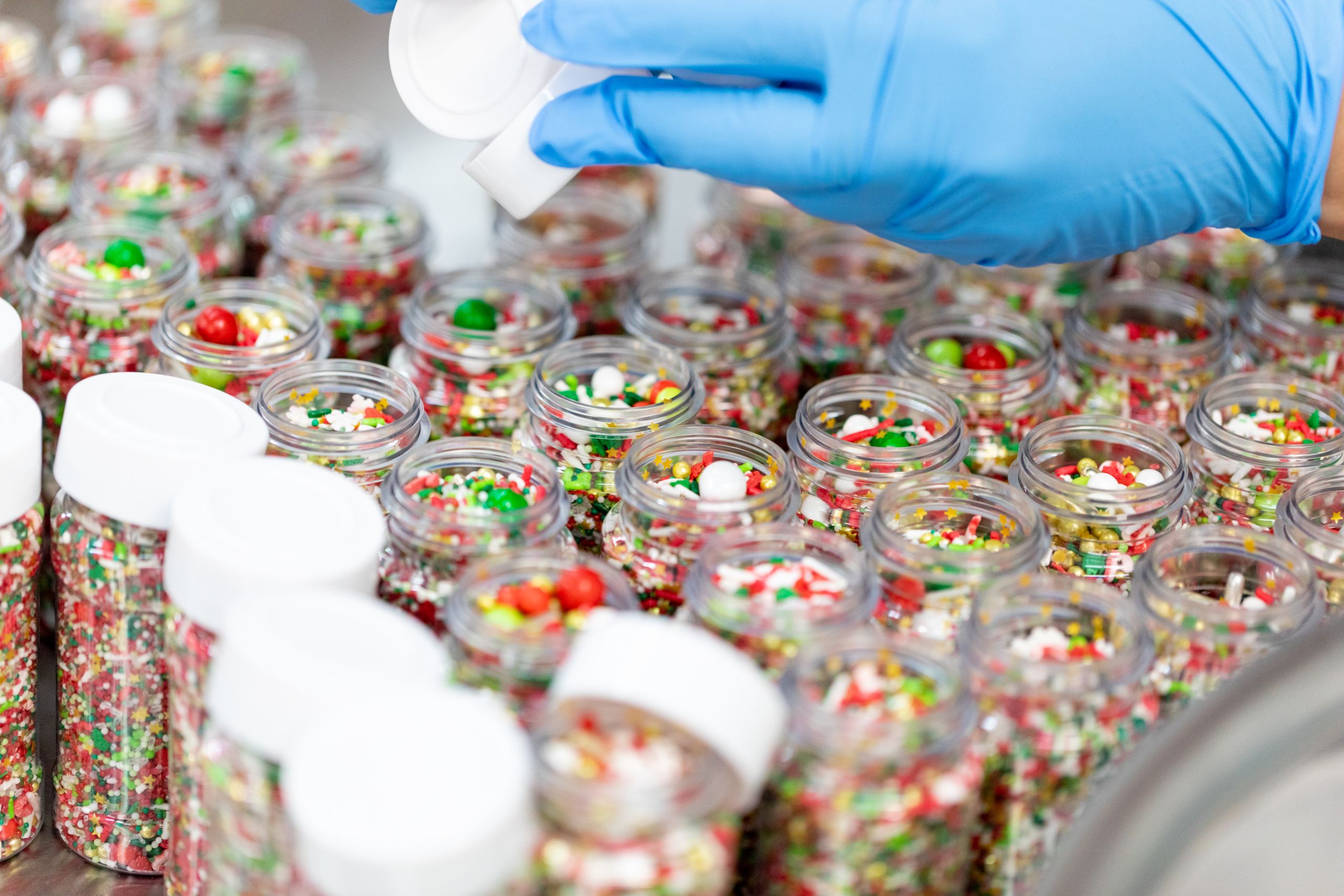 By January 2018, Butts was ready to focus full time at Sprinkle Pop.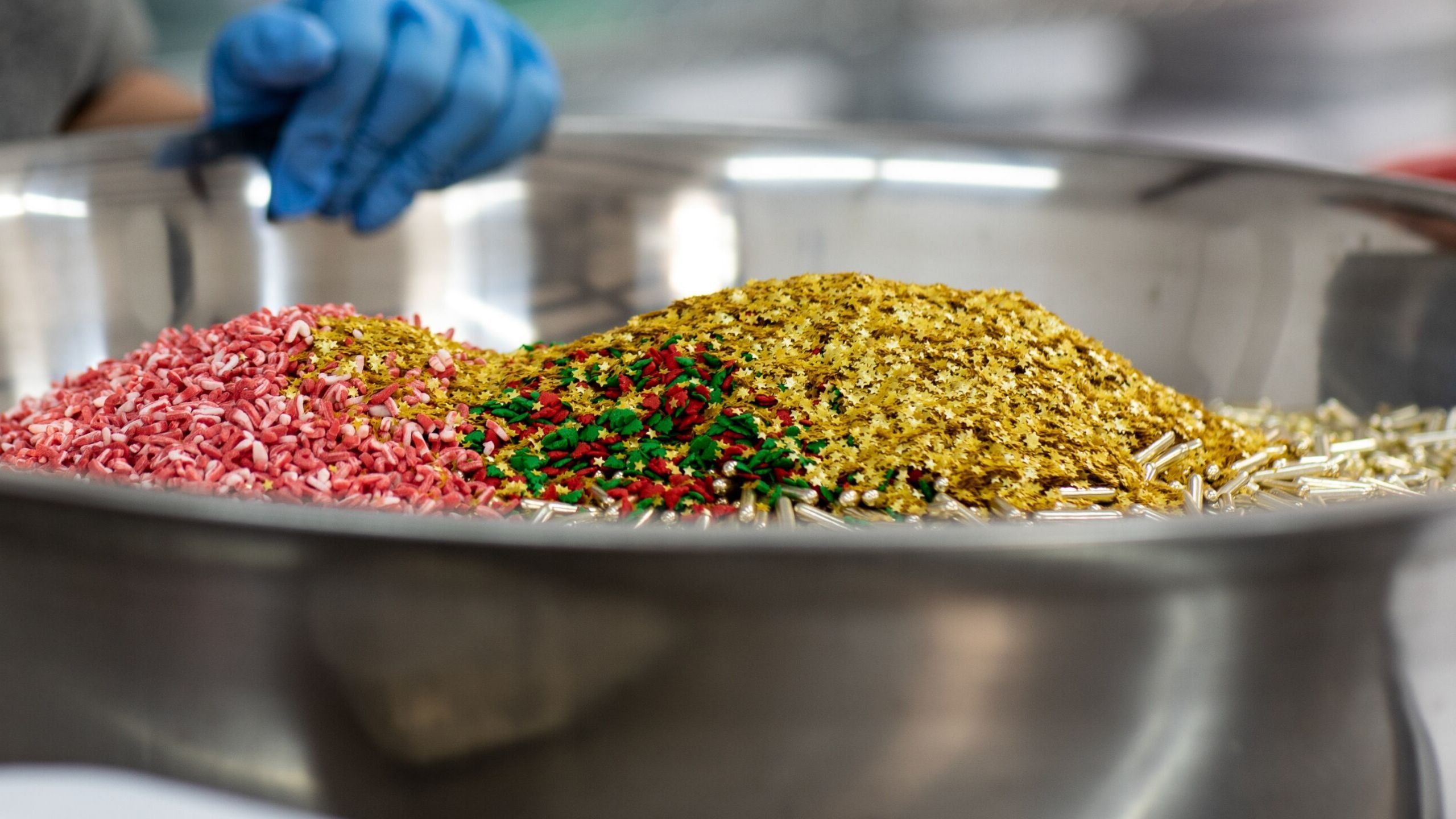 Edible metallic sprinkles add special sparkle to baked goods.
Edible metallic sprinkles add special sparkle to baked goods.
But not even she and Piper could have anticipated the ride that lay ahead.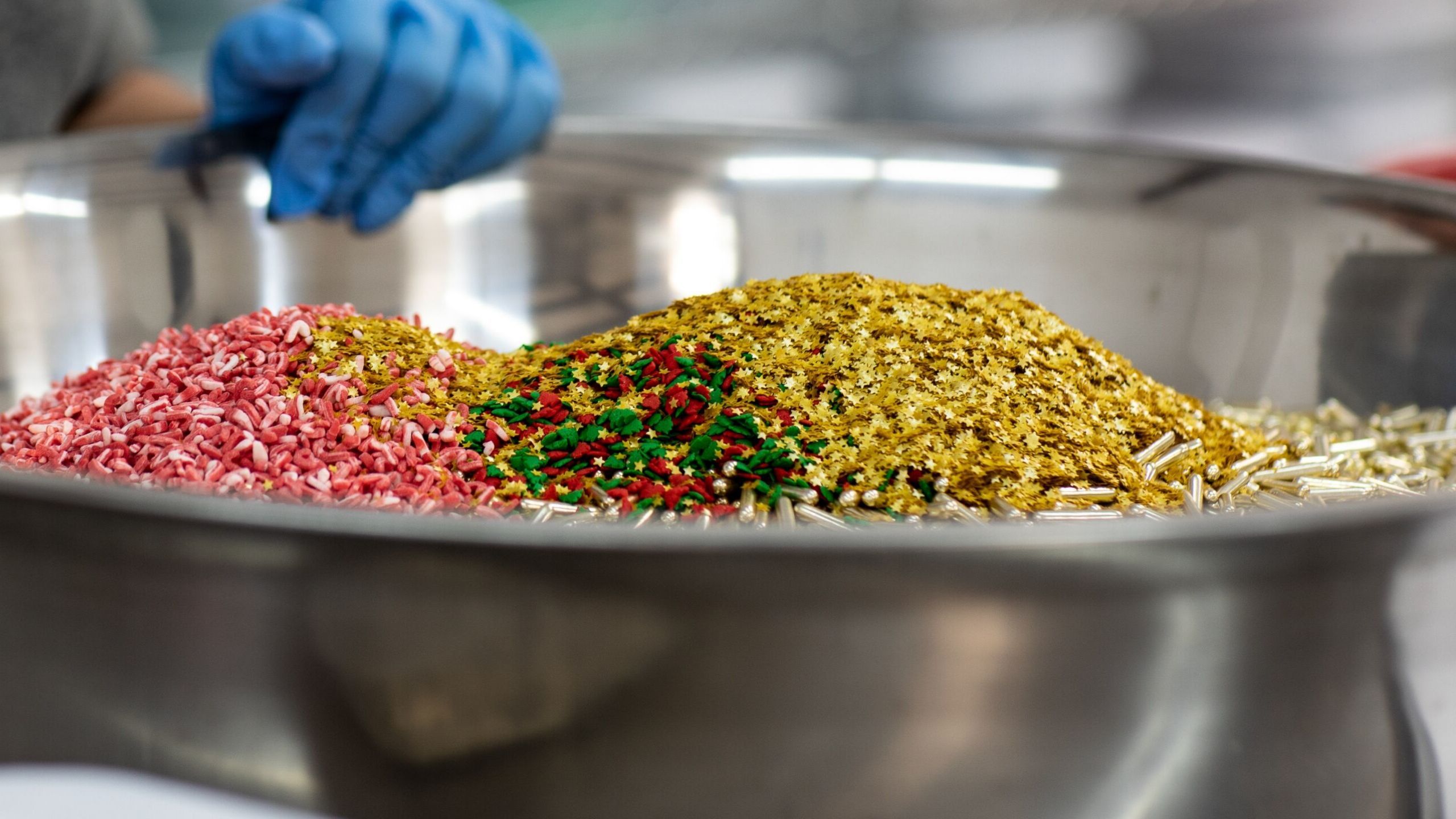 By May of that year, the business was threatening to take over their house. Piper explains: "Our house consisted of a bedroom converted to a Sprinkle office, another bedroom converted to a sprinkle warehouse, overflow sprinkle storage in the dining room and manufacturing in the kitchen."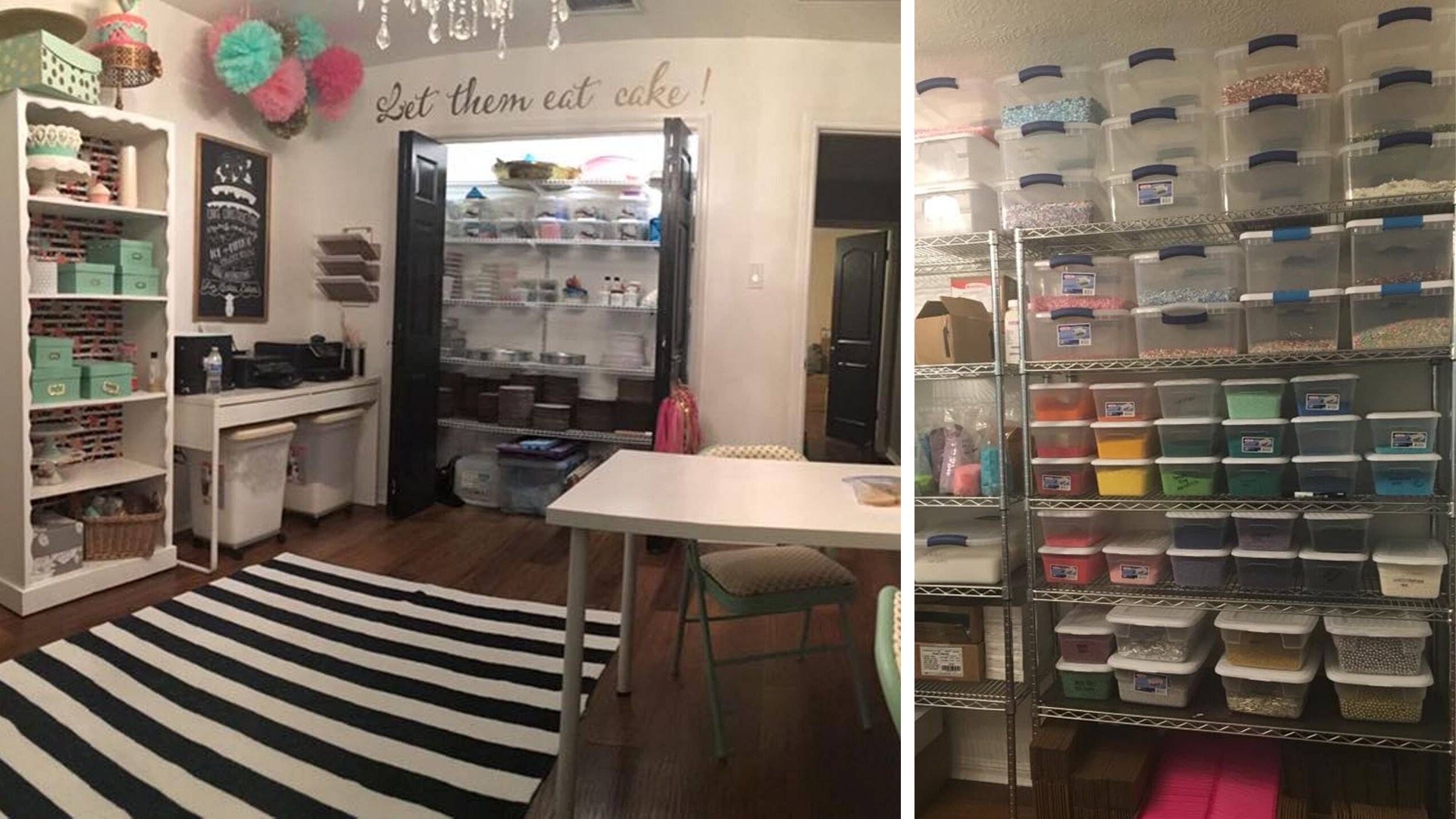 Sprinkle Pop moved into a light and airy building just outside the South Loop and soon after, Butts hired her first employee.
Tisha Frank and Butts knew of each other through the cake decorating underworld, although they'd never met in person. But when Frank, who had recently given birth to her second child, heard that Butts was moving out of her kitchen and into a commercial facility, she dashed off a note.
"Congratulations. And if you ever need a sprinkle fairy, let me know."
Butts did need a sprinkle fairy. "Tisha is the only person besides me who knows how to do everything," she says.
She now has six part-time employees, most of them people she knew from her wide range of interests – including Frank, from the cake decorating world, and a former neighbor. Temika Lomas knew Butts from the sports dancing world – Lomas was a dancer for the Houston Astros when Butts danced with the Houston Aeros, a professional hockey team that left town in 2013. Lomas is now studying for her pilot's license and a part-time job at Sprinkle Pop fits her schedule perfectly.
"Plus, how many places can you dress down, play with babies and listen to Disney music?" Lomas jokes, pointing to Frank's son playing quietly in a corner of the warehouse while his mother mixes sprinkles in a giant stainless steel bowl.
The walls behind Frank are lined with bags and boxes of sprinkles, fodder for about 150 different mixes in an always changing inventory. "We have all the colors no one else has," Butts says. "I found a way to dye them that we could scale to produce them in bulk. That's been a key differentiator for us."
Everything involving the Sprinkle Pop products – from dying the sprinkles to creating the mixes, packaging and shipping – is done in-house, although she now contracts for help with sales and marketing.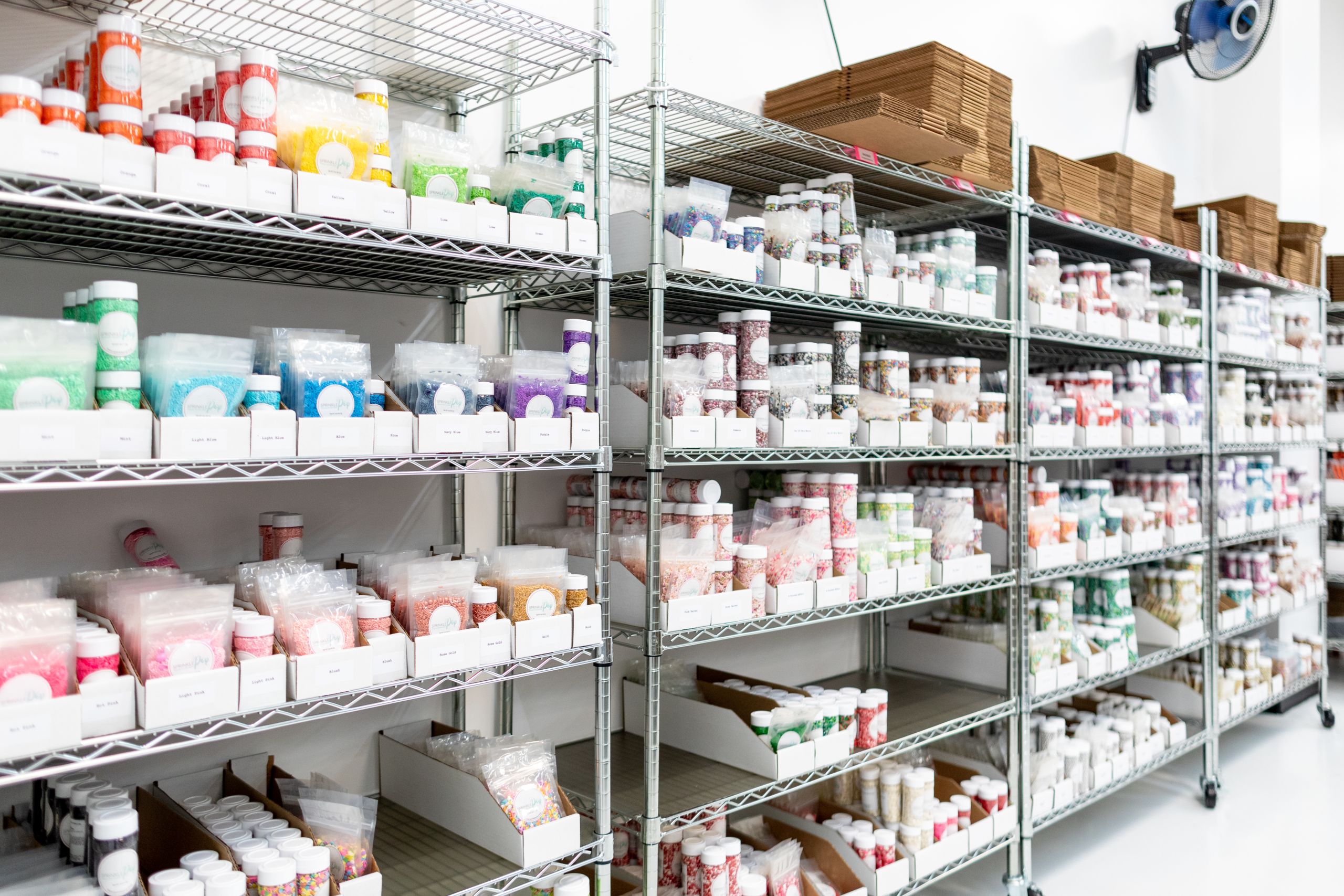 "They say, Do what you love and you'll never work a day in your life. That's a total crock. You'll work twice as hard."
Last fall, just months after moving into the new space, Butts and Piper were in London for a cake show. As they headed home, she checked her phone to see how sales were doing. They were doing great, especially sales of a $38 box with a dozen sprinkle mixes.
"I thought, there has to be a glitch," she said.
Then she noticed most of the sales were coming from a link on the New York Times website, which had just featured Sprinkle Pop in its 2018 Holiday Gift Guide.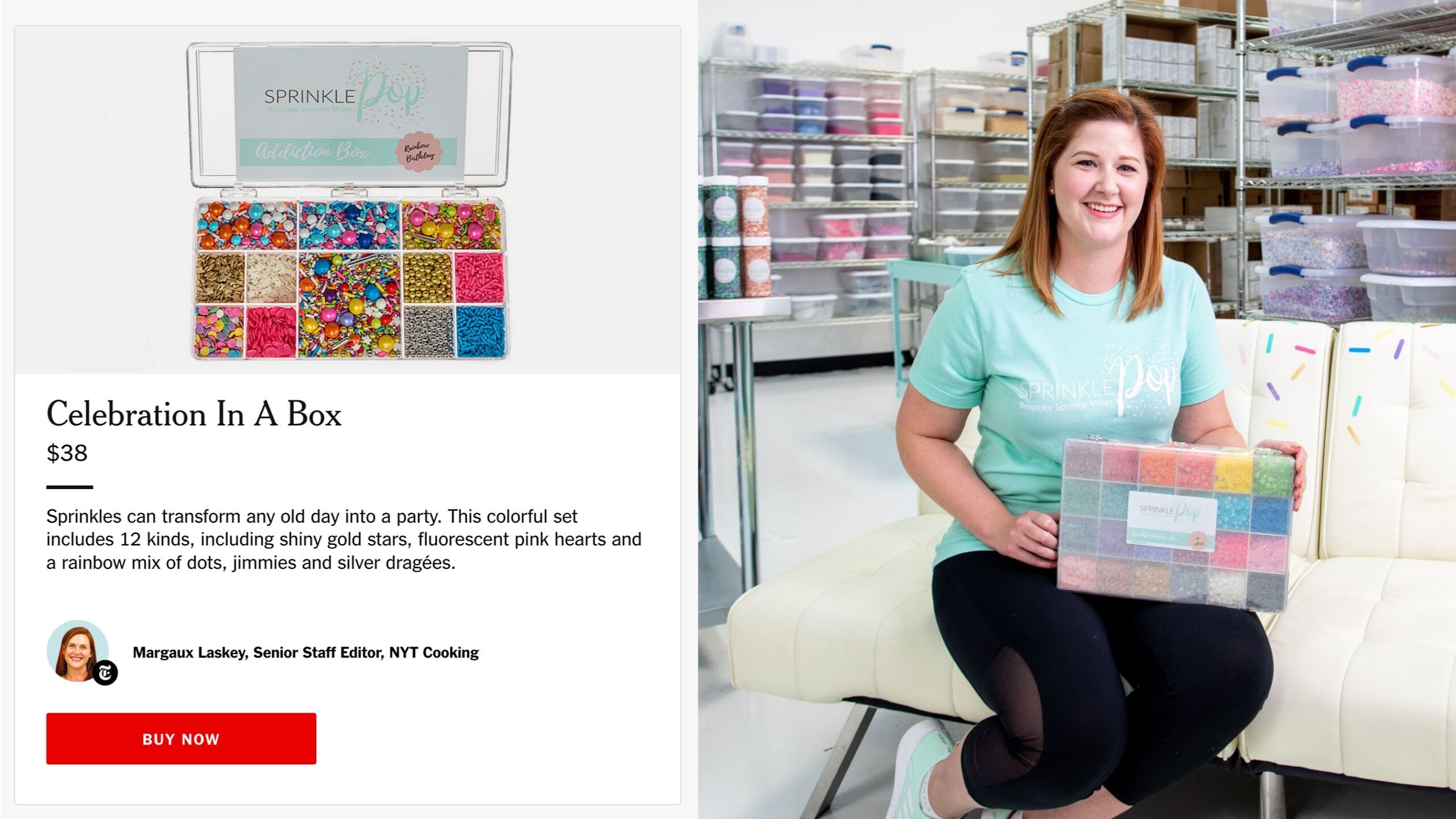 She and Piper were glued to their phones watching sales climb. As soon as they landed in Houston, it was back to work, racing to keep up with demand.
While home bakers are a key segment of the Sprinkle Pop business, the corporate world has noticed, too. Sprinkle Pop is used in about 250 Marble Slab and Maggie Moos stores nationwide, and the company is a sponsor and supplies sprinkles to a cookie baking competition featured on the Hallmark Channel.
"It's fun," Butts says, slipping on a pair of plastic gloves to prepare a custom mix. "But it's also so much work.
"They say, Do what you love and you'll never work a day in your life. That's a total crock. You'll work twice as hard."
---